Giants Prospect Primer: Shaw, Beede on cusp
Bay State natives charge into Bay Area; Ramos enters first act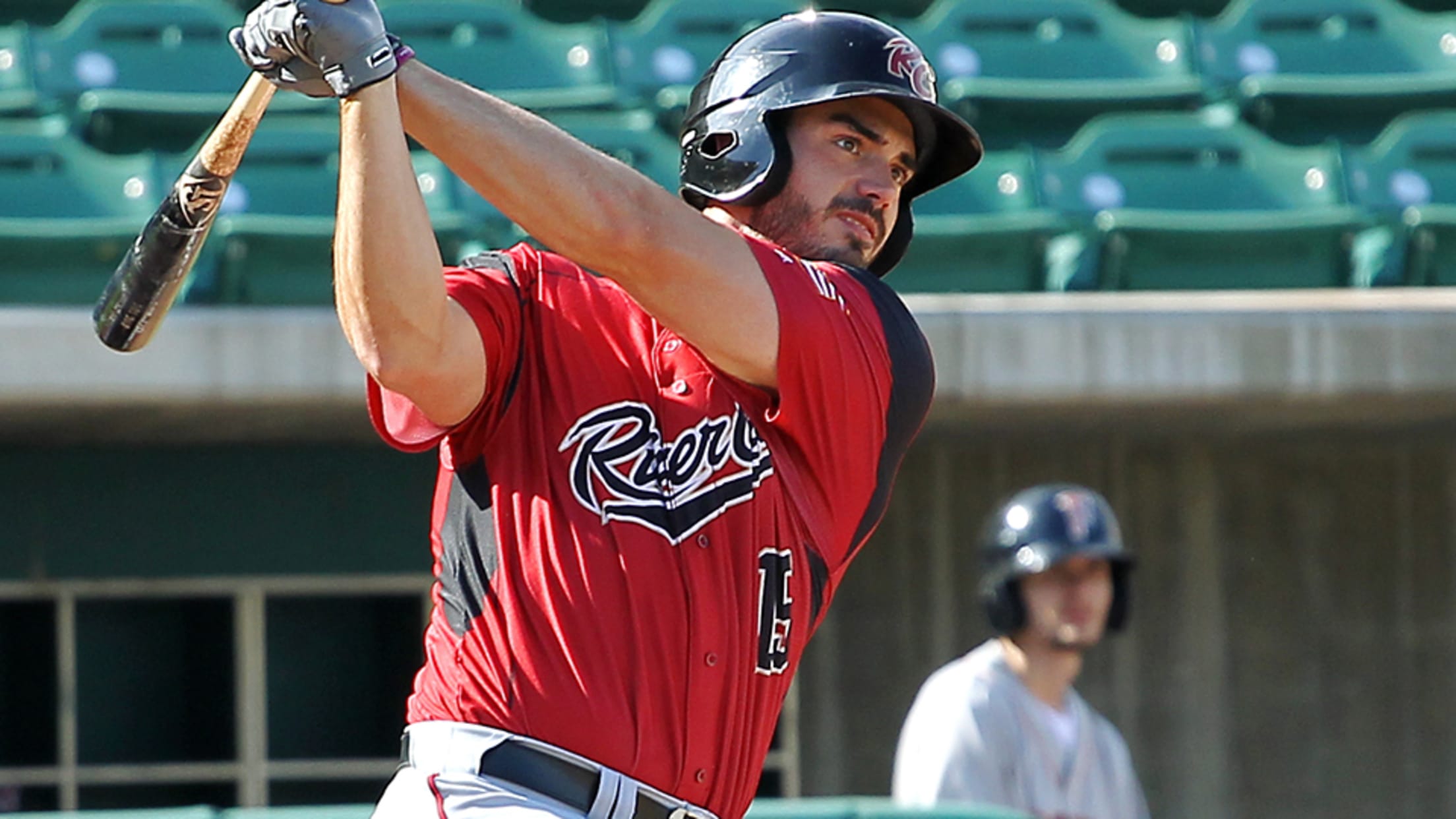 Chris Shaw bashed a career-high 24 homers last season with Triple-A Sacramento. (Ben Sandstrom/MiLB.com)
Some players are on the verge of stardom, others are entering a crucial phase of their development and still others are getting their first tastes of full-season ball. With the 2018 season approaching, MiLB.com takes a look at the most intriguing prospects from each MLB organization.Shining star: Chris Shaw, LFShaw
Some players are on the verge of stardom, others are entering a crucial phase of their development and still others are getting their first tastes of full-season ball. With the 2018 season approaching, MiLB.com takes a look at the most intriguing prospects from each MLB organization.
Shining star: Chris Shaw, LF
Shaw emerged as the club's second-ranked prospect as trades for veterans Andrew McCutchen and Evan Longoria thinned the herd in the Giants system. The 24-year-old showed he was no consolation prize, however, remaining rock steady while climbing toward his Triple-A debut in 2017.
The Stoneham, Massachusetts native batted .301/.390/.511 with six homers and 29 RBIs in 37 games with Double-A Richmond before being elevated to Sacramento in May. He remained consistent in the Pacific Coast League to finish the season with a career-high 24 homers, 79 RBIs and a combined .292/.346/.525 line.
"It's a byproduct of trying to become a better hitter, and then God-given strength and size," the 6-foot-3, 226-pound outfielder told MLB.com. "If you're barreling the baseball and you're strong, power will follow."
The banner year for the first-round pick in the 2015 Draft came with a change of scenery in the field. A right fielder at Boston College, Shaw moved to first base after getting drafted and remained at the position in all but one game throughout 2015 and 2016. But once he drew closer to the Giants, who had locked up Brandon Belt on a long-term deal, he transitioned to a primary left fielder. He was given the opportunity to get a better feel for the position at the Arizona Fall League.
"It's allowing the instincts to become natural," Shaw told MiLB.com. "All of that is the anticipation aspect. I'm obviously not the fastest guy, nor will I ever be, but that doesn't mean I can't get good jumps or good reads. That's started to come more naturally."
He homered twice in 34 at-bats in the Cactus League, finishing the spring with a .235 average.
At the crossroads: Tyler Beede, RHP
Beede is coming off a bit of a down year but not one that should throw his trajectory too far out of whack. The Giants No. 4 prospect struggled in the hitter-friendly PCL, going 6-7 with a 4.79 ERA and a .282 average against in his first year at Triple-A. The Worcester, Massachusetts native compiled 83 strikeouts in 109 innings.
"The PCL is very challenging -- not only the elevation and the ballparks and the more hitter-friendly league, but also more talented players," Beede told MiLB.com in November. "Those guys are all big leaguers, whether they've been there before or are younger prospects at their last stop of the Minors."
The first-round selection out of Vanderbilt in the 2014 Draft stayed positive throughout the difficult campaign, but was not able to follow up with a successful spring. The 24-year-old surrendered 10 runs in 8 1/3 innings over four Cactus League appearances.
"I went through a period where I was going through adversity, and I was able to learn a lot about myself through the adversity," Beede told MiLB.com. "That's a more mature mentality I've developed going through ups and downs -- not taking them in a negative light but using them as learning experience."
The struggles Beede displayed last season were uncharacteristic of his four-year professional career. A Futures Game participant in 2015, Beede still is likely the Giants' most Major League-ready prospect who has yet to make his big league debut.
Full-season debutant: Heliot Ramos, CF
Despite all the talent that left the system in trades, the Giants have been able to hold to their first-rounders. Ramos, the No. 19 overall selection last June out of Leadership Christian High School in Guaynabo, Puerto Rico, played up to his top billing in 35 games in the Rookie-level Arizona League. As a 17-year-old, Ramos posted a gaudy .348/.404/.645 line with six homers, six triples, 11 doubles, 33 runs scored, 27 RBIs and 10 stolen bases.
"You see how strong he is for his age," San Francisco manager Bochy told MLB.com after the Draft. "He's got a good swing. It's short but powerful and he's a guy that can play anywhere in the outfield.
"He's got all the tools to be a Major League player. Any time you've got a young kid like this, the ceiling is so high on him. That excites you too, because as long as he makes his progress with the tools that he has, he has a chance to be an impact type guy vs. an average player. We see him as a guy that can make a huge impact."
MLB.com's No. 63 overall prospect needs some fine-tuning to his approach, having struck out 48 times in 138 at-bats, but he has an awful lot of time to do so as he will be 18 years old for his first full season. The 6-foot-2, 185-pound outfielder played exclusively in center and has the speed and arm strength to stick at the position.
Back and healthy: Steven Duggar, CF
After a breakout year in 2016, Duggar struggled to stay on the field last summer. A flexor strain in his right elbow and a hamstring injury delayed his season debut to June 25. A flareup in the hamstring put him back on the disabled list just two days after his return and kept him out until July 15.
"I felt really good coming into Spring Training. Probably the best I had felt in my pro career," the 24-year-old told MiLB.com. "It's just unfortunate. We got [the elbow injury] squared away, and while I was conditioning for my elbow down in Arizona, my hammy just kind of went on me."
The mounting injuries limited the Giants' third-ranked prospect to just 44 games -- two in the Arizona League, 29 with Class A Advanced San Jose and 13 with Sacramento -- over the course of the season. He batted a combined .262/.365/.445 with six homers, 26 RBIs and 10 stolen bases.
Duggar was seemingly able to leave the injury issues behind, becoming a mainstay in the Giants lineup this spring. In 22 Cactus League games, he went 13-for-55 (.236) at the plate with four homers, two doubles, 10 RBIs and seven runs scored. His strong spring put him in contention for one of the final spots on San Francisco's Opening Day roster before his reassignment Wednesday.
"It's a situation to play every day and continue to improve," Duggar told the San Francisco Chronicle. "I felt I did some good things. I felt like I played some good defense and had some good games offensively. Some inconsistencies along the way, but that's part of growing and getting better."
The sixth-round pick out of Clemson in the 2015 Draft showcases above-average speed and defensive skills that should keep him in center field long term.
Loudest tool: Melvin Adon, RHP
Although pitchers who routinely throw in the triple-digits are becoming increasingly ordinary, seeing 102 mph flash across a radar gun should still draw the attention of the masses. The Giants 19th-ranked prospect possesses enough arm strength to complement his 75-grade fastball with a slider that sits in the upper-80s.
A late bloomer for an international signing, the 23-year-old made 23 appearances -- 19 starts -- with Class A Augusta last season, amassing a 3-11 record with a 4.35 ERA and 89 strikeouts over 99 1/3 innings. He is expected to advance in his career as a reliever -- where he can really let loose his fastball -- but has been given opportunities to start to stretch his workload.


Others to keep an eye on:
It will be interesting to see if seventh-ranked Aramis Garcia can rediscover his power stroke after hitting 17 long balls in San Jose but going homerless in 22 games to finish the season with Richmond. No. 5 Austin Slater was left off the Giants' Opening Day roster despite batting .282 in 34 games with the big club last season. He can force his way back into the team's outfield mix with anything similar to the .321 average he sported with the River Cats in 2017. Ryan Howard (No. 24) posted an impressive .306 average in 127 games with San Jose last season, collecting nine homers, 21 doubles and 50 RBIs. Right-hander Shaun Anderson (No. 8) survived the switch from the Carolina League to the more hitter-friendly California League after landing with the Giants in the Eduardo Nunez deal. The 23-year-old finished the season with a 3.44 ERA and 107 strikeouts over 123 innings between Class A Greenville, Class A Advanced Salem and San Jose.
Predictions:
Most home runs in the system: Shaw
Most stolen bases: Ramos
Most strikeouts: Stephen Woods Jr.
Current prospect to get most Major League playing time: Slater
Non-Top 100 prospect to end 2018 in the Top 100: Shaw
Gerard Gilberto is a contributor to MiLB.com. Follow and interact with him on Twitter, @GerardGilberto4.