Huisman crowned king of California in 1991
Right-hander led league in wins, strikeouts, ERA and winning percentage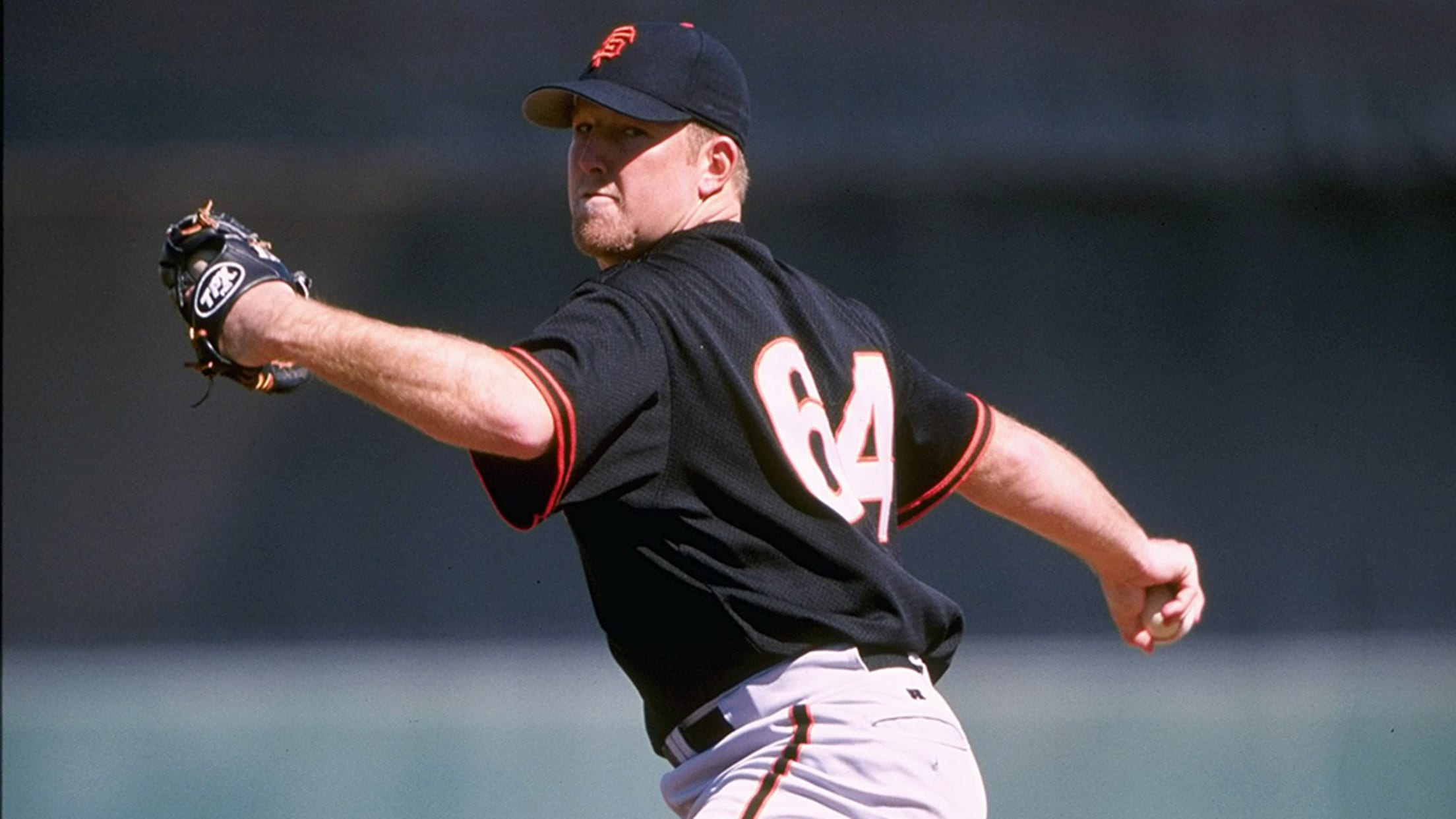 Rick Huisman pitched in 29 Major League games for Kansas City in 1995 and 1996. (Otto Gruele Jr./Getty Images)
Minor League Baseball is known for its rich history dating back more than 100 years. While much has been written about the best teams and top players who have graced the Minors, there remain many stories either untold or largely forgotten. Each week, MiLB.com will attempt to fill that gap
Minor League Baseball is known for its rich history dating back more than 100 years. While much has been written about the best teams and top players who have graced the Minors, there remain many stories either untold or largely forgotten. Each week, MiLB.com will attempt to fill that gap and explore these historical oddities in our feature, "Cracked Bats."
The California League has long caused pitchers to have nightmares. Known as a hitter-friendly league, the Class A Advanced circuit annually produces some of the gaudiest offensive numbers in the Minors, while often leaving even the most accomplished of pitchers a bit shaken and demoralized.
Rick Huisman, however, never had such problems. He set down Cal League hitters with such ease in 1991 that none before, or since, have ever dominated the way the young right-hander did that summer. Huisman, a third-round pick by the Giants in 1990, rode a ripping fastball to prominence in the San Francisco system before injuries cut his career short.
Though he reached the Major Leagues for a handful of games with Kansas City in 1995 and '96, it's what Huisman did in the California League that proved to be the defining period in his career. Huisman won the pitching "Quadruple Crown" for San Jose, becoming the only pitcher in league history to top the circuit in wins, strikeouts, ERA and winning percentage in the same season.
Huisman went 16-4 with a 1.83 ERA, striking out 216 while posting an .800 winning percentage. He also led the league in innings pitched (182 1/3) and shutouts (four), fashioning a club-record 36-inning scoreless streak, which left him only four innings shy of the league mark.
"It was a special season, no doubt about it," Huisman said. "And we were blessed with a special team. We had a manager [Ron Wotus] that was there with us every step of the way. Gary Lucas was the pitching coach and Dick Dietz was there as well, so it was a special staff. They helped the young players every step of the way. They knew what to do and taught us how to win. I was 16-4, but a lot of the credit goes to the staff."
San Francisco drafted Huisman out of Lewis University the previous summer and he quickly made an impression, going 6-5 with a 2.05 ERA in 14 games (13 starts) for Clinton of the Class A Midwest League. He was promoted to San Jose in '91 and embarked on a career year, one that didn't look so extraordinary as April drew to a close.
Huisman won his first start against Reno but after four starts was a rather pedestrian 2-2 with a 5.04 ERA. His fourth start was against Modesto and he got shelled, allowing five runs on five hits and four walks in 4 2/3 innings. But the game proved to be the turning point of his season.
"I was 2-2 and after that game [against Modesto] I remember sitting at my locker," Huisman said. "I was thinking that now it's time to step it up a notch and make sure I was doing the right things to win. It was just a moment there at the end of April, but after that things started gelling with the team. It was awesome."
Huisman went 3-0 with three no-decisions in six May starts, posting a 0.76 ERA. He fanned 56 in 47 1/3 innings, setting the stage for a brilliant summer. As the calendar turned to June, Huisman defeated Salinas and High Desert in succession before dropping a 2-0 decision to Reno on the 12th. He wouldn't suffer another loss until the end of August.
• More Minor League Baseball history »
After picking up a no-decision on June 23 against High Desert, Huisman ran off eight consecutive victories. It was during that stretch he threw 36 consecutive scoreless innings. He went 6-0 in six July starts, three of which were complete games, and he struck out 10 or more in five of the outings. He fanned nine in seven innings in the sixth game.
"He just controlled every game he pitched," said Chris Lampe, who is part of the San Jose ownership group. "He just had an awesome fastball and was the most dominating pitcher I've ever seen in the Cal League. The guy was unbelievable."
Huisman finished the season by going 2-1 in five August starts, closing out the regular season with a victory against Reno on the 26th. He picked up three victories against Reno that year and three more against Stockton in leading San Jose to a league-best 92-44 record.
Unfortunately Huisman's success would not carry over into the postseason. Though the Giants were heavily favored to win the league crown, Stockton pulled off an opening-round upset, winning the best-of-five series in four games. Huisman had his worst outing of the year in the opener, allowing eight runs in 3 2/3 innings.
"I'll never forget that first inning," he said. "The first guy up got a base hit and then they had a hit-and-run and before you know it, they have runners on first and third with no one out. Had we won Game 4, I would have pitched Game 5.They got hot at the right time and in a short series like that, anything can happen."
Huisman split the following season between the Texas and Pacific Coast Leagues, going 10-6 with a 2.37 ERA in 26 games (24 starts). He had a 32-15 record with a 2.09 ERA in 67 Minor League games and appeared on the verge of being baseball's next big thing. But he hurt his shoulder at the end of the '92 season and, after undergoing surgery, was never quite the same.
"I had surgery and it held me back," Huisman said. "If you talk to the Giants, they'd tell you the same thing. I was going strong and everything was great, but you have to stay consistent and healthy and be in the right place at the right time.
"It took me about 18 months to get my fastball back. And even when I got it back, as a starter, by the fourth or fifth inning I didn't have much left. My arm wasn't hurting but the strength wasn't there."
The Giants placed him on waivers the following August and he was claimed by the Astros. Houston converted him to a reliever, believing that shorter outings would be beneficial. The strategy worked and in 1994 Huisman actually proved to be a dominant closer in the Texas League, going 3-0 with 31 saves and a 1.69 ERA in 49 appearances. But he was traded to the Royals for Pat Borders the following summer.
While Huisman did pitch parts of the 1995 and '96 seasons with Kansas City, he bounced around the Minor Leagues for the final five years of his career before calling it quits after 2001.
Huisman is currently the pitching coach at Hope College in Michigan and is also a part-owner of the second-largest flower retailer in the state.
"The only thing stopping me from being a Major Leaguer was injuries," Huisman said. "I wanted more and thought I could have attained more. I'm sure a lot of guys can tell you that story about going through an injury and never being quite the same."
Huisman may not have been the same after shoulder surgery, but for one season he was the best pitcher Minor League Baseball had to offer.
Kevin Czerwinski is a reporter for MLB.com.