Bieber fever moves on to Columbus
No. 8 Indians prospect allows run in six innings in Triple-A debut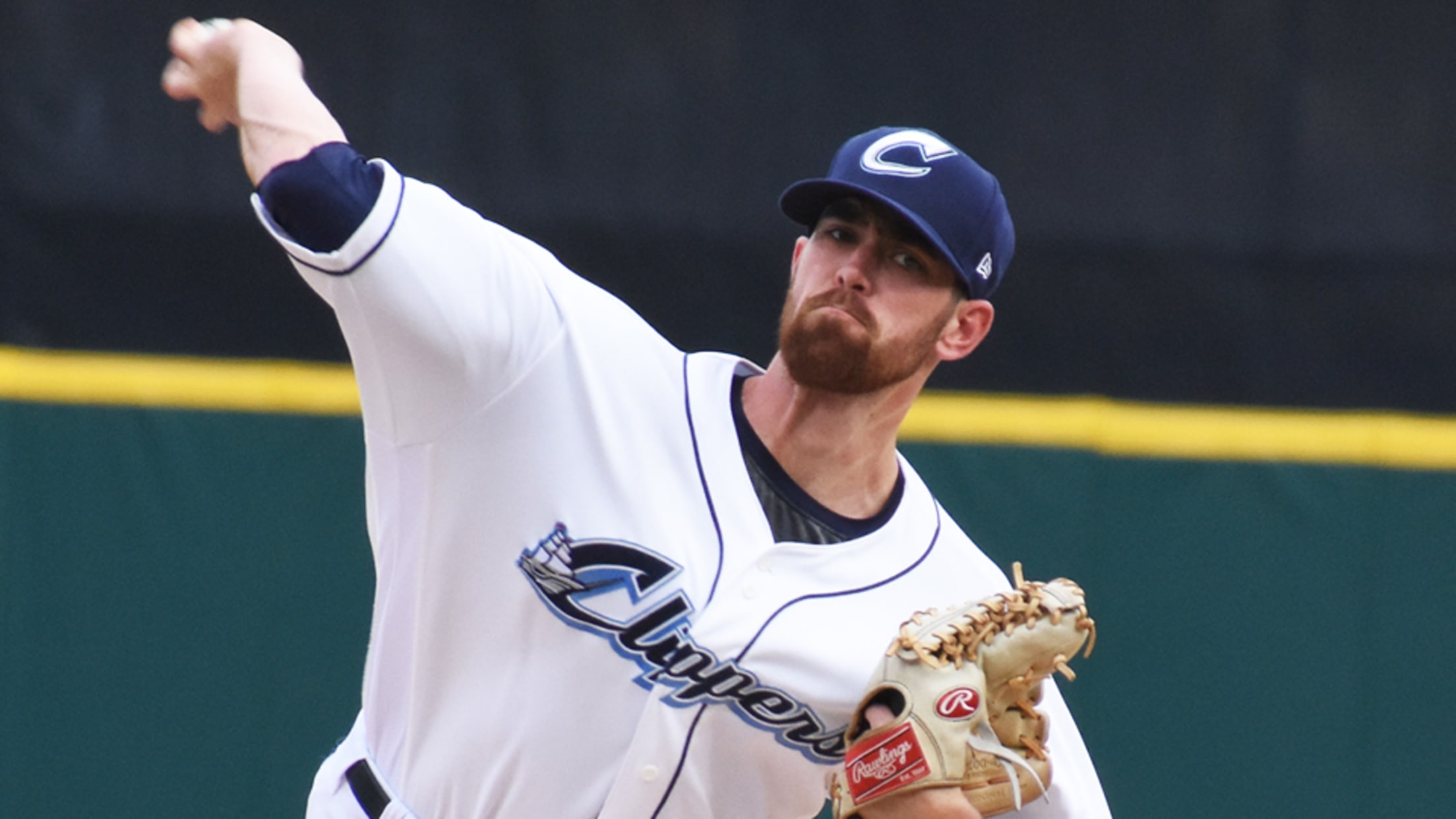 Shane Bieber issued only one free pass over his first five starts for Akron this season. (Cathryn Wood/MiLB.com)
After Shane Bieber got the call earlier this week that he'd been promoted to Triple-A Columbus, he got in one last workout and packed up his apartment in anticipation for his Thursday debut. The right-hander didn't forget to bring the consistency and strong work ethic that helped him dominate in
After Shane Bieber got the call earlier this week that he'd been promoted to Triple-A Columbus, he got in one last workout and packed up his apartment in anticipation for his Thursday debut. The right-hander didn't forget to bring the consistency and strong work ethic that helped him dominate in the Eastern League to start the season.
In his International League debut, the eighth-ranked Indians prospect allowed one run on two hits and two walks while fanning five over six innings as the Clippers defeated the Knights in walk-off fashion, 4-2, at Huntington Park.
"It was good, it was competitive," Bieber said. "Guys are obviously more disciplined at the plate and I realized that pretty quickly. I fell behind in a lot of counts, which is going to happen with a little bit of nerves. Overall, felt pretty good. [Top-ranked Indians prospect Francisco Mejía] called a great game, as usual. Fortunately, we're familiar with each other a little bit. We operated as a battery together at Akron at the end of the year last year. I was able to go out there and stick to a gameplan and be able to compete."
Columbus pitching coach Steve Karsay hasn't worked with Bieber for long, but noted the hurler displays plenty of poise early in his second full season as a professional.
"I call him a kid, but he's 22 years old and he's already at the Triple-A level," Karsay said. "He's definitely wise beyond his years. And talent-wise, the sky is the limit for him. But there's a process that's going to continue to take place and he's going to have to continue to learn and continue to refine his pitches. He's going to have to continue to have to sequence and put hitters away and not go deep into counts. Those are the things that need to be polished at the Triple-A level before he gets to the Major Leagues and is successful."
Gameday box score
Bieber echoed his coach's sentiment, understanding there's more work to be done in a few different areas before he can make that next step.
"As far as pitch mix and development, I'm trying to work on my secondary pitches," he said. "I haven't been able to land it for strikes as much as I'd like to. So that's definitely what's coming up next. It's at the forefront of the to-do list."
After posting a 10-5 record with a 2.86 ERA and a 1.13 WHIP in 173 1/3 frames across three levels in 2017, the 2016 fourth-round pick began 2017 by keeping opponents out of the run and walk columns through his first three appearances with Double-A Akron. In five overall starts, he amassed a 3-0 record with a 1.16 ERA and a 0.87 WHIP in 31 innings.
Bieber got his International League debut off on the right foot, fanning José Rondón in a clean first inning. But the second provided some difficulties for the right-hander as Matt Skole greeted him with a dinger to cap an eight-pitch at-bat. Juan Perez and Casey Gillaspie reached on consecutive one-out walks before Bieber avoided more damage by fanning Jacob May and inducing a groundout from Todd Cunningham.
Having to work through a jam like that could be a key part of the learning process for the California native, according to Karsay.
"I think everybody has to go through some type of adversity at some point in their career, whether it be the Minor Leagues or the Major Leagues," the 11-year big league veteran said. "He's going to be challenged at the Triple-A level a little bit more.
"Mechanically, he's really solid. He's able to command his fastball on both sides of the plate and he's able to pitch in all four quadrants with his fastball. It's going to be more of a challenge for him to read hitters' swings, sequence his pitches a little better, mix in his changeup more to disrupt a hitter's timing. Those are the little things he's going to need to do in-game before the inning ends. He'll have to make those adjustments as he sees them himself."
The UC Santa Barbara product settled in after the second and retired 10 Knights in a row until Rondon broke the stretch with a leadoff single in the sixth. No. 15 White Sox prospect Charlie Tilson was retired on a sacrifice bunt and Bieber whiffed Alfredo González on four pitches, then got some help from Mejia. The catcher nailed Rondon trying to swipe third to complete an inning-ending double play.
"It was a big moment, at that point, it was the tying run trying to steal third," Bieber said. "Fortunately, I was able to execute some pitches. Karsay came out to the mound right before that at-bat and said it was a pinch-hitter, we have an open base at first, let's set up the double play so we don't have to give into this guy. [Mejia] called some awesome pitches there, and fortunately, I was able to keep the guy close enough at second to where Frankie was able to show off his arm."
In all, Bieber tossed 58 of his 93 pitches for strikes and limited hard contact with seven groundouts by 21 overall batters. The 6-foot-3, 195-pound hurler was pleased to end his start on a positive note.
"It was definitely needed to get into a groove. My last one or two outings before this, I've been laboring a little bit through my innings with leadoff men on, leadoff doubles," Bieber said. "It was really nice to find that rhythm again and get back into a groove and being able to primarily pitch out of the windup and getting ahead of guys, which I wasn't typically doing in my last few outings."
After Charlotte tied the game in the eighth on a sacrifice fly by Cunningham, No. 6 Indians prospect Yu Chang responded in the ninth with a walk-off two-run dinger.
Andrew Battifarano is a contributor to MiLB.com. Follow him on Twitter, @AndrewAtBatt.