Clippers' Bieber fires eight scoreless frames
No. 8 Indians prospect surrenders three hits while whiffing eight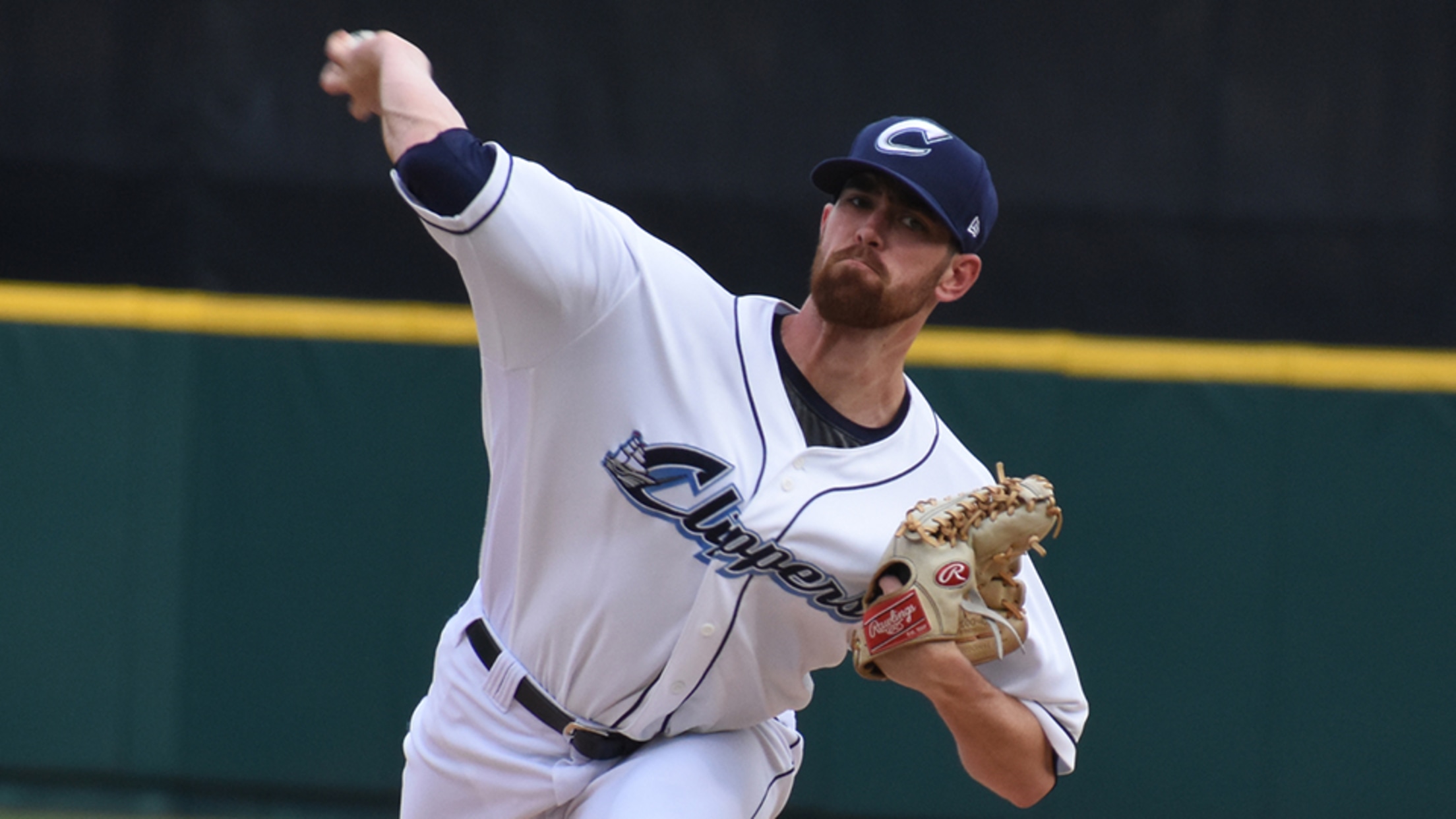 Shane Bieber picked up his first Triple-A win in his fourth start for Columbus. (Cathryn Wood/Columbus Clippers)
Shane Bieber had an ERA below 2.00 but nothing in the win column after three outings in the International League. He took matters into his own hands Sunday afternoon.Cleveland's No. 8 prospect allowed three hits and struck out eight while matching his career high with eight scoreless innings as Triple-A
Shane Bieber had an ERA below 2.00 but nothing in the win column after three outings in the International League. He took matters into his own hands Sunday afternoon.
Cleveland's No. 8 prospect allowed three hits and struck out eight while matching his career high with eight scoreless innings as Triple-A Columbus edged Charlotte, 2-1, at Huntington Park. Bieber, who didn't issue any walks, set down the last 13 batters he faced to shave his ERA to 1.32.
"Today was all about keeping things simple," he said. "It was one of those rare outings where I was able to throw all four of my pitches for strikes while commanding really well low in the zone. Pitchers will tell you starts like that don't come around too often. Most of the time you're not going to have everything work, but fortunately today I did. I worked well with [Eric Haase, the Indians No. 20 prospect.] I trust him and was just throwing to the glove."
Gameday box score
The 22-year-old right-hander hadn't allowed more than two runs in each of his first three starts with the Clippers. He worked around a two-out double by Matt Skole in the first inning and a single by Juan Perez in the second. Bieber (1-1) retired the side in order in the third and fanned the first two batters in the fourth before Mason Robbins notched Charlotte's third hit -- their final base knock of the game.
Bieber did not yield another baserunner over his final 4 1/3 innings and left after tossing 94 pitches -- 66 for strikes. It marked the fourth consecutive start he has topped 90 pitches.
"It took me a little while to settle in, both command-wise and in my aggressiveness," he said. "But [Charlotte] made it clear they were going to be aggressive early on the fastball, so after the first time through, we made the adjustment. I was getting strikes on the breaking ball and that put them on their heels, which enabled me to get some quick outs. As someone who is around the zone, landing a lot of off-speed stuff for strikes is key. It can be comfortable for a hitter if they know you're going to be around the zone, so you need to be able to manipulate it and stay below it. The key is making the pitch look like a strike for as long as possible before it leaves the zone."
The Orange, California native was nearly unhittable during his first five starts with Double-A Akron. He went 3-0 with a 1.16 ERA and 30 strikeouts in 31 innings and garnered Eastern League Pitcher of the Week honors for April 5-15 Bieber's kept up a similar pace since moving up to Columbus, where he has held IL batters to a .183 average while striking out 24 in 27 1/3 innings. Through his first nine starts of the season, Bieber is 4-1 with a 1.23 ERA and a 54-to-3 strikeout-to-walk ratio in 58 1/3 frames.
"The biggest difference [in Triple-A] so far is that hitters make adjustments pitch to pitch rather than at-bat to at-bat," Bieber said. "You need to stay with your gameplan but also be on your toes and not take any pitches off."
Cleveland's fourth-round pick in the 2016 Draft hasn't surrendered more than two runs in 34 of his 45 career starts, including seven of nine this season. Even with that type of success, you won't find him thinking about a possible Major League debut. At least not yet.
"I'm just trying to do my job," the UC Santa Barbara product said. "Keep it simple and just take it one inning and one outing at a time. If I get caught up in [thinking about the Majors], that could be detrimental. All I want to do is go out there every five days and give my team a chance to win."
Ben Taylor earned his fifth save despite allowing a run on two hits in the ninth.
Sixth-ranked Indians prospect Yu Chang supplied all the Clippers' offense with a two-run homer in the third.
Charlotte starter Tyler Danish (1-3) gave up two runs on two hits and two walks with five strikeouts in four innings. Patrick Leonard singled home Skole with the Knights' lone run in the ninth.