Sheffield, Widener combine on Thunder no-no
Yankees prospects help Thunder take 2-1 lead in EL semifinals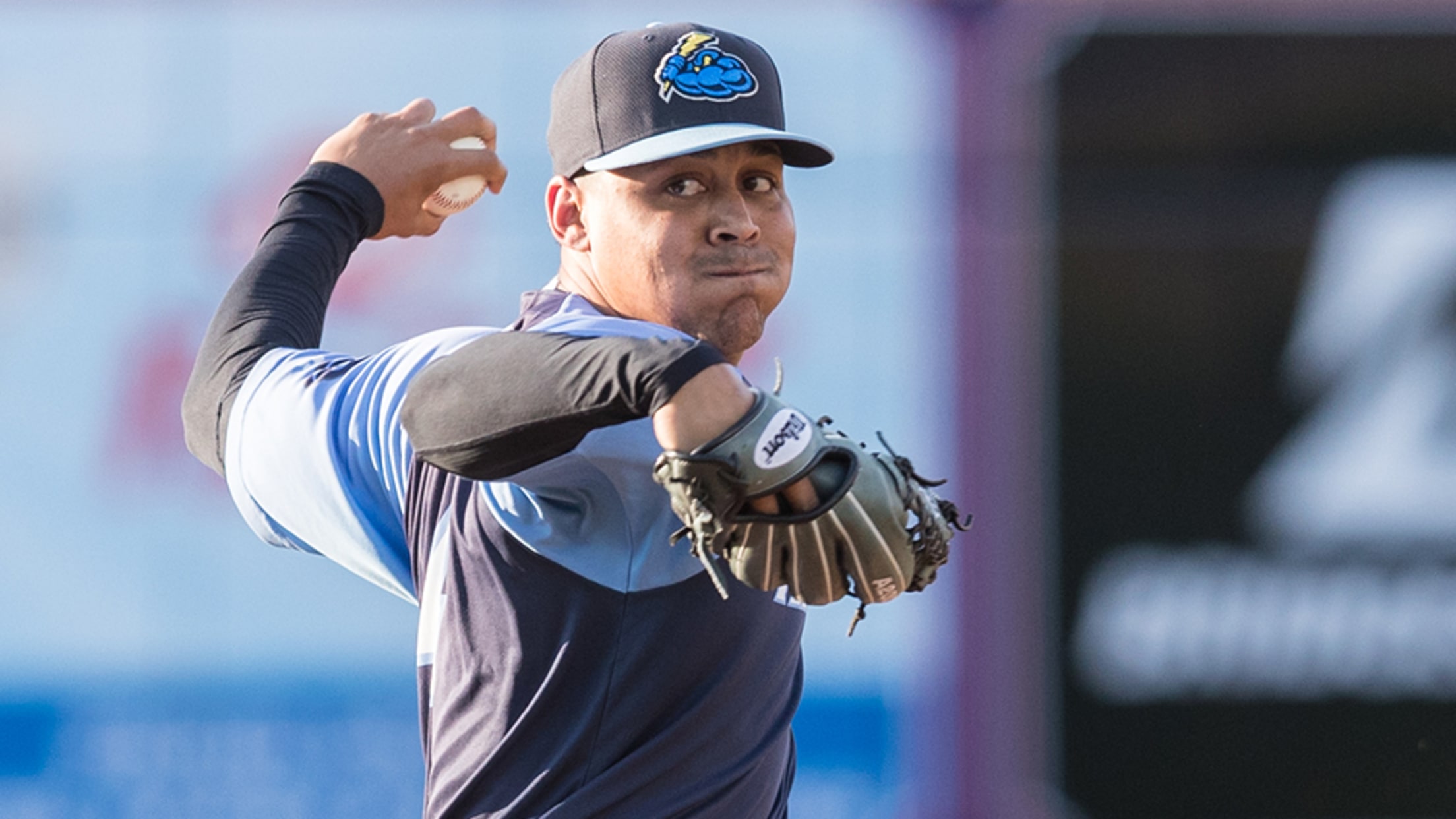 Justus Sheffield compiled a 3.18 ERA with 82 strikeouts over 93 1/3 innings during the regular season. (David Monseur/MiLB.com)
In what became one of the most memorable games in his professional career, Taylor Widener had no idea what was going on until it was over."I had to double-think it if we clinched or not," he said of his team's postgame celebration. "I was confused."Due to a late official scoring
In what became one of the most memorable games in his professional career, Taylor Widener had no idea what was going on until it was over.
"I had to double-think it if we clinched or not," he said of his team's postgame celebration. "I was confused."
Due to a late official scoring change, the Yankees' No. 16 prospect didn't initially realize that he combined with No. 5 prospect Justus Sheffield on a no-hitter as Trenton blanked Binghamton, 2-0, on Friday in Game 3 of the best-of-5 Eastern League semifinals at ARM & HAMMER Park.
"I couldn't believe [Widener wasn't aware], but that's the No. 1 rule: you weren't to [say anything to him] while he was pitching, so that's pretty crazy how it worked out," Sheffield said. "I was screaming, I was pumped. Everyone ran out, we were jumping on the mound and giving each other hugs. It was an exciting win."
Box score
Sheffield got things started in his second outing since rehabbing an oblique injury suffered in July. Working around a plunking of Luis Guillorme on the second pitch of the game, the left-hander retired four straight before Tomás Nido came up in the second. The 23-year-old knocked a ball to third baseman Dante Bichette, who had trouble with it as Nido reached first. It was ruled a single at the time and stayed that way until the eighth.
"I want to say it was a changeup. He rolled over it, it was hit to Dante," Sheffield said. "He got the ball and fumbled it around in his glove a little bit and threw it away."
Sheffield, MLB.com's No. 87 overall prospect, allowed two walks while striking out three over four frames.
"My overall command was better than it was in the past game," the 2014 first-round pick said. "The walks that I gave up were close walks. All my pitches were working for me, I kept my composure and let me defense work behind me."
After the fourth, Sheffield sat back and watched Widener "shove" for the next five innings. Enjoying the game in the dugout, he heard the hit had been changed to an error and, suddenly, he wasn't relaxing.
"That's when my nerves started kicking in. I was nervous for him out there," Sheffield said. "But he did his thing."
Free from the nerves or pressure of knowing what was going on, Widener struck out seven over five near-perfect innings in his Double-A debut. The only baserunner the 22-year-old allowed was Kevin Kaczmarski, who reached on an by second baseman Nick Solak in the fifth.
"I'm sure it made it a little easier," the University of South Carolina product said of not knowing. "Just mixing up all the pitches and commanding my pitches [was key]. After you're mixing them up, you have to be able to command them and throw them all for a strike, just to be able to get ahead of hitters."
Widener struck Matt Oberste for the final out, securing the fifth no-hitter in Eastern League playoff history and first since Bill Pulsipher pitched one for Binghamton against Harrisburg in the 1994 Championship Series. Widener said it means a lot to him that his first no-hitter since perhaps Little League came in the postseason, and Sheffield noted how important pitching coach Jose Rosado was on Friday.
The Thunder clubhouse has been boosted by rehabbing Yankees Clint Frazier and Garrett Cooper. Sheffield said he was especially happy to see the former -- who knocked an RBI single in the first -- as they spent 2 1/2 seasons together in the Indians organization before they were traded in the deal for reliever Andrew Miller.
Complete playoff coverage
"It was cool to have an old teammate back in the dugout. Having him in right field, it brought back memories from Spring Training and instructional league back in the day, when we were playing with each other," Sheffield said. "It was great to have him and Cooper; guys were asking questions, picking their brain and things like that."
The Thunder can advance to the Finals with a win in Game 4 on Saturday in Trenton.
In other playoff action:
Altoona 8, Bowie 4
Michael Suchy homered and drove in three runs and Elvis Escobar also had three RBIs as the Curve took a commanding 2-0 lead in the other semifinal. Pirates No. 19 prospectYeudy Garcia and Tate Scioneaux combined on three innings of scoreless relief for Altoona, which can complete a sweep at home on Saturday. Box score
Kelsie Heneghan is a contributor to MiLB.com. Follow her on Twitter @Kelsie_Heneghan.