Fernandez notches rare pitching trifecta
San Antonio hurler first in Texas League to notch Triple Crown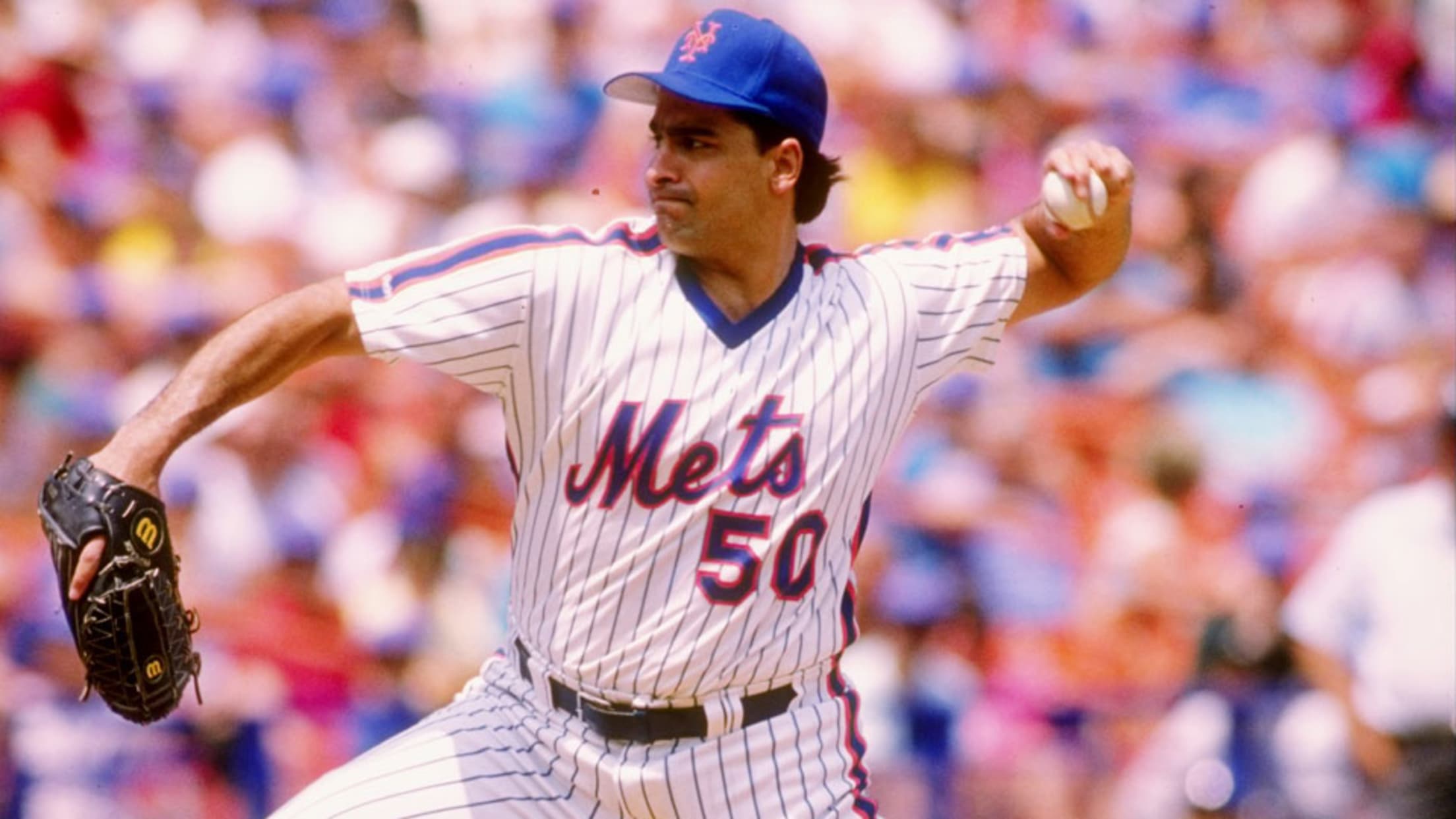 During his historic season, Sid Fernandez honed the breaking ball that proved essential to his Major League career. (Rick Stewart/Allsport)
Minor League Baseball is known for its rich history dating back more than 100 years. While much has been written about the best teams and top players who have graced the Minors, there remain many stories either untold or largely forgotten. Each week, MiLB.com will attempt to fill that gap
Minor League Baseball is known for its rich history dating back more than 100 years. While much has been written about the best teams and top players who have graced the Minors, there remain many stories either untold or largely forgotten. Each week, MiLB.com will attempt to fill that gap and explore these historical oddities in our new feature, "Cracked Bats."
The Texas League has had a history of great pitchers since the circuit's inception nearly 125 years ago. Whether you're talking about Dizzy Dean, Mort Cooper, Karl Spooner, or for the more contemporary fans, Dennis Eckersley, Eric Gagne and Roy Oswalt, dominant mound forces have been plentiful.
Yet since play began back in the late 19th century, only two pitchers have won the league's Triple Crown, taking home titles in victories, strikeouts and ERA in the same season. The first to accomplish this feat was San Antonio's Sid Fernandez, who turned the trick in 1983.
The hard-throwing left-hander, who went to achieve fame as part of the 1986 world-champion Mets, was still a Dodgers' farmhand in '83 when he set the Texas League buzzing. He tied Jackson's Joe Georger with 13 victories and posted a 2.82 ERA. His 209 strikeouts marked the first time in 16 seasons that a pitcher cracked the 200-whiff barrier on the circuit. It was also the last time anyone went over 200 strikeouts in a Texas League season.
George Ferran won the Crown three years later with Shreveport, going 16-1 with a 2.29 ERA and 147 strikeouts. His .941 winning percentage remains the highest in Texas League history. But Ferran's Triple Crown season proved to be his last big splash as shoulder problems forced him out of baseball by the spring of 1989.
That only two pitchers have accomplished this in the Texas League is quite an amazing feat considering some of the aforementioned pitchers who played there over the last 120 years. The league record book and The Minor League Baseball Encyclopedia list Ric Adams as the strikeout and victory leader in 1906, but neither publication has an ERA champ listed for that season.
"It surprises me to know that I'm the last guy to strike out 200 in a season there," said Fernandez, who went on to win 114 games in a 15-year big league career. "It surprises me because everyone is supposed to be bigger and stronger these days. I viewed that season as a starting point for me, though. It gave me more confidence.
"You realize that if you do it in Rookie ball, well, that's OK, because it's just Rookie ball. But when you start doing it in different leagues, it's something else. [Then San Antonio pitching coach] Dave Wallace told me I had a good arm and that I had to believe in myself. And he made me believe in myself even more."
Fernandez had gone into that season having pitched well at almost every level at which he'd played. He was 5-1 with a 1.54 ERA with 128 strikeouts in 76 innings at Lethbridge of the Pioneer League in 1981 before going 8-1 with a 1.91 ERA in 12 Florida State League starts to begin the 1982 season. The Dodgers got anxious at that point and bumped him up to the Triple-A Pacific Coast League, where he went 6-5 with a 5.42 ERA in 13 starts for Albuquerque. Still, he struck out 86 in 88 innings, providing a glimpse of what was to come.
"El Sid" took a step back in '83, going to Double-A San Antonio. Once there, however, he proved to be one of the few bright spots on a team that finished four games under .500 (66-70). He was named to the All-Star Game and won the MVP Award before going on to claim the league's Pitcher of the Year Award. Fernandez also won the league's inaugural Star of Stars Award.
"That season got me to the big leagues, because I started working on my breaking ball and getting better command of it," Fernandez said. "I basically worked on my grip and my motion. Mine was a slow breaking ball to begin with. It was bigger and loopier, so I tried to tighten it up a little. That's what I remember from that season."
Wallace, now the pitching coach with the Astros, said when Fernandez came out of high school in Hawaii, his "baseball awareness" was great. But the fact that he had so much desire to succeed is what ultimately helped set him apart from other pitchers, more so than anything Wallace might have done for him.
"He had an unorthodox, long stride and created rotation on his fastball," Wallace said. "I don't think he hit 90 (mph), but you couldn't pick the ball up. He was a big guy and he worked hard and learned his curveball in '83 in San Antonio.
"I spent a lot of time with him on the side and he'd get frustrated. But he didn't stop. You'd wait a day or two, let him calm down and then talk to him about it. It ended up, because he was pretty competitive and wanted to succeed and win, as the reason why he succeeded. He had a pretty good career."
Fernandez got into a pair of games for Los Angeles in September 1983, pitching six innings for manager Tommy Lasorda. But his effort in the Texas League didn't seem to impress the Dodgers as much as it should have and they traded Fernandez to the Mets that winter for Bob Bailor and Carlos Diaz.
He split the next season between Triple-A Tidewater and New York and became a staple in the Mets rotation in early 1985. Fernandez won 16 games for New York the following season as the Mets went on to capture the World Series. Fernandez won at least 12 games four more times for New York before finishing his career with stops in Baltimore, Philadelphia and Houston.
"El Sid" is best remembered for what he did in New York. But his star truly began to ascend in the Texas League.
Kevin Czerwinski is a reporter for MLB.com.