Snitker: Braves' Acuna will be 'part of mix'
19-year-old will get plenty of chances this spring, says manager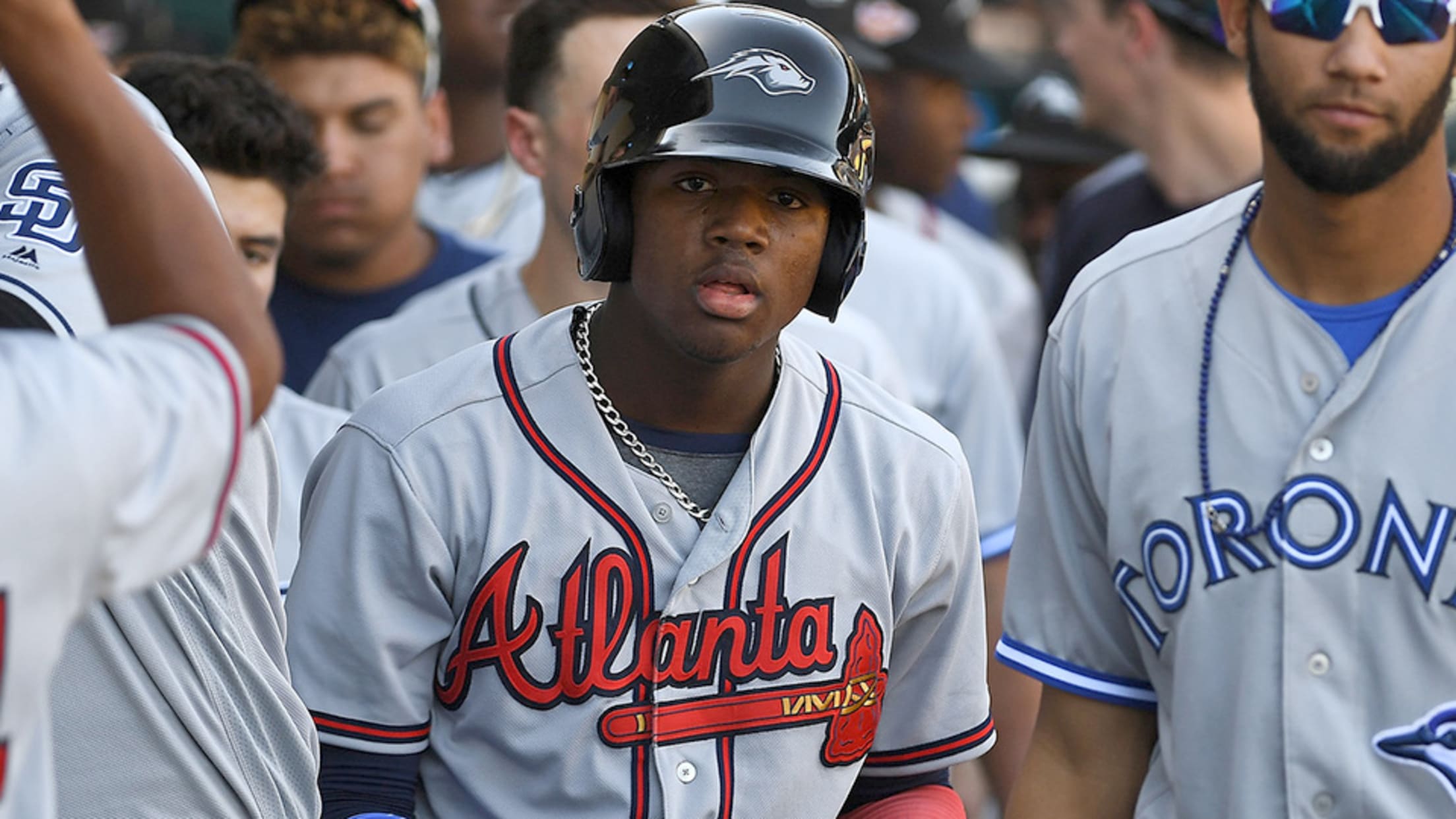 Ronald Acuna was named the Arizona Fall League MVP despite being just 19 years old. (Jennifer Stewart/MLB.com)
LAKE BUENA VISTA, Fla. -- Ronald Acuña Jr.'s Minor League season was one for the books. The 19-year-old outfielder climbed three levels, won the MiLBY award for Breakout Prospect of the Year, has risen to the No. 6 spot in MLB.com's overall prospect rankings and finished things off by being
LAKE BUENA VISTA, Fla. -- Ronald Acuña Jr.'s Minor League season was one for the books. The 19-year-old outfielder climbed three levels, won the MiLBY award for Breakout Prospect of the Year, has risen to the No. 6 spot in MLB.com's overall prospect rankings and finished things off by being named Arizona Fall League MVP. If Braves manager Brian Snitker had had his way last spring, Acuna might have skipped the Minors altogether.
"I said last year when they would send him over, 'If you want this kid to have a breather, don't send him because I'm playing him,'" Snitker said of his experience managing Acuna in Spring Training games. "He probably would have made our club out of Spring Training last year by fence jumping. He's an exciting kid. It's going to be exciting again to get him in our camp again this year.
The Venezuela native ended up hitting .325/.374/.522 with 21 homers, eight triples, 31 doubles and 44 stolen bases in 139 games for Class A Advanced Florida, Double-A Mississippi and Triple-A Gwinnett this past season. Though he was rumored to recieve a September call-up to Atlanta, Acuna went to the AFL instead, where he hit .325/.414/.639 over 23 games and led the showcase circuit with seven home runs and 53 total bases.
Acuna would seem be a candidate for the Majors early next season, but the construction of Atlanta's big league roster complicates matters. Two-time Gold Glove-winner Ender Inciarte is a mainstay in center field coming off his first All-Star season and veterans Matt Kemp and Nick Markakis curently man the corners. Kemp is still owed $43 million over the next two seasons while Markakis will be paid $11 million in the final year of his contract in 2018. Moving either to bench roles would be an expensive pill for the Braves to swallow, and dealing either to make room could also be difficult, given that Markakis was worth only 0.9 WAR last season and Kemp was below replacement level.
Snitker didn't seem worried about finding a place for Acuna in 2018. He'll come to Spring Training as a non-roster invitee, rather than an occasional callup from Minor League camp, and will get to compete alongside the established outfielders. When the Braves need to find a spot for a talent like Acuna's -- whether it's right out of the gate or later when Super Two concerns are set aside -- they'll do so, says Snitker.
"I think he just has to do what he does," said the manager. "Like I said, he came in and was a very impressive young man. I was mostly impressed with the adjustments he would make on the fly and in at-bats. Again, the kid's skill set defensively, what he brings offensively, it's really good. So we'll get him down here and be part of the mix and see where he's at."
Young guns in rotation: Snitker said that the Braves rotation as things stand features Mike Foltynewicz, Julio Teheran, Sean Newcomb and No. 6 prospect Luiz Gohara. The fifth spot is up for grabs, either through an offseason addition or internal options. The Atlanta skipper mentioned Lucas Sims and No. 8 prospect Max Fried alongside Aaron Blair and Matt Wisler as being in the running. But he wasn't afraid to add that No. 2 prospect Kolby Allard and No. 4 prospect Mike Soroka might also get a shot at those spots at some point, given that both 20-year-olds are set to begin 2018 in Triple-A Gwinnett.
"We have some options," Snitker said. "Lucas Sims came up and did a pretty good job. We saw Max Fried. There's some others. The young guys, the Sorokas, the Allards, guys like that that will be in camp. It's going to be a fun Spring Training for us because we're going to see a lot of these guys that we've been talking about and now they're going to come burst on the scene."
Fried, in particular, could make for an interesting option while Atlanta waits for the youngsters. The 23-year-old left-hander had a rough go at Double-A Mississippi (5.92 ERA, 43 walks in 86 2/3 innings) but found success in the Majors, finishing with a 3.81 ERA and 22 strikeouts over 26 frames while working as both a starter and reliever. Fried, who missed much of 2014 and 2015 seasons due to Tommy John surgery, was also a standout pitcher in the Arizona Fall League, leading the circuit with 32 strikeouts while posting a 1.73 ERA and 0.88 WHIP over 26 innings.
Armed with a fastball that averages 93 mph and a plus curveball, Fried's AFL performance gives him momentum heading into to Spring Training.
"The kid added innings to his arsenal this year after everything that he's been through," Snitker said. "He ended the year healthy, so that's a really good thing. If we can keep these guys healthy and get them on the mound, I think all of them have the skill set to do very well."
Culmination coming: The big story of the Braves' offseason has been the international signing penalties that saw the club lose 12 signed prospects. But if there's bad news on the club's back-end depth, 2018 could be the culmination of the organization's work to build through its farm system.
Former top prospects Dansby Swanson, Ozzie Albies, Newcomb and Gohara already have spots with the big club, and Acuna, Allard and Soroka aren't likely to be far behind. Fifth overall pick Kyle Wright could rise quickly, having already pitched at Class A Advanced coming out of Vanderbilt. As much of a hit as the system took with the sanctions, the Braves still have enviable Minor League depth at the upper levels -- next season should be the most exciting in Atlanta since the club last made the playoffs in 2013.
"It could be, yeah," Snitker said of the possibility. "And I think you're going to see our young guys, we're going to have guys coming every year for a while. I think there are going to be guys that are matriculating up and putting themselves in the Major League picture. All those young guys came up last year, and I think they all handled themselves very well. They all felt like they were ready. I don't think anyone was awed by the situation being in the Major Leagues. I was impressed with how every one of them came up and handled themselves."
Sam Dykstra is a reporter for MiLB.com. Follow and interact with him on Twitter, @SamDykstraMiLB.