So, how did Tebow do in his first season?
Quarterback, TV analyst-turned-Mets outfielder hit .226 in 2017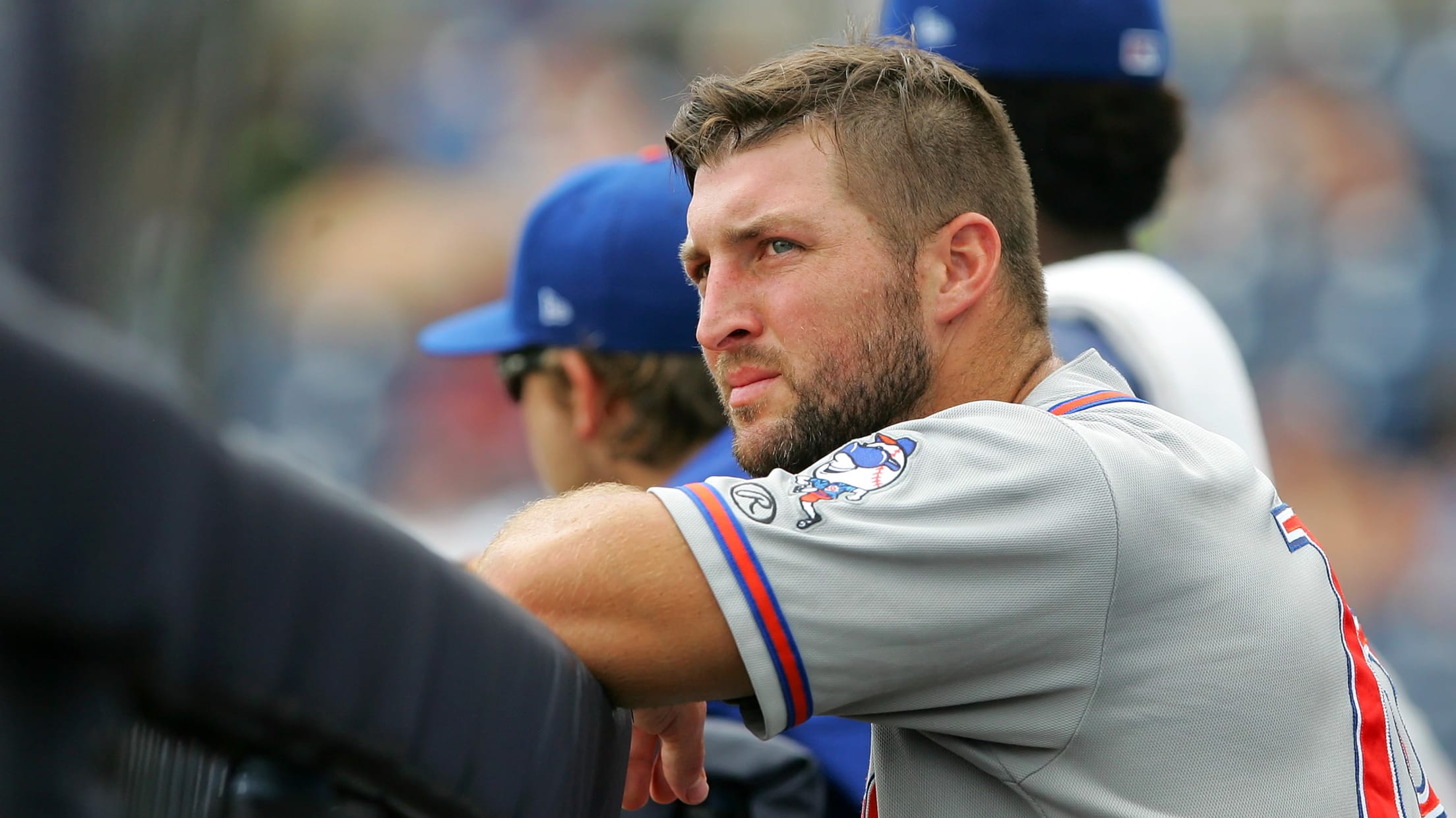 Tim Tebow enjoyed a season of highs and lows across two levels and 126 Minor League games in 2017. (Cliff Welch/MiLB.com)
Tim Tebow's first season in baseball is in the books, and for his many fans and critics, it was a memorable journey. How did he fare, though?Back in April, Tebow suited up for Class A Columbia, walked to the plate and homered in his first at-bat against Augusta on April
Tim Tebow's first season in baseball is in the books, and for his many fans and critics, it was a memorable journey. How did he fare, though?
Back in April, Tebow suited up for Class A Columbia, walked to the plate and homered in his first at-bat against Augusta on April 6. That was months after he went yard on the first pitch he ever saw at instructional league on Sept. 28, 2016. Then he was promoted to Class A Advanced St. Lucie on June 28. He blasted one on his first day against future co-champion Palm Beach.
The Tebow magic recurred many times in 2017. It also went missing for large portions of the season.
The outfielder, who turned 30 on Aug. 14, finished the year batting .226 with eight homers, 52 RBIs, 24 doubles and a .309 on-base percentage across two levels. Other important stats: He averaged one strikeout per game or 25.9 percent of the time, racking up 126 K's in 126 contests. He walked 43 times, scored 50 runs and and was 97-for-430. A quarterback known for running rather than passing, Tebow went 2-for-4 in stolen-base attempts.
So where do those numbers rank? Is it fair to compare Tebow to players 10 years younger than he is who've been playing baseball for years? Where does he stack up against other high-profile athletes who took their own crack at the Minor Leagues?
Michael Jordan, with Double-A Birmingham in 1994, had almost exactly the same amount of games and at-bats as Tebow did this year. Then 31, Jordan hit .202 with three homers, 51 RBIs, 17 doubles and a .289 OBP. He did this at a higher level than Tebow, which is certainly relevant when putting them next to each other:
Tebow vs. Michael Jordan (1994)

Tim Tebow hit .226 in 2017; Michael Jordan batted .202 at Double-A in '94. (Cliff Welch, Getty Images)
Besides stolen bases and strikeouts, Tebow took the statistical edge in every category. A deeper look shows Tebow hit into 14 double plays, compared to just four for Jordan. Tebow had more total bases.
How about two other notable football players who played baseball? Deion Sanders appeared in 253 career Minor League games, but let's look at his first full season in the Minors, 1989, when he played for Double-A Albany-Colonie and Triple-A Columbus:
Tebow vs. Deion Sanders (1989)
We remember Sanders as a base-stealing contact hitter. He has better numbers in fewer games at higher levels, although Tebow sports the edge in homers, doubles, RBIs and walks.
John Elway, who in 2012 traded Tebow from the Denver Broncos to the New York Jets, played in the Minors before his Hall of Fame career as a quarterback. He spent the summer of 1982 with the Oneonta Yankees, playing in 42 games (without making an error in the outfield). For a better comparison, let's size his season up against Tebow's 64-game stint at Columbia:
Tebow vs. John Elway (1982)
How did he stack up in the Mets system?
Just for fun, let's look at how Tebow stacked up against other current Minor Leaguers, including those in his own organization. Entering the season, who would've guessed that Tebow would end up with more homers than recently graduated Mets No. 1 prospect
Amed Rosario
and
ninth-ranked
Gavin Cecchini
? (OK, so he played substantially more games than both of them.)
Digging deeper, there were actually only four players in the entire Mets system -- No. 16 prospect
Jhoan Urena
(14), No. 25
David Thompson
(16),
Phillip Evans
(11) and
Michael Paez
(10) -- who played more games
and
belted more home runs than Tebow.
Here's another interesting comparison: Tebow and
Tomás Nido
. The 23-year-old 2012 Draft pick and 10th-ranked prospect was called up by the Mets from Double-A Binghamton on Sept. 12. And the Mets' sixth-best position prospect had basically the same offensive stats in 2017 as Tim Tebow:
TEBOW vs. NIDO
The glaring discrepancy here is strikeouts and it should be noted that Nido is a catcher.
For a more fair comparison, let's look at someone who spent the entire season at St. Lucie, the team Tebow ended the year with. Wuilmer Becerra, the No. 13 prospect, came to New York in the R.A. Dickey deal that also delivered Noah Syndergaard. The 22-year-old is also an outfielder:

TEBOW vs. BECERRA
Tebow actually had fewer strikeouts than Becerra. Notable caveat here: Becerra entered 2016 coming off a shoulder injury, and while he was healthy enough to play a full season, the Mets think that impacted his power numbers this summer.
So what's the point? A frequent complaint from fans a year ago was that Tebow's presence with the Mets in Spring Training and during the regular season would directly impact other Mets farmhands, pushing deserving players out of the lineup, off the field or out of a job. Here we are in September, and nitpicking aside, Tebow's numbers are almost indistinguishable from two of the Mets' top prospects, one of whom is currently in the Majors. He was statistically slightly below average, but there were plenty of players who had worse seasons. Looking back, there were no position players released by the Mets from Columbia or St. Lucie during the time Tebow was with those teams. That doesn't mean someone else was perhaps kept at a lower level while Tebow occupied a roster spot, but it's difficult to argue that his existence got a teammate tossed to the curb.
According to a CBS Sports analysis, Tebow was about 8 percent lower than the league average in the South Atlantic League and roughly 3 percent below average in the Florida State League. He finished with an 8.8 percent walk rate. In basically the same amount of plate appearances, Tebow hit more homers, drove in more runs and struck out at a lower rate after moving up to St. Lucie.
But what about Tebow as an outfielder? At Columbia, he made seven errors in 58 total chances and sported a .879 fielding percentage. The league average among SAL outfielders in 2017 was .977. Only five players in the league finished with more errors than Tebow, despite the fact he played just half a season there.
At St. Lucie, Tebow committed three errors in 63 chances and had a .952 fielding percentage; the league average was .982.
Ultimately, fans will judge him subjectively. If you're a Tebow defender, he did great and proved everyone wrong. If you're a Tebow hater, then he failed miserably. The objective reality is he wasn't that bad overall, but he wasn't great. He didn't embarrass himself or the Mets, but he didn't dominate and push his way up to Citi Field. He didn't emerge as a power hitter or a patient contact hitter, and he didn't scare anyone with his arm.
In the context of "he's a guy who hasn't played baseball in a million years," then yeah, either way, it's impressive to suit up and compete the way he did. Many others before him have fared far worse. Consider the brief career of Shaq Thompson, the Red Sox's 18th-round pick in the 2012 Draft. Thompson, an outfielder, went 0-for-39 with 37 strikeouts in the Rookie-level Gulf Coast League before abandoning the sport. He isn't an inept athlete; the football linebacker played in the Super Bowl for Carolina in 2016.

He'll be back, but where does he go from here?
Tebow openly admits this past year was a learning experience. He told the Associated Press earlier this month he plans to come back with the Mets in 2018.
"In looking back, there's a lot of ups and downs, a lot of learning moments," he told the AP. "Almost every day there's something that I've never been through before that I'm learning."
Tebow, before an August slump in which he went 3-for-44, had his average over .300 in July. He hit .220 at Class A Columbia and .231 at St. Lucie, spending almost the same amount of time at each level. The outfielder and designated hitter batted .317 in his first 25 games in Florida and amassed a 12-game hitting streak in July.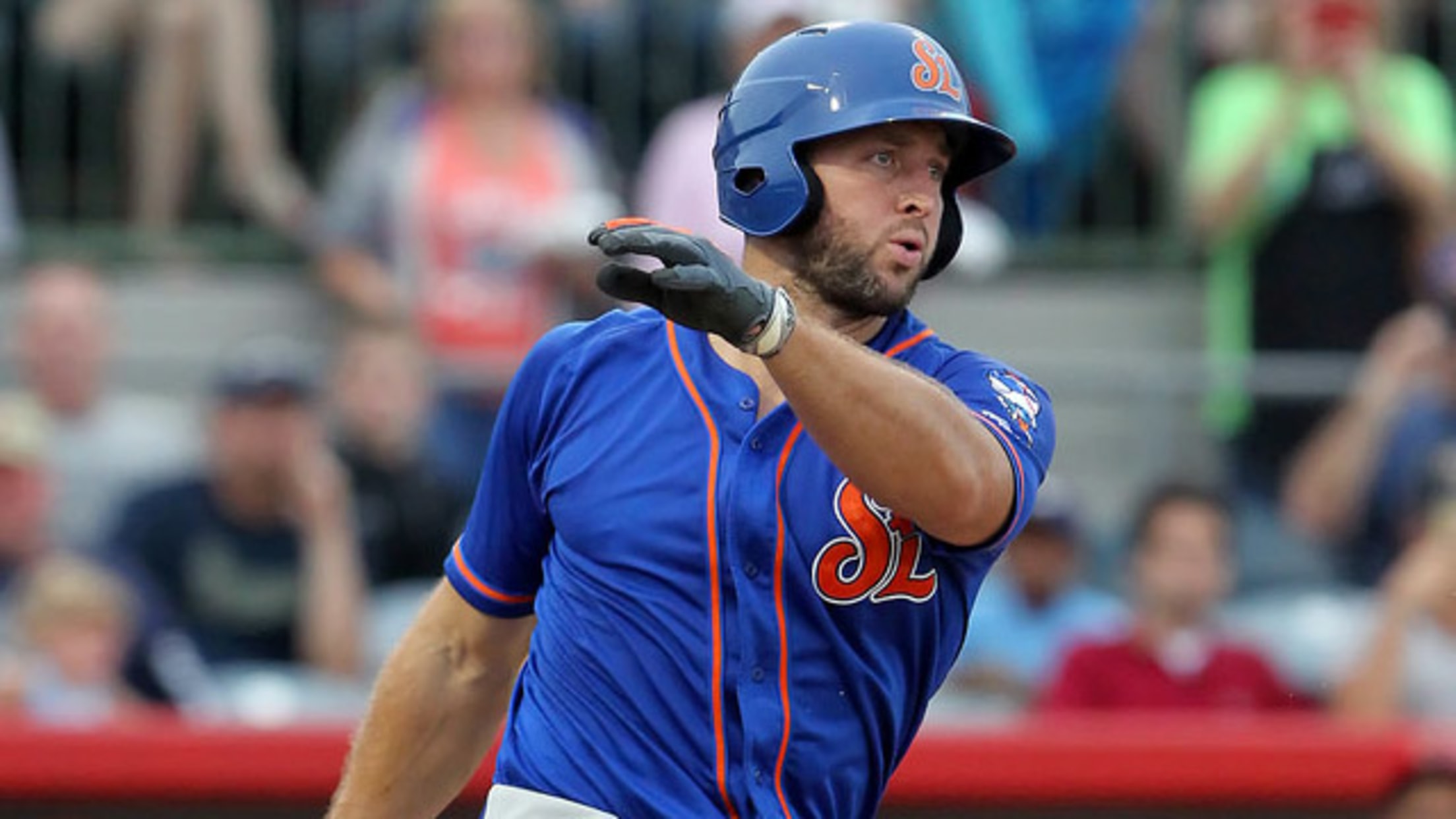 Tebow said he's already preparing for a return to the diamond in 2018. (Cliff Welch/MiLB.com)
"You definitely have to be day to day," Tebow told the AP. "When you're going through times that are really good, it can't be based on the day before. Or when you're going through tough times and not swinging the bat well for whatever reason, or the grind or whatever you're working on, you have to be focused on the present and the now."
Tebow, assuming the Mets don't drop a late surprise callup next week, said he'll spend the offseason training for next year and believes it'll be easier going forward, too.
"I think it will be easier from that standpoint, mentally, knowing what to expect," he said. "As far as baseball goes, I think it will be a huge year for me."
Depending on Tebow's Spring Training next year, we can expect to see him back in St. Lucie or at Double-A Binghamton to start the season.
We also expect he'll continue to draw fans and boost revenues wherever he goes. ESPN called him MiLB's "greatest value."
Until then, we can watch Tebow talk about college football on the SEC Network, where fans are already finding ways to tease:
Tweet from @thatgirlondeck: early front runner for favorite sign 😂😂😂 pic.twitter.com/Kwfjpo2U6K