Reyes strikes out 13 in third rehab start
Cards top prospect matches career high, Springfield team record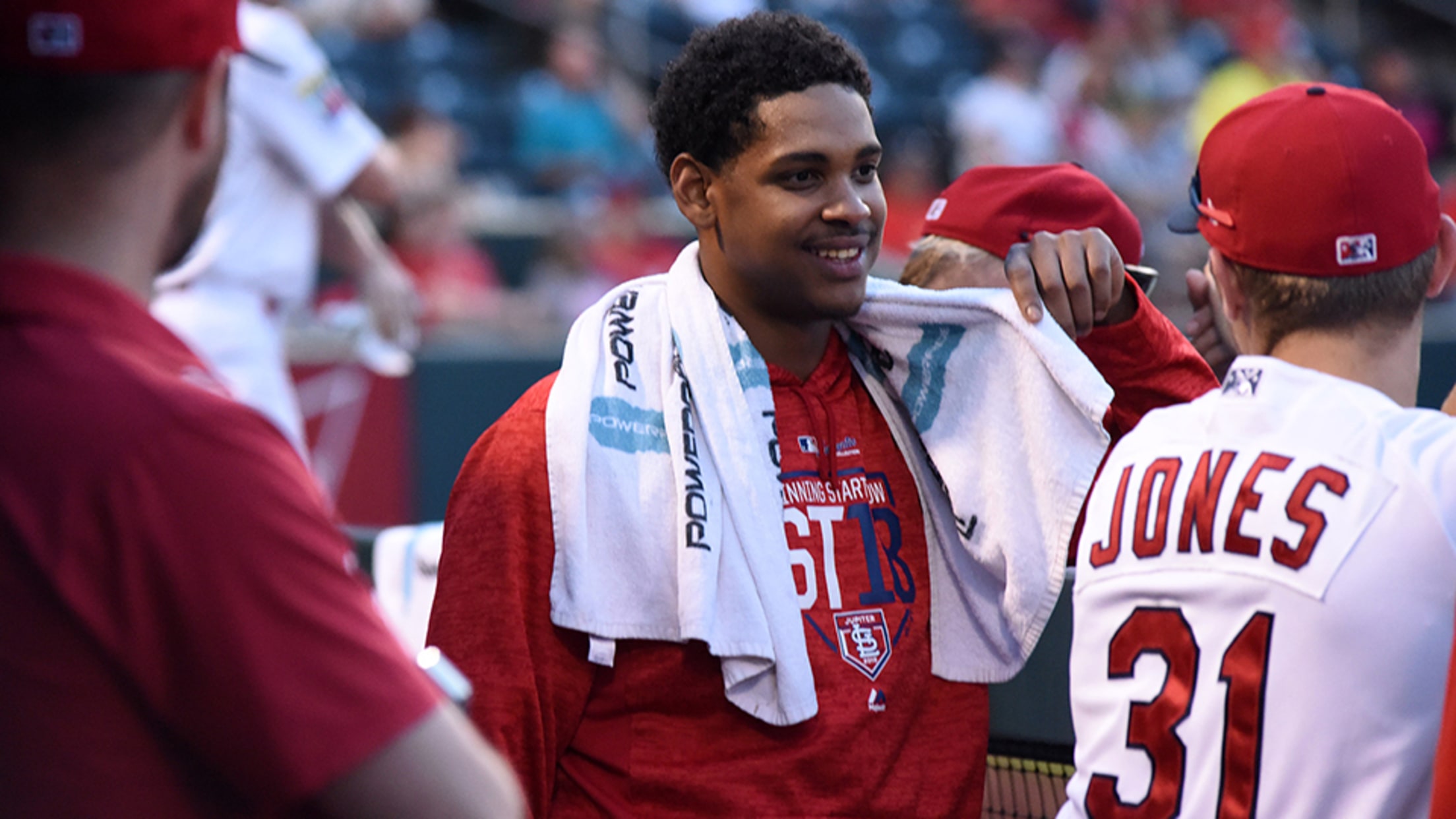 Alex Reyes is averaging 17.4 strikeouts per nine innings during his rehab assignment. (Mark Harrell/Springfield Cardinals)
Aside from a glimpse at Alex Reyes in extended spring training in 2014, where the right-hander threw exclusively fastballs, Double-A Springfield manager Johnny Rodriguez had never seen him pitch.When he heard the news that Reyes' rehab tour would make a stop in the Texas League, he was ecstatic. And Reyes
Aside from a glimpse at Alex Reyes in extended spring training in 2014, where the right-hander threw exclusively fastballs, Double-A Springfield manager Johnny Rodriguez had never seen him pitch.
When he heard the news that Reyes' rehab tour would make a stop in the Texas League, he was ecstatic. And Reyes did not dissapoint.
The top Cardinals prospect allowed one hit and tied his career high and the franchise record with 13 strikeouts over 7 2/3 innings as Double-A Springfield edged Northwest Arkansas, 1-0, on Saturday at Hammons Field. He threw 60 of 93 pitches for strikes while issuing three walks in his third rehab start.
Gameday box score
"What I like with his velo was the late life," said Rodriguez, adding that Reyes was throwing between 97-101 mph. "The breaking balls had real late depth, I mean real late. Guys thought they could see it coming right at him, but no, it was dropping. It had a lot of depth to it. His changeup and cutter were working, too."
The right-hander matched Trey Hearne's team record for strikeouts, set on May 8 2009, also against Northwest Arkansas.
Reyes (1-0) has not allowed a run in starts across three Minor League levels and has racked up 31 strikeouts over 16 innings. Saturday was the longest outing of his Minors career, with the 23-year-old never pitching into the eighth inning before.
"Just to be able to get that deep in the game was exciting," Reyes told reporters after the game. "That's my focus every night. That's been one of my things throughout my Minor League career, and even in the big leagues, is getting deeper into games."
The New Jersey native underwent Tommy John surgery to repair a torn ulnar collateral ligament before Spring Training in 2017. He compiled a 4.96 ERA in 14 starts with Triple-A Memphis in 2016 before his contract was selected by St. Louis, where he compiled a 1.57 in 12 appearances, including five starts, in his first Major League action.
Is he ready to return to the big leagues?
"I feel comfortable and my arm feels good," Reyes said. "Whatever the team thinks is right, is right."
Rodriguez said he thinks the stuff is there, but with Reyes' injury history, another start in the Minors wouldn't hurt.
"He could start next week, there's no doubt in my mind, if they needed to start him," Rodriguez said. "But I don't make those decisions ... and I would probably give him another start. One more start and he's ready."
What stood out most to Rodriguez, more than the 100 mph fastballs and nasty breaking pitches, was the demeanor he displayed from the moment he walked in the Springfield clubhouse.
"He's a lion on the mound," Rodriguez said, "but I like the way he goes about it. All the great ones have it. There's a calmness about themselves and a confidence. I think in two or three years as he moves forward, if there's no setbacks or anything, I'll be honest: it's going to be special. I don't say that a lot, but I've been close when I've said it when someone has that special stuff and that special stuff on the inside. And he has it."
The atmosphere in Springfield was special, too. And it invigorated Reyes, according to his manager.
"I've never seen anything like this," Rodriguez said. "How an affiliate, Double-A or Triple-A or any other place I've been will be almost like the big league club. OK, the stadium isn't as big, not even close. But the atmosphere when you walk in from the clubhouse into the dugout, the way they're wearing red and the way they treat you and understand the game [is special]. They're unbelievable fans. It's Cardinal Nation. It's real. It's special, because it feels like St. Louis. ... And Reyes and [Tyler] Lyons pitched to the moment and they pitched to the fans, and the fans enjoyed it."
Reyes allowed his only hit in the third inning when Luis Villegas led off with a single, then worked out of trouble in the fourth after issuing back-to-back walks. Elier Hernandez sacrificed, but center fielder Lane Thomas completed a double play by nailing Erick Mejia at the plate.
Victor Roache slugged his Texas League-leading 13th homer in the second for all the support Reyes needed.
Lyons, also on a rehab assignment, picked up the save after pitching a clean ninth with a punchout.
Reyes outdueled Royals No. 22 prospect Andres Machado (0-2), who allowed one run on four hits over 5 2/3 innings and struck out four to lower his ERA to 1.69.
Josh Horton is a contributor to MiLB.com. Follow him on Twitter @joshhortonMiLB