Voit completes cycle in Redbirds' romp
Cards first baseman finishes feat started in suspended game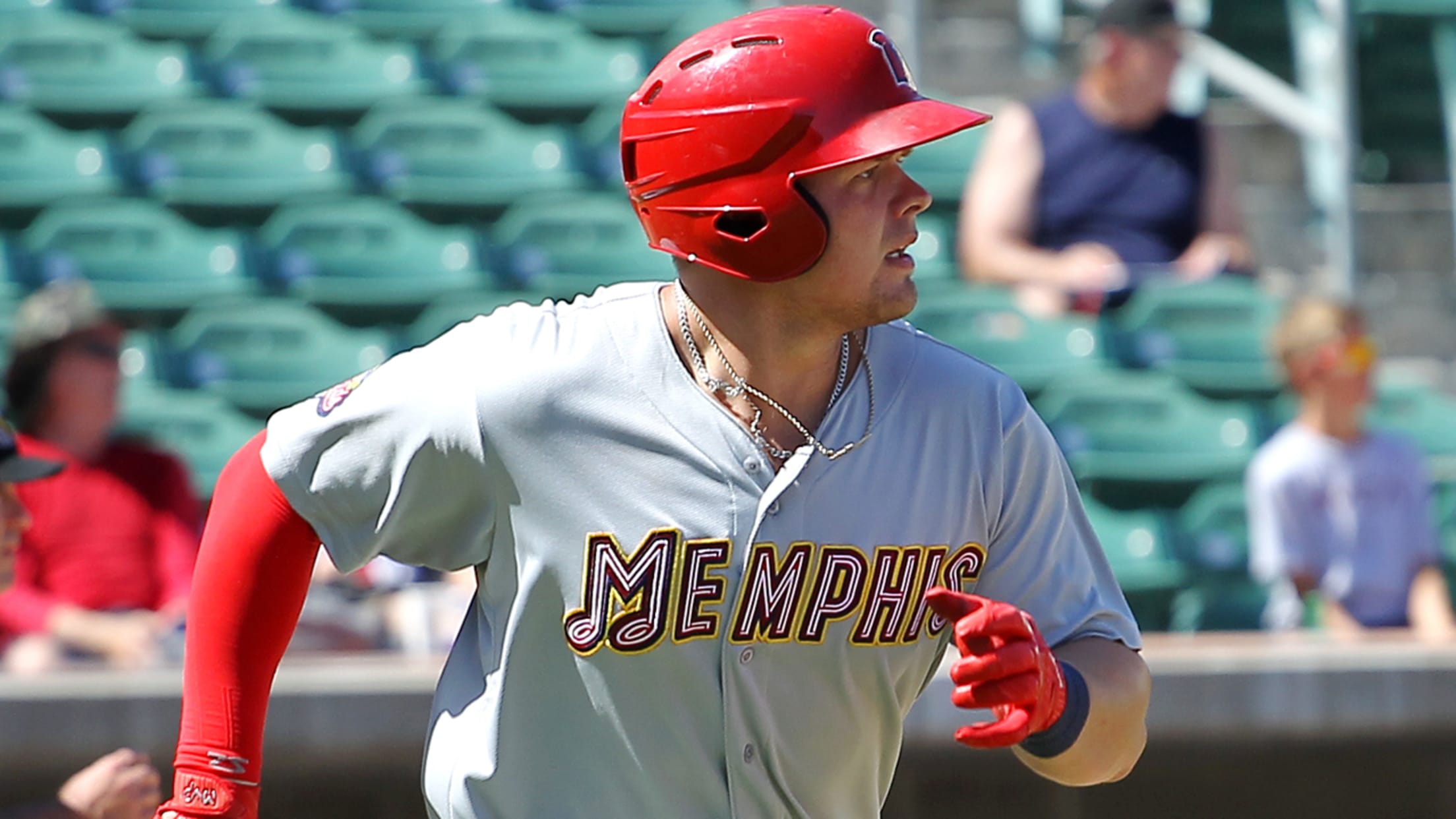 In addition to the cycle, Luke Voit recorded the first five-hit game of his six-year Minor League career. (Ben Sandstrom/MiLB.com)
Luke Voit started a historic performance in June. He didn't get to finish it until July.The Cardinals farmhand belted a ninth-inning homer to finish off the cycle and his first career five-hit game Sunday as Triple-A Memphis blasted Iowa, 13-2, in the completion of a suspended game. The cycle was
Luke Voit started a historic performance in June. He didn't get to finish it until July.
The Cardinals farmhand belted a ninth-inning homer to finish off the cycle and his first career five-hit game Sunday as Triple-A Memphis blasted Iowa, 13-2, in the completion of a suspended game. The cycle was the fifth in the Pacific Coast League this season and Memphis' first since Mark Little accomplished the feat on June 23, 2000.
Voit and the Redbirds led the Cubs, 3-1, after four innings when rain halted play on Saturday evening. By that time, the first baseman had put the most difficult leg of the cycle under his belt, tripling to right field and driving home a run in the first inning.
"I got the triple out of the way last night," he said. "It was super windy, so that kind of helped me out and I know that's kind of the hardest one to get, especially with me not being the fastest person in the world. We had pretty good storms last night. We were hoping we'd finish five so we didn't have to finish the rest of that game because we were winning and playing pretty good."
In retrospect, it worked out that Memphis had to play the full nine, but after his single to left in the third, Voit had to wait a while.
Sunday's first trip to the plate came in the fifth for Voit, who doubled to left to drive in another run. An inning later, the 27-year-old reached on a single back to the mound. Working on his second four-hit game of the season, he followed an eighth-inning strikeout by clobbering his fourth homer in the ninth.
Gameday box score
"I knew I had a chance," he said. "I struck out the time before. I think I was trying to hit the home run instead of just letting it happen. I was lucky enough to get another opportunity and I just tried to stay relaxed and take whatever the pitcher gives me and not try to do too much. Luckily enough, I hit it out. I wasn't trying to hit it out, but I just stayed within myself and it was a pretty cool feeling. I kind of knew it off the bat and had that feeling going around the bases."
The two-run blast to right-center gave him five RBIs for the day, matching the career high set during a two-homer game for Double-A Springfield on July 8, 2016.
"I've never hit for the cycle," Voit said. "It's kind of just getting locked back in after getting sent back down, and things are falling in the right direction. I feel good, and it's something I'll always remember for the rest of my life."
Voit has divided his season between Memphis, Springfield and St. Louis but has been hitting his stride in recent weeks with the Redbirds. Following the completion of Saturday's game, the Missouri State product was .364 (16-for-44) with three homers and 10 RBIs over his last 10 games. He added a pinch-hit RBI double the seventh inning of Sunday's regulary scheduled contest.
"It did [stink] for a while, just going up and down and not getting consistent at-bats, but I feel like I was using that as an excuse for a while and kind of getting in my head about it, just not going out there and having fun and doing my own thing, using my hands instead of using my whole body," the 2013 22nd-round pick explained. "To finally get some at-bats, I'm finally getting back in a groove, getting comfortable with my timing and everything.
"It's part of it, and I understand it. When [St. Louis manager Mike Matheny] sent me down, he said, 'Just get hot so we can call you back up.' That's what I've been trying to do and, hopefully, I get a chance to go back up there soon."
Memphis totaled 28 hits in the twinbill. Cardinals No. 2 prospectTyler O'Neill smacked his 19th homer, a two-run shot in the first inning on Saturday.
Tyler Maun is a contributor to MiLB.com. Follow him on Twitter @TylerMaun.