Cardinals Prospect Primer: Soaking up Reyes
After Tommy John surgery, righty could bolster St. Louis staff in '18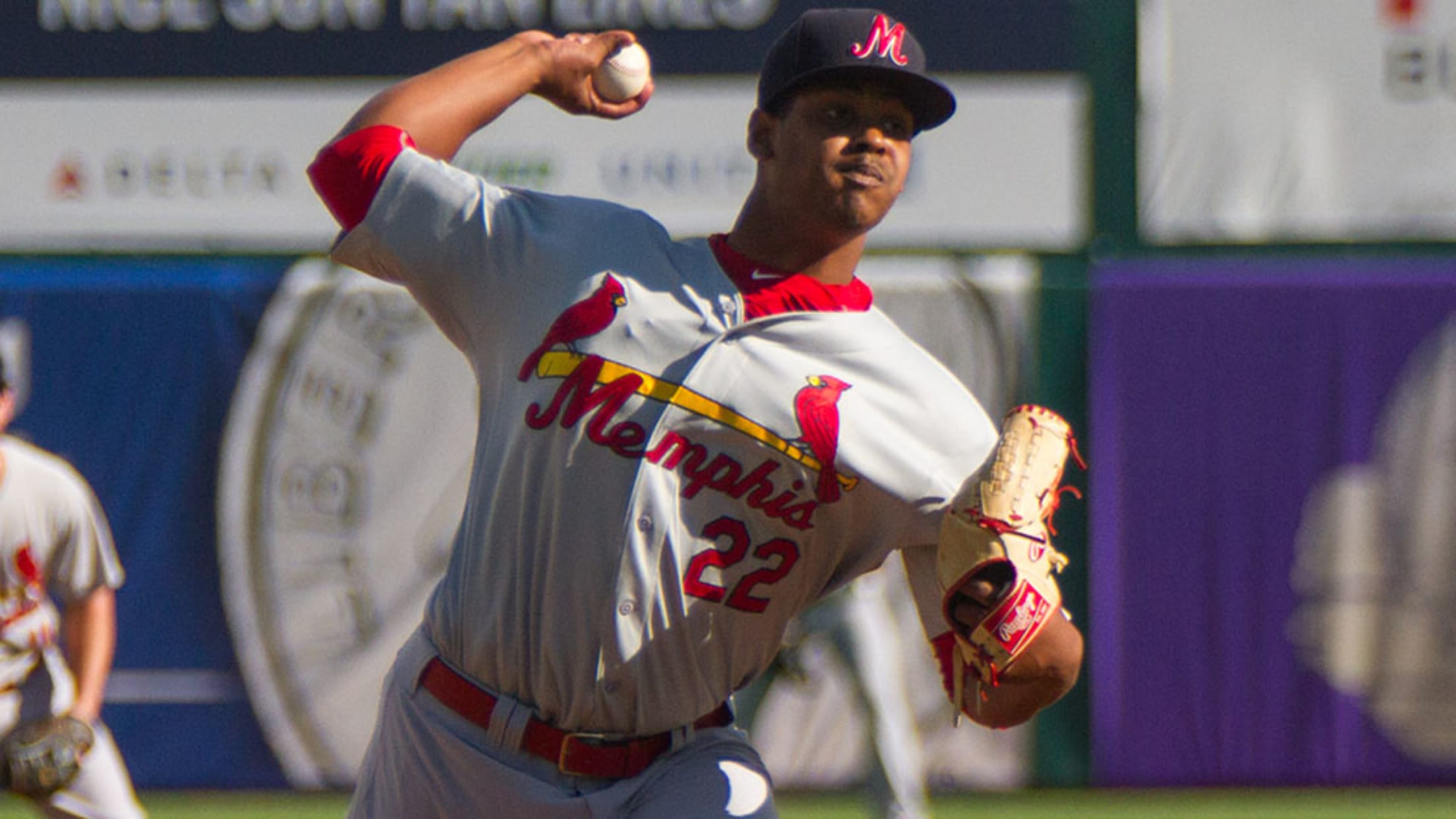 Alex Reyes compiled a 3.50 ERA in the Minors before missing 2017 due to Tommy John surgery. (Bobby Stevens/MiLB.com)
Some players are on the verge of stardom, others are entering a crucial phase of their development and still others are getting their first tastes of full-season ball. With the 2018 season approaching, MiLB.com takes a look at the most intriguing prospects from each MLB organization.Back and healthy: Alex Reyes,
Some players are on the verge of stardom, others are entering a crucial phase of their development and still others are getting their first tastes of full-season ball. With the 2018 season approaching, MiLB.com takes a look at the most intriguing prospects from each MLB organization.
Back and healthy: Alex Reyes, RHP
Despite all of the setbacks throughout his Minor League career, the buzz surrounding the top Cardinals prospect remains as palpable as ever. St. Louis fans hope the crescendo will find Reyes on the Major League roster and making a significant impact after undergoing Tommy John surgery before the 2017 season. Following a full season of rehab, MLB.com's No. 17 overall prospect is close to completing his comeback tour.
An MRI had revealed a complete tear in Reyes' ulnar collateral ligament, which he sustained in a bullpen session before 2017 Spring Training. The injury was on the coattails of a partially lost 2016 campaign in which the top right-handed pitching prospect was slapped with a 50-game suspension to begin the season. While Reyes didn't pitch in a Spring Training game for St. Louis in 2018, he threw bullpen sessions on the backfields of the Cardinals' Spring Training complex in Jupiter, Florida. The New Jersey native originally started the season on the 10-day disabled list, but after the acquisition of All-Star reliever Greg Holland, St. Louis transferred Reyes to the 60-day disabled list to make room for Holland on the 40-man roster. Now, Reyes won't be able to join the Cardinals Major League roster until late-May at the earliest.
Even in a system with several upper-level prospects knocking on the door to break onto the Major League roster, Reyes is viewed as the most likely to grow into a star. The 23-year-old boasted a glove-popping fastball that could hit triple digits before he underwent surgery on his elbow. It's unknown whether the velocity remained the same after the procedure, but there is plenty of room for velocity regression and retaining his electric plus-fastball.
Shining star: Jack Flaherty, RHP
Even though Flaherty was optioned to Minor League camp midway through Spring Training, the Cardinals No. 2 prospect proved he could hang against Major League talent. And It won't be long before Flaherty's prospect status will be exhausted. MLB.com's Joe Trezza reported the right-hander would fill out the St. Louis rotation after Adam Wainwright landed on the disabled list with a hamstring strain. MLB.com's No. 38 prospect posted a 4.60 ERA, striking out 12.94 batters per nine innings over 16 frames in three spring campaigns.
In the Minors, the 2014 first-round pick hasn't notched an ERA over 4.00 since he debuted in the Rookie-level Gulf Coast League in 2014. Flaherty started 2017 in Double-A Springfield and was later promoted to Triple-A Memphis midway through the season after accumulating a 7-2 record and a 1.42 ERA in 10 starts. He earned a September callup after more than holding his own in Triple-A with another 7-2 mark and a 2.74 ERA, striking out 8.9 batters per nine innings. He struggled in his brief Major League stint, finishing last season 0-2 with a 6.33 ERA in six appearances (five starts) for the Cardinals, but the stellar numbers in Triple-A and a promising spring will give him another chance.
"I think each start that he had, he got better at something," Redbirds manager Stubby Clapp said. "He had a plan and he took action and he put in place every time he took the mound."
The aggressive upward movement through the Cardinals system was largely due to an uptick in Flaherty's velocity. His fastball reportedly showed up in the 93-95 mph range last season, a noticeable difference from the low-90s fastball the Burbank, California native sported earlier in his career. If the stuff plays in the Major Leagues as the No. 5 man in the rotation, there's a decent chance he won't need to return to Triple-A Memphis upon Wainwright's return.
Major League-ready: Carson Kelly, C
The heir apparent to Yadier Molina will obviously need to wait to take over regular backstop duties in St. Louis -- Molina is signed through 2020 -- but the third-ranked Cardinals prospect has little left to prove in the Minor Leagues. A six-year veteran, Kelly has steadily improved as a hitter and posted a .283/.375/.459 slash line with Memphis in 2017. Kelly projects as a plus-defender and pitch caller behind the plate, so even if his bat doesn't carry over to the Majors, he can provide value. Of course, if he can post a .834 OPS like he did last year in 68 games with the Redbirds, he could become a premier player.
"That's just icing on the cake, right?" Clapp said of Kelly's offensive improvements last year. "A catcher's No. 1 tool has to be catching and receiving and being able to call a game. And he's got that aspect and he gets better at it every day. But when there's eight hitters in the National League, and he's an actual contributing factor, then it just shoots his value up big-time."
But so far, the bat hasn't translated. Kelly hit .100/.200/.167 this spring and .174/.240/.217 over 69 at-bats in the Majors in 2017. He was optioned midway through Spring Training, but there's a solid chance he'll be back as Molina's backup if Francisco Peña struggles.
Loudest tool: Tyler O'Neill, OF
Although he's just listed at 5-foot-11, 210 pounds, the muscular outfielder has flashed immense power in his Minor League career. The Canadian slugger mashed 12 home runs in just 37 games with Memphis after being acquired in a one-for-one swap that sent southpaw starting pitcher Marco Gonzales to the Mariners. He finished tied for fourth in the Pacific Coast League with 31 roundtrippers.
It was an encouraging sign for the St. Louis brass. O'Neill hadn't been demonstrating his colossal power tool to start 2017 with the Mariners' Triple-A affiliate, belting just six homers in the first 68 games.
O'Neill's spring campaign was largely sidetracked due to injuries. Oblique soreness sidelined him for five days before a hamstring strain flared up the day he returned. MLB.com's No. 95 prospect compiled only 12 at-bats in seven spring games, collecting three hits and striking out seven times.
Presumably back in Memphis to start the season, Clapp said O'Neill will work on his approach at the plate late in counts to improve his value as a hitter.
"Most guys like that don't have a two-strike approach," the skipper said. "But if he can fix that and be able to have a better approch in those situations and put the ball in play, there's going to be a better chance of good things that happen. I look forward to seeing him grow as a hitter and do more damage throughout the game."
Breakout prospect: Jonathan Machado, OF
The biggest reason to believe the 19-year-old speedy outfielder could fly up prospect lists? A torrid campaign in Rookie ball in 2017 in which St. Louis' No. 17 prospect hit .323/.381/.435. Machado would have finished fourth in the Gulf Coast League in batting average if had compiled enough at-bats to qualify.
Signed as an international free agent in 2016, the La Habana, Cuba native could make another leap this season, and positive results at either Class A Peoria or Class A Advanced Palm Beach could further burgeon his standing as a prospect.
Machado possesses diminutive size -- he's listed at 5-foot-9, 155 pounds -- but makes up for it with elite speed and great contact skills. The outfielder struck out only 13 times in 124 at-bats and swiped eight bases in 35 games in the Gulf Coast League last season.


More to keep an eye on: Flamethrowing relief pitching prospect Jordan Hicks (the No. 7 Cardinals prospect) was named to St. Louis' Opening Day roster and could quickly lose his prospect status if he finds success and sticks in St. Louis' thin bullpen, which already lost Luke Gregerson to the 10-day disabled list. Outfielder Harrison Bader (No. 5) has already logged 85 Major League at-bats and could graduate from the prospect list this season. Even if Reyes' rehab doesn't go as planned and injuries strike the Cardinals rotation, there is substantial starting depth in the upper levels, with the Redbirds rotation projected to consist of Dakota Hudson (No. 6), Ryan Helsley (No. 8) and Austin Gomber (No. 14).
Predictions:
Most home runs in the system: O'Neill
Most stolen bases: Oscar Mercado
Most strikeouts: Ryan Helsley
Current prospect to get most Major League playing time: Flaherty
Non-Top 100 prospect to end 2018 in the Top 100: Helsley
Josh Horton is a contributor to MiLB.com. Follow him on Twitter @joshhortonMiLB