Stone Crabs walk off with FSL crown
Wong draws bases-loaded pass in 13th to secure Charlotte's first title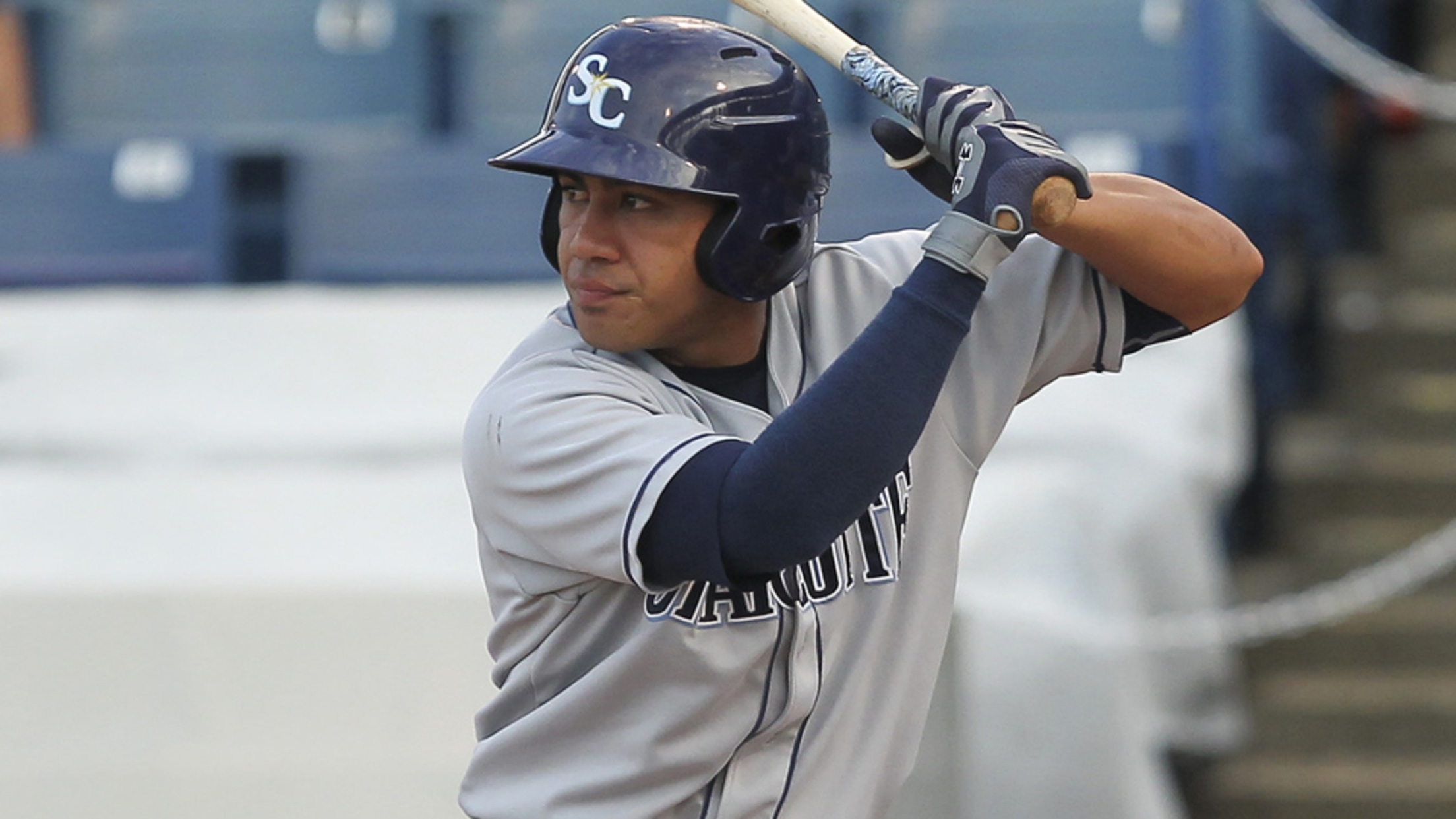 Kean Wong drew a career-high 29 walks in 103 regular-season games for Charlotte. (Mark LoMoglio/MiLB.com)
Michael Johns surveyed Charlotte Sports Park after arguably the biggest win of his managerial career. He saw the infield littered with champagne bottles and beer cans. "This is what it's all about," he said. "It's about getting guys to the big leagues, but it's special to win." The first-year skipper
Michael Johns surveyed Charlotte Sports Park after arguably the biggest win of his managerial career. He saw the infield littered with champagne bottles and beer cans.
"This is what it's all about," he said. "It's about getting guys to the big leagues, but it's special to win."
The first-year skipper soaked in the first Florida State League championship in team history as Charlotte beat Daytona, 3-2, on Kean Wong's bases-loaded walk in the bottom of the 13th inning.
"These guys came out and performed under a lot of pressure, it was fun to watch," Johns said. "These guys were resilient. ... So many heroes, so many people stepped up."
Early on, Game 4 of the best-of-5 Finals lived up to its billing as a pitchers' duel, pitting Reds No. 3 prospectAmir Garrett of Daytona and Rays No. 3 prospect Brent Honeywell of Charlotte. Both went six innings, with Garrett allowing two runs on four hits and two walks with seven strikeouts and Honeywell yielding two runs on three hits and three walks while fanning six.
"It was supposed to be a pitching duel and then we get Garrett for two runs, who's been absolutely unbelievable this year. Then he cruises the next few innings," Johns said. "Honeywell was outstanding. His pitch count got up a little bit and our bullpen just kept covering innings."
Once the starters left, both teams had trouble getting hits with runners in scoring position as the zeros piled up.
"I think everyone was just really excited and they never lost focus. Their guys kept making pitches. It wasn't like we were getting ourselves out, they were doing a really nice job and our guys kept making really nice pitches," Johns said. "It was nerve-wracking for me, it was gut-wrenching -- you feel like you want to throw up. That's just the truth, it's gut-wrenching because you're so close."
Daytona threatened in the 11th, putting runners on first and second and one out. Junior Feliz Arias hit a liner to left field, but Granden Goetzman made a game-saving diving catch.
"It was a line drive down the left-field line that he ran a long way for, dove and caught it," Johns said. "It was one of those balls where you felt like, 'Oh, here comes at least one run.' And he just comes out of nowhere and catches it. It was huge."
In the 13th, Maxx Tissebbaum and Goetzman singled and Pat Blair walked to load the bases with two outs against Evan Mitchell (0-1). With the championship 90 feet away, Rays No. 30 prospect Kean Wong stepped to the plate.
"Wong comes up and works the count, 1-0, 2-0, 3-0. And now you kind of feel it, and the fans got into it," Johns said.
Wong walked on four pitches to set off the celebration.
"It was emotional for everybody," Johns said. "You get attached to these guys, they're your family. When you're around these guys so much, you want it for them, you want it for the organization. When that fourth ball was thrown, there was a series of emotions. You're an emotional roller coaster for the last five games and then to finally pull it out, it's special."
Kelsie Heneghan is a contributor to MiLB.com. Follow her on Twitter @Kelsie_Heneghan.