Sweet music: Sounds turn triple play
Nashville goes around the horn, rallies for 13th straight win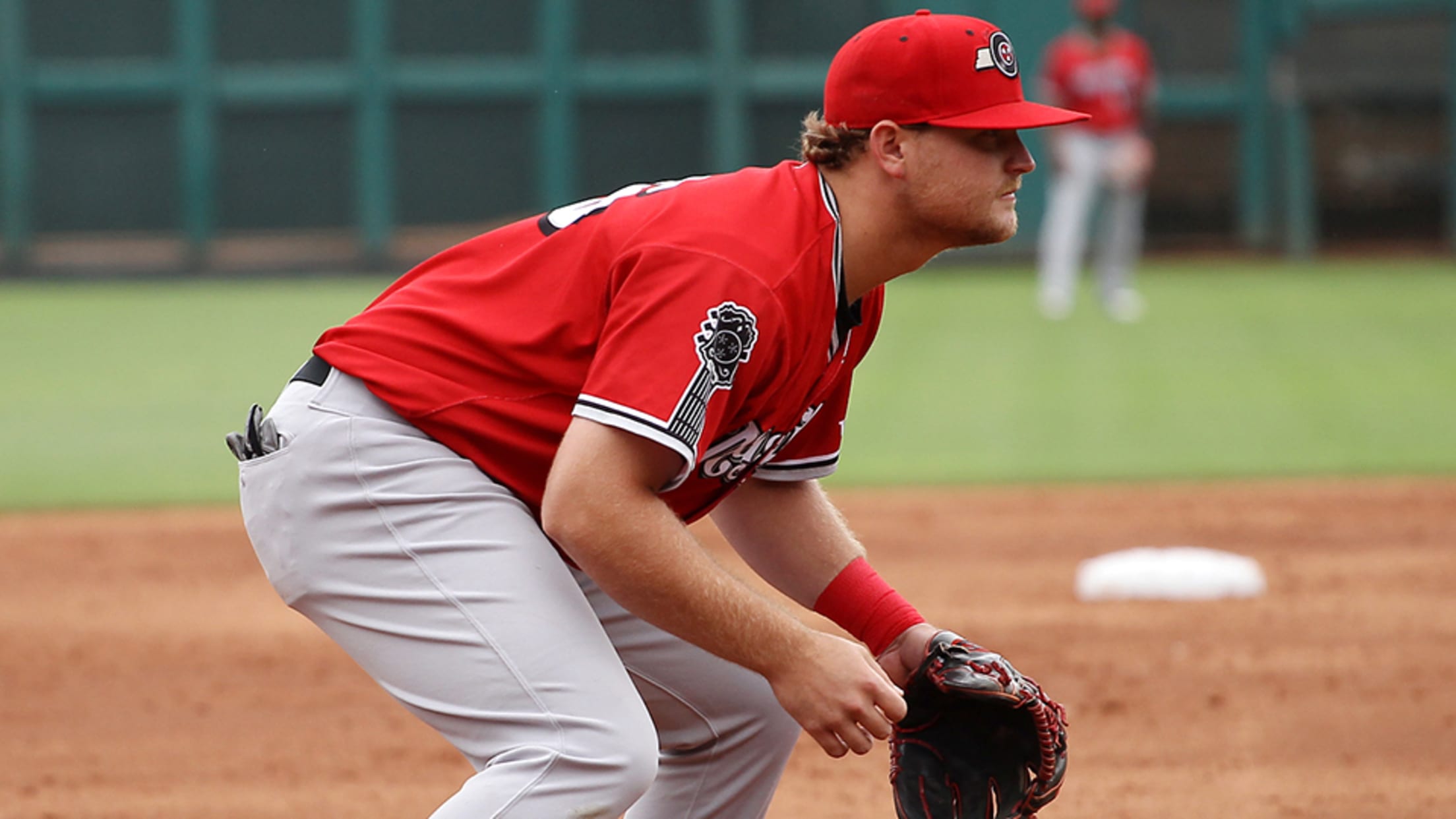 Sheldon Neuse is batting .306 with 19 extra-base hits and 34 RBIs in 64 games since the end of May. (Ben Sandstrom/MiLB.com)
Sheldon Neuse had been in similar situations countless times as a baseball player. But the result was an entirely new experience.The A's 10th-ranked prospect helped his club out of a jam by starting an around-the-horn triple play and Triple-A Nashville rallied for its 13th consecutive win, a 9-7, 10-inning triumph over Colorado
Sheldon Neuse had been in similar situations countless times as a baseball player. But the result was an entirely new experience.
The A's 10th-ranked prospect helped his club out of a jam by starting an around-the-horn triple play and Triple-A Nashville rallied for its 13th consecutive win, a 9-7, 10-inning triumph over Colorado Springs on Sunday afternoon at Security Service Field.
Nashville took a 5-4 lead into the bottom of the sixth inning but found itself in immediate trouble. Domingo Santana reached on Neuse's error a third base and reliever Eric Jokisch walked Rymer Liriano. Dylan Moore took a ball and a strike before chopping the next pitch toward third. Neuse's instincts took over from there.
"Honestly, I was playing in for the bunt, given the situation we were in and the score being what it was," the 23-year-old said. "I'm not going to lie though. I was thinking about getting a ball where I could step on third and start something. I've had many opportunities like that before and have turned double plays. I was a step towards the line and when the ball was hit to me, I was in good position. I stepped on third and just tried to get rid of it as quickly as a I could."
Gameday box score
Neuse stepped on third and, in nearly one motion, threw to second baseman Melvin Mercedes, who fired to Steve Lombardozzi at first to complete the first triple play in the Pacific Coast League this season.
Although it's impossible to say if the play factored into the final outcome, it certainly merited a spirited response from the Sounds third baseman and the rest of his fired-up teammates.
"As soon as I stepped on third and threw to Melvin, I started yelling," Neuse said. "Then I saw him throw and I started yelling some more. When he hit it and I made the first move to my right, I knew we had a chance -- it was a pretty well-struck ball. The play at first was very close, but in our eyes it got turned, so it didn't matter much to us. Everyone was going crazy in our dugout."
It was Nashville's first triple play since Logan Schafer used his head -- literally -- to begin a memorable one on Aug. 20, 2011.
It might be hard to overshadow such a rare event in a baseball game, but the Sounds tried. Trailing by a run and down to their last strike in the ninth, A's No. 7 prospect Jorge Mateo lined an RBI single to center field to knot the score, 6-6. Nashville tacked on three runs in the 10th and held on for their 13th straight win, two short of the franchise record set in 1999.
"It's been a blast to be a part of this," Neuse said. "It's a positive group of guys and we're just having fun out there. I can't speak for anyone else, but I thought we'd rally there [in the ninth]. And I'm pretty sure there wasn't any doubt from the other guys, either. We were all on the railing with a feeling of, 'Let's go.' When you get hot, things go your way, and that's been the case for us. It's exciting to be a part of."
Dustin Fowler went 3-for-6 with a pair of doubles, two RBIs and three runs scored in his fifth straight multi-hit game for the Sounds. Anthony García chipped in three hits and three RBIs and Bruce Maxwell went 3-for-4.
Nashville starter Jesus Luzardo was charged with four runs on six hits in 3 1/3 innings. The top A's prospect walked two and struck out five in his second Triple-A start. Ryan Dull (2-2) allowed a hit and struck out two in 1 1/3 scoreless innings to pick up the win, while Raúl Alcántara surrendered an unearned run on two hits with one strikeout in the 10th to pick up his fifth save.
Nate Orf and Tyrone Taylor had three hits apiece for Colorado Springs. Christian Bethancourt drove in two runs and Moore homered one at-bat before grounding into the triple play.
Reliever Tim Dillard (2-3) allowed three runs -- two earned -- on three hits in the 10th.