Voth, Syracuse 'pen toss seven-inning no-no
Foursome combine on Chiefs' first no-hitter in nearly 18 years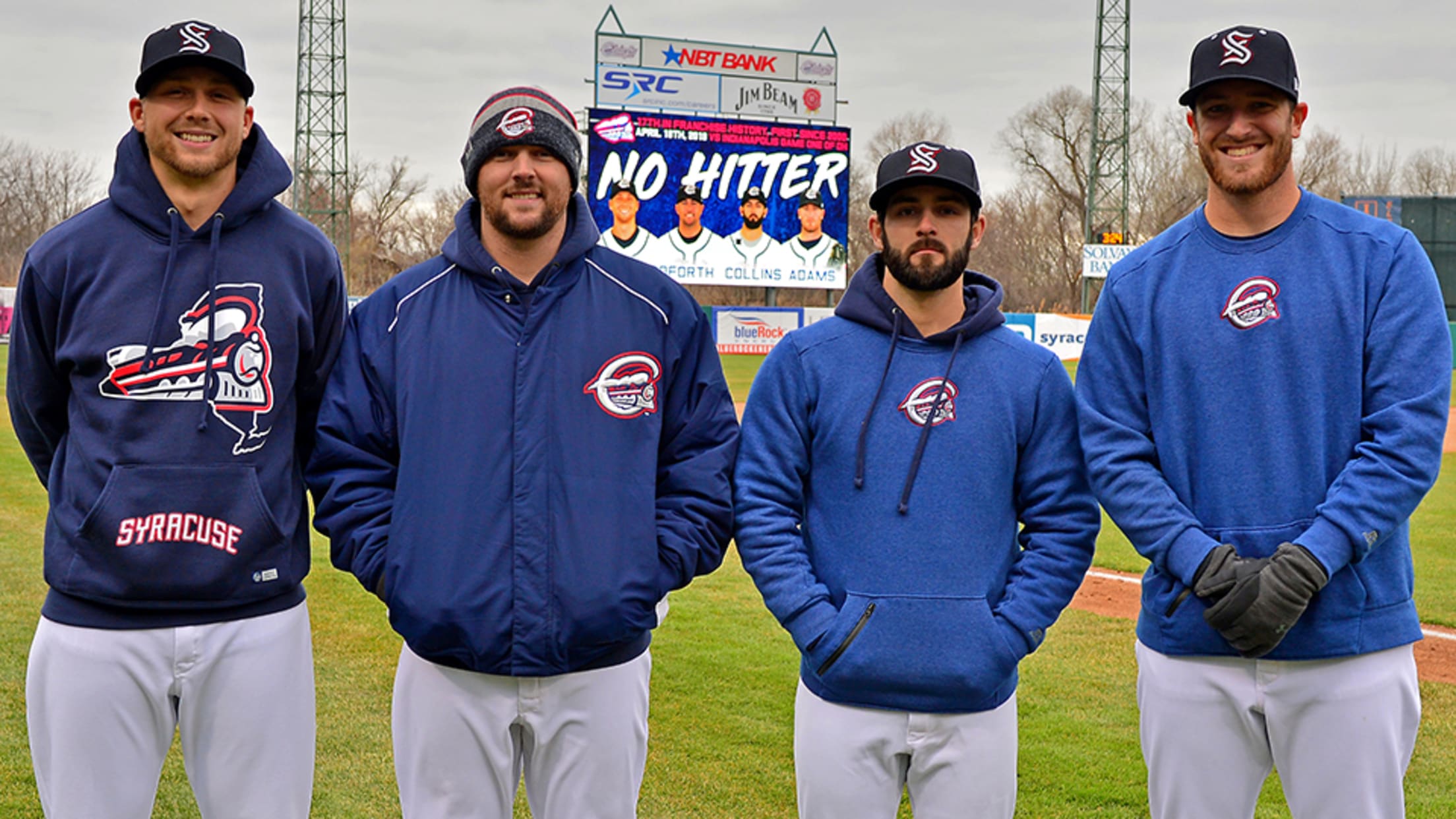 Austin Voth, David Goforth, Tim Collins and Austin Adams combined on the 17th no-hitter in Chiefs history. (Rick Nelson/MiLB.com)
In temperatures barely above freezing, a group of Syracuse hurlers kept the opposition completely in the cold.Austin Voth and three relievers combined on a seven-inning no-hitter as the Triple-A Chiefs beat the Indianapolis Indians, 5-0, in the first game of Wednesday's doubleheader at NBT Bank Stadium. It was the second
In temperatures barely above freezing, a group of Syracuse hurlers kept the opposition completely in the cold.
Austin Voth and three relievers combined on a seven-inning no-hitter as the Triple-A Chiefs beat the Indianapolis Indians, 5-0, in the first game of Wednesday's doubleheader at NBT Bank Stadium. It was the second no-no in the Minors this season after Class A Beloit tossed a combined no-no against Burlington on Thursday.
Wednesday's feat marked the first no-hitter in the International League since Charlotte's Lucas Giolitoblanked the Chiefs last May 25.
"The weather hasn't been easy," Chiefs pitching coach Brad Holman said. "Today was one actually one of our better days in terms of weather, believe it or not. We've been dealing with ice, snow and really cold temperatures, so even though it was in the mid-30s, it was actually better than it has been.
"It's just something you've got to push through. We've had a few of our guys struggle with their breaking pitches, which is what usually happens. The weather affects secondary stuff more than the fastball."
Gameday box score
Voth showed no ill effects. Despite a game-time temperature of 37 degrees, the right-hander fired three perfect innings, striking out four. Voth was hit in the finger in the bottom of the third while attempting to bunt and eventually removed as a precaution when he tried to warm up in the fourth. The 2013 fifth-rounder's three perfect frames dropped his ERA in three starts to 1.32.
"He squared around and took it on the finger," Holman explained. "It got him pretty good and there was some bleeding. We didn't know how serious it was, so we just figured to err on the side of caution. But he got it looked at and he's OK."
The Indians got their first baserunner on in the fourth when righty reliever David Goforth (1-1) plunked Pirates No. 7 prospectKevin Newman, but he pitched a clean fifth before Tim Collins took over in the sixth. The lefty fanned two and walked one and righty Austin L. Adams struck out the last two batters he faced in the seventh to complete the 17th no-hitter in Chiefs history and the first since Leo Estrella tossed a seven-inning perfect game against the Indians on June 17, 2000.
"It's not easy to come into a game like that," Holman said of Goforth. "He had as much time as he needed to warm up, but it's different to do it in that circumstance compared to the bullpen. Everyone is watching and there's an underlying sense of urgency to get ready as quick as you can since the game can't go on until you say so. But you've just got to make sure you're completely warmed up.
"I don't even know if he would have been aware [of the no-hitter] at that point. It was really too early to even be a factor, but I knew. Of course there's that unwritten rule that you don't speak about it. Everyone knows as it moves into the later innings, but they pretend they don't. It was disheartening to see [Voth] come out of the game with the way he was dealing, but we picked up the slack, for sure."
Tuffy Gosewisch went 3-for-3 with an RBI in the opener and No. 22 Nationals prospect José Marmolejos drove in a run and reached base three times on two singles and a walk. The 25-year-old launched a two-run homer during Syracuse's 7-0 win in Game 2.
Indianapolis starter Tyler Eppler (1-1) was charged with four runs on eight hits and a walk with three strikeouts in three innings in the first game.