Halama hurled PCL's first perfect game
Major Leaguer tossed gem for Tacoma while tuning his mechanics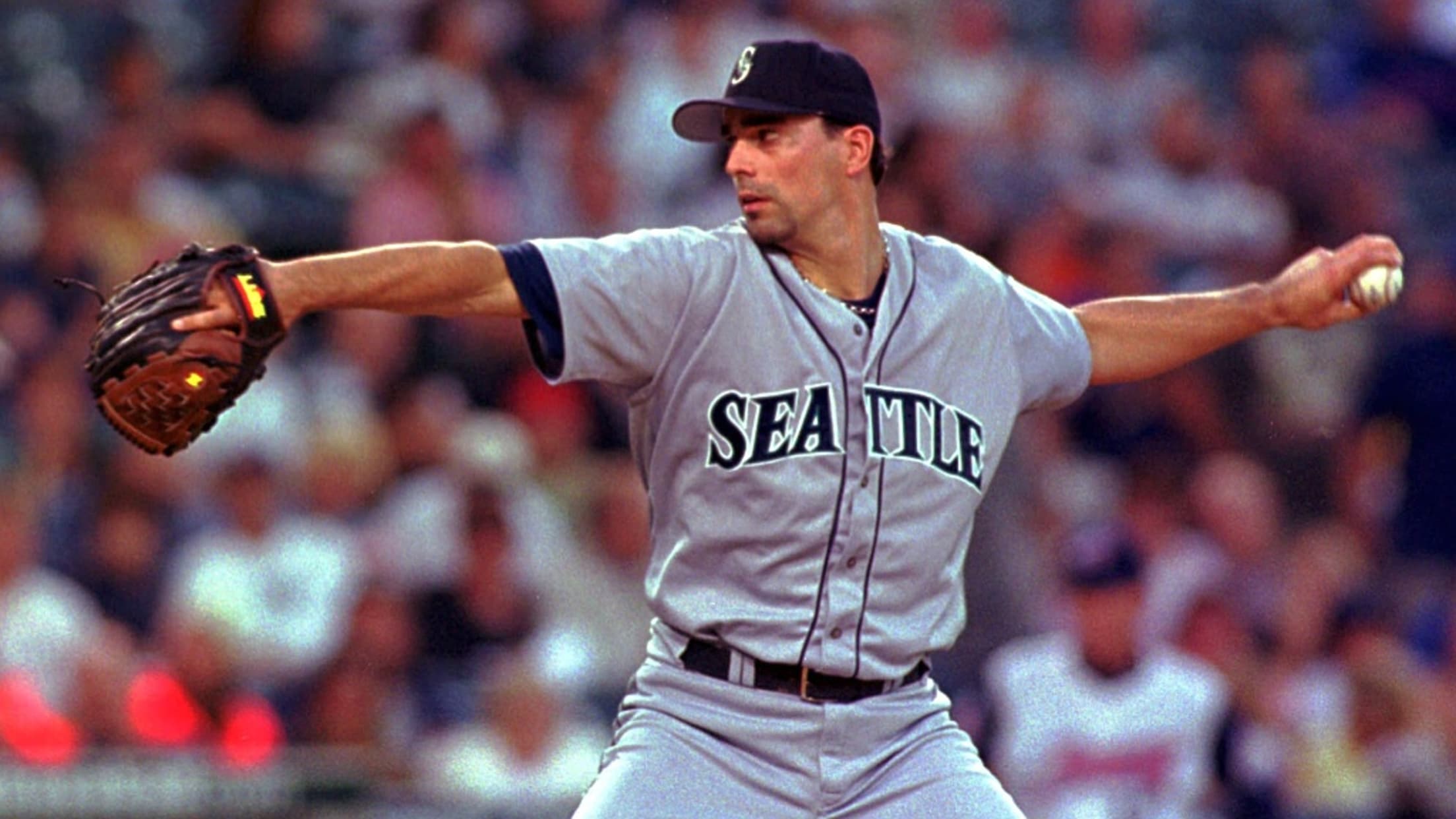 Lefty John Halama pitched in 262 Major League games over nine seasons. (John Hayes/AP)
It took 98 years for true perfection to reach the Pacific Coast League. And when it did, John Halama was more than ready to accept the delivery.The Tacoma southpaw tossed the first nine-inning perfect game in the PCL's storied history on July 7, 2001 as he blanked Calgary, 6-0, in
It took 98 years for true perfection to reach the Pacific Coast League. And when it did, John Halama was more than ready to accept the delivery.
The Tacoma southpaw tossed the first nine-inning perfect game in the PCL's storied history on July 7, 2001 as he blanked Calgary, 6-0, in front of nearly 7,000 fans at Cheney Stadium. There had been four perfect games in the PCL prior to Halama's masterpiece, but each was only seven innings. The last of those had come in 1975, when Hawaii's Gary Ross blanked Salt Lake.
"I was told afterward that I was the first," said Halama, who signed a Minor League deal with Cleveland this month after spending a year and a half playing independent ball. "I signed some stuff for the Hall of Fame and, to my knowledge, they shipped it up there because it was the first in the PCL. I didn't know about any of the history of the Pacific Coast League when it came to that kind of stuff, but you don't have to be a rocket scientist to know the PCL has been around a long time.
"It's not something that comes along that often. Look at how many years baseball has been in existence, and there have been, what, 14 perfect games or something like that in the Major Leagues? I'm very proud of what I did, and it's something I'll never forget."
And why should he forget? That game was not only a historic one, it helped pave the way for Halama to return to the Majors. The game was the second of three starts he would make with Tacoma after Seattle sent him down to work on his mechanics. Halama had won a career-high 14 games in 2000, and he had 25 victories since coming over from Houston in the trade that sent Randy Johnson to the Astros.
But he was coming off elbow surgery to remove bone chips and was only 6-5 with a 5.57 ERA in 16 starts at the time of his demotion.
"There was concern that I wasn't completely healthy," Halama said. "When I went down, I was having trouble with my sinker on a big-league level. But [Tacoma pitching coach] Chris Bosio found it for me. It was something I needed, because I wasn't helping the big-league team at the time. But being down there helped me get into a positive frame of mind, and once I got called back up I was able to help out."
Halama went 2-0 and allowed only one earned run in 19 innings with Tacoma, the highlight of which was the thriller against Calgary. He threw just 97 pitches, striking out nine and inducing 11 groundouts.
That's not to say there weren't some dicey moments. Tacoma first baseman Todd Betts turned in a pair of nifty plays to keep Halama's chances of perfection going. He snagged a Jeff Abbott blooper with an over-the-shoulder grab in he fifth inning. He also corralled a wide throw by shortstop Ramon Vazquez in the seventh, tagging Mike Gulan before he crossed the bag to keep Halama's effort intact. Vazquez, however, did hit a grand slam earlier in the game to provide Halama with all the cushion he would need.
"The defense made some great plays," said Halama, whose only other no-hitter came while he was pitching for the College of St. Francis in Brooklyn. "I had two or three balls that hit off my glove or my body and went to the shortstop or second baseman. I had one ball that hit off me and went right to the first baseman.
"And I knew I had it [going]. I'm sitting in the first-base dugout and the scoreboard is out there in left field. You can't not see it. I just tried to stay within myself and go out there and do what I had to do."
Staked with a large lead, and with the Raniers playing some slick defense behind him, Halama polished off Calgary and took his place in the PCL record book. He still has several baseballs from that game. He also has a card the club put out that commemorates his effort along with that of his then Tacoma teammate, Brett Tomko, who threw a no-hitter against Oklahoma four days before Halama achieved perfection.
"That [game] is something I still cherish," Halama said. "It's not like I always revert back to it. But when you hear something on ESPN about a no-hitter, or someone taking a no-hitter deep into a game, it's a trigger, and I think of what I did that night."
While it took nearly 100 years for the PCL to see its first nine-inning perfect game, the second one was pitched less than two years after Halama turned the trick. Nashville's John Wasdin threw one against Albuquerque on April 7, 2003.
"Was I amazed that I threw a perfect game?" Halama asked. "Of course, but did it amaze me any more because it was the first one in the league? Not any more than I was amazed that I did it. It was a phenomenal feat that will always stick in my mind. But whether it was the first or last doesn't actually have a bearing on me."
But it does have a bearing on history, a history that was nearly 100 years in the making.
Kevin Czerwinski is a contributor for MiLB.com.