Stone Crabs' McKay to miss three weeks
Rays No. 3 prospect sidelined due to tightness in oblique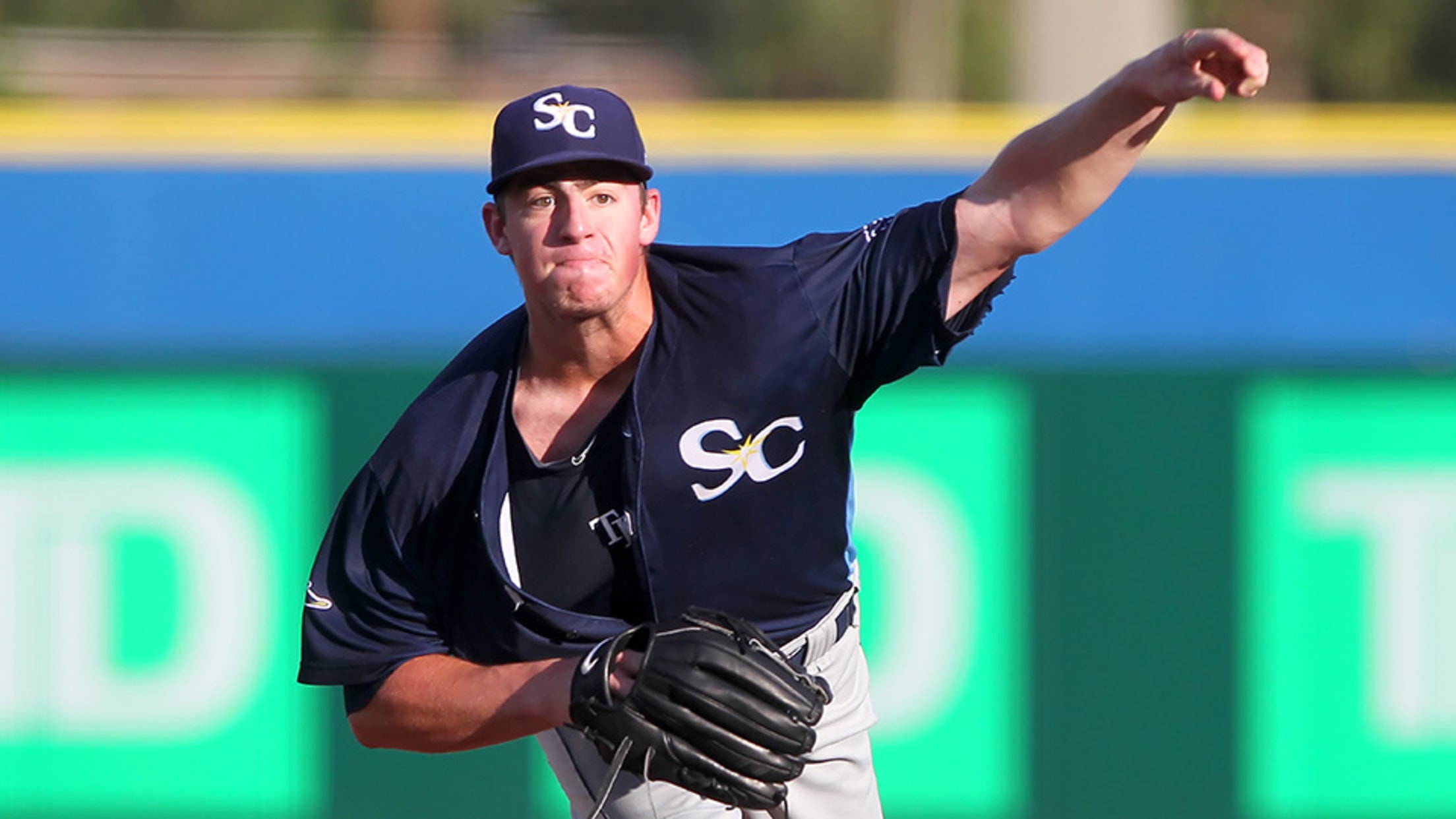 Brendan McKay is 2-2 with a 4.63 ERA since his promotion to the Florida State League on May 14. (Cliff Welch/MiLB.com)
Brendan McKay, who's shown flashes of brilliance on both the mound and at bat this season, will miss about three weeks due to tightness in his right oblique muscle.The injury was first reported by the Tampa Bay Times. The Rays' third-ranked prospect has not appeared in a game since he pitched
Brendan McKay, who's shown flashes of brilliance on both the mound and at bat this season, will miss about three weeks due to tightness in his right oblique muscle.
The injury was first reported by the Tampa Bay Times. The Rays' third-ranked prospect has not appeared in a game since he pitched against Dunedin on June 11, allowing five runs on six hits over 2 2/3 innings.
"Fortunately, this injury looks to be very minor and we expect to be able to nip it in the bud," Rays senior vice president of baseball operations Chaim Bloom said. "We're being cautious more than anything, especially given how unique Brendan is, but we anticipate him being back out there relatively soon."
MLB.com's No. 22 overall prospect dominated at Class A Bowling Green, going 2-0 with a 1.09 ERA, 40 strikeouts, two walks and a .096 opponents' batting average over 24 2/3 innings. Since his May 14 promotion to the Florida State League, he's 2-2 with a 4.63 ERA in five pitching appearances and is hitting .200/.344/.300.
McKay was a well-decorated two-way player at the University of Louisville, winning the 2016 Golden Spikes Award as the best player in college baseball.
Bloom said the Rays understand the circumstances and concerns some might have with grooming a player who both pitches and plays the field.
"We know that our game hasn't seen a true two-way player in a while -- at least not prior to this year -- and so we're approaching this with a lot of humility. Part of that means not rushing to judgment on a player who's done something successfully for a long time," Bloom said. "His hitting line obviously doesn't match what he's done on the mound so far, but he's shown tremendous strike zone awareness and a really mature approach.
"Our staff and Brendan have done a great job communicating about his workload and taking everything into account. We're going to keep our eyes open and keep learning, but it's important that we let this play out."
At Louisville, the Darlington, Pennsylvania, native put together a .328 batting average and 2.23 ERA. He was drafted fourth overall last year after batting a career-high .341 with 18 homers and 57 RBIs and posting a 2.56 ERA with 146 strikeouts in 17 starts in his junior season.
The 22-year-old made six starts totaling 20 innings for Class A Short Season Hudson Valley in his first taste of pro ball. McKay accrued more playing time as a hitter, posting a .232/.349/.376 slash line in the New York-Penn League. He posted better numbers as a pitcher, going 1-0 with a 1.08 ERA and 21 strikeouts in six starts.
Vince Lara-Cinisomo is a contributor to MiLB.com. Follow him on Twitter @vincelara.