Rays Prospect Primer: Two for 'The Show'
Adames, Bauers knocking on door; McKay stays on two-way path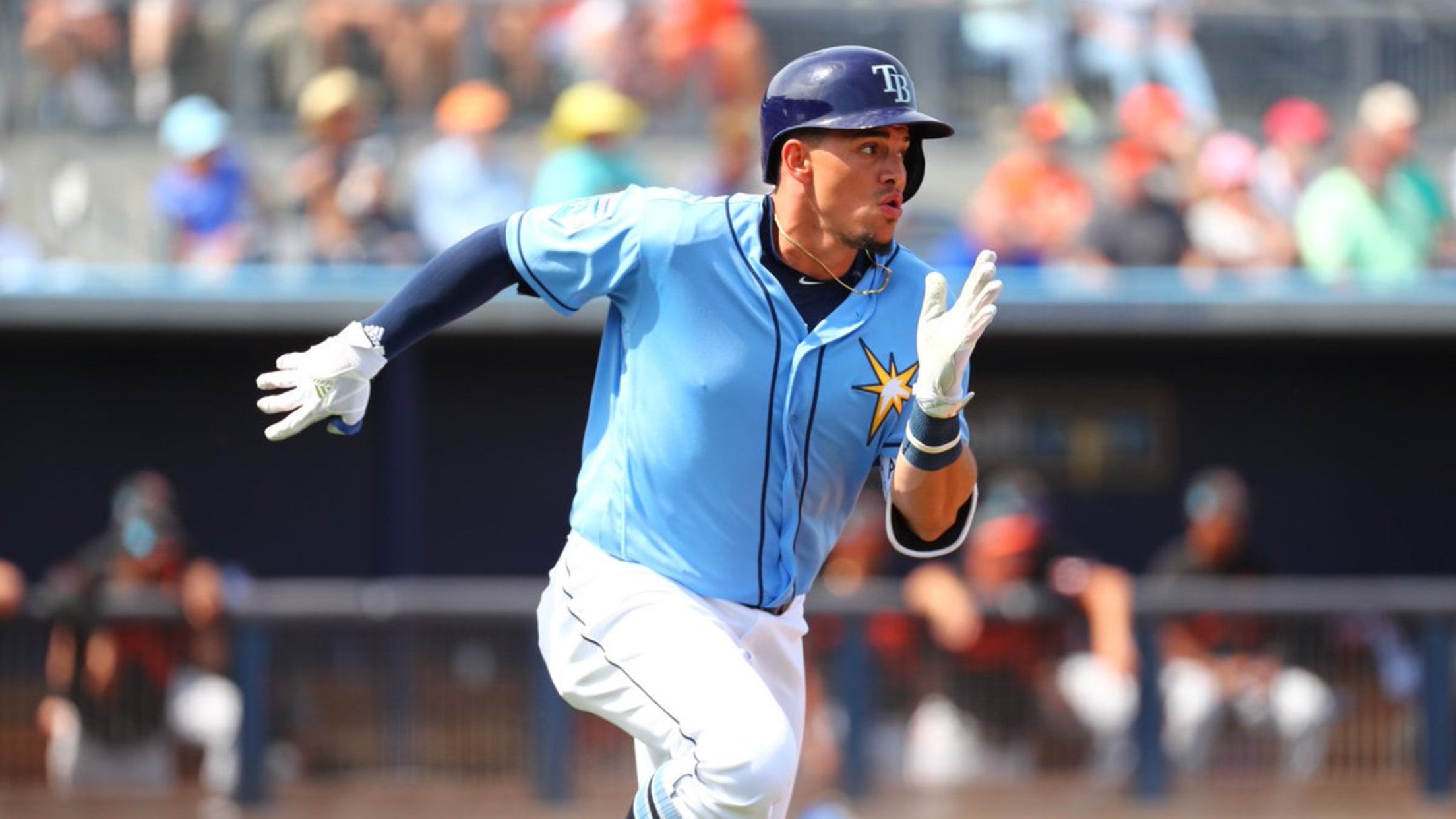 In 10 games with the Rays this spring, Adames hit .364 with two doubles, two homers and six RBIs. (Tampa Bay Rays)
Some players are on the verge of stardom, others are entering a crucial phase of their development and still others are getting their first tastes of full-season ball. With the 2018 season approaching, MiLB.com takes a look at the most intriguing prospects from each MLB organization.Major League-ready: Willy Adames, SSAdames
Some players are on the verge of stardom, others are entering a crucial phase of their development and still others are getting their first tastes of full-season ball. With the 2018 season approaching, MiLB.com takes a look at the most intriguing prospects from each MLB organization.
Major League-ready: Willy Adames, SS
Adames will likely open the season back in Triple-A Durham, giving the Rays an extra year of control if he doesn't appear in a Major League game over the first 16 games of the year -- but that doesn't mean he isn't ready. Still only 22, Adames has performed well at every level and stands as MLB.com's No. 22 overall prospect, No. 2 in the Rays' system and the No. 6 shortstop prospect in baseball. After a breakout 2016 earned him a spot in the All-Star Futures Game, he spent last season as Durham's starting shortstop. Despite a slow start, Adames was named an International League All-Star and finished the year hitting .277 with 10 home runs and 62 RBIs.
In 10 Spring Training games with the Rays this year, Adames batted .364 with two homers, two doubles and six RBIs. He's currently blocked at the big league level by Adeiny Hechavarría at short, and rumors of Adames eventually making the switch to third were tempered with Tampa Bay's acquisition of Matt Duffy. But as Rays director of Minor League operations Mitch Lukevics explained, anything can happen over the course of a season.
"Right now we've got Hechavarria, and he's a Gold Glove shortstop and a great example for Willy," Lukevics said. "But once that season starts, anything is possible, and a player like Willy will find a way to get his chance. He's a player who can just do it all: He's got a great bat, can make all the plays in the field, he's coachable and he's a great teammate on the field and in the clubhouse. He's a natural leader and at his age he's already accomplished quite a bit.
"Willy is going to get his chance, and when it comes, he's ready."
Shining star: Jake Bauers, 1B/OF
Ever since his acquisition from San Diego in the Wil Myers trade, Bauers has ascended quickly through the Rays system. At age 21, Bauers spent last year with Durham, splitting time between the outfield and first base. In 132 games with the Bulls, the No. 64 overall prospect slashed .263/.368/.412 with 13 home runs, 31 doubles, a triple and 63 RBIs. In his second spring with the big league club this year, Bauers finished with six hits -- including a double and a homer -- in 10 games. Bauers will return to Durham to start this season, but with his versatility and ability to get the bat on the ball, he may just be an injury or trade away from "The Show."
"I always say Jake has good ice in his veins," Lukevics said. "He doesn't get too high or too low, he handles pressure really well, and he's a great baseball player. This is a game of failure, and how you handle failure is a big part of being successful here, and he handles it really well. Plus, he can drive the ball, and he's a good defender at first and in the outfield. He's just waiting for his chance and he's on the verge."
Full-season debutant: Brendan McKay, 1B/LHP
A lot has been made of Shohei Ohtani and his ability to be a productive two-way player in Japan, but McKay already did it in the United States in pro ball last year. Coming off an unprecedented three John Olerud Two-Way Player of the Year awards while in college at Louisville, McKay was a first-round selection (fourth overall) of Tampa Bay last year. He excelled at the plate and on the mound after being was assigned to the Class A Short Season Hudson Valley Renegades. In 36 games at first base, McKay drove in 22 runs and went deep four times. On the bump, the southpaw went 1-0 with a 1.80 ERA and a 0.75 WHIP in six starts. He also garnered starting honors for the New York-Penn League All-Star Game. McKay only played in 36 games in 2017 in the short-season campaign and will embark on his first 140-game campaign this year. Being a two-way player is extremely taxing, so it will be interesting to see how McKay withstands the grind. But one thing is for sure, the Rays will ride out playing him both ways for as long as they can.
"He's a two-way player, and that's the long-term plan. This is no gimmick," Lukevics said of the team's No. 3 prospect, ranked No. 25 overall. "And if anybody can do it, it's Brendan, because of who he is. He's got the intangibles, the intelligence, the work ethic, the talent, and he's a very serious and competitive young man. He's doing something nobody else has, but he has a legitimate chance to accomplish it because, like I said, of who he is."
At the crossroads: Justin Williams, RF
Williams was the key return for Tampa Bay in the Jeremy Hellickson trade with Arizona in 2014. The 2013 second-round pick, 52nd overall, was just 17 when he was drafted, but his raw talent was quickly apparent when he started his pro career in the Rookie-level Arizona League. Williams began his first season in the Rays organization at Class A Bowling Green in 2015 and quickly rose to the right-field starting role at Double-A Montgomery last season. Williams' defense has never been in question, but his offense constantly lagged behind. That was until the second half of last season.
Williams opened 2017 with the Biscuits, and while his power began to come through, his lack of discipline at the plate seemed to be holding him back. But starting July 1, Williams appeared to put it all together. Over his next 190 plate appearances, Williams slashed .319/.405/.521 while working 26 walks and only striking out 26 times. He finished the season with a .301 average, 14 home runs, 21 doubles, three triples -- and perhaps more notably -- 37 walks. His improved play earned him a promotion to Triple-A Durham at the end of the year, joining the Bulls for their postseason run.
"Justin was a high-school sign, so it takes a little bit longer for things to click. The maturation of a player at that stage to gather an understanding of what it takes to be a pro player takes time," Lukevics said of the club's No. 10 prospect. "But he really put it together at the end of last season. He swung at more strikes, he swung at better pitches, he showed good patience and he has really good power to all fields. So it was good to see his adjustments, but this is a game of adjustments, so now that he is at the next level he will have to be able to do it again."
Williams is set to open this season with the Bulls, and he'll be looking to prove his second-half numbers from last year were no fluke.
Loudest tool: Lucius Fox, SS
It does not seem like there is anything the 20-year-old from Nassau, Bahamas can't do. Fox hits for average by spraying the ball to all fields, and he's a slick-fielding shortstop with a strong arm. But the first thing many notice is his plus-plus speed. Graded at a 70, Fox's speed begets game-changing abilities. After his acquisition from the Giants in the Matt Moore trade at the 2016 deadline, Fox's season was cut short with an injury. But in his first full year of pro ball in 2017, Fox stood out. After 77 games at Class A Bowling Green -- where he hit .278 with 84 hits (18 for extra bases) and 27 stolen bases -- Tampa Bay's No. 7 prospect got called up to Class A Advanced Charlotte, where he finished with 27 hits, 12 RBIs and three swiped bags over 30 games. Fox also appeared on the World Team in the All-Star Futures Game.
Fox is expected to return to Charlotte to open this season, but a promotion commensurate with his speed could be imminent.
"He's got that quick-tick speed. He's an incredible athlete," Lukevics said. "He's got the range and the hands of a legit shortstop, he's got a legit arm, he's got a good bat and on top of all of that he has a wonderful personality. He's one of those guys that's always upbeat, has a smile on his face. But he needs more reps right now, more game play, and he'll get that opportunity."


More to keep an eye on:Jesús Sánchez has flashed solid five-tool potential and will should begin the season at Charlotte, but could move quickly from there. ... Christian Arroyo, the big piece in the Evan Longoria deal, appears to be Major League-ready and is almost a lock to make his big league debut with the Rays this season. ... Josh Lowe , a 2016 first-round pick, was another acclaimed two-way player when he was drafted, but the Rays decided to have him focus on hitting. The center fielder has some mechanical issues to work out, but if he can put it together, look out. ... Nick Solak, a second baseman acquired from the Yankees, was previously overshadowed by a plethora of talent in New York's organization. A fresh start with Tampa Bay could be exactly what Solak needs to tap into his full potential.
Predictions
Most home runs in the system:Joe McCarthy
Most stolen bases: Fox
Most strikeouts:Génesis Cabrera
Current prospect to get the most Major League playing time: Bauers
Non-Top-100 prospect to end 2018 in the Top 100: Fox
Rob Terranova is a contributor to MiLB.com. Follow him on Twitter @RobTnova24.