Princeton's Franco completes first cycle
Rays No. 7 prospect belts two homers, plates career-best six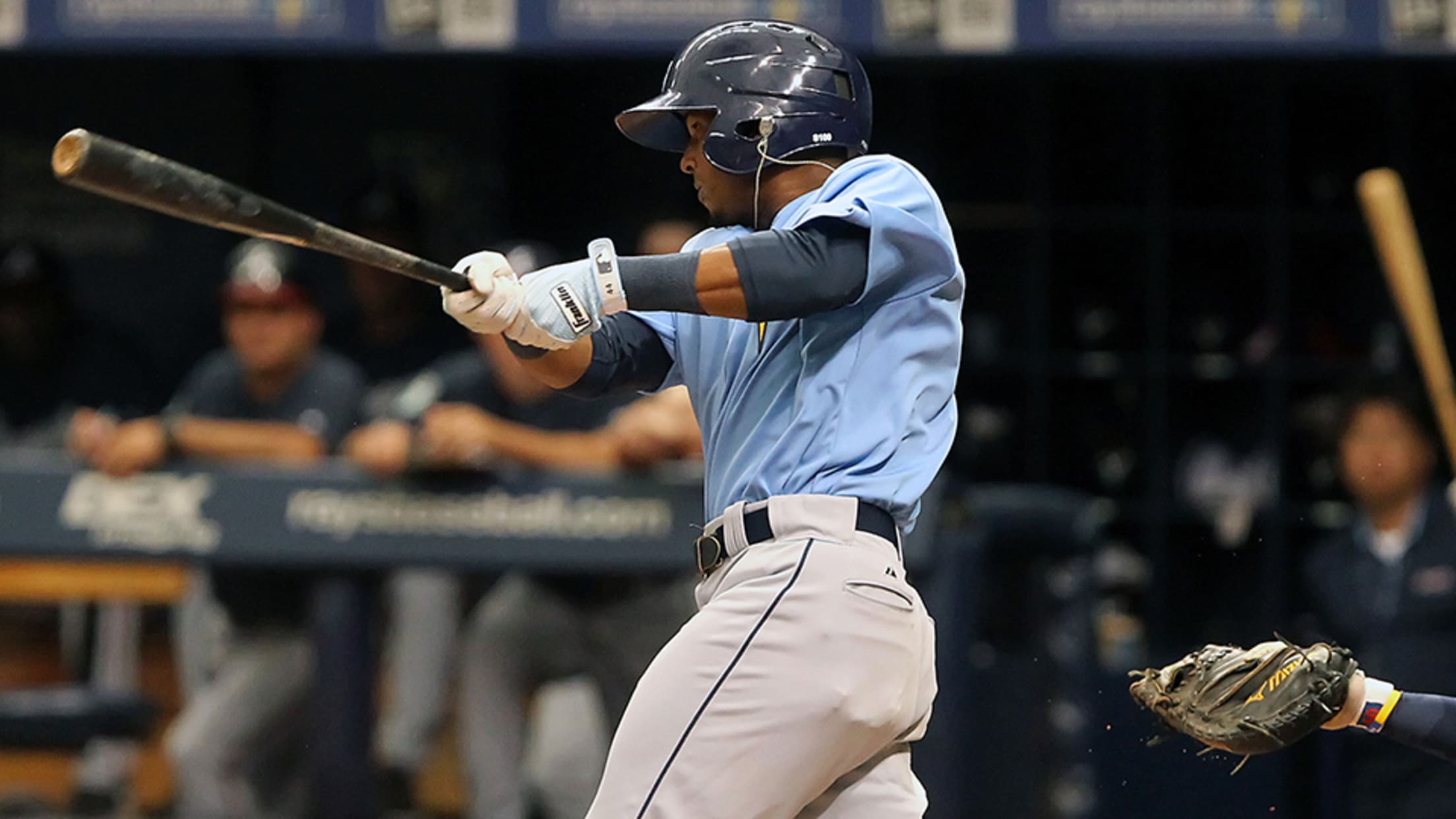 Wander Franco has 10 multi-hit performances through his first 24 games in the Minor Leagues. (Cliff Welch/Icon Sportswire)
Wander Franco hasn't celebrated his 18th birthday yet, but that hasn't stopped him from establishing himself as an elite hitter in the Appalachian League. And when Rookie-level Princeton manager Danny Sheaffer saw the first-year pro in the middle of a historic performance Saturday, he was not the least bit surprised. "He's
Wander Franco hasn't celebrated his 18th birthday yet, but that hasn't stopped him from establishing himself as an elite hitter in the Appalachian League. And when Rookie-level Princeton manager Danny Sheaffer saw the first-year pro in the middle of a historic performance Saturday, he was not the least bit surprised.
"He's got an advanced hitting approach that's way beyond his years," the skipper said. "He plays the game hard and he gives himself a chance to drive balls."
Sticking with that approach, the Rays' No. 7 prospect hit for the cycle, going 5-for-6 with a career-best six RBIs to power Princeton to a 13-1 thumping of Pulaski at Calfee Field. He homered twice in the same contest for the first time and scored three runs in the league's second cycle of the week after Greeneville's Jonathan Willemscompleted the feat on Tuesday.
Gameday box score
Ranked as the second-best available international free agent during last year's signing period, Franco joined the Rays last July with an impressive 55-hit tool. With still plenty of room to grow, Sheaffer said the native of the Dominican Republic has been comfortable as a switch-hitter in both sides of the box against professional pitching.
With an advanced technique that gives him about four or five good at-bats seemingly each game, Sheaffer said the young hitter could produce a cycle almost any night. He has two brothers of the same name both playing in the Giants organization and uncles in former Major Leaguers Erick Aybar and Willy Aybar. So far, the youngest of the bunch is thriving in the family business.
"I don't think he has a doubt on how he wants to approach each at-bat," Sheaffer said. "He takes what the pitcher gives him, and sometimes he gets the ball out over the plate and goes the other way with it. Sometimes he drives the ball to the strong side -- whether it's right-handed or left-handed. ... He was a highly touted international player and he's not fazed by that. He goes about his business like he's supposed to. He has fun playing the game, which probably stands out more than anything else. That's where you can see his age, he's really enthusiastic."
Twenty-four games into his professional career, Franco is third in the league with a .392 batting average and 1.134 OPS while collecting six homers and 23 RBIs. In July, he's stepped up his game, hitting .429 with 11 extra-base knocks.
Already riding an 18-game hitting streak, Franco got started in the first inning against fifth-ranked Yankees prospectLuis Medina. Following a walk to Jake Palomaki, the 17-year-old crushed his first long ball of the evening to right field. He kept things rolling an inning later, whacking an RBI triple to center.
"He's 17 years old by age, that's it," Sheaffer said. "Maturity-wise, he's a professional hitter. And I don't see anybody overmatching him at this level. He'll go through his bumps -- up and down -- but I think the ups are going to be a lot more than the downs."
In the fourth, Osmy Gregorio and Tony Pena drew free passes to set the stage for Franco. On the second pitch from reliever Luis Ojeda, the shortstop blasted his second homer to right. He jumped on Ojeda's first offering in the fifth for a single to right.
With a chance at the milestone against Brett Morales in the seventh, Franco sent a double down the right field line to complete the 16th Minor League cycle of the year. If it had not been for a shorter 301-foot distance to right field, Sheaffer said Franco might have had another triple rather than the two-bagger. But the teenager was more than happy to stroll into second on a memorable night.
"Any other park, it would have been an easy triple," the manager said. "But he's capable of doing that on any given night. I know that's not going to happen often, but there's really nothing that he does right now that surprises me. The best way to watch this guy develop is to get out of his way and watch him play."
Franco had one more at-bat in the eighth but popped up to second. Even on a night filled with excitement, Sheaffer saw a player keeping composed on the diamond.
"He was fired up, he knew he did it," the former Major Leaguer said. "But the neat part about it was he kept his emotions in check, even though the game was out of hand. That shows the maturity level, too."
Adding to Franco's efforts, Pena and Jose Torrealba went deep to round out Princeton's 18-hit attack. Luis Moncada (1-0) allowed one run on two hits and walk while striking out seven over five innings to earn his first victory.
Andrew Battifarano is a contributor to MiLB.com. Follow him on Twitter, @AndrewAtBatt.