Widener mows down dozen for Generals
D-backs No. 4 prospect scatters three hits in six shutout innings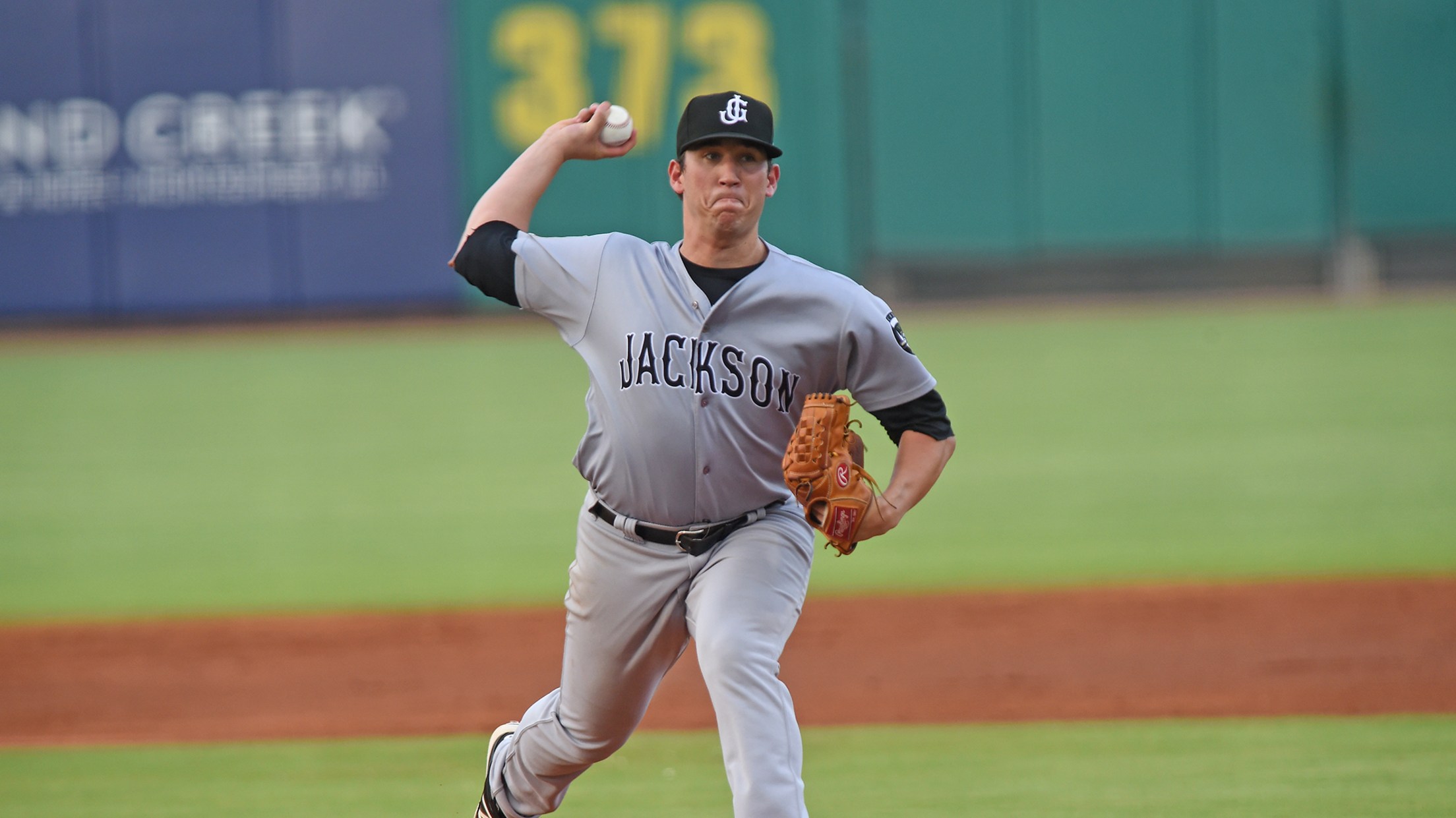 Taylor Widener has amassed 37 strikeouts over his last five outings, a span of 30 2/3 innings. (Brian McLeod/MiLB.com)
It's been an up-and-down season for Taylor Widener through his first 12 starts. After making a mechanical tweak ahead of Wednesday's start, he delivered his most dominating performance since turning pro.Arizona's No. 4 prospect fanned a career-high 12 while scattering three hits over six scoreless frames to lead the charge
It's been an up-and-down season for Taylor Widener through his first 12 starts. After making a mechanical tweak ahead of Wednesday's start, he delivered his most dominating performance since turning pro.
Arizona's No. 4 prospect fanned a career-high 12 while scattering three hits over six scoreless frames to lead the charge in Double-A Jackson's 11-3 victory over Jacksonville at the Baseball Grounds of Jacksonville. He walked two.
"The last few for me have been hit or miss. I haven't been staying on top of the baseball, so that's something I've been working on in the bullpen. Tonight was the first time this season I stayed on top," said Widener, who struck out every Jumbo Shrimp batter at least once. "I had everything working. I was locating my fastball really well, I had a feel for my slider for the first time since spring and I even mixed in a few changeups."
The 23-year-old right-hander posted 1-2-3 innings in the first, third and sixth and he struck out the side three times. Widener (4-3) retired 10 of the first 11 hitters he faced and the only batter to reach in that span was Peter O'Brien, who drew a leadoff walk in the second inning. The first hit he allowed came with two outs in the fourth, a single into center field by 30th-ranked Marlins prospectJohn Norwood.
"His command really stood out. It was a lot better today," said Generals pitching coach Doug Drabek. "He was locating his fastball and his slider had some shape. He was able to throw it for strikes, but also expand the zone with it and that helped him out a lot."
After issuing a free pass to Miami's No. 7 prospect Isan Díaz with one out in the fourth, Widener punched out O'Brien on three pitches and got Brian Schales swinging to end the frame.
The only jam the right-hander faced was after giving up back-to-back singles to Rodrigo Vigil and Mason Davis to begin the fifth. But a failed sacrifice bunt attempt by Cody Poteet (2-7) resulted in a 2-5-4 double play and Widener froze Cade Gotta on a 1-2 off-speed pitch to escape the inning unscathed.
Gameday box score
"I wasn't staying on top of my pitches in that inning," Widener said. "I was getting around on my slider and cutting the fastball. The ball just wasn't coming out of my hand as good there. Luckily, I have great defense behind me."
The 2016 12th-rounder set down the final five hitters he faced, including getting O'Brien swinging again on three pitches to end the sixth. The effort lowered Widener's ERA to 2.53, which ranks third in the Southern League.
"With his arm angle, it's just a matter of keeping his hand more on top where he can get through the ball and not get on the side of it," Drabek said. "He did that tonight and that was his best slider of the season. So I think if he can keep doing that and his changeup comes around, he has a chance to be this efficient, this dominant on a consistent basis."
The South Carolina product posted a 3-3 record with a 2.77 ERA through 12 outings this season, but struggled to find consistency as three victories were sandwiched in between three losses. On Wednesday, Widener topped his previous career high in strikeouts of 11, amassed over seven innings in a May 19 win at Pensacola.
The Generals offense supplied all the support the Aiken, South Carolina native needed. Jamie Westbrook led the charge with four RBIs while Daniel Robertson, Rudy Flores and Marcus Littlewood drove in a pair apiece.
Righty Bud Jeter retired all six batters he faced, striking out two, for Jackson.
Vigil broke up the shutout for Jacksonville with an RBI single in the seventh.
Rob Terranova is a contributor to MiLB.com. Follow him on Twitter @RobTnova24.