Martinez hops on a cycle for Surprise
Texas' No. 2 prospect finishes with four hits, reaches five times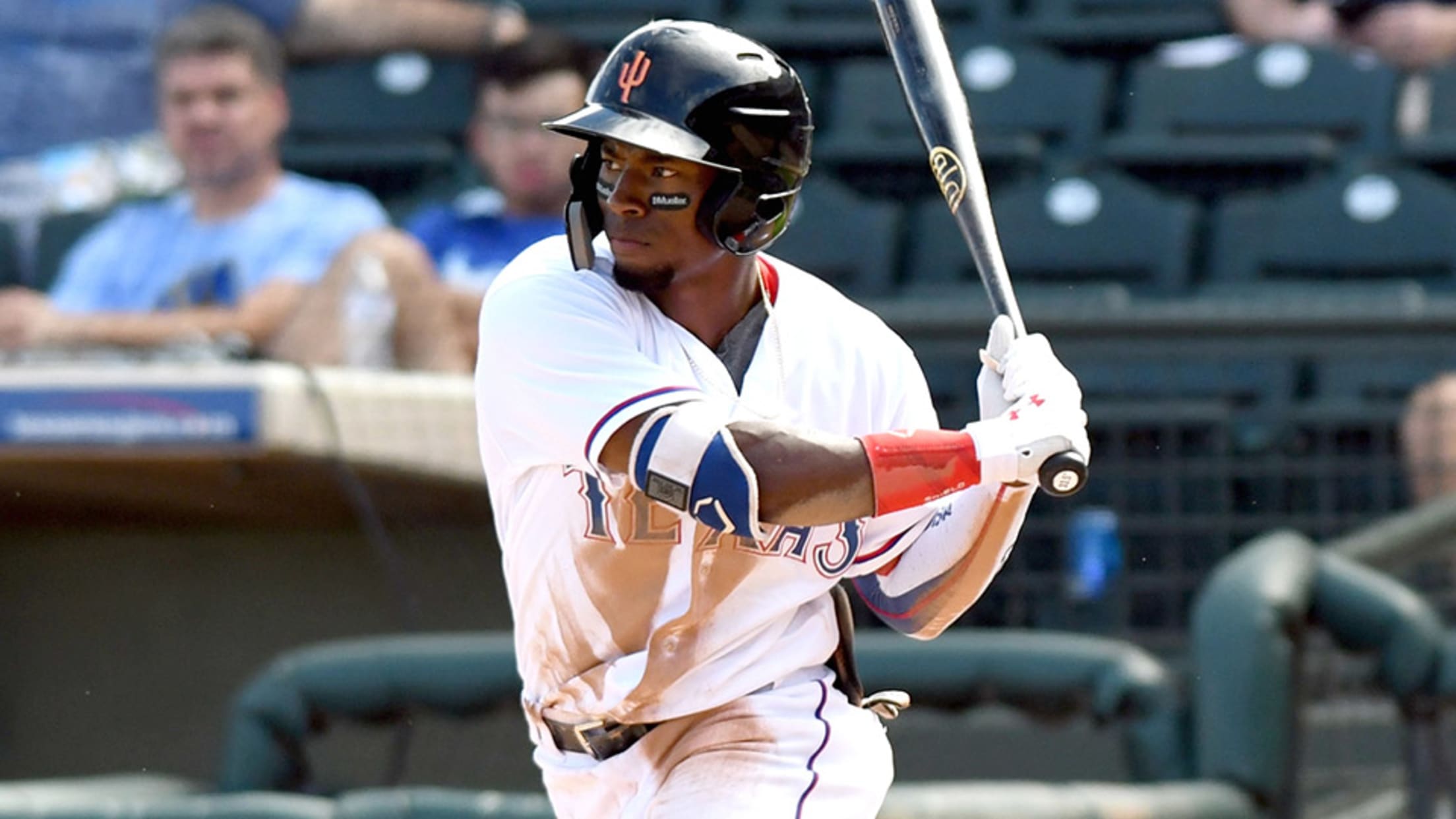 Julio Pablo Martinez batted .252 with 22 extra-base hits and 11 stolen bases with Spokane during the regular season. (Arizona Fall League)
Julio Pablo Martinez did enough during his stateside debut with Class A Short Season Spokane this past season to warrant top prospect status. He gave another glimpse into that developing talent Monday afternoon in the Arizona Fall League.Texas' No. 2 prospect hit a ninth-inning double to complete the cycle and
Julio Pablo Martinez did enough during his stateside debut with Class A Short Season Spokane this past season to warrant top prospect status. He gave another glimpse into that developing talent Monday afternoon in the Arizona Fall League.
Texas' No. 2 prospect hit a ninth-inning double to complete the cycle and drove in two runs during Surprise's 8-5 loss to Salt River at Surprise Stadium. Martinez scored twice, walked and reached safely in all five plate appearances. He's hit safely in seven of his eight AFL outings.
The 22-year-old tripled to right field and scored on fifth-ranked Pirates prospectCole Tucker's sacrifice fly in the opening frame. He homered to right in the third, beat out an infield single to second base in the fifth and walked in the seventh. Due up fourth in the bottom of the ninth with the Saguaros trailing by four runs, Martinez capped his big day with an RBI double to right.
Gameday box score
"He's been very good and is a hard worker," Surprise hitting coach Brian Buchanan said. "He has all the tools you look for in a player offensively. He's fast, athletic, can bunt for hits and has a quick swing that gets the barrel of the bat through the zone on time. He's been great here for us."
MLB.com's No. 56 overall prospect raised his average 122 points to .344 with his four-hit effort, a feat he accomplished once with Spokane on Aug. 21. Martinez hit .333/.469/.498 with 24 steals in 61 games in Cuba's top league in 2016-17. After defecting, he played in the Can-Am League and batted .280/.335/.414 with 24 steals in 76 contests. The Rangers signed him to a $2.8 million contract in March and assigned him to their Rookie-level Dominican Summer League squad, where he made seven appearances.
The Baracoa, Cuba native was sent to the Northwest League where he compiled a .252/.351/.436 slash line with 22 extra-base hits, 21 RBIs and 11 stolen bases in 60 games for the Indians. Martinez batted .317 over his final 46 games after hitting .188 in his first 14 contests with Spokane. He carried that over into the postseason, compiling a .348 average with two homers and five runs scored in six playoff games.
"Offensively, he's got some real talent," Buchanan said. "He's not chasing and he's hitting some good fastballs against some decent arms. and making the adjustments. [The cycle] is something you don't see very often, but he put together great at-bats all night. It's a good thing that ball he hit in the ninth bounced off the wall or else he probably would have had another triple. He smoked that thing."
Vladimir Guerrero Jr. singled in four at-bats for Surprise. Baseball's top prospect is batting .485 and has hit safely in all eight AFL contests.
Second-ranked Marlins prospectMonte Harrison collected three hits, two RBIs and a run and D-backs No. 5 prospectDaulton Varsho tripled, singled, walked and scored three times for Salt River. Josh Fuentes (Rockies) hit a two-run homer and singled for the Rafters, who collected 13 hits.
Luis Reyes (1-1), the No. 23 Nationals prospect, allowed three runs on seven hits and a walk and a strikeout in 4 2/3 innings to notch the win.
In other AFL action:
Desert Dogs 6, Javelinas 2
Second-ranked Yankees prospectEstevan Florial tripled, singled and collected an RBI for Glendale. Orioles No. 12 prospectRyan McKenna drove in two runs and Indians No. 6Yu Chang added a two-run homer and a single. The Dodgers' Ben Holmes (1-1) allowed one run on three hits and a walk with six strikeouts in four innings. Sixth-ranked Braves prospectCristian Pache had two hits and an RBI while Mariners No. 20 prospectIan Miller hit a solo homer for Peoria. Gameday box score
Solar Sox 2, Scorpions 1
Tigers No. 14 prospect Greg Soto allowed two hits and a walk while fanning five in five shutout innings for Mesa, outdueling second-ranked Astros prospectForrest Whitley. The No. 8 overall prospect allowed two runs on four hits and two walks in 4 2/3 frames. Red Sox No. 7 prospectDarwinzon Hernandez, Ryan Clark (Angels) and Boston's ninth-ranked prospect Mike Shawaryn hurled a hitless frame apiece. A's No. 18 prospectEli White drove in both Solar Sox runs and Astros No. 8 prospectDaz Cameron tripled and scored once. Mets No. 2 prospectPeter Alonso plated Scottsdale's lone run with a sacrifice fly. Gameday box score