Wood Ducks' Taveras stays hot at the plate
Top Rangers prospect gets three hits; No. 14 Hernandez K's 11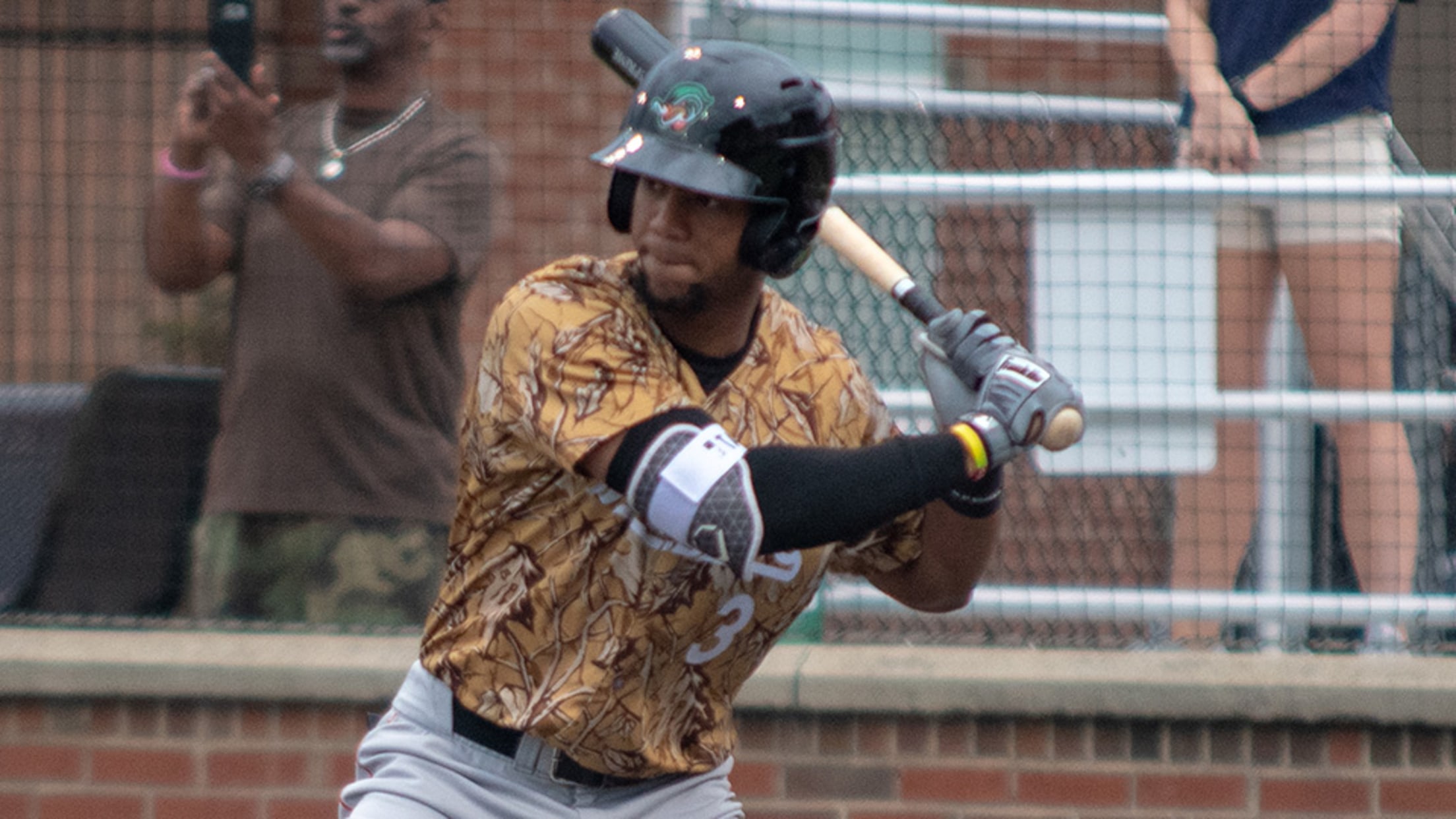 Leody Taveras has hit safely in 11 of his last 12 games (.340) with 10 runs scored and seven RBIs. (Joseph Dwyer/MiLB.com)
Having managed Leody Taveras the past two seasons in the South Atlantic League and now the Carolina League, Class A Advanced Down East skipper Spike Owen has watched the outfielder mature firsthand. The top-ranked Rangers prospect has committed to tweaking his approach against better pitching, which worked to his advantage
Having managed Leody Taveras the past two seasons in the South Atlantic League and now the Carolina League, Class A Advanced Down East skipper Spike Owen has watched the outfielder mature firsthand. The top-ranked Rangers prospect has committed to tweaking his approach against better pitching, which worked to his advantage Wednesday night.
Taveras delivered his first three-hit game of the season and drove in two runs, helping the Wood Ducks to a 4-2 win over the Mudcats at Grainger Stadium. Fourteenth-ranked Jonathan Hernández recorded a career-high 11 strikeouts while allowing two runs on five hits and a walk over six innings.
Gameday box score
"His swing is starting to pay off, mainly with his bottom half," Owen said of the changes Taveras made at the plate. "He's just been doing some work to stay back a little bit longer, recognizing pitches better and it's nice that he's getting some results. He was doing well up until a couple of weeks ago. I think the adjustments that he's making we'll really start seeing a lot better results, just as far as him driving the ball and being more consistent."
The 19-year-old has given the Wood Ducks' offense a jolt over the 15 games he's played in May, but Hernandez credits his defensive game for really helping out the pitching staff. Using his plus speed and 60-grade fielding ability, Taveras has covered plenty of ground in center field with a .975 field percentage this season. He added three more putouts Wednesday, including the final out of the night.
"He's a super guy, every time the ball is hit to center it's like, 'OK, this is an out,'" the 21-year-old righty said. "He's one of the guys who can field the ball really, really well. He has a lot of speed in the outfield. ... It gives me more confidence and doesn't make me feel like I need to strike out everybody."
After posting a .259/.375/.333 slash line through the first month of the season, Taveras is 18-for-62 with five extra-base hits in May to raise his overall average to .273 and his OPS to .755. Owen admires the way the switch-hitter has continued to progress.
"Him coming up a level where the pitching is better -- breaking balls and off-speed are better -- and for him to do what he's doing is very impressive," the 13-year Major League veteran said. "He's really a smart kid, he's able to understand the adjustments he needs to make. Working with Kenny Hook, our hitting coach, to be able to feel the difference. At 19 years old, to be able to do that, he's pretty special."
Facing Brewers No. 22 prospect Trey Supak with one out in the first inning, MLB.com's No. 31 overall prospect smacked a single back up the middle for Down East's first hit of the night. Taveras struck out in the third against the right-hander after a six-pitch at-bat but rebounded two innings later. Following Eric Jenkins' RBI triple, the 19-year-old crushed a full-count offering from Supak into center for a run-scoring double.
With pitcher-turned-designated hitter Anthony Gose on third and two outs in the seventh, Taveras punctuated his night with an RBI single to give Down East a 3-2 edge. It capped the 10th multi-hit game of the campaign for the native of the Dominican Republic.
"He's figuring out how pitchers are trying to get him out and what they're doing," Owen said. "They're pounding him away with fastballs and he's got to make an adjustment to that -- and he's been doing it. He's been hitting some balls hard the other way and back up the middle probably the last 10 days or so. He's basically using the whole field. And he's tough to defend when you can do that and not have the big shifts put on that we see so often these days."
Hernandez did not figure in the decision after throwing 64 of 89 pitches for strikes. The 21-year-old retired the first seven batters he faced and kept the Mudcats off the board until the fifth when Max McDowell stroked an RBI single.
"I think all of my pitches were working," Hernandez said. "I was just making good pitches in good counts. I was going in with my fastball and then finding the zone with my slider. [The slider] was working pretty good. I was taking advantage of using it as much as I could and get soft contact and swings-and-misses."
Tucker Neuhaus homered in the sixth, but Hernandez fanned Dallas Carroll and Ronnie Gideon to put the finishing touches on his fourth start of at least six innings this season. The Tennessee native ranks third in the Carolina League with a 2.23 ERA.
Hernandez thought he'd get the hook after allowing the solo dinger, but was more than happy to get the final two outs of the sixth.
"It was tough, man, when I saw the homer I was like, 'Well, I'm done,'" Hernandez recalled. "But I was like, 'Hey, I have another chance to be here and compete for another hitter with what I have.' So that's what I did and I struck out those guys."
Owen added he was pleased with the composure Hernandez maintained throughout the start.
"Jonathan has a big league arm," the manager said. "Plus fastball with the wipeout slider and a good changeup. The first three innings of the game, he was dominating -- he had good command and mix of his pitches. Got away [from the command] a little bit in the fifth inning or so, but go right back to it."
Andrew Battifarano is a contributor to MiLB.com. Follow him on Twitter, @AndrewAtBatt.