Down East's Hernandez keeps it in the family
No. 14 Rangers prospect making gains with his father's guidance
Jonathan Hernandez has racked up 162 strikeouts in 152 innings over the past two seasons. (Joseph Dwyer/MiLB.com)
Working on his defense on the fields near his house in the Dominican Republic, a 12-year-old Jonathan Hernández knew he wanted to be a shortstop. He already grasped that baseball ran in his blood and figured life as a middle infielder was the one he should lead.His father, however, had
Working on his defense on the fields near his house in the Dominican Republic, a 12-year-old Jonathan Hernández knew he wanted to be a shortstop. He already grasped that baseball ran in his blood and figured life as a middle infielder was the one he should lead.
His father, however, had a different future in mind.
Fernando Hernandez pitched professionally for 14 seasons in a career that spanned three countries, so he felt it only made sense for his son to take a shot at toeing the rubber. The transition wasn't so seamless at first, at least to the younger Hernandez.
"My dad said, 'Hey, it's time that you need to pitch,'" recalled Hernandez. "And I was like, 'OK, no problem.' But later that year I was like, 'Oh no, I don't want to pitch.'"
After a few rocky sessions on the bump, it would not have been surprising to see a preteen Hernandez abandon his new position altogether. But after giving it some thought, he kept at it and took his dad's words to heart.
"I was like, 'No, I have to be better,' especially with him, because he was taking the time to teach me," Hernandez said. "So it was then, when I was like 12, 13 and 14 years old, that I started to take pitcher more seriously. And now I think I am [a pitcher] thanks to him.
"That's something I will always be thankful for. He's looking for the best in me. That's the kind of person you need to have around you, especially in sports."
What started as an experiment has paid off for Hernandez. Not only has the right-hander steadily refined his stuff, but he's emerged as a legitimate prospect with Class A Advanced Down East, currently ranked No. 14 in the Rangers system. A month and a half into the season, Hernandez leads the Carolina League with 52 strikeouts and is fourth with a 2.23 ERA.
"It's obviously the electric pitches he throws, especially his fastball," Wood Ducks pitching coach Steve Mintz said. "He can sit 95, 98 and 99 [mph] most nights. He's throwing his slider in the upper-80s. Then he's got the changeup and the breaking ball that's working also. It's just seeing the quality of all four pitches and his understanding. That's kind of what it takes to pitch in the big leagues.
"Pitching them is one thing, but learning how to use them is another. The growth I've seen, and I've been with Jonathan for three years, and the maturity I've seen, not letting emotions take over and keep his shoulders high even when things might not be going well."
Wielding a 60-grade fastball and "wipeout slider," Hernandez whiffed 110 batters in 111 2/3 frames across 23 appearances (22 starts) between Class A Hickory and Down East in 2017. But an uptick in his velocity also came with more walks -- he issued 44 free passes and had a 1.48 WHIP. This was a change from when he first entered the Rangers system as an international free agent in 2013. In his first two seasons in the Rookie-level Dominican Summer League, he held WHIPs of 1.12 and 1.18.
"One of the biggest things I need to do is get my walks down, and that's what I'm doing now," Hernandez said. "Walks are something I talk with [Mintz] every time [on the mound]."
Even with some bumps in the road, Hernandez showed flashes of brilliance in 2017 and earned a spot on the World squad in the Futures Game in Miami. With his father in attendance at Marlins Park, Hernandez induced a fly out from No. 38 overall prospectRyan McMahon to end the eighth inning.
The entire day gave Hernandez a glimpse of what could come if he continued to hone his stuff. This was just a teaser, and the hurler left the stadium that day wanting more.
"It was an amazing experience. I was around a lot of talented guys like Eloy Jiménez, Victor Robles and Amed Rosario," he said. "That's a blessing, be there and playing with some of those guys playing above me."
Hernandez finished the season in the Carolina League on a high note, holding a 3.44 ERA in 14 appearances as he earned the Game 1 start in the semifinals. He yielded just one run over 5 1/3 frames against Myrtle Beach, helping the Wood Ducks to victory and eventually a co-championship.
"He's a competitor," Mintz said. "Makeup-wise, he's a competitor and wants to win. When he's out there, he's going to battle to the end."
Getting a taste of success fueled Hernandez even more as he set to make improvements in his delivery in the offseason. Heading back to the Dominican Republic, Hernandez felt a few months away could be crucial to his continued development. Knowing he had been added to the Rangers' 40-man roster, he decided he was going to make the most of his time back with his family.
*
Hernandez was born in Tennessee while his father was with the Double-A Memphis Chicks -- then a Padres affiliate in the Southern League -- but the Dominican Republic is, for all intents and purposes, his home. He grew up there, and that's where his love of the game grew.
Each day over the winter he and his father have a regimen they go through, whether it's working on developing a pitch or tweaking a mechanical flaw. It's a rewarding experience for both parties.
"The offseason is the biggest part for me to keep my level and keep working on my level," Hernandez said. "I'm with him during the offseason -- the whole offseason. We go to the field, work on throwing, mechanics. And in my home, in the garage, we go in there and work on my mechanics.
"It doesn't matter what time, I'm just going to be there whenever he says we're going to do this. Sometimes, for example, he'll say I need to work on the front side. I just go in there and do my work."
With Fernando working as the bullpen coach for Aguilas Cibaeñas in the Dominican Winter League, Jonathan has participated with the team to supplement his work during the regular season. These moments inside Estadio Cibao give the younger Hernandez extra appreciation for what his father has done and continues to do on the diamond.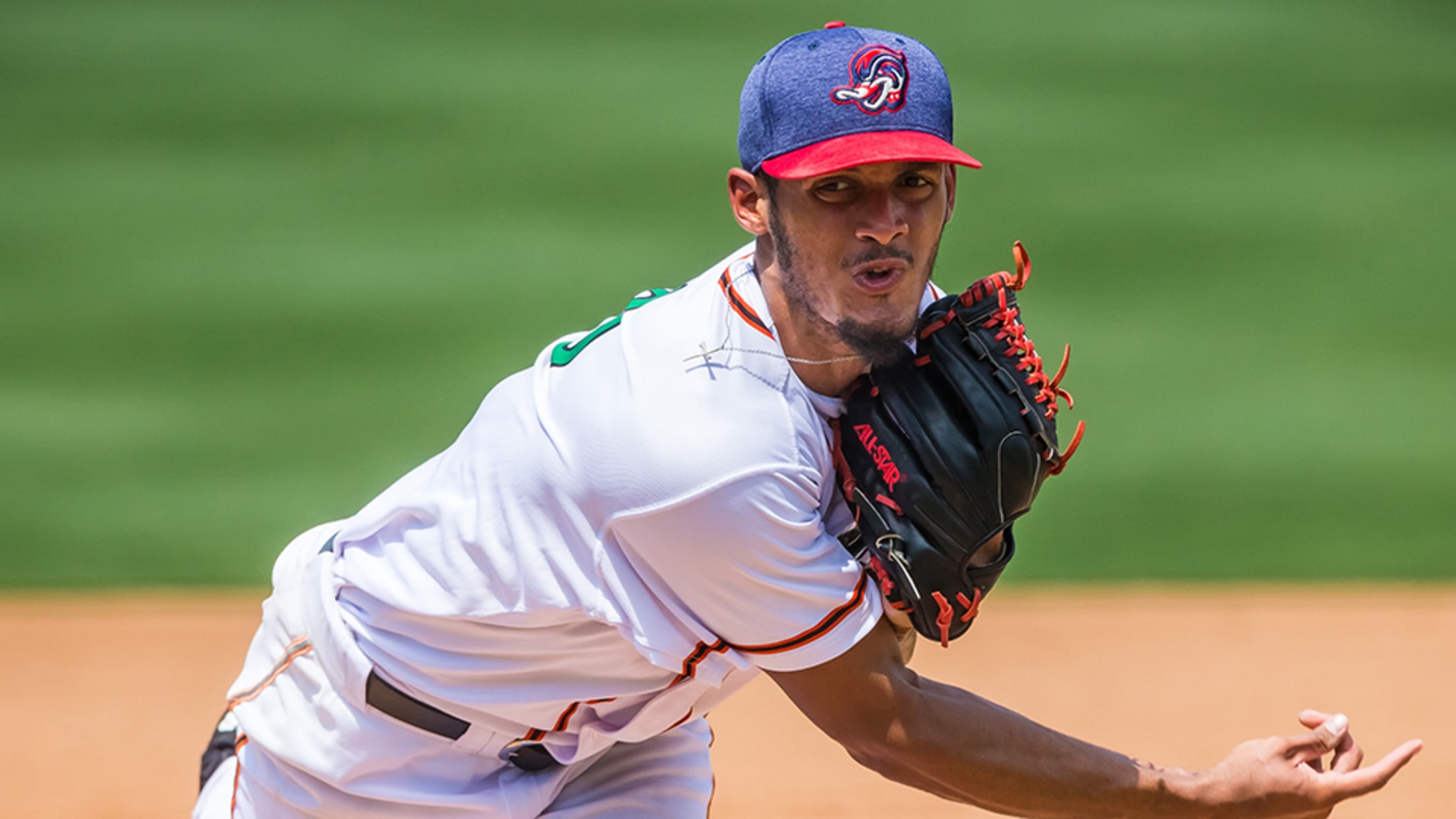 Hernandez has lowered his walk total to 14 in 40 1/3 innings in 2018. (Dominic Cotroneo)
"I'm part of the team and I go there and work out with him," Hernandez said. "That's just special. Being with him my whole offseason is special."
Taking the lessons learned from his father over the winter, Hernandez came into Spring Training determined to improve on his 2017 results. He tossed two innings with the big club and yielded five runs, but before getting sent to Minors camp, he made sure to take advantage of the resources available to him at the Rangers' facility in Surprise, Arizona.
"Being beside guys like Martín Pérez, Bartolo Colon -- guys with a lot more experience than me," Hernandez said. "That was great being there and learning from them. They were teaching me stuff about like what to do in certain counts and stuff like that and how they get outs almost every time."
His improvement this year has been apparent. Through seven starts, Hernandez sports a 0.99 WHIP, which puts him second in the category in the Carolina League. After going 3-1 with a 1.61 ERA in April, Hernandez earned the organization's Pitcher of the Month.
Mintz acknowledged that the growth in Hernandez is as much mental as it is physical.
"Even when things are getting out of hand a little bit, just being able to get the ball and get back on the mound and pitch, just being able to watch that part of the maturing has been good," the pitching coach said. "As an organization, we see that and recognize that there have been a couple of instances this year where two years ago the game would've gotten out of hand. He would've been out of the game.
"But you see him work through the process and see that he knows what he has to do to get out of trouble and the mess that he's created for himself. It's been fun to watch."
With the positive results thus far in a second stint in the Carolina League, Mintz wouldn't be surprised to watch Hernandez make the jump to some higher levels in the near future.
"I don't see any reason why we can't move him quickly," Mintz said. "As soon as you get to A-ball and then to Double-A and throw together some good starts, a big league team that needs arms and you're sitting there on the roster, it's a whole lot easier to make that move than to create a spot for you.
"But we just want to make sure we do right by him and make sure his progression is what it's supposed to be, so when he gets to the big leagues, it's a place where he's ready to be."
Hernandez, though, isn't too concerned with where he's pitching right now, as long as he gets to make his starts when he's scheduled.
"I compete, I give all I have every time I'm out there," he said. "I don't think about when I'm going to Double-A. I just come here and work, go home and do the same routine. I don't think a lot about what's going to happen tomorrow, I've just been thinking about today."
*
Fernando Hernandez reached the Majors with the Tigers in 1997, one year after Jonathan was born. He pitched two games with Detroit that season, then played five more seasons between Triple-A and South Korea's KBO League.
As a father, mentor and a coach, Fernando is helping his son try to reach and sustain his own high watermark in the big leagues. Even if geography separates them during the spring and summer months, Hernandez knows his father his just a phone call away anytime he needs some extra advice. But mostly, Hernandez is thankful for the time he was talked out of pursuing a dream of playing on the left side of the infield.
"Every day I say thank you to him," Hernandez said. "Just being there for me every time, every night no matter when I'm throwing -- that's great."
Andrew Battifarano is a contributor to MiLB.com. Follow him on Twitter, @AndrewAtBatt.