The night Rickey ran wild for Modesto
Henderson set California League record with seven stolen bases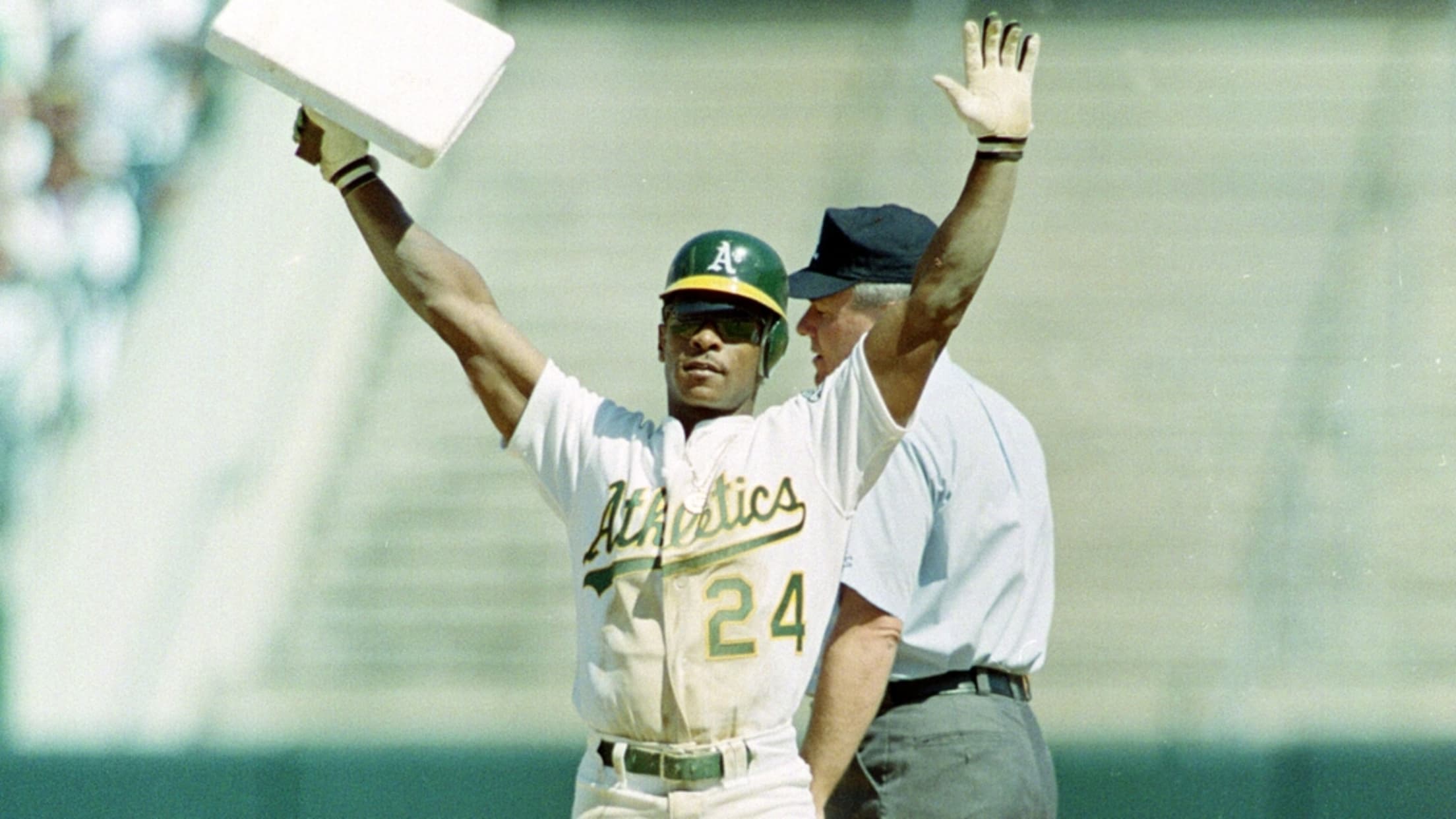 Rickey Henderson holds second base plate aloft after tying Lou Brock's record of 938 career stolen bases on April 28, 1991. (Drew Cobla/AP)
Rickey Henderson never needed a reason to run. The most gifted basestealer in the game's history ran because it was what he did best. Long before Henderson simply became Rickey, however, there was a spring night in 1977 when he was given an extra reason to run. And he ran.
Rickey Henderson never needed a reason to run. The most gifted basestealer in the game's history ran because it was what he did best.
Long before Henderson simply became Rickey, however, there was a spring night in 1977 when he was given an extra reason to run. And he ran. And ran. And ran. And didn't stop running until he had matched a still-standing California League record by swiping seven bases in a single game.
It was May 26, 1977 and the 18-year-old Henderson led the way as Modesto stole a California League-record 15 bases against Fresno. Henderson's effort tied the circuit's mark which was set nearly two years earlier by Visalia's Lee Mazzilli, who stole seven bases in a seven-inning game against San Jose on June 8, 1975.
Modesto, which was on its way to finishing 34 games under .500 in 1977, was on the losing end of the ledger the night before Henderson and his teammates ran wild. Despite trailing by a large margin in that game, A's manager Tom Trebelhorn continued to have his team run. That so irked Fresno catcher Wayne Cato that he complained to the Modesto skipper, providing the spark that ignited the record-setting performance.
"I actually don't remember the game a whole lot," Fresno manager John Van Ornum said. "But the night before, the biggest thing was that they were getting beat pretty bad and they had stolen a base. Tom did a heck of a job with Rickey and that was their game.
"Our catcher got all over Tom for stealing because we were so far ahead. I said, 'Oh boy, that's all we need.' I told Cato not to worry about it but I knew we were in trouble. The night he stole seven, their whole team was gathered in short right field before the game and it looked like they were putting grease on their legs. Tom had a bunch of guys who could run and [Cato] precipitated the outburst. I was in the dugout laughing because I knew what was going to happen."
Henderson proceeded to collect three hits and score four runs in a 13-12 victory. Baseball's all-time stolen base leader acknowledged recently to MLB.com that Trebelhorn was annoyed with Cato's comments and that's why they ran so much on the record-setting night. In fact, Henderson was in the process of stealing his eighth base when the batter connected on a hit-and-run.
While Cato remembers getting picked apart by Henderson and the A's, he isn't so certain that he was the reason it happened. A defensive standout with a solid bat, Cato had won the MVP award in the Midwest League in 1976 and was enjoying another solid season in '77, but admittedly didn't have the greatest of arms.
Still, despite a suspect arm, he insists there were other factors that contributed to Modesto's record.
"I remember our pitcher had the slowest delivery in the world to home plate," Cato said. "And I do know that when you're whipping a horse, you don't beat it until you're not running. There's some etiquette in baseball and Trebelhorn didn't have it. Not that night, anyway. In the old days, someone would have gotten hurt. When a game gets out of hand, you need to have baseball etiquette.
"It was like a nightmare. It's kind of like a pitcher giving up four homers to one guy. You try to figure it out and nothing works. We had a pitcher with a slow delivery so they were running everyone. He didn't last the whole game but apparently the relievers didn't hold anyone on, either. And the weakest point in my game was that I couldn't throw real well."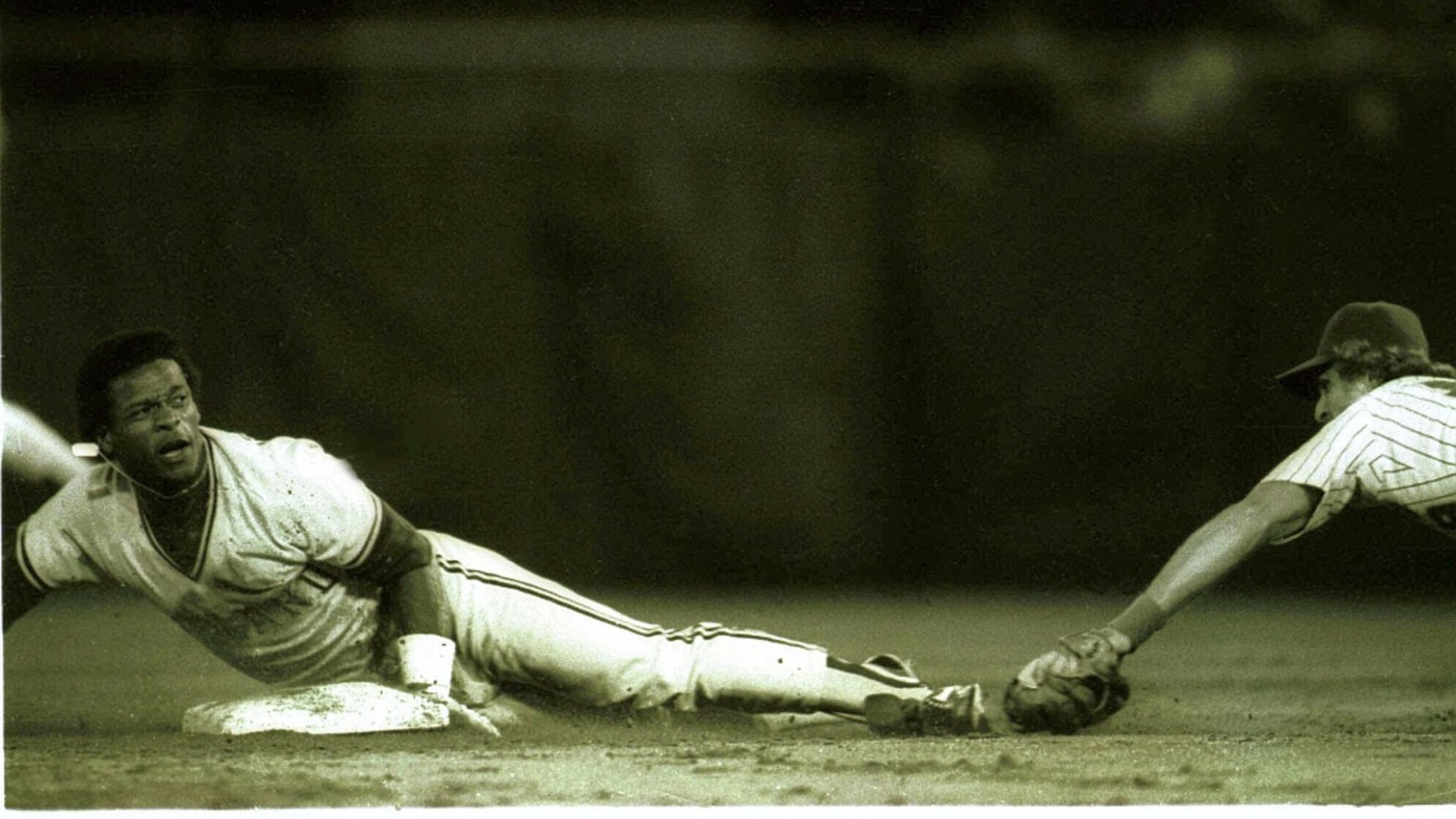 Cato could have had a cannon behind the plate and it might not have mattered. Henderson went on to steal 95 bases that season. Teammate Darrell Woodard, whom Trebelhorn said was a better base runner than Henderson, was in the midst of setting a league mark of 37 consecutive steals without being caught. And though neither player would approach the league individual record -- Donnell Nixon would lay claim to that record with 144 steals for Bakersfield in 1983 -- they did make the A's one of the most exciting teams in the Minor Leagues in 1977.
"We had an interesting team," Trebelhorn said. "We could run. And no one's going to tell us that we can't run. We kept running and [Fresno] got a little agitated. I wanted our kids to keep playing and experiencing things. And I told them that if you don't like how we're running today, you should see how we're going to run tomorrow night.
"And I was very fortunate in my career to have guys like Paul Molitor, Cecil Cooper, and Ryne Sandberg. But at 17 years of age in Boise, Idaho the year before, Rickey Henderson had a better idea of the strike zone than all those guys did. He was outstanding as far as pitch discrimination was concerned. He was Rickey. He was fearless running, and at the plate."
Henderson would go on to steal another 125 bases in 1978-79 before reaching Oakland and embarking on a 25-year career. Trebelhorn went on to manage the Brewers and the Cubs in the late 80s and early 90s and is currently a coach in Baltimore. Cato, meanwhile, played another season before tearing his rotator cuff. He went on to become a successful manager in the San Francisco system before retiring from baseball in the mid-80s.
"I had good nights, too," Cato laughed. "I had more good ones than bad ones."
The night that Rickey ran wild, however, is the one that's etched in the California League record book.
Kevin Czerwinski is a reporter for MiLB.com.