Theme jerseys score for charity, publicity
Technology allows more Minor League clubs to customize uniforms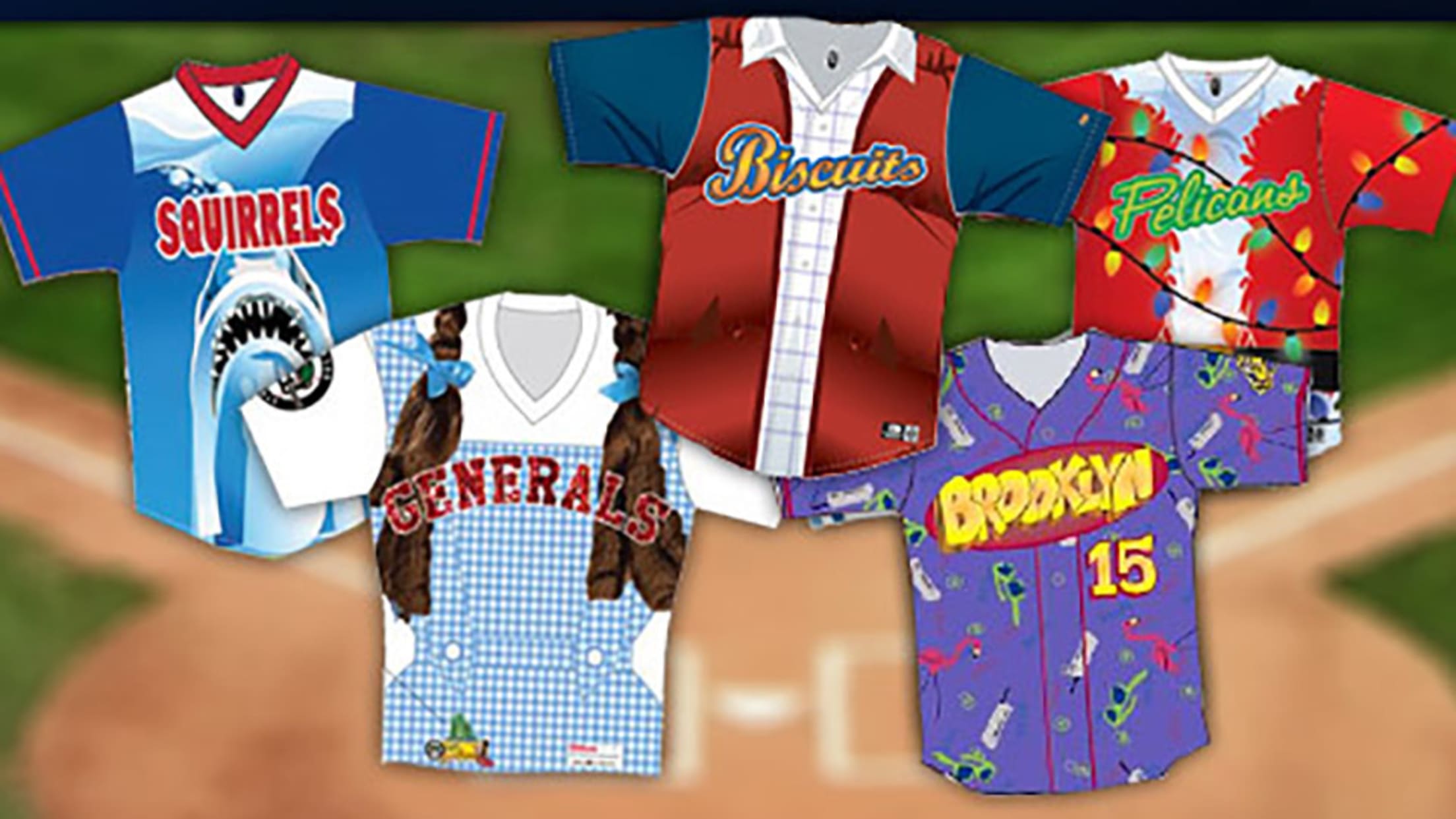 This season's theme jerseys include tributes to "Jaws," "The Wizard of Oz," "The Fresh Prince of Bel-Air," and Christmas in July.
Not long ago, Minor League Baseball theme jerseys were almost exclusively based upon a small array of pre-existing options. Pink, patriotic and camo were the three most common offerings, with pop culture references virtually non-existent. But now..
Not long ago, Minor League Baseball theme jerseys were almost exclusively based upon a small array of pre-existing options. Pink, patriotic and camo were the three most common offerings, with pop culture references virtually non-existent. But now..
"Now it's just a free-for-all."
That's how Elaine Gastineau of OT Sports describes Minor League Baseball's current theme jersey landscape. OT Sports, based in Burlington, North Carolina, is a leading theme jersey manufacturer, and Gastineau is their factory sales representative specializing in Minor League Baseball. Over the last decade she's done her part to facilitate an industry-wide theme jersey phenomenon, with teams attempting to outdo one another in the ever-competitive category of "Who can be the most outlandish?"
If early returns are any indication, then 2015 will be the most outlandish year yet. Upcoming theme jersey highlights -- or lowlights, depending on the degree to which you are a baseball purist -- include Full House (Frisco RoughRiders), The Wizard of Oz (Jackson Generals), Saved by the Bell (Brooklyn Cyclones), and Jimmy Buffett "Parrothead" (Lowell Spinners). And this is to say nothing of Back to the Future, the 30th anniversary of which is being celebrated in theme jersey form by more than a dozen teams across the country. With the start of the 2015 season rapidly approaching, it seems that each new day brings with it a new eye-catching, pop culture-referencing Minor League theme jersey. National media attention -- and corresponding social media outrage and adulation -- inevitably ensues.

Sublimated desires
Minor League Baseball promotions are predicated upon innovation, idea sharing and one-upmanship, and these core industry principles have certainly fueled the rise of the theme jersey phenomenon. But such growth would not have been possible without a process that OT Sports refers to as "sublimation." This process, adopted by the company approximately three years ago, allows for all elements of a jersey's design to be permanently dyed directly into the material. Unlike traditional screen printing, no separation exists between design and fabric. They become one.
"Before sublimation, we had stock fabrics and would design our jerseys based on those colors. We were pretty limited in what we could do," said Gastineau. "Printing the designs, the logo, the numbers on the back, we used to have to outsource that. The advantages [of sublimation] are two-fold -- now we can do everything in-house, and we have a lot more to offer in terms of what our capabilities are. … It's really expanded our market. Whereas before we worked with maybe 40 teams on special event jerseys, we're now up to 75."
Some theme jerseys are designed by the teams themselves, when a team is fortunate enough to have a talented artist on staff. But in many cases, they are designed in concert with the theme jersey manufacturer. OT Sports' graphic designer, Adam McCauley, creates the jersey designs based on input from the teams. (For popular, well-established theme nights, OT Sports offers an array of fully licensed jerseys from which teams can select). The jerseys are produced onsite at OT Sports' North Carolina factory -- the minimum order is 35 -- and then shipped to the team. Gastineau estimates the process takes approximately six to eight weeks.
"It just keeps on getting more and more creative," said Gastineau, who credits the Fresno Grizzlies' 2009
The Price is Right
jerseys with kick-starting the pop-culture theme jersey trend. "Last year we were able to do the [El Paso] Chihuahua 'dog face' jersey and it looked so realistic. That's where the sublimated jerseys come in. We can create anything the customer wants."
All in
Jason Dambach, general manager of the Frisco RoughRiders, has done his part to contribute to the craze. The RoughRiders' "Full House Night" is scheduled for June 12 and features an appearance by Dave "Uncle Joey" Coulier. Last season, when Dambach was general manager of the State College Spikes, the club staged a "Fresh Prince Night" with special guest Alfonso "Carlton Banks" Ribeiro. Both promos prominently featured colorful theme jerseys highlighting imagery from these early-'90s sitcoms.
"When you talk about theme nights, it's about committing to the idea and then building the layers," said Dambach. "One of the more popular ways to accentuate that is with [theme jerseys]. It's the most visible way to get everyone on board with the concept."
The West Michigan Whitecaps were pioneers in this regard, having staged Minor League Baseball's first Star Wars promotion in 2006. In doing so, they established a template that many teams now follow. Key elements include character appearances courtesy of a local chapter of the 501st Legion and, of course, theme jerseys.
"We started doing [theme jerseys] about 10 years ago. It started with fundraising nights, for breast cancer, prostate cancer, those kind of things," said Whitecaps marketing and media relations director Mickey Graham. "But then we started to think, 'Why not have fun with it too?' That's how 'Star Wars Night' came about. And when you do a theme night, people have to know what's going on as soon as they walk in. The players -- they're one of the first things people are going to see. It makes sense to have them be part of the theme as well."
The players generally like wearing the theme jerseys, at least according to the front-office members who have left them no choice in the matter.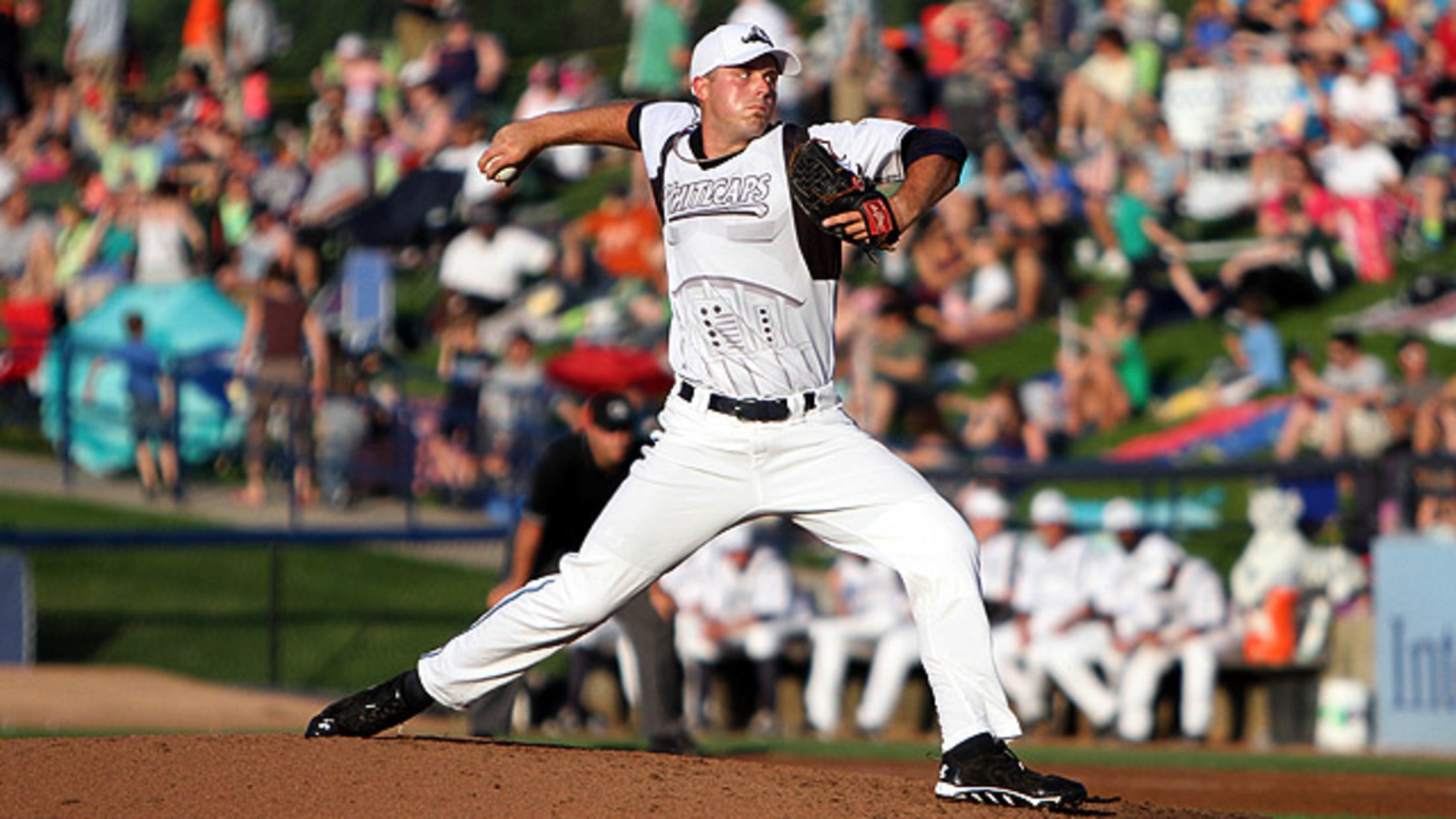 "On paper it may look ridiculous. But, what the heck, it's a 140-game season. These guys are looking for something to break the routine," said Dambach. "When the players and coaches get behind it and play along, that's really fun to see. … When we did the Fresh Prince jerseys in State College, we had half the team wanting to buy their own jerseys."

Express written consent
No matter what the particular theme may be, there is almost always a charitable component. The general formula is for fans to take part in a silent auction during the game. Upon its conclusion, the highest bidders are given the jerseys "off the players' backs," and all money collected is donated to the evening's chosen charity. (Sometimes there is an obvious charitable tie-in; the El Paso Chihuahuas' "Dog Face" jerseys, for example, benefited the local chapter of the Humane Society.)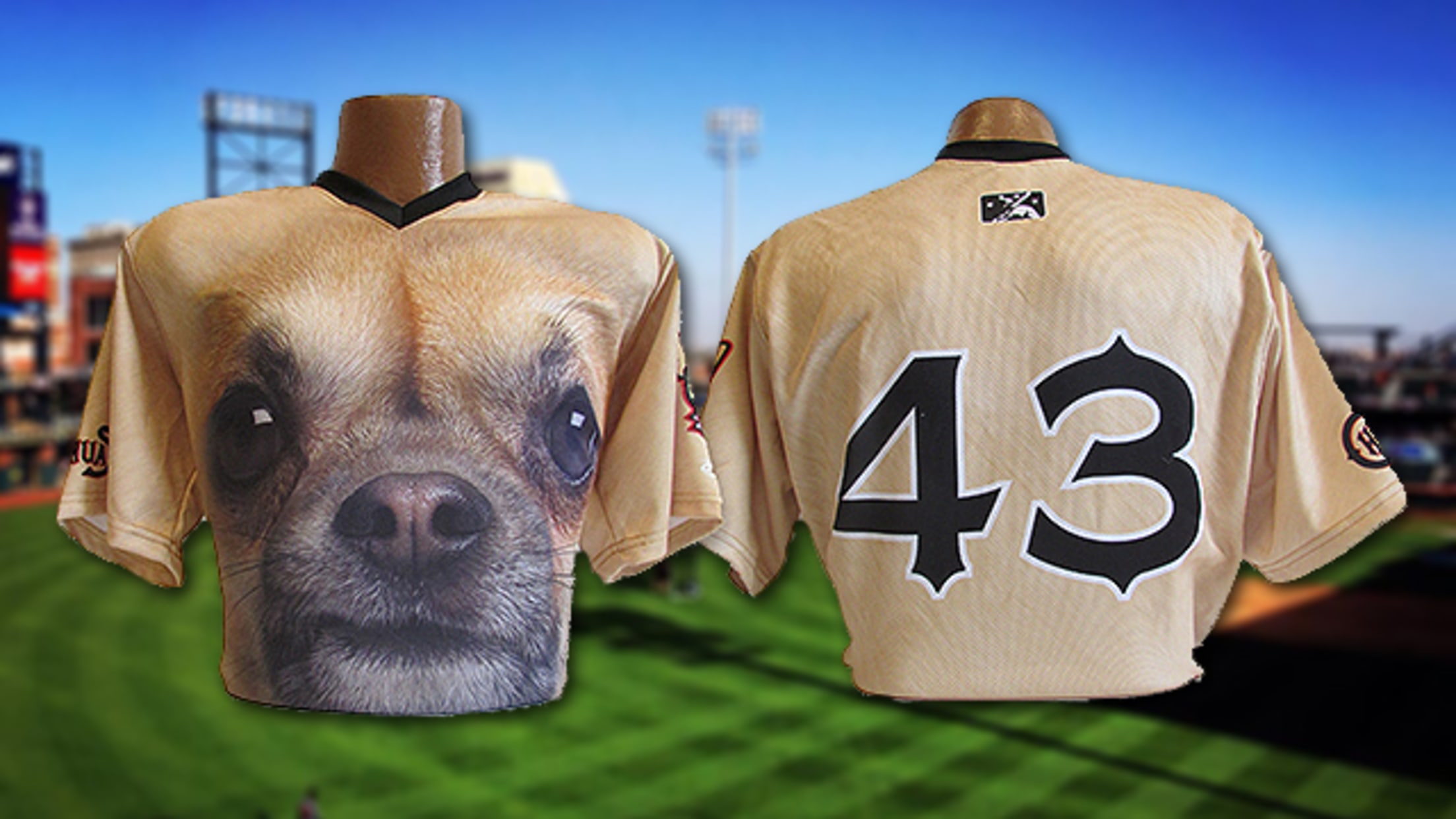 The philanthropic element is often important for reasons on top of the impulse to raise money for a good cause. For example, Lucasfilm will not approve a team's Star Wars jersey design unless the money made from their sale goes to charity.
Craig Katz, director of merchandise and licensing for the Toledo Mud Hens, is familiar with this process. The Mud Hens have received national attention for several of their theme jerseys, including last season's Ghostbusters-inspired effort. In addition to auctioning off the jerseys worn by the players, the Mud Hens sold replica Ghostbusters jerseys in the team store and online. As part of an agreement with Sony Pictures, which owns Ghostbusters, all sale proceeds went to charity.
"[Sony Pictures] were happy, we were happy, and the charity was happy because the [retail sales] doubled their donation," said Katz. "And, most importantly, fans all over the country who were saying 'I need to get that Ghostbusters jersey' were able to get one. … As long as there is a charitable component involved, there's usually no problem. Especially because we're promoting their intellectual property."

No end in sight
Minor League Baseball is a collection of 160 local businesses. Nonetheless, teams seem to revel in the national attention that irreverent theme jerseys bring.
"We're not going to get that blurb in [
Sports Illustrated
] unless we show how the Mud Hens are different from everybody else," said Katz. "So we look to pop culture, see if there are upcoming anniversaries to celebrate, and tie it into a big promotional night. ... We started becoming known as one of those teams that does the crazy promos."
Such responses egg the teams on -- quite literally, in the case of the Mud Hens. This coming season, the team is partnering with the Lehigh Valley IronPigs on a dual theme jersey promotion called "Bacon and Egg Night." Versions of this promotion will occur in both Lehigh Valley and Toledo, with the IronPigs wearing their bacon theme jerseys and the Mud Hens wearing a yet-to-be-unveiled "egg" theme jersey.
"It's so ugly and silly, it's awesome," said Katz. "Everybody is trying to top each other."
So why stop now?
"Jerseys are the centerpiece of a great promotion," said Dambach. "I think that the future is bright. They're going to get better and better and wackier and wackier."