Toolshed: AL systems giving thanks in 2018
Guerrero, Jiménez on cusp of Majors; Kirilloff, Lewis rise together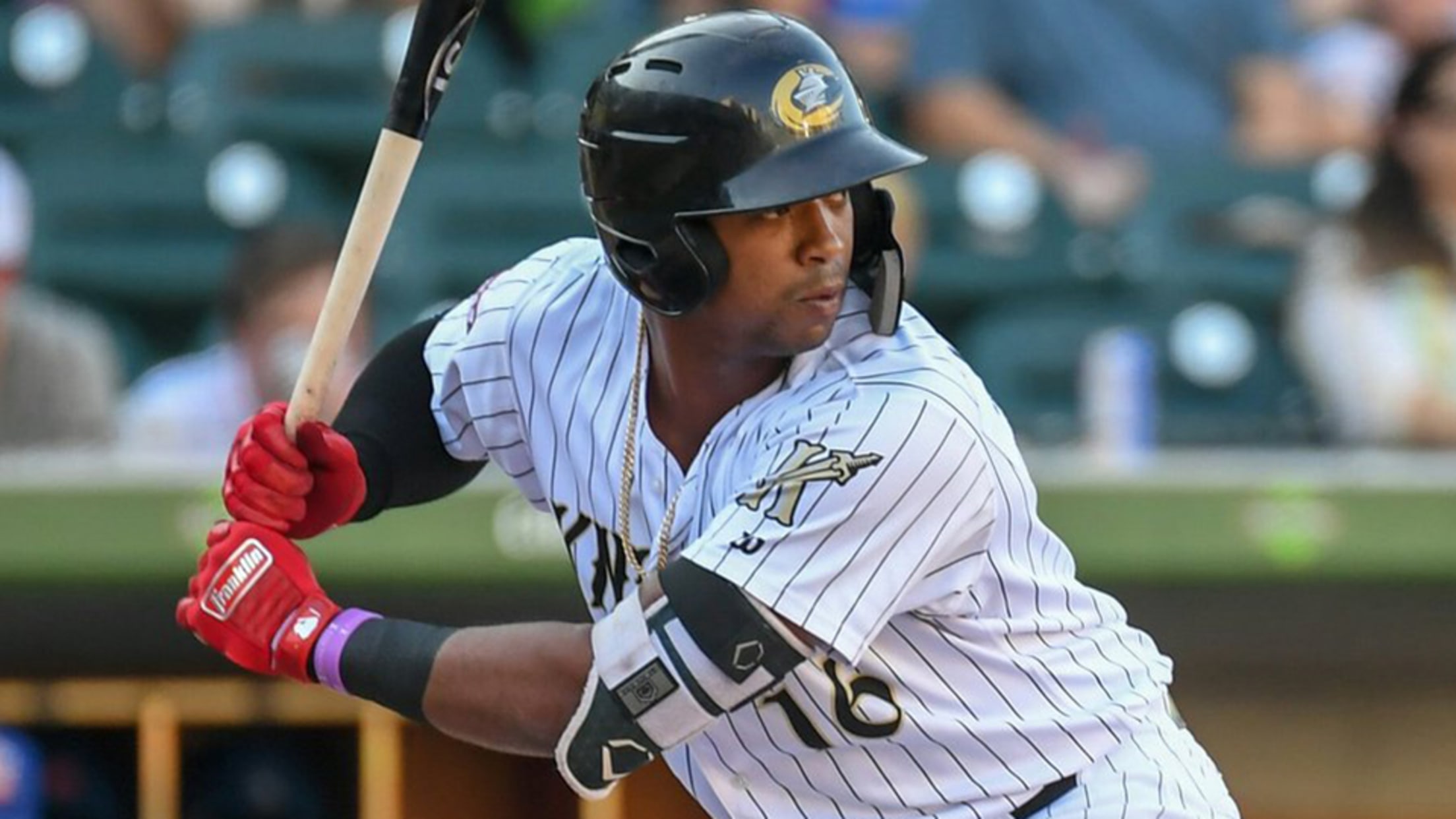 Eloy Jiménez's proximity to the Majors should give White Sox fans plenty to celebrate Thursday. (Laura Wolff/Charlotte Knights)
When fans of the American League sit around the dining table for their Thanksgiving feast of turkey, cranberry sauce, mashed potatoes and Grandma's green bean casserole, there will be plenty of baseball-related reasons to give thanks. Maybe the fact that a member of the junior circuit has won four of
When fans of the American League sit around the dining table for their Thanksgiving feast of turkey, cranberry sauce, mashed potatoes and Grandma's green bean casserole, there will be plenty of baseball-related reasons to give thanks. Maybe the fact that a member of the junior circuit has won four of the last six World Series? Perhaps that all three of Major League Baseball's 100-win clubs this season came from the AL? Or could it be just the existence of the designated hitter?
One of the many great aspects of the Minors and its farm systems is that they're filled with young talent breeding optimism for the future, leaving fans of every club with plenty to be thankful for this holiday week. Tuesday's Toolshed presents what fans of each AL club should appreciate this Thanksgiving. The National League list comes Wednesday.
American League East
Baltimore Orioles: The coming rebuild --
On the Major League side, the O's are coming off a 47-win season, the worst in franchise history since the St. Louis Browns moved to Baltimore in 1954. They traded Manny Machado, Zach Britton, Kevin Gausman and Jonathan Schoop and in all likelihood will lose cornerstone Adam Jones in free agency. The good news (and yes, there is some) in Charm City comes from the eternal hope of an improved farm system, and there's sunlight on the horizon. The Orioles picked up
top prospect
Yusniel Díaz
in the Machado trade and added notable Minor Leaguers such as
Dillon Tate
,
Luis Ortiz
, Jean Carlos Encarnacion,
Dean Kremer
,
Brett Cumberland
and
Cody Carroll
. The system will only get better next June when Baltimore will have the No. 1 overall pick for the first time since 1989. There'll be new guidance on the road to rebuild in the form of recently hired general manager Mike Elias, who previously helped the Astros go from the land of the downtrodden to a World Series title. It's far from an elite system right now, but it's not hard to see the O's building a solid foundation in short order.
Boston Red Sox: Darwinzon Hernandez --
You can bet that folks around New England will be thinking more about the Commissioner's Trophy come Thursday than they will about the Minor League system. But for those looking at the big picture, it's worth remembering that it's been a while since Boston developed an interesting starting pitching prospect.
Brian Johnson
was the homegrown hurler with the most starts (13) and innings pitched (99 1/3 innings) in 2018 but was left off postseason rosters. (Eduardo Rodriguez graduated from prospect-dom with the Sox but was mostly raised in the Orioles system.) There might be good news with the ascension of Hernandez, however. The No. 7 Red Sox prospect posted a 3.53 ERA with 134 strikeouts in 107 innings between Class A Advanced and Double-A in 2018, and with a plus-plus fastball and above-average slider, he's got the stuff to back up the results. He carried that to the Arizona Fall League, where he fanned 24 batters in 11 1/3 innings while being used exclusively out of the bullpen. Hernandez still struggles with control, walking 12.7 percent of the batters he faced during the regular season and 12.2 percent in the AFL, but he'll get a long look as a starter because his swing-and-miss rates are too enticing, even over longer stints. The 21-year-old southpaw will get added to the 40-man roster Tuesday for Rule 5 protection, and he's got a chance to be the most exciting homegrown starter to reach Fenway Park since Clay Buchholz.
New York Yankees: Lower-level pitching --
Before Monday, the headline here would have been pitching in general. But that depth took a hit when the Yanks moved
Justus Sheffield
and
Erik Swanson
-- both of whom spent most of 2018 at Triple-A -- to the Mariners as part of the
three-player package
for lefty James Paxton. Now, some of the most intriguing names left are years away, like
Roansy Contreras
,
Deivi Garcia
and
Albert Abreu
among others. New York helped develop Sheffield into one of the game's premier left-handed pitching prospects upon his arrival from Cleveland in 2016 and turned
Jonathan Loaisiga
into a Top-100 prospect -- and a Major League option -- after entering 2018 with only one Class A start. What could they do with these guys still remaining? The possibilities are tantalizing for followers of pinstriped prospects, despite looking at a shallower pool than they were over the weekend.
Tampa Bay Rays: So much talent on the dirt --
The Rays already have a wealth of talent in their Major League infield with former top prospects
Willy Adames
and
Jake Bauers
arriving in St. Petersburg,
Joey Wendle
enjoying a breakout rookie campaign,
Matt Duffy
producing while healthy and No. 10 prospect
Brandon Lowe
forcing his way into the conversation after climbing from Double-A. And more is coming. The dream is for
Brendan McKay
and breakout stud Nathaniel Lowe to push Bauers for time at first base soon.
Nick Solak
is a pure-hitting second baseman who's added some power at Double-A and could be ready next year (though he's started playing some outfield as well). At the same position,
Vidal Brujan
(.320 average, 55 steals between both full-season Class A levels) has only just begun to race up the Tampa Bay chain. One spot over, shortstop
Lucius Fox
is coming off a bounceback campaign in the Arizona Fall League after some stumbles at Double-A as a 21-year-old. Further away, shortstop
Wander Franco
is very likely to be the jewel of Tampa Bay's future infield with many thinking the 17-year-old's elite combo of hit tool, power and speed could have him in St. Pete at some point in 2020. The Rays are at their best when they have many young players competing for multiple spots in the Major League lineup, and the dawn of such an era is very close, if it's not here already.
Toronto Blue Jays: Vlad --
Thanksgiving or not, any day is a good day for the Blue Jays and their fans to be thankful for
Vladimir Guerrero Jr.
. The game's top prospect looked like a potential superstar during the regular season and did little to change anyone's minds in the Arizona Fall League. He's turning 20 in March. He'll likely be in the big leagues a month later. Only the waiting remains.
American League Central
Chicago White Sox: The time is almost here --
Remember that picture circulating the Internet of the White Sox teasing a potential Bryce Harper signing at the United Center? It's plausible, in fact, because the rebuild on Chicago's South Side is coming more clearly into focus.
Eloy Jiménez
was Major League-ready by the end of 2018, and MLB.com's No. 3 overall prospect could be hitting big league homers by the end of April next year.
Dylan Cease
,
Dane Dunning
and
Zack Collins
all have good shots of joining him at some point in 2019, and it's possible 2018 first-rounder
Nick Madrigal
climbs quickly, thanks to the elite hitting tool he showed at Oregon State. If
Michael Kopech
hadn't undergone Tommy John surgery, the White Sox would have an even stronger foundation of Major League-ready prospect talent in place. Even as is, Chicago should be confident enough to make big league splashes because of the readiness of some of its prime top prospects.
Cleveland Indians: Yu Chang --
The Indians system isn't what it once was, though it might be getting a boost by some rumored Major League trades. Until then, the Tribe and their fans can take pleasure in No. 6 prospect Chang. Coming off a full season at Triple-A Columbus, the 23-year-old infielder handled himself quite well in the Arizona Fall League, producing a .337/.396/.523 line with four homers in 23 games. Primarily a shortstop during the regular season, Chang played third base almost exclusively in Arizona and got two games at second base before the fall came to a close. He's blocked on the left side of the infield by
Francisco Lindor
and Jose Ramirez -- both of whom are most definitely not on the trade block -- so it's likely that the keystone is his best chance to break through. Even if he doesn't feature in the Tribe's infield plans, he could become an important trade chip of his own with good pop from the right side and a good arm.
Detroit Tigers: Arms, arms, arms --
It's well-documented that the Tigers' rebuild is heavy on right-handed pitching, and Thursday will be as good a time as any for Detroit fans to salivate not only over their turkey and gravy, but also a future Motor City rotation that includes some combination of
Casey Mize
,
Matt Manning
,
Franklin Perez
,
Alex Faedo
,
Beau Burrows
and
Kyle Funkhouser
. Is that too right-handed heavy? Sure. But it'd be a dream world for Detroit if all six look like true Major League starters, and that's a good problem the Tigers could have, perhaps by 2020 if all goes well in their development.
Kansas City Royals: 2018 Draft --
There were already some signs that the Royals system was on the upswing --
Nicky Lopez
and
MJ Melendez
come to mind -- but the organization's run at the 2018 Draft could take the farm to another level. The Royals had the biggest bonus pool, thanks to compensation and competitive-balance picks, and took advantage, nabbing
Brady Singer
at No. 18,
Jackson Kowar
at No. 33,
Daniel Lynch
at No. 34 and
Kris Bubic
at No. 40. That quartet became the organization's top four pitching prospects, and all four could move quickly given their college pedigrees. Singer not only gives KC its lone Top-100 representative but also a real rotation-leading option that it had lacked before June. Despite not having an especially high pick, the Royals certainly didn't squander their Draft options in 2018, and it shouldn't take long for the Major League club to be better off for it.
Minnesota Twins: Alex Kirilloff and Royce Lewis --
One's a middle-of-the-order thumper who led the Minor Leagues in extra-base hits in 2018. The other's a classic top-of-the-order type who blends a promising hit tool with impressive speed. They have very different profiles, yet they couldn't complement each other better. They were apart for only about three weeks in 2018, each starting at Class A Cedar Rapids and Class A Advanced Fort Myers. Lewis and Kirilloff -- MLB.com's No. 7 and 10 overall prospects, respectively -- may not be perfect twins, but they're perfect building blocks for Minnesota.
American League West
Houston Astros: Forrest Whitley and J.B. Bukauskas --
Two of the Astros' main goals in the AFL were perhaps Whitley showing why he's the game's top pitching prospect again after a rough 2018 due to suspension and injuries and Bukauskas ending on a high note after a back injury suffered in a car accident last spring. If so, missions accomplished. Whitley was perhaps the AFL's most dominant arm, both in terms of stuff and results. The 21-year-old right-hander used his four-pitch mix to post a 2.42 ERA and 0.96 WHIP while striking out a league-best 36 in 26 innings. Bukauskas looked like his University of North Carolina self with a 3.33 ERA and 24 strikeouts in 24 1/3 frames. The back-to-back AL West division winners already got a taste of a homegrown arm helping them when
Josh James
climbed to Houston and played a postseason role this fall. Now both fully healthy, Whitley and Bukauskas may not be far behind in 2019, and that may have kept the Astros from paying a significant cost for Paxton in a potential intra-division deal.
Los Angeles Angels: Quick climbers --
Jo Adell
.
Griffin Canning
.
Taylor Ward
.
Jose Suarez
.
Luis Rengifo
.
Patrick Sandoval
.
Jake Jewell
. Those are the Angels prospects ranked among the top of the organization by MLB.com who played at three levels or more during the 2018 season. Other prominent names -- like
Brandon Marsh
,
Jahmai Jones
and
Matt Thaiss
-- got in-season bumps perhaps a little earlier than expected. That might not seem like a big deal, but the Halos definitely seemed more aggressive with their Minor League transactions this past season than other organizations. For the most part, those moves paid off. If the Angels have any hope of catching the Astros in the West, they're going to need many of these guys to reach their ceilings -- and fast. This season was certainly a good sign in that regard.
Oakland Athletics: Kyler Murray's health --
This year's ninth overall pick has fans in both Oakland and Oklahoma very excited as he shows an incredible arm and plus-plus speed as one of the NCAA's best quarterbacks this fall. Right now, it's the Sooners who are reaping the benefits of Murray's talents, and it's possible he could win this year's Heisman Trophy, having thrown for 3,310 yards and 34 touchdowns while adding 739 yards and 10 scores on the ground. The A's, however, have already invested $4.66 million in the 21-year-old outfielder and must be holding their breath every Saturday, hoping he doesn't suffer a significant injury. So far so good, and in a system that also boasts
Jesus Luzardo
and
A.J. Puk
, Murray should head to his first Spring Training as the most closely followed A's prospect.
Seattle Mariners: Sheffield's arrival --
Put aside the loss of Paxton. Thursday is meant to focus on the positive. The Mariners didn't have a top 100 prospect before
Monday's trade
. Now, they have one -- and not just any one. They picked up one of the game's premier left-handed pitching prospects, one who should enter the spring with a legitimate chance to crack the Major League rotation. Sheffield has two plus pitches in his mid-90s fastball and slider and has shown a good enough changeup to give him three options on the mound. His control can waver, but with the way this Hot Stove trade unfolded, it's clear Seattle believes he'll find the zone enough to start. The possibility of adding a promising pitcher for the next six-plus years brings long-term hope to an organization trying to make the playoffs for the first time since 2001.
Texas Rangers: Julio Pablo Martinez's bounceback --
The Rangers signed MLB.com's No. 56 overall prospect for $2.8 million out of Cuba back in March, and there was hope the 22-year-old could move quickly after spending some pro time on the continent in an independent league. That wasn't quite the case. Martinez opened in the Dominican Summer League in June, got bumped to Class A Short Season Spokane in the middle of the month and stayed there, hitting .252/.351/.436 with eight homers and 11 steals in 60 games. That still resulted in a solid 121 wRC+, though a lack of a full-season experience might have been worrisome coming into the offseason. Instead, Texas got its No. 2 prospect more at-bats in the AFL and saw him thrive there with a .327/.397/.519 line, seven extra-base hits and four steals in 13 games. Martinez's best asset is his impressive speed on the basepaths and in the outfield, but his improvement with the bat against good pitching in Arizona is a positive development as he enters his first Minor League offseason.