Toolshed: Analyzing 2018 prospect assignments
Looking at the most, least aggressive Opening Day player moves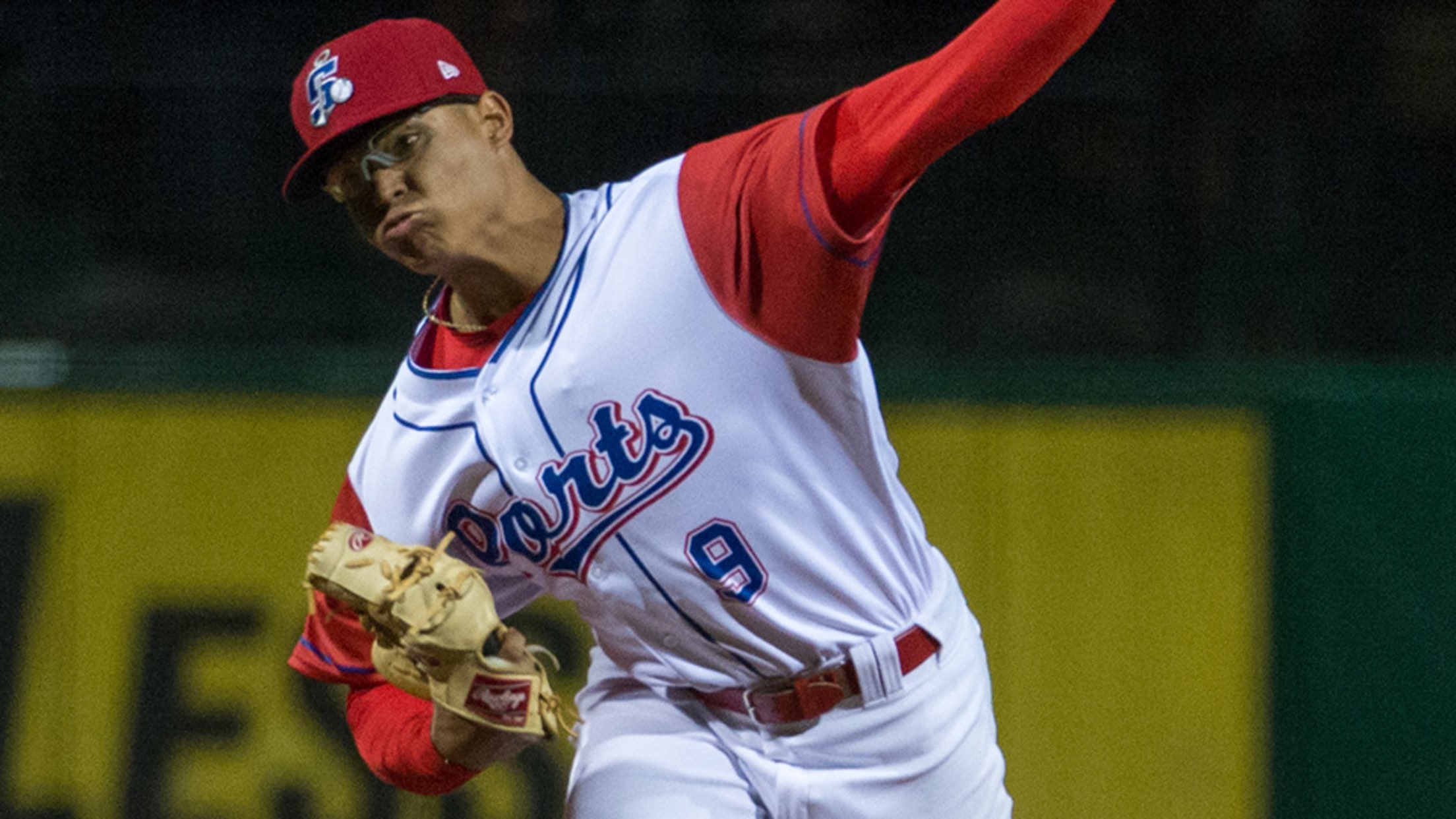 No. 2 A's prospect Jesus Luzardo got the Opening Day start for Class A Advanced Stockton at the age of 20. (Meghan Camino/Stockton Ports)
It's the Goldilocks scenario of the Minor Leagues: Some Opening Day assignments feel aggressive; some don't feel aggressive enough, while others feel just right.Major League organizations often attempt to thread the needle early in players' careers. They want them to be challenged, but they also want them to taste success
It's the Goldilocks scenario of the Minor Leagues: Some Opening Day assignments feel aggressive; some don't feel aggressive enough, while others feel just right.
Major League organizations often attempt to thread the needle early in players' careers. They want them to be challenged, but they also want them to taste success at the outset and grow against those challenges. Moving them too quickly risks a loss of confidence; too slow, and bad habits can set in when players realize they can cut corners against lower-level competition.
Admittedly, it is more exciting when teams get aggressive, pushing a player closer to the ultimate goal of the Major Leagues quicker than expected. By contrast, fans can grow impatient when players are held back more than expected. Below, Toolshed shares in that excitement -- and impatience -- with a look at some some of the most and least aggressive prospect club assignments on Opening Day of the 2018 Minor League season involving MLB.com's top 100 prospects.

Most aggressive assignments
Jesus Luzardo, A's LHP, Class A Advanced Stockton:
Anecdotally, Luzardo should be at Class A Beloit. He'll be 20 for the entire season, the same age as a college sophomore. He underwent Tommy John surgery during his Draft year in 2016 and threw only 43 1/3 innings last season, none of which came above Class A Short Season. The A's could've been forgiven for continuing to bring up their No. 2 prospect slowly. To heck with that, they've said. Oakland has given Luzardo a chance to make up for lost time, at least in terms of his career track, by skipping him over Class A entirely; in terms of stuff, the organization could be right. Luzardo can throw in the mid-to-upper-90s and has a plus changeup not often seen in the lower levels. He also has special control, having walked only five in his 43 1/3 frames. The California League will provide its own special tests, but MLB.com's No. 60 prospect has the tools to do more than just pass in Stockton. He flashed those last night -- fanning six while yielding one run over 4 2/3 frames as the Ports' Opening Day starter.
Keibert Ruiz, Dodgers C, Double-A Tulsa:
Last season,
Mike Soroka
,
Kolby Allard
and
Luis Urías
turned heads as teenagers opening up at Double-A. This time, it's Ruiz's turn. The Dodgers have bumped the 19-year-old backstop to the Texas League after he played only 38 games with Class A Advanced Rancho Cucamonga in 2017. That said, there may be some easing in here. No. 9 Dodgers prospect
Will Smith
is also starting the season with the Drillers and likely to split time behind the dish with Ruiz, who is four years his junior. Smith has some experience at second and third as well, opening up the possibility that he could continue to move around should Ruiz carry his above-average, switch-hitting bat to the Texas League. If nothing else, it's notable that Los Angeles wants to challenge its No. 3 prospect at a demanding position in a demanding league, rather than hold him back at a lower level.
Kyle Tucker, Astros OF, Triple-A Fresno: With the Tucker Hype Train cranking this spring, it's important to remember that a move to the Minors' highest level wasn't a given. Having turned 21 in January, the Astros' No. 2 prospect would still be young for Double-A, never mind the level above. He performed well in his first trip to Corpus Christi, hitting .265/.325/.512 with 16 homers and eight steals, but played a little more than half a season (72 games) with the Hooks. Houston could have claimed that Tucker needed a little more exposure to Double-A pitching before making the climb, and few would have batted an eye. Instead, they're testing him by placing him one step from the Majors, and now it's not hard to picture him taking advantage of the Pacific Coast League and forcing the issue by the All-Star break.
Adrian Morejon, Padres LHP, Class A Advanced Lake Elsinore: The Padres have been high on the 19-year-old left-hander since they signed him for $11 million out of Cuba in July 2016. They took it easy with him last season, starting in short-season ball with Tri-City before making eight starts at Class A Fort Wayne between the regular season and playoffs. In total, he threw only 63 innings in his stateside debut. They've ratcheted things up to begin 2018, not only by moving Morejon up to his second full-season affiliate but by putting him in the deep end of Class A Advanced: the California League. All three of Morejon's pitches have above-average potential, and he has impressive control to make things work, even in a hitter-friendly environment. But like Tucker, it wouldn't have been a surprise if San Diego said he needed a little more seasoning.
Mickey Moniak, Phillies OF, Class A Advanced Clearwater: If things had gone well for Moniak in 2017, there'd be no doubt he should open his second full season in the Florida State League. Instead, he hit .236/.284/.341 with five homers in 123 games at Class A Lakewood, and there was plenty of doubt that he should continue his climb up the Phillies ladder. To its credit, Philadelphia remains a big believer in the 2016 first overall pick and don't want to test his confidence with a repeated level. The Phillies have preached that 2017 was meant to be a learning year for the 19-year-old, and now he can put those lessons to a slightly more difficult test at Class A Advanced.
Kyle Wright, Braves RHP, Double-A Mississippi: Many believed Wright to be the most advanced college arm in the 2017 Draft. College hurlers often begin their first full seasons at Class A Advanced. Do the math: The Braves got aggressive in small doses with the No. 5 overall pick last season, getting him six short starts at Florida shortly after he finished his college career at Vanderbilt. They've continued the push of his timeline this spring, and though Southern League bats are considerably better than their SEC counterparts, he's got the four-pitch mix to rise to the occasion. This seems a simple case of a pitching-rich system knowing what it has in another potentially special arm.

Least aggressive assignments
Ronald Acuña Jr., Braves OF, Triple-A Gwinnett:
This category wouldn't be complete without MLB.com's No. 2 overall prospect. In a fair world, a player who hit .325 with 21 homers and 44 steals across three levels during the regular season, was named the Arizona Fall League MVP in the autumn and destroyed the Grapefruit League to the tune of a .432/.519/.727 line in the spring would open the season in the Majors. This isn't a fair world. Alas. Acuña returns to the International League, though he'll likely be in Atlanta by the end of the month. There will be lots of huffing and puffing between now and then, however.
Willie Calhoun, Rangers OF, Triple-A Round Rock:
This has to be about defense, right? Calhoun, who was traded from the Dodgers to the Rangers in a package for Yu Darvish, was one of the PCL's best hitters in 2017, finishing with a .300/.355/.572 line, 31 homers and a 133 wRC+ between Oklahoma City and Round Rock. The Rangers knew that when they gave him his Major League debut on Sept. 12, and they gave him a decent amount of run with 37 plate appearances the rest of the way. He was expected to be the main contender to take the Texas Opening Day left field job but was instead optioned early in camp on March 13. (Ryan Rua has gotten most of the run in left in the Majors so far.) It's true that MLB.com's No. 53 overall prospect faces questions about his fielding. He was a rough second baseman in the Dodgers system, and there have been growing pains since he moved to left with the Rangers. But his bat is simply too good to repeat a league he dominated offensively last season. The point could be moot if he heads to the bigs in short order, but until then, the point stands.
Stephen Gonsalves/Nick Gordon, Twins LHP/SS, Double-A Chattanooga:
The Double-A resumes for Minnesota's Nos. 3 and 4 prospects speak for themselves. Gonsalves posted a 2.68 ERA with 96 strikeouts in 87 1/3 innings for the Lookouts last season and was promoted to Triple-A Rochester for five appearances after early August. Gordon set career highs with nine homers, a .408 slugging percentage and a .749 OPS over 122 games with Chattanooga. Those are the types of numbers that typically get top-100 numbers moved up, even if they're not necessarily eye-popping. Instead, both find their way back to the Southern League. This is especially notable for Gordon, who had been climbing at a rate of level per season since going fifth overall in 2014. (Not surprisingly, he
collected three hits
in last night's season opener.) It wouldn't be a surprise to see either in Rochester by May, but even for now, this does seem to put the brakes on their upward mobility a bit.
Austin Hays, Orioles OF, Double-A Bowie:
Hays was one of the breakout stars of 2017, and that was fully on display during his 64-game stay in Bowie last season. In that time, the 2016 third-rounder batted .330 with 16 homers and a .960 OPS. The Orioles saw enough then to jump him straight to the Majors in early September, and Hays entered Spring Training with a real shot to win a spot in the Baltimore outfield. Instead, he's been sent back to a level he's already dominated and at which he has little left to prove. There might be a little bit of a roster crunch at Triple-A Norfolk, but at No. 23 overall, Hays is a prospect for which organizations typically make room.
Max Fried, Braves LHP, Double-A Mississippi:
This one really did come down to a roster crunch. The Braves wanted to give Mike Soroka and Kolby Allard bumps to Triple-A after full seasons in Mississippi last season, and they also want to keep giving former prospects
Matt Wisler
,
Aaron Blair
and
Lucas Sims
starts at the Minors' highest level with the hopes they can find their form again. That leaves Fried heading back to the Southern League, where he made 19 starts last season. In fairness, his numbers there were rough: a 5.92 ERA, 1.51 WHIP and 43 walks in 86 2/3 innings. However, the Braves still saw enough to give him nine appearances in the Majors and two starts in Gwinnett, and Fried solidified his spot as a top-100 prospect by showing a plus fastball and curve in the Arizona Fall League. If all that didn't happen, this move would make sense. Instead -- even with the roster situation in mind -- it feels like a step back for a southpaw who had done so much to move forward.
Sam Dykstra is a reporter for MiLB.com. Follow and interact with him on Twitter, @SamDykstraMiLB.