Toolshed: Jays' Pearson prepped for takeoff
After JuCo jump, first-rounder taking elite velocity into full season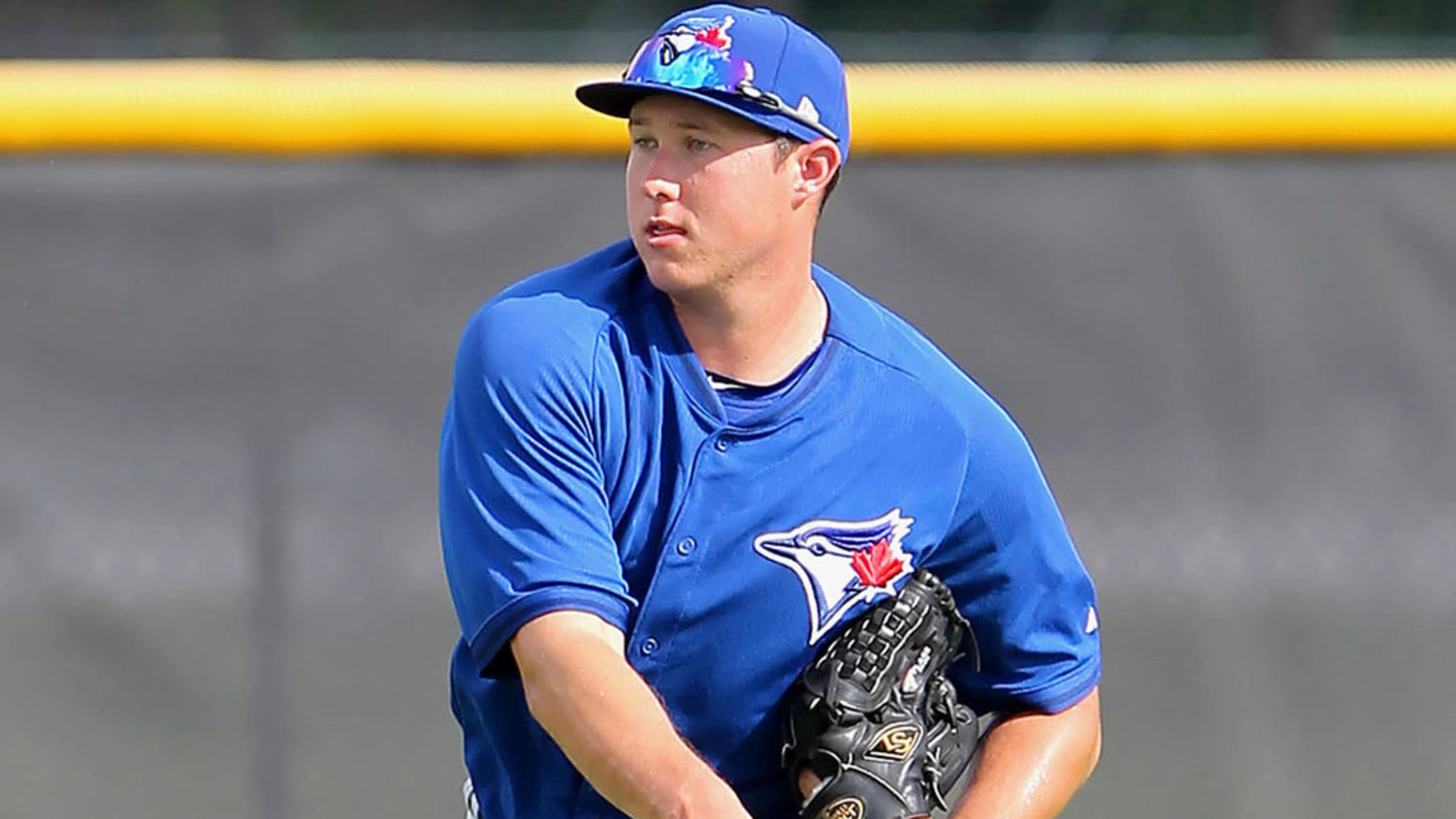 Nate Pearson struck out 36.6 percent of the batters he faced in his first Minor League season. (Cliff Welch/MiLB.com)
Fans of the Blue Jays and general prospect fiends alike know the names Vladimir Guerrero Jr. and Bo Bichette, recently named by MLB.com the No. 3 and 14 overall prospects in the game respectively. They also definitely know No. 47 overall prospect Anthony Alford, who climbed to the Majors in
Fans of the Blue Jays and general prospect fiends alike know the names Vladimir Guerrero Jr. and Bo Bichette, recently named by MLB.com the No. 3 and 14 overall prospects in the game respectively. They also definitely know No. 47 overall prospect Anthony Alford, who climbed to the Majors in 2017 five years after he first tried to split time between baseball and college football. The name they should know but may not be as familiar with yet -- 2017 first-rounder Nate Pearson.
Why? Start with the first time he hit 100 mph on a radar gun.
"I actually hit it in the fall of my year at junior college," he said, speaking of a 2016 workout at Florida Junior College All-Star Weekend. "I had committed to go to LSU the next year, and I was throwing some of the bullpens just to prep for the season and was hitting upper-90s. Once they told me I'd hit 100, all I could think was, 'Wow, that's pretty awesome. Jeez, what else can I do if I'm already doing this?'"
Pearson, who went undrafted out of Bishop McLaughlin Catholic High School in Spring Hill, Florida, had just transferred after one season at Florida International University to Junior College of Central Florida. A little more than one year later, he's a No. 28 overall pick, a $2,452,900 bonus signee and the most exciting arm in the Toronto system.
The original decision that started Pearson's road to his current status was not an easy one. Originally recruited out of high school by such programs as Clemson, Notre Dame and Duke, the 6-foot-6 right-hander chose FIU in order to stay relatively close to home and to take advantage of the school's reputable strength program. The numbers on the field in his lone season with the Panthers were fine (2.70 ERA, 1.41 WHIP, 33 strikeouts, 12 walks in 33 1/3 innings as a reliever), but Pearson felt like it wasn't as good a fit as he'd hoped. He thought a switch to junior college for a year could get him on the right track. But he knew he'd have to take it up with his parents, Dave and Elaine, first.
"I just sat down with my parents and told them I think this was the best idea for me," he said. "My development just wasn't what I wanted at [Florida International], and this was the best decision for me, if I wanted to get better. ... If anything else, I'd be Draft-eligible too, and if I really blew up this year, there was a chance to start my pro career a year earlier. That seemed to be a good argument for them."
When word spread among JuCo coaches that Pearson was up for a move, the offers came flying in to recruit the hulking righty. He chose Central Florida after pitching coach Zach Bove detailed a very specific plan on how his program would develop every one of Pearson's four pitches. It wouldn't be just about velocity. It wouldn't be about just moving back to a rotation. It would mean real growth as a pitcher. After making the move official, Pearson hit triple-digits the following fall. Add in a more rounded-out arsenal, and the results were nothing short of eye-popping in Pearson's only season with the Patriots: 1.56 ERA, 1.02 WHIP, 118 strikeouts, 23 walks in 81 innings. All 13 of his appearances came as starts.
With Brendon Little also dominating at the Junior College of Florida, Manatee-Sarasota, the Sunshine State JuCo circuit became a hot one for scouts, and Pearson had to start seriously considering that his time at Central Florida wouldn't be a springboard to an elite Division I program. Rather, that "blow up" he told his parents might be coming would indeed send him to a prominent spot in the Draft before his 21st birthday. With his collegiate season coming to an end on April 21, Pearson, who mostly sat around the mid-90s in the spring, was able to take some time to prepare for scout-heavy showcases before the Draft.
In one particular bullpen session in Lakeland set up by his agent, Pearson was throwing 99-101 mph. That's when he started to think the first round was really a possibility. In June, Little went No. 27 to the Cubs. Pearson went 28th to the Blue Jays. It marked the first time since 2000 that two junior college players went in the first round.
"Toward the end of my season at JuCo, I was focusing on doing whatever I could to help the transition and decided to see how hard I could really throw," he said. "I had some rest, some smart workouts, just trying to get in the best shape I could for workouts, and from there on out, I decided to empty the tank. When I got to [Class A Short Season] Vancouver, I had an innings limit and didn't really go more than three or four innings at a time, so I wasn't worrying about trying to get a complete game. I wanted to give everything I got to get guys out."
After signing the right-hander in late June, the Jays gave him a single one-inning introductory outing to the Rookie-level Gulf Coast League before moving him to the Northwest League for his Vancouver debut on July 23. He didn't allow an earned run until Aug. 30, six starts later and his final outing of the regular season. Pearson finished with a 0.95 ERA, a 0.58 WHIP, 24 strikeouts and only five walks in 19 innings during the regular season. He struck out 35.8 percent of the batters he faced. He was perhaps even more dominant in the playoffs, giving up one earned run on four hits and six walks while fanning 14 in eight innings over two appearances -- one of which was the start in Game 1 of the Northwest League Finals, a best-of-5 series Vancouver won, 3-1.
Watch: Youtube Video
Because of the limited nature of his starts, Pearson was able to hit the upper-90s with much more regularity as a pro than he had as a collegian. A recent story by the Vancouver Canadians detailed how he would essentially break the radar gun at Scotiabank Field at Nat Bailey Stadium by occasionally hitting 100 or 101, but the stadium display was only able to fit two digits, thus showing "00" or "01" to the stunned crowd.
But the Jays won't want to keep Pearson limited in his first full season in 2018. With an assignment to Class A Lansing or Class A Advanced Dunedin coming, the club will want to see him work more consistently into the fifth and sixth innings, building on a year in which he threw 109 innings between JuCo and the Minors. Will he be able to keep touching the upper-90s and even 100 the deeper he works into outings and the season as whole? That's what he says he's working on in his first offseason.
"I can definitely maintain this, I think," he said. "That's my focus right now. I'm trying to get in the best shape I can to take what I did at Vancouver and translate it over to a whole season and then grow from there too."
Working out in his native Florida about 10 minutes away from the Blue Jays' Spring Training complex in Dunedin, Pearson utilizes the Driveline approach to arm care -- a program used by Indians pitcher Trevor Bauer and others that relies on long toss and weighted ball usage to get pitchers in shape to succeed over the long term. It was a system he says he had to inform clubs about a month before the Draft, but after seeing how well it's worked for him, the Jays gave him the green light to continue this fall and winter. He's also started using a technology called Rapsodo that enables a pitcher to discern just how effective an individual pitch has been moments after the ball leaves his hand.
"It gives great feedback and it's immediate feedback too," he said. "Miles per hour, spin rate, all of that, you see it right after you throw it. It's definitely awesome to see results right away, and it's something I'm using and tweaking with all of my pitches."
One of those offerings is the slider -- the only one beside the fastball that can be above-average at times. That pitch could be key as Pearson faces full-season bats for the first time, and he feels confident in its ability to get swings-and-misses in second or third times through the order.
"As my velo has jumped, it's progressed to my slider as well," he said. "It's become a much harder slider, and that's what made it's effective. When I'm throwing it hard, it gets a real bite to it. I'm not babying it anymore, you know. It goes hand in hand."
No matter where the 21-year-old begins his 2018 season, Pearson, who reports to his first Blue Jays mini-camp on Feb. 16, has developed into a prospect to watch in a system loaded at the top with big names worthy of attention. That's a promising trajectory for a player who just two years ago was wrestling with the idea of moving to junior college.
"That's definitely something I'll keep with me everywhere I go," Pearson said of the push to prove himself. "I know very few junior college players go in the first round in the first place. I had to do a lot of work just to get to that point, and then I'm going to work even harder still in pro ball to prove why I'm here. That type of work is what got me here, and I'm going to keep thinking that until I can work my way to the big leagues.
"We're going nowhere but up. We've got a good team up there already for sure, but you look at the prospects we have around here now in the system and we're only going to make the team better. We're going to make this a really fun team for a few years."
Sam Dykstra is a reporter for MiLB.com. Follow and interact with him on Twitter, @SamDykstraMiLB.