Toolshed: Cameron ready to pounce with Tigers
Outfielder discusses second-half surge, switching organizations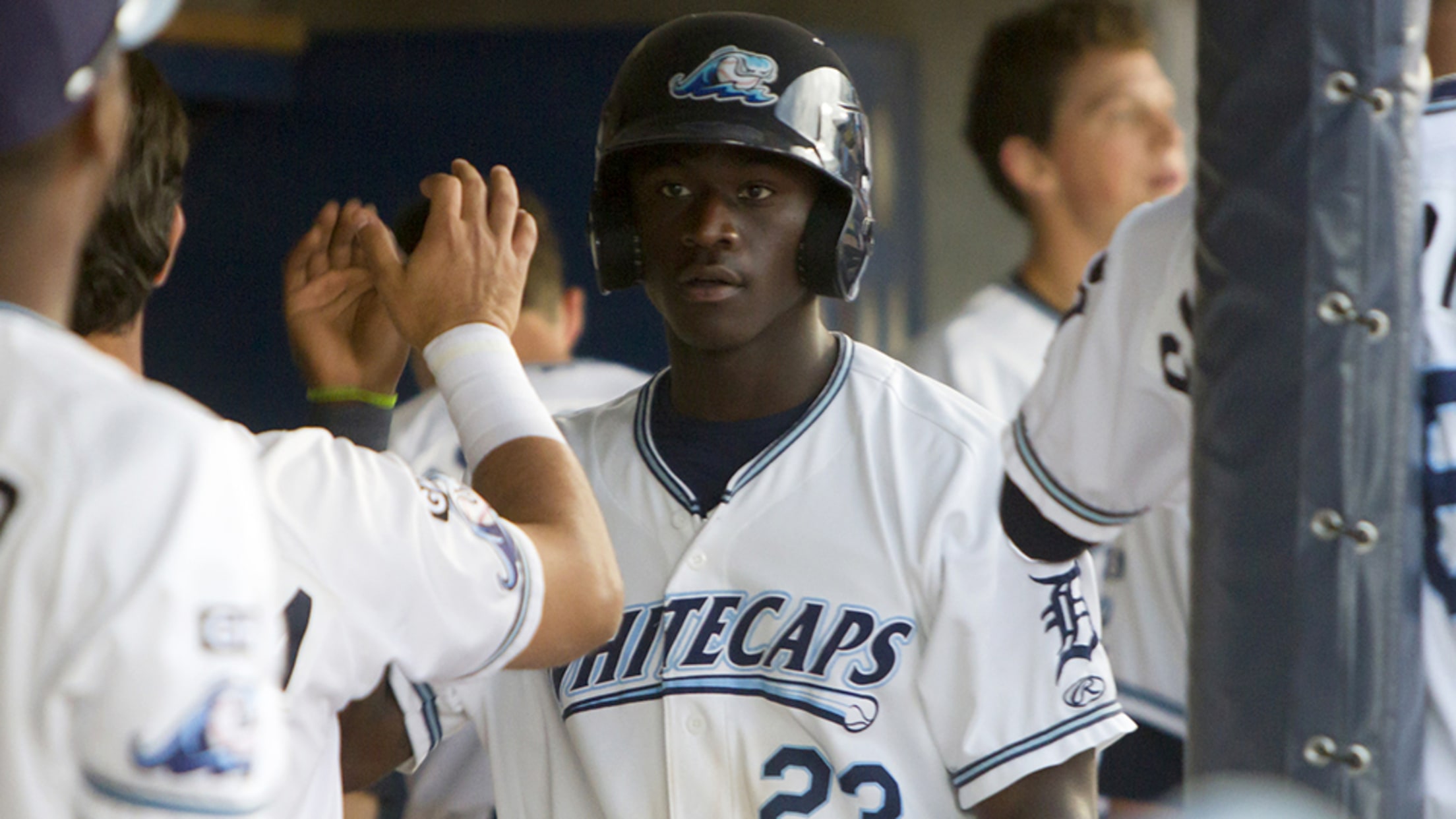 Daz Cameron has hit safely in the first two games of the Midwest League postseason for West Michigan. (Emily Jones/MiLB.com)
Daz Cameron can't remember much about when his dad -- three-time Gold Glove winner Mike Cameron -- was traded to the Reds in 1998 or to the Mariners in 2000 or to the Padres in 2005. That's because he was 1, 3 and 8 years old when those deals went
Daz Cameron can't remember much about when his dad -- three-time Gold Glove winner Mike Cameron -- was traded to the Reds in 1998 or to the Mariners in 2000 or to the Padres in 2005. That's because he was 1, 3 and 8 years old when those deals went down.
"Yeah, I was a little too young for all of that," he laughed.
That doesn't mean there aren't a few lessons about the business of baseball that the younger toolsy outfielder can't pick up from his All-Star father, especially in the wake of last week's trade that sent him from the Astros to the Tigers as part of a three-prospect package for right-hander Justin Verlander.
"My dad told me that you're always playing for 30 teams," Cameron said. "Scouts are watching. Executives are watching. You never know who might be keeping an eye on you and who might want you. So make sure to be yourself."
Of late, the 20-year-old has looked much more like the player once considered one of the top talents of the 2015 Draft, and his recent success likely impacted Detroit's desire to include Cameron in its return for the former MVP and Cy Young winner.
However, Cameron's first headlines in pro ball came before he even made the jump. The Georgia native was ranked as MLB.com's No. 6 overall Draft prospect in June 2015 with none of his five tools earning a grade below 50 on the 20-80 scale. However, rumors about his demands for a high signing bonus had him falling on Draft boards. The Astros, who had the biggest pool at close to $17.3 million, had three top-37 selections after failing to sign top overall pick Brady Aiken the previous year and took Alex Bregman (No. 2) and Kyle Tucker (No. 5) before nabbing Cameron at No. 37. Because of its large pool, Houston met Cameron's bonus demands, signing him for $4 million -- $3.3 million above slot and the same amount Tucker got 32 picks ahead.
Cameron and Tucker were to lead the next wave of talented outfielders headed to Houston, and both started 2016 in full-season ball at Class A Quad Cities. While Tucker held his own in the Midwest League, Cameron struggled mightily for perhaps the first time ever on a baseball diamond. By May 2, he was hitting just .143/.221/.221 with four extra-base hits and 33 strikeouts in 87 plate appearances. The Astros reassigned him to extended spring training, and a month later, he started up again with Class A Short Season Tri-City. His New York-Penn League numbers (.278/.352/.418, two homers, eight steals in 19 games) showed improvement, but a broken left index finger ended his season July 6.
That success didn't carry over immediately in his return to the Midwest League this spring. Cameron again was hitting in the .100's for much of the first half and entered the All-Star break at .206/.287/.374 with a 25.8 percent strikeout rate through 59 games for the River Bandits. But Cameron said he felt something click during a three-game set in Beloit from June 16-18, right before the break.
"I was feeling great," said Cameron, who went 3-for-10 with a homer and two walks in the series. "It was like the way I thought I could play, and I kept thinking the second half would go well, if I just trusted that feeling and trusted myself and the work I had put in to that point."
Indeed, a monster second half did happen. From June 22-Aug. 31 (the day of the trade), Cameron produced a .332/.406/.552 line with eight homers, five triples, 17 doubles and 17 steals over 61 games. Only Jose Siri, who had a 39-game hitting streak for Class A Dayton, had more hits in the MWL than Cameron over that span. In August alone, he produced a .377/.460/.566 line with 13 extra-base hits in 28 contests. He entered the All-Star break at 85th in the Class A circuit with a .661 OPS. By the time he was traded, he had moved up to ninth with an .815 mark.
The right-handed slugger looked like his once-dominant self at the plate, but more importantly, he felt like it, too.
"Just my mentality has been so much better," he said. "I've gotten a lot better at focusing on stuff I can control and trying to be myself. At the end of the day, it's baseball -- something I've done my whole life. You're going to go through some struggles, like I did last year or the first couple months. But those happened to my benefit because they got me to where I am now. I look at them as learning experiences, and I've grown because of them. There's not as much pressure as I put on myself before."
There were plenty of reasons for that pressure, too -- his last name, his Draft status, his signing bonus, his prospect status. But one thing Cameron always had on his side was his youth. He doesn't turn 21 until Jan. 15, and he'll enter 2018 at Class A Advanced Lakeland, an aggressive assignment for the college juniors his age. Coming off a Class A season with 14 homers and 32 steals while continuing to be a defensive asset in center field, there are plenty of exciting tools with more room to grow.
"I've gotten a lot stronger for sure, and I know I'll continue to get stronger," he said. "But for me, the big key to my success really has been that mentality. I can't stress enough how big a thing that is. I've always had the tools to do a lot of things, but the mental side and just trying to have fun again has been so big."
Following the trade, Cameron, who is now playing for Class A West Michigan in the MWL playoffs, is ranked as the top outfield prospect in a rebuilding Tigers' system, putting him in a similar spot to when he first joined a stacked Houston farm in 2015. Cameron may have floundered initially, but he believes Detroit is getting a player whose best times are still ahead of him.
"The Astros are happy," he said. "They're trying to make a run in the playoffs, and they got a Hall of Famer in my opinion in Verlander, so that's huge. I'm happy for them. But for the Tigers to want me here, that makes me happy, too. I'm excited for what I can do here now."
Sam Dykstra is a reporter for MiLB.com. Follow and interact with him on Twitter, @SamDykstraMiLB