Toolshed: Cardinals bringing the heat to FSL
Alcantara, Hudson, Fernandez taking big fastballs to Class A Advanced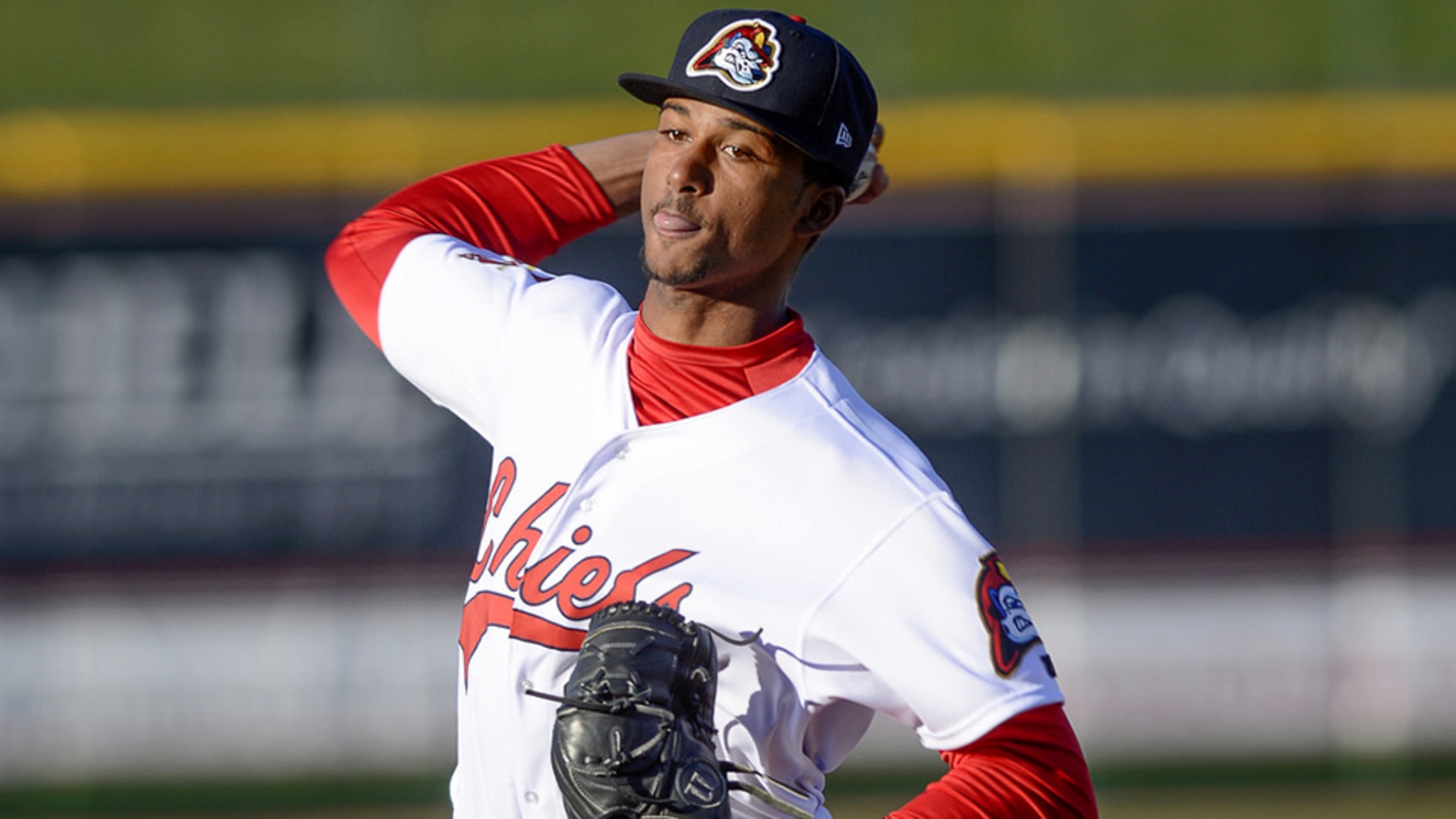 Sandy Alcantara fanned 119 in 90 1/3 innings last season for Peoria before getting promoted. (Dennis Sievers/Peoria Chiefs)
JUPITER, Florida -- Fans looking for gas should head to Roger Dean Stadium early this season.The Cardinals are expected to send No. 6 prospectSandy Alcantara, No. 9 Dakota Hudson and No. 10 Junior Fernandez to Class A Advanced Palm Beach, and there's one thing all three right-handers will share, beyond
JUPITER, Florida -- Fans looking for gas should head to Roger Dean Stadium early this season.
The Cardinals are expected to send No. 6 prospectSandy Alcantara, No. 9 Dakota Hudson and No. 10 Junior Fernandez to Class A Advanced Palm Beach, and there's one thing all three right-handers will share, beyond the logo on the uniform and the bus they'll take on road trips -- all three can light up the radar gun.
Each received stellar grades for their fastball on the 20-80 scouting scale by MLB.com this offseason. Alcantara and Fernandez were each given 70s for heaters that have touched 100 mph or above at the lower levels of the St. Louis system. Hudson was slightly below with a 65 grade for a fastball that can get up to 97 "with a ton of sink," per MLB.com's Pipeline crew.
All three joined the organization at different times -- Alcantara and Fernandez from the Dominican Republic in 2013 and 2014, respectively, and Hudson as the 34th overall pick in the 2016 Draft out of Mississippi State -- but with fellow hard-throwing righty Alex Reyes at the top of the team's prospect rankings, there might be a belief that St. Louis values velocity more than your average organization. Cardinals director of player development Gary LaRocque explains that's not entirely the case.
"I think everybody has a value on it," he said. "It just depends on the type of pitcher. You look back over the years, and we had pitchers with good velocity move through the system and get there. We've also had pitchers who commanded the strike zone well and didn't have to rely on high velocity. The interesting thing is when players leave the Class A levels, projection turns to performance, and performance in many cases is, what's the ball doing in the strike zone? What's the ability to get outs? That's what we preach as an organization with lots of things baked in there.
"At the same time, I know they're sharing things naturally. You're together 140 games. That's going to happen."
Of course, each of these young hurlers has his own set of questions to address as Opening Day approaches.
Alcantara, the highest-ranked of the group, has an above-average changeup to go with his fastball and used those offerings to great effect by leading all Class A pitchers with at least 90 innings with an 11.9 K/9 during his 90 1/3 innings with Class A Peoria. He continued to miss bats with a 9.5 K/9 in six starts (32 1/3 innings) following a July 30 promotion to Palm Beach.
At both stops, his control left something to be desired, however, with a 4.3 BB/9 leading to a 3.96 ERA over his 122 2/3 innings. With Alcantara playing only in the Gulf Coast and Dominican Summer leagues before last year's full-season debut, the Cards aren't worried about his control concerns carrying up the ladder.
"He needs time. He needs innings," LaRocque said. "He's got quality stuff. So as he gets more innings, that fastball command continues to get better. Not a surprise at all. Actually, we're very encouraged because he gets it real quick. He learns to adjust. He went to the Midwest League, and he adjusted very quickly there and ended up here [at Palm Beach]. The truth of the matter is he's a young man with a good upside, and I think as he gets those innings, everything will come together."
Alcantara's curveball will also need to improve, though not necessarily right out of the gate. LaRocque called the 6-foot-4 right-hander's breaking stuff "developing" but added that finding the zone with his fastball will be the primary focus. Triple-digits thrown in the right spots would be devastating enough to Class A Advanced bats, after all, and would build the base Alcantara needs further up the chain.
Meanwhile, Hudson's stuff is a little steadier across the board, though not necessarily as elite, with a 60-grade slider and average offerings in his curve and changeup.
But the 6-foot-5 righty is entering just his first full season after being taken in the first round of last year's Draft. Having thrown 127 2/3 innings as a junior with the Bulldogs between the regular season and tournament play, Hudson was temporarily made a reliever upon his pro debut and followed a brief stint in the GCL with eight appearances for Palm Beach in August and early September. He then received a promotion to Double-A Springfield for a brief stint in the Texas League playoffs. Only two of his 14 outings at all three levels lasted longer than one inning, but LaRocque said the Cardinals just wanted their new arm to get a quick preview of what was to come.
"In limited innings, he could know what a league lineup was like to turn over and see what the league really brought in terms of depth because [the FSL is] a good league," he said. "So he got his taste and then Springfield briefly. We wanted him to experience it. We do that with a lot of our guys. We move our guys pretty quick, and that's a good thing. The sooner they do, the sooner they realize what they have to do to get there."
In Hudson's case, it might be tempting to think his postseason run with Springfield might mean St. Louis will push him back to the Texas League to begin 2017 or that he'll follow the path of fellow college arm Michael Wacha, who jumped to Triple-A Memphis to begin his first full season in 2013. But if LaRocque's comments about getting his first "taste" of the FSL weren't enough to show that Hudson is rejoining Palm Beach, perhaps more recent history will do the trick. Since Wacha went 19th overall in 2012, the Cardinals have taken two college pitchers in the first round: Marco Gonzales (2013) and Luke Weaver (2014). Both began their following campaigns in the FSL. (Gonzales only made six starts in the FSL before getting the bump to the Texas League in mid-May.) Hudson has a chance to move just as quickly, and given his innings in college, St. Louis isn't worried about him holding up over a full season.
Fernandez, who turned 20 on March 2, has the most experience at the Class A Advanced level but might also have the most to prove in his return. The 6-foot-1 righty posted a 5.36 ERA and, like Alcantara, struggled with his control with a substandard 4.1 BB/9 through 43 2/3 innings following a July 5 promotion from Class A. Also worrisome is that he didn't rack up nearly as many strikeouts with 88 in 122 total innings, or a 6.5 K/9. That would be fine for a soft-tossing sinkerballer, but not a pitcher expected to light up the gun whenever he takes the mound. Without a quality breaking pitch -- MLB.com gave Fernandez's slider a 45 -- Class A Advanced hitters can find ways to sit on the heater and make contact.
The Cardinals don't seem troubled as they remain focused on molding Fernandez into a future Major League starter.
"The first thing we do -- Junior, Sandy, all the pitchers you're talking about -- we want them to establish fastball command," LaRocque said. "If they can gain confidence in that, everything else will come along with time. From that standpoint, Junior is very aggressive. It's great. He likes to attack the strike zone. As far as missing bats, we view it as we want to make sure he's getting outs in the strike zone as he moves forward. Everybody's a little different in that regard. We let them be who they are."
The one thing that may be advantageous about the FSL to all three hard-throwing Cardinals prospects is that the circuit is considered pitcher-friendly. Roger Dean Stadium, which Palm Beach shares with Marlins affiliate Jupiter, particularly leans toward those on the mound. So if anything's going to hurt the trio, it'll likely be themselves in the form of bad command and control rather than the random park-aided home run.
LaRocque said he enjoys having an affiliate in the FSL because of the challenge it presents under the bright sunlight of the Sunshine State.
"Everyone says, 'Oh, it's tough with the big parks,'" he said. "That's what you're going to be playing in the big leagues. That's a good thing. The idea that a Minor League player, if he comes to the Florida State League -- which because of the weather, it's always a tough day -- he has to work at it. Playing 140 games in the Florida State League really tests you. I coached in this league. I saw it every day as a scout and now as a farm director. It's a challenging league. At the end of the day, when you look at a 25-man roster in this league, you really find out who can grind it out. ... We use it as a real benchmark."
Cardinals fans could use some positive news following Reyes' season-ending Tommy John surgery last month, and they may be able to find it at the top of the Palm Beach rotation. But LaRocque doesn't want anyone focused on where a prospect hears his name called on Opening Day. The focus as always is to create Major League players.
"We always say to the players that where you are in April is one thing, which is great," LaRocque said. "They all have their own anticipation and desire to be at a higher level. But where you are in July and August indicates what you did with the time in the next three months. We've had a great history of getting guys to their ceiling for a given year. Last year was no exception with this group, and we think this year will be the same."

Notes from camp
--Cardinals No. 4 prospect
Delvin Perez
, who did not go deep in 43 games in the Gulf Coast League during his debut season in 2016, homered on the backfields as part of the organization's intrasquad games Thursday. LaRocque said it's too early to determine if Perez will begin 2017 with Class A Peoria, but the 18-year-old shortstop was playing on the Class A squad in that game -- an indication that he's at least in the discussion to start there as opposed to being held back in extended spring training.
--No. 23 prospect
Nick Plummer
is fully returned from a broken hamate that kept him out for the entire 2016 season and the instructional league in the fall and is not being held back during spring workouts. LaRocque expects the 20-year-old outfielder to need some time to find his footing but is encouraged by his return to health.
"It's timing," he said. "Getting some at-bats, playing in the outfield, getting back in the rhythm of the day-to-day and reacclimating to that. As he finished up his rehab, he didn't get to do that last year. The idea that he's ready? No question. He's anxious to go."
--No. 7 prospect
Magneuris Sierra
was optioned back to Palm Beach from Major League camp on Thursday. The 20-year-old outfielder has received plus grades for his speed, fielding and arm and was added to the 40-man roster last November after hitting .307 with 31 steals in 122 games for Peoria last season. Don't expect his roster status to speed up his development trajectory, though.
"At the end of the day, sure, that's there, but the truth of the matter is you put yourself on the radar by your performance," LaRocque said. "I don't expect it to be any different with him. He's got a lot of skill, plays hard, loves the game. He'll be fun to watch."
Sam Dykstra is a reporter for MiLB.com. Follow and interact with him on Twitter, @SamDykstraMiLB.