Toolshed: Waters wading into Braves system
2017 second-rounder next in line among toolsy Rome outfielders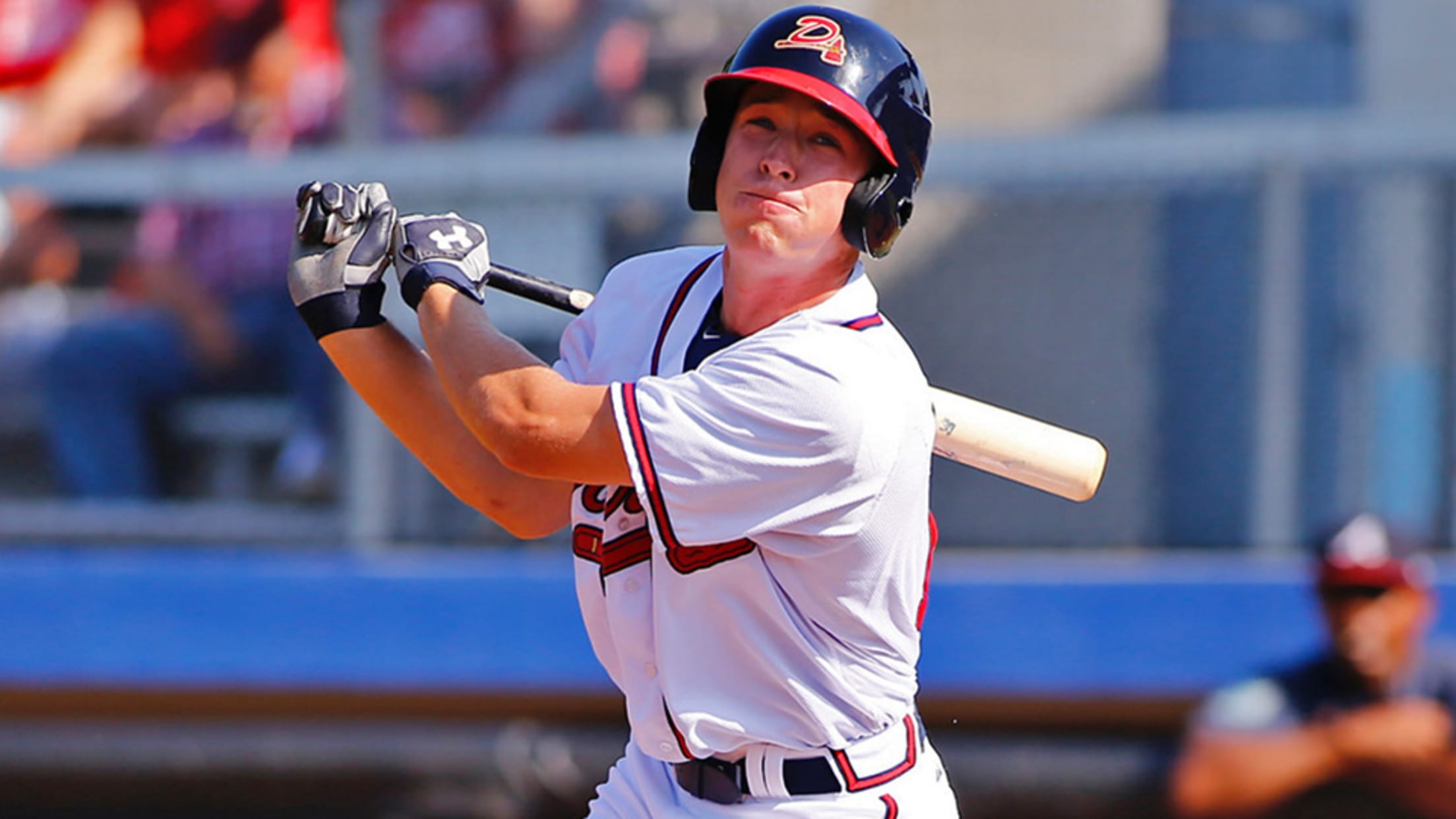 Georgia native Drew Waters produced a .714 OPS through 36 games with Rookie-level Danville last season. (Chris Robertson/MiLB.com)
The Rome Braves' Opening Day lineup in 2016 featured a center fielder named Ronald Acuña Jr., currently the No. 2 prospect in baseball. In 2017, Cristian Pache, seen by many as the best defensive center fielder in the Minors, filled the same spot. So, whoever filled the Rome center field
The Rome Braves' Opening Day lineup in 2016 featured a center fielder named Ronald Acuña Jr., currently the No. 2 prospect in baseball. In 2017, Cristian Pache, seen by many as the best defensive center fielder in the Minors, filled the same spot. So, whoever filled the Rome center field role on April 5, 2018, would have same serious shoes to fill.
"I don't think I'm going to let too many Braves down this season," said Drew Waters, the player filling that very role. "I want to give them just as much as Acuña and Pache did when they were here. It's obviously a huge honor just being in any of the same categories as those two, and the potential to play in the same outfield as them some day is really cool. I'm excited for the season. I think things are lining up to show these fans a lot of fun."
While he's not as highly touted as Acuña (now with Triple-A Gwinnett) or Pache (with Class A Advanced Florida), the Braves' No. 19 prospect enters his first full season with a toolsy starter kit that could some day factor into Atlanta's long-term plans on the grass.
The Braves have certainly got a long look at the 19-year-old, switch-hitting outfielder -- even if he still hasn't technically been part of the organization for a full year yet.
Waters played his prep ball at Etowah High School in Woodstock, Georgia -- about a 25-minute drive north of SunTrust Park and an hour east of Rome. Before his senior year, he helped his 2017 Draft profile by hitting .510 with 15 homers, four triples and 13 doubles in his final season with the Eagles. He captured team glory with a 7A state championship and individual honors by being named the Gatorade Georgia Baseball Player of the Year. MLB.com ranked him as the No. 42 prospect entering the 2017 Draft, giving him above-average grades for his run, fielding and arm tools, and the Braves took him in the second round at No. 41 overall, signing him for $1.5 million -- just below the $1,674,600 slot value.
It was a match made in each other's backyards.
"I feel like the Braves were the only team at every game that last year," he said. "They really started scouting me after the Perfect Game National Showcase [in 2016]. It really got to be one of those situations where I knew they had the fifth overall pick and the 41st overall pick, but I didn't think I'd go five [where the Braves took Kyle Wright] and I didn't think I'd go 41. When I started falling, I thought, 'Geez, this is really going to happen.'"
Though the days of a .510 average were quickly gone, it didn't take long for Waters to show off all his tools on a professional field. He hit .347/.448/.571 with six extra-base hits in a 14-game stint in the complex-level Gulf Coast League. The Braves moved him up to Rookie-level Danville on July 16, a month after his signing became official, and it was there that Waters first encountered issues. Those issues would go on to define his first offseason.
Waters continued to show promise in center field, but his offensive numbers began to fall off. He hit just .255/.331/.383 with two homers, a triple and 11 doubles over 36 games with the D-Braves. Normally, those numbers on their own wouldn't be worrisome for a player who had been dominating high-school fields just weeks earlier. But Waters' 35.5 percent strikeout rate was cause for concern, and no one knew it better than he did.
During the offseason, he studied tape of his at-bats, trying to figure out the issue and discovered some potential problems. He was hunched up a bit in the at-bats that typically led to whiffs. That led to difficulty picking up breaking balls and other quality off-speed pitches he'd barely seen before, even in a baseball-rich state like Georgia. Though a prominent leg kick had become a trademark of his swing, he knew some tinkering was necessary.
"To be honest with you, I think I have the best and fastest hands a hitter could have," he said. "When I'm in trouble, it's because everything else isn't giving my hands a chance to succeed.
"The Braves took the stance, 'It's only half a season. Let's see what you can do in a full season.' But when I started watching videos of myself last year and where I was in high school and started really evaluating the differences, I could see the stuff getting to me was the off-speed, the changeups, the breaking balls. When I focused on my lower half, I could get on those a lot easier."
The leg kick in particular continues to be a point of emphasis. While it never quite reached the legend of MacKenzie Gore's moves on the mound in the same Draft class, it was likely the first thing featured in many scouting reports both before and after the Draft. It's still there as part of Waters' pre-pitch load, but by smoothing it out and focusing on keeping it tight, the slugger believes he's honed in on what could lead to more contact in 2018.
"I toned it down a little bit," he said. "It was getting to the point where I was getting stuck in a spot rather than getting my momentum back at the pitcher and working through the ball. It's definitely calmed down. So far, I've started off strong. I like the results. I can definitely hit breaking balls and off-speed better because I'm seeing them a lot better this year. When the lower half is good for me, that lets my hands do what they're capable of."
The early returns are promising, though the jury is still out. The strikeouts are still there -- he's fanned seven times in 22 plate appearances over his first six games -- but as he's quick to note, his first South Atlantic League homer came on a changeup when he took Hagerstown righty Tomas Alastre deep to right on Sunday. He's collected three extra-base hits and enters Wednesday with a .550 slugging percentage and .868 OPS.
It's that power that many expect to pop next for the 6-foot-2 center fielder, and even if he stays just an average hitter overall, growing power as he matures would give him four above-average tools. That's plenty to dream on for a teenage outfield prospect, even in a system that counts center field prospects in its sleep.
There's some added intrigue with Waters' background as a Georgia native, but for the foreseeable future, it's in his home state he'll remain, where he says he's averaged about 25 family members and friends each game. There were about 52 loved ones there to see him take the field as a member of the Braves' Futures team in an exhibition against the Major League squad on March 27. He knows what it's like to sit where they sat. He's been there before.
"It sounds crazy, but as a kid, I never saw myself as a player who could get to the Major League level," he said. "I just went as a fan and thought it'd be awesome if I got there, but that was it. Growing up watching guys like Andruw Jones or Chipper Jones, that was awesome in itself. I'd personally be happy if I could be half the switch-hitter Chipper Jones was or play just as good or even half as good defense as Andruw Jones did. I've got a long way to go though."
Sam Dykstra is a reporter for MiLB.com. Follow and interact with him on Twitter, @SamDykstraMiLB.