Toolshed: Guerreros hope for history repeat
Recalling Hall of Famer's Double-A season ahead of son's trip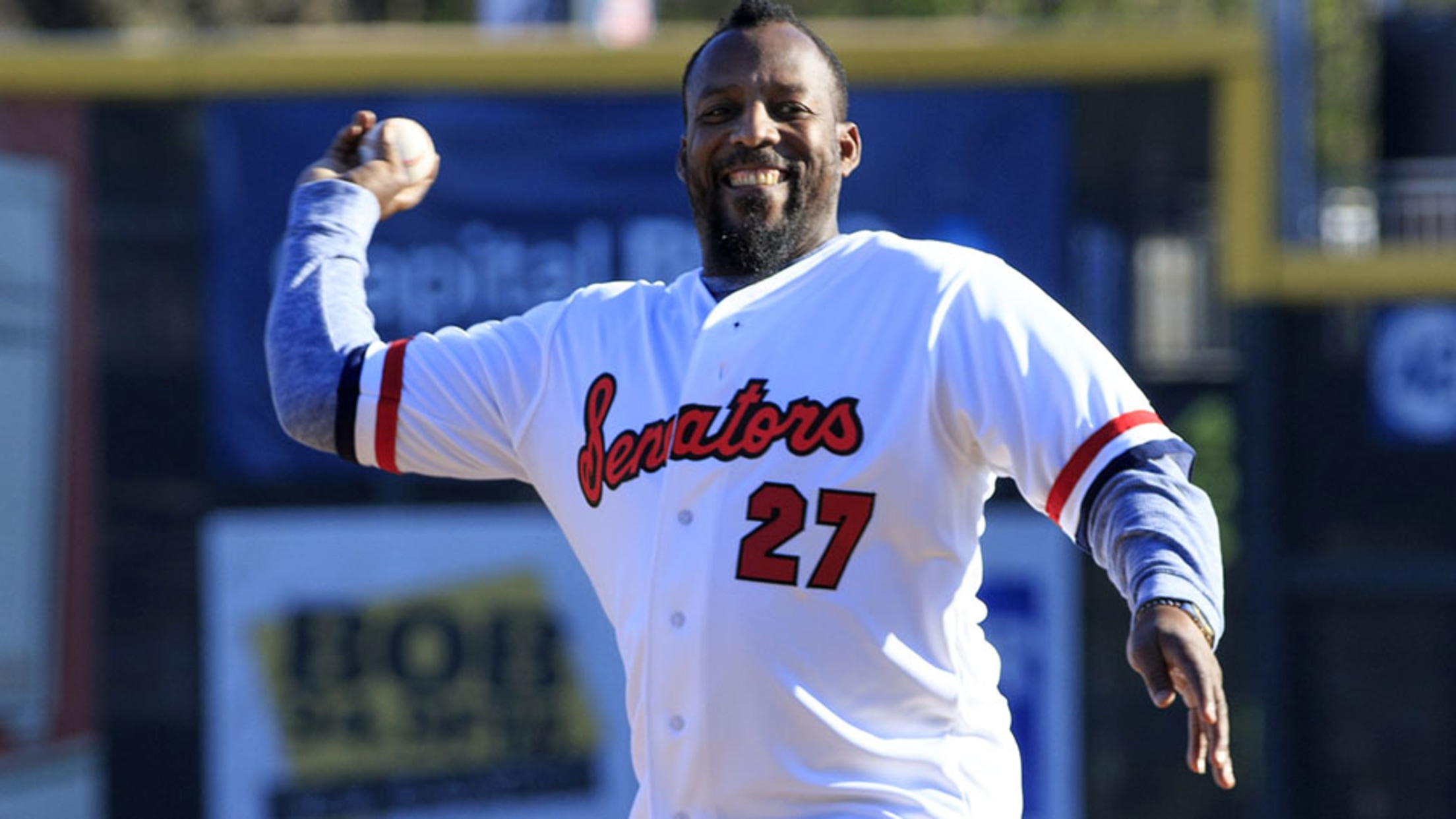 Vladimir Guerrero was elected to Harrisburg's life-sized Bobblehead Hall of Fame in 2016. (Will Bentzel/MiLB.com)
NEW YORK -- There's a good chance Vladimir Guerrero Jr. will spend a good chunk of his 2018 season at Double-A New Hampshire. That may be a surprise in a vacuum for a third baseman who will only turn 19 on March 16. It shouldn't be a surprise for the
NEW YORK -- There's a good chance Vladimir Guerrero Jr. will spend a good chunk of his 2018 season at Double-A New Hampshire. That may be a surprise in a vacuum for a third baseman who will only turn 19 on March 16. It shouldn't be a surprise for the game's top third-base prospect, who is coming off a season in which he hit .323/.425/.485 with 13 homers and considerably more walks (76) than strikeouts (62) between Class A and Class A Advanced.
With his offensive potential through the roof, Guerrero already looks like he could be special in his Double-A season. The last time that was said was about someone in that branch of the family tree was 1996. Guerrero ended up a Hall of Famer this week.
Vladimir Guerrero, the father of the No. 1 Blue Jays prospect, was a $2,500 signing out of his native Dominican Republic. As the original story went, Guerrero showed up for his first tryout in front of an Expos scout with two differently sized shoes. Speaking Thursday at a Hall of Fame press conference, the nine-time All-Star shot down that portion of the myth. One thing that's undeniable, however, because it's written down in ink is that Guerrero had the tools to be something special. The hand-eye coordination for a plus bat. The strength for power. Impressive speed. A killer arm that would translate to right field. Under the weaknesses section on his scouting report, Expos vice president of national operations Fred Fereira wrote, "No found weakness -- unusual."
Three years after that report at Double-A Harrisburg, Charlie Montoyo saw the same thing.
"Now that I think about it," Montoyo said by phone Thursday, "he was the best player I played with. That's easy for me to say now that he's a Hall of Famer. But the tools were all there. The bat, the arm. He could run too. You consider yourself lucky if you're around somebody like that every day."
That should mean something because Montoyo's name carries a lot of weight in player development circles. The infielder bounced around the Milwaukee, Montreal and Philadelphia systems during his 10 seasons in pro ball. He made the Majors with the Expos in 1993 for four games before spending two seasons with the Phillies' Triple-A affiliate in Scranton/Wilkes-Barre. Approaching age 30 and coming off a campaign in which he produced just a .680 OPS, Montoyo had started to think about moving into the dugout full time. The Expos offered him a job as an unofficial player-coach at an exciting time in the system. He accepted but played most of the season at Double-A, only occasionally getting some time at Triple-A Ottawa when roster moves necessitated his promotion. The following year, he retired to become a manager with Rookie-level Princeton in the Tampa Bay system. From 1997-2014, he managed 18 seasons with Rays affiliates -- eight with Triple-A Durham, where he sported a .551 winning percentage -- and this offseason was promoted to become Tampa Bay's bench coach after flirtations with Major League managerial gigs.
If anyone knows the line of player development, it's Montoyo, and some 22 years later, he still spins yarns about the one season he shared a diamond with Guerrero.
"I played mostly first base, which was weird to me at the time," he said. "But if I was at first and Vladdy was in right, any time there was base hit out there, I knew I had to rush back to first because he was going to try to throw them out. It didn't matter it was just first base. His arm was so good that he kept even me on my toes."
As legendary as Guerrero's defense was then -- and it eventually made him the stuff of legend in the Majors -- his bat spoke for itself in that 1996 season. The right-handed slugger actually began that campaign at Class A Advanced West Palm Beach, but was promoted by May 1 having hit .363/.388/.650 with five homers in 20 games. His numbers over a larger sample in the Eastern League were just as impressive: .360/.438/.612 with 19 homers in 118 games. Guerrero's 1.050 OPS that summer was tops in a league that also counted future stars Scott Rolen, Todd Helton, Torii Hunter, Richie Sexson, Luis Castillo and Guerrero's Senators teammate Jose Vidro among its batting qualifiers.
And yes, the wide Guerrero swing zone was very much present in the summer of '96.
"I can still see it like it happened yesterday," Montoyo said. "There would be balls bouncing in the dirt on the outside corner that he would hook and hit down the third-base line. It didn't make sense. We'd all look at each other like, 'How did he do that?' But we all knew the tools he had, and everybody liked him, so we got used to it. He understood what made him great and went with it."
As happens with young players with great tools and the stats to back it up, the hype around Guerrero grew quite large during his time in Harrisburg to the point where Montreal manager Felipe Alou was fielding questions about the 20-year-old outfielder throughout the summer. Comparisons to Roberto Clemente were plentiful. That Major League debut eventually came on Sept. 19, 1996, and the following year, he finished sixth in the National League Rookie of the Year voting despite injuries limiting him to 90 games.
When asked about his time in the Minors on Thursday, Guerrero said his first thoughts were about making sure he didn't miss the early buses and learning how to cook on his own. By the time he got to Double-A, Montoyo didn't see concerns about a new country or his elevated prospect status in Guerrero's outward persona.
"He was a humble kid," he said. "But he was a five-tool kid. He had all the skills to perform well, and he was having fun. Obviously, it's easy to have fun when you're hitting .300-whatever, but there was a good group of kids there to help him along. He didn't need to worry too much about pressure or trying to push. You could see he was having fun every day."
This is where the story starts sounding a bit familiar.
Like his father in 1996, Guerrero Jr. enters the 2018 season as one of the game's premier prospects. The elder Guerrero entered his Double-A season 1996 as Baseball America's No. 9 overall prospect. The following year he was up to No. 2. MLB.com hasn't yet released the 2018 Top-100 list, but the younger Guerrero figures to rank highly, right alongside Shohei Ohtani and Ronald Acuna in the conversation for the No. 1 spot. He was given an 80 for his future hit tool -- an extremely rare grade on the 20-80 scouting scale, but one that fits the profile of a batter who was effective at two full-season leagues at the same age as an American high school senior. His future power tool is a 70, the same grade Fereira gave his father 25 years ago. Guerrero had Vidro and fellow Top-100 prospect Brad Fullmer in Harrisburg, Guerrero Jr. had Bo Bichette -- the son of former slugger Dante Bichette -- along for the ride at Lansing and Dunedin in 2017 and should be paired with the young shortstop again in 2018, whether they make the jump to New Hampshire or stay in the Florida State League.
The comparisons -- as much as they go beyond bloodlines -- may end there, though. Guerrero Jr. is a third baseman who, at a listed 6-foot-1, 200 pounds, eventually could move across the diamond to first base. Even though he was an outfielder growing up, there aren't likely to be any lasers coming from the warning track by the time he hits the Majors. Then there's the whole expanding-the-zone thing.
"No, he walks more often than me," the older Guerrero said through broadcaster/interpreter Jose Mota after Thursday's press conference. "He rarely swings at the first pitch. It just came natural to me. He's tried to swing at balls in the dirt, but it's not the same."
Guerrero Jr. concurred, writing for The Players' Tribune that "I also try to be a little more selective at the plate than Dad was."
There's a good amount of truth there. The older Guerrero walked in only 6.5 percent of his plate appearances at age 20 for Class A Albany in 1995. In Guerrero Jr.'s first season with full-season affiliates last year, he took a free pass 14.4 percent of the time. The hand-eye coordination didn't stray too far, though, with a 9.7 percent strikeout rate for the father and 11.8 for the son.
For the dad entering the Hall as the first position player to come from the Dominican Republic, he'd much rather keep the advice simple, not only to his son, who called to congratulate him from his native land this week, but to all countrymen trying to carve out spots in Major League Baseball. Don't try to hit balls at your eyelids or off your shoetops. Don't think you can throw from the foul pole to the third-base bag every time. Just be your best self first. Go from there.
"For the youngsters, in whatever you do, just try to go out and do a good job," Guerrero said. "Work hard. Put God first, and let God guide you along in your career. But put your work in, especially for those in the Dominican Republic and my hometown of Don Gregorio."
For the older Guerrero, that work resulted in an MVP award, nine All-Star Game teams, eight Silver Sluggers and a trip to Cooperstown. What it could mean for his son is yet to be seen. But as Montoyo can attest, if he can follow in his dad's footsteps at Double-A first, there should be a lot of his own accolades to follow.
"When they needed a player at Triple-A, I would go up, but I would almost immediately ask [then-Ottawa and former Phillies manager] Pete Mackanin, 'When can I go back?'" Montoyo said. "I ended up in Harrisburg for most of the year, and guys like Vladdy, they made that team fun. You want to be around them as much as you can, as long as you can."
Sam Dykstra is a reporter for MiLB.com. Follow and interact with him on Twitter, @SamDykstraMiLB. Ellison Polanco helped interpret for this report.