Toolshed: Hilliard continues Rockies road
No. 9 prospect adjusting in AFL as part of unique route to pros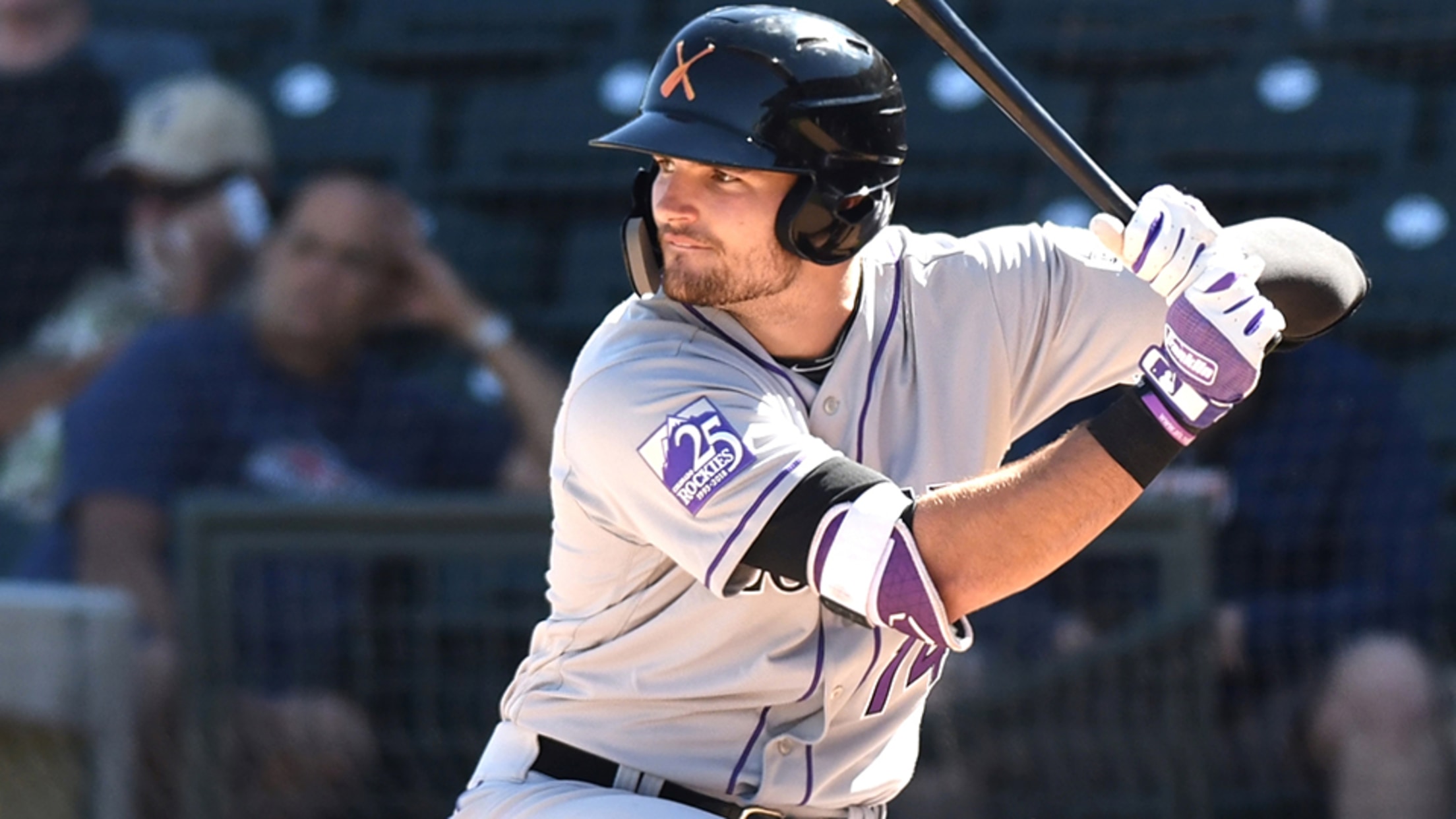 A 15th-round pick in 2015, Sam Hilliard has produced an .810 OPS over four seasons in the Rockies system.
This is nothing new to Sam Hilliard.The 24-year-old outfielder spent his first two years out of high school as a two-way player at two junior colleges, namely Navarro College in Texas and Crowder College in Missouri. It wasn't the glamour of Division I athletics -- Hilliard remembers less than fondly
This is nothing new to Sam Hilliard.
The 24-year-old outfielder spent his first two years out of high school as a two-way player at two junior colleges, namely Navarro College in Texas and Crowder College in Missouri. It wasn't the glamour of Division I athletics -- Hilliard remembers less than fondly the days spent changing clothes in the parking lot outside the field for lack of a locker room -- but he held onto the belief that if a player put in the work and showed the right level of promise, someone important would notice. For Hilliard, notice came in the form of a 2014 31st-round pick out of Crowder by the Twins (he didn't sign), a D-I spot at Wichita State the next season and a 2015 15th-round pick by the Rockies as an outfielder, which came with a $100,000 signing bonus.
"It's definitely not your typical route to the Minor Leagues," Hilliard said. "I wouldn't change it for the world, because I got to meet a whole bunch of different teammates and coaches and hear from a whole lot of people on different things. I bounced around, but I think that's good for me and my career. It helped prepare me for the grind of Minor League life. [It's the value of] work ethic and not taking anything for granted."
Three years later, Hilliard, now ranked as the No. 9 Rockies prospect, is back in a similar spot.
After four seasons in the Minor Leagues, he'll be eligible to be taken in December's Rule 5 Draft if he's not added to Colorado's 40-man roster next month. As such, the Rockies have sent him to play for the Salt River Rafters in the Arizona Fall League. That offers Hilliard another chance to prove he's worthy of the 40-man spot, or it might show other clubs he's worth acquiring and placing on their own 40-man roster before the Rule 5 Draft. If neither of those things happens, the AFL stint could demonstrate to the other 29 organizations that he merits a Major League look as a Rule 5 pick.
That's a lot to think about for any prospect, but Hilliard has the training to handle this situation.
"One thing I learned in junior college and Wichita State was controlling what you can control and not worrying about outside factors that you have no control over," he said. "It can only hinder your game and cause clutter in your mind. So I try and go out there and have a free head and play my game."
The left-handed slugger is in this situation mostly because of a rough second half of the season at Double-A Hartford this year.
Hilliard was an Eastern League All-Star after hitting .285/.348/.427 with seven homers and 20 stolen bases over 74 games before the break, making it his third midseason All-Star nod in three full seasons. But his performance cratered from early July onwards. After the break, Hilliard produced just a 71 wRC+ -- well below league-average in the Double-A circuit -- while striking out in 34.6 percent of his plate appearances. In August, he hit .212/.278/.293 with five extra-base hits and 35 strikeouts in 27 games.
It was in that month that Colorado informed Hilliard he'd be part of its Fall League contingent, offering him a little more time to turn things around before the dust settled on his 2018 season. He started experimenting with using a higher leg kick, and he carried that work with him to Arizona. Hilliard went 3-for-5 with a triple in his AFL debut on Oct. 9 and, as of Thursday, had gone 6-for-13 through his first three games with the Rafters. No one who has played three games or fewer so far in the Fall League has more hits. It's almost the smallest of samples, but it's certainly a start.
"It was tough," Hilliard said of his August struggles. "It was probably the worst stretch I've had since I was in professional baseball. I was becoming a little too impatient. What I was doing wasn't working, and I knew I needed to make an adjustment. So [the leg kick was] what I came up with, and it worked for me. I just feel a little bit more athletic. I feel a little dangerous at the plate. It allows me to tap into my power a little bit more. The only challenge is that it could be hard to be on time with a big leg kick. So I'm just trying to keep it from getting too big and to stay in control with it."
The leg kick has its origins in Hilliard's collegiate days, when the Texas native solidified his future in the field rather than on the mound. Hilliard's fastball velocity of around 90 mph drew the Twins to pick him as a pitcher in 2014, but he chose to keep chasing his two-way dreams in the Missouri Valley Conference instead. There, it became apparent where his future stood. The 6-foot-5 athlete hit .335/.395/.546 with eight homers and nine steals in 58 games, earning all-conference first-team honors for his efforts there. On the mound, however, he posted a 6.15 ERA and 1.70 WHIP in 60 innings. When the Rockies asked him to sign as an outfielder, Hilliard didn't have much to argue.
Over his first three seasons in the Colorado system, he showed just how toolsy he could be. Displaying plus speed, he swiped at least 30 bases with both Class A Asheville in 2016 and Class A Advanced Lancaster in 2017. He also exhibited solid power, belting 38 home runs over his first two full seasons, albeit while playing his home games in two of the Minors' most hitter-friendly environments. Though he doesn't use it on the mound anymore, his arm remains an asset, and the Rockies like it enough to have Hilliard play most of his games in right field, where he has 28 career assists in 264 games at the position.
But the questions remain around the overall hit tool. Even with the good times included, Hilliard has struck out in 27.3 percent of his Minor League plate appearances. The 24-year-old knows he could use a positive Fall League to earn some points back with the Rockies and the baseball community at large, given his second-half struggles and his upcoming roster situation. The leg kick experiment is one piece of that, but in the end, this is another chance for Hilliard to prove he deserves a premium spot somewhere, as he's done a few times in the past.
"I had some teammates that played here last year," he said. "They told me about how competitive it is, about how it's an honor, about how many big names have come through there and played well and gone on to the big leagues. It's just an honor to be invited, first of all, and I'm just going to try to take advantage of every opportunity I get."
Sam Dykstra is a reporter for MiLB.com. Follow and interact with him on Twitter, @SamDykstraMiLB.