Toolshed: Potts growing into prominent role
Padres slugger adjusted well early in career ahead of AFL stint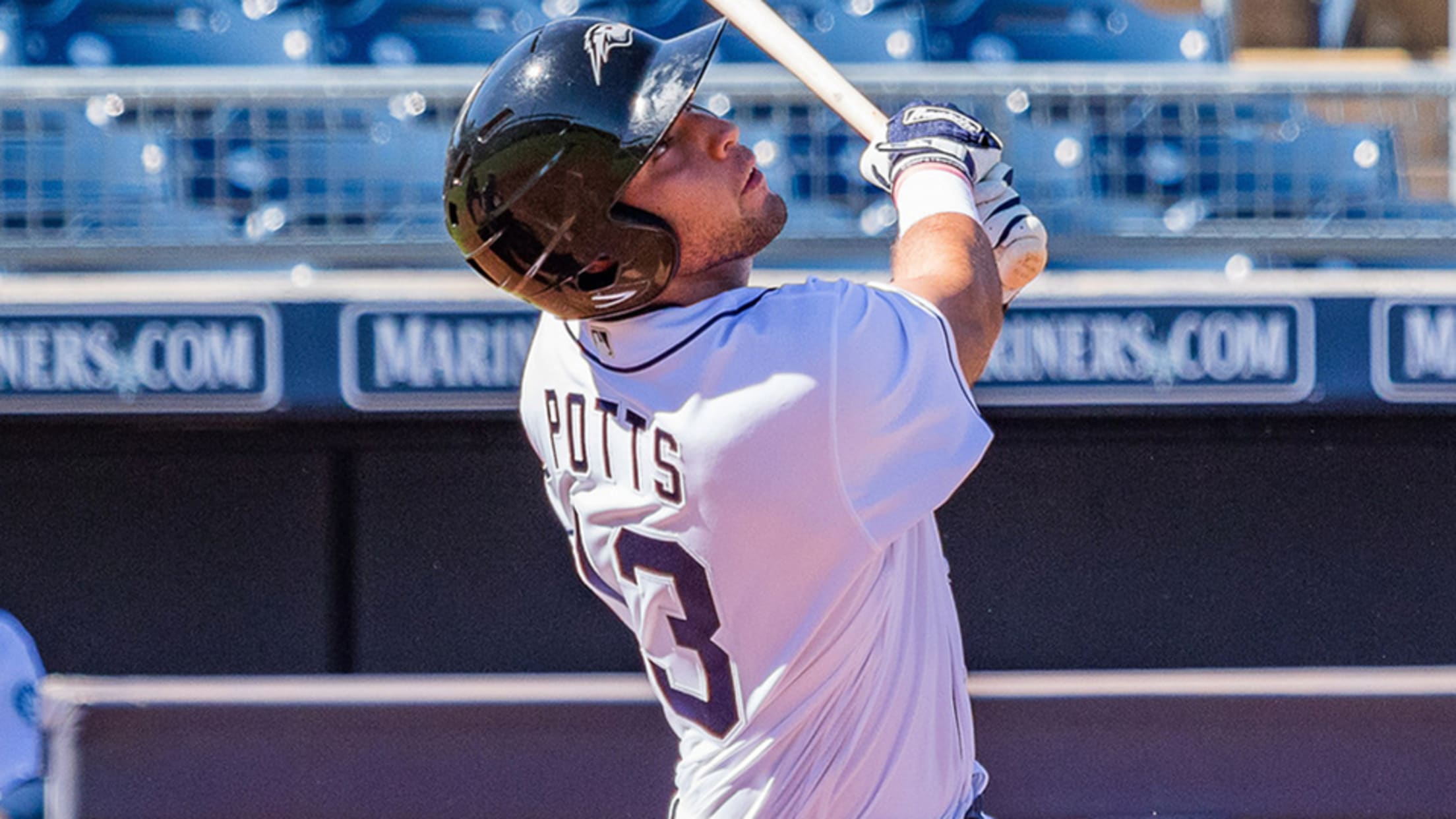 Hudson Potts started at third base in Peoria's first two games of the Arizona Fall League season. (Freek Bouw/Phrake Photography)
When the Padres signed Eric Hosmer to an eight-year deal last offseason, they seemed to have locked down one quarter of their long-term infield. When No. 27 overall prospectLuis Urías arrived in the Majors in September, that was another piece locked in. No. 2 overall prospect Fernando Tatis Jr. may
When the Padres signed Eric Hosmer to an eight-year deal last offseason, they seemed to have locked down one quarter of their long-term infield. When No. 27 overall prospectLuis Urías arrived in the Majors in September, that was another piece locked in. No. 2 overall prospect Fernando Tatis Jr. may have had his season with Double-A San Antonio cut short in late July by surgery on his left thumb, but he'll very likely be San Diego's everyday shortstop by the midpoint of next season.
That leaves one opening in the long-term plans -- third base -- and that spot might be Hudson Potts' for the taking.
The Padres signaled their confidence in Potts by sending him to the Arizona Fall League this week, where at 19, he's the fourth-youngest player in the prospect finishing school behind Peoria teammates Cristian Pache and Mario Feliciano and another prominent 19-year-old third baseman, Vladimir Guerrero Jr. But don't expect the right-handed slugger to be doing any calculus to figure out what his AFL move -- or any other one for that matter -- means about his future in the organization.
"I'm just here to do my job and let it all play out," Potts said. "None of the players here [with the Padres] think about it. We see the talent every day. It's a top group of guys, a great group of players everywhere you go in this system, and I think it's made all of us better."
Potts may just be ranked San Diego's No. 23 prospect, but that's in a system that boasts 10 of MLB.com's Top-100 prospects -- tied with the Braves for the most in the game. No. 17 Esteury Ruiz is the only prospect ranked higher among Padres farmhands with third-base experience, but the fellow 19-year-old only got 16 starts at the hot corner in 2018, instead playing mostly at second for Class A Fort Wayne. In the Majors, Christian Villanueva may have broken out with 20 home runs in his second Major League season -- 15 of which came before June 1 -- but he ended up being a league-average bat with OK defense. By comparison, Potts has the chance to provide real thunder with his bat, as he's shown early on in his career.
The native of the Dallas-Fort Worth area was taken as a shortstop with the 24th overall pick in June 2016, three months before his 18th birthday. He was sandwiched between fellow first-round picks Cal Quantrill and Eric Lauer and selected 24 spots ahead of fellow Fall Leaguer Buddy Reed.
Despite his relative youth, the Padres still sent Potts to the Midwest League for his first full season in 2017 and moved the 6-foot-3, 205-pound infielder to third base permanently -- a move many predicted in pre-Draft evaluations. Offensively, he started slow, hitting .226 with six homers and a .619 OPS over 60 games in the first half of the season, only to bust out with a .278 average, an .837 OPS and 14 long balls over 65 games after the All-Star break. He finished with a basically league-average 103 wRC+ on the strength of his power; his 20 home runs tied for fifth-most ion the circuit.
That was a preview of what was to come in 2018, at least in terms of slow growth and improvement over another long campaign with Class A Advanced Lake Elsinore. Potts' OPS went up in each full month he spent with the Storm: .771 in April, .824 in May, .916 in June and .975 in July. In that fourth month, he produced a .369/.417/.559 line with four homers and nine doubles over 27 games. Only teammate Luis Torrens (.375) had a higher average in the hitter-friendly California League in July. Even after being promoted to Double-A San Antonio for most of August and a playoff run into September, Potts still finished tied for fourth in the Cal League with 35 doubles, ranking fifth with a .498 slugging percentage and ninth with 17 homers in his 106 games with the Storm. As such, he was chosen at the designated hitter spot on the California League end-of-season All-Star team.
"I think it's happened both years," Potts said of his ability to adjust. "It's just picking up how pitchers and other teams are approaching me every time I'm up there. Once I figure that out, things start clicking. ... I might refine some things, but it's mostly staying up on how they're attacking me and not trying to do what the pitcher wants me to do. I have a plan and I stick with that plan."
As Potts climbs the ladder toward San Diego, more and more that plan involves understanding upper-level hurlers have begun to pitch him backward, utilizing more off-speed earlier in the count to keep him from sitting fastball and tapping into his above-average pop.
That'll continue next season in the Texas League, where Potts is likely to return in 2019 -- this time with the new Padres affiliate in Amarillo. The third baseman struggled some in his introduction to Double-A, producing just a .154/.258/.231 line with two homers and 33 strikeouts in 89 plate appearances during the regular season. (He also went 8-for-32 with a homer and two doubles over eight games during San Antonio's run through the Texas League postseason.) But after showing little trouble adjusting over a larger sample, Potts said he didn't feel humbled during his first professional trip home to the Lone Star State.
"I'm not worried at all," Potts said. "I really like where I am and it was fun being up there, being with that team. It was more about learning from the different situations that popped up, like being in a playoff game at that level or some of the other team situations you need to come through on. There was a lot of stuff at third base too. That's what I can focus on here in the offseason and the AFL."
The Padres didn't seem worried either when they told Potts in August he was headed to the Fall League to continue his growth at the plate and the hot corner. It's been somewhat of a bumpy ride early on in both regards with the third baseman going 2-for-9 with a double, two strikeouts and two fielding errors in his first two starts with the Javelinas. But there are still many more weeks for Potts to grow accustomed to the pitching (and opposing hitting) he'll see in the Fall League, and with them more chances to prove he can fit alongside Hosmer, Urias and Tatis long-term in San Diego. In fact, he might already be getting a leg up there. The Javelinas play their home games at Peoria Sports Complex, the same spot the Padres share with the Mariners as a Spring Training home. Potts saw some time on the bigger fields of Arizona last spring, going 4-for-8 with two homers in eight Cactus League games as a callup from Minor League camp. Come next spring, he's likely to be a non-roster invitee to the big league side, but he knows -- like everywhere else -- he's still got to get used to Arizona ball over a larger sample first.
"It's great to be here in Peoria after the spring and some time in the fall before the AFL," he said. "But it's just the same game. Play the game, and people around here will notice. Hopefully, I can bring whatever I learn right back here in the spring."
Sam Dykstra is a reporter for MiLB.com. Follow and interact with him on Twitter, @SamDykstraMiLB.