Toolshed: Angels' Jones flying high at plate
Los Angeles' No. 2 prospect motivated by rapidly improving system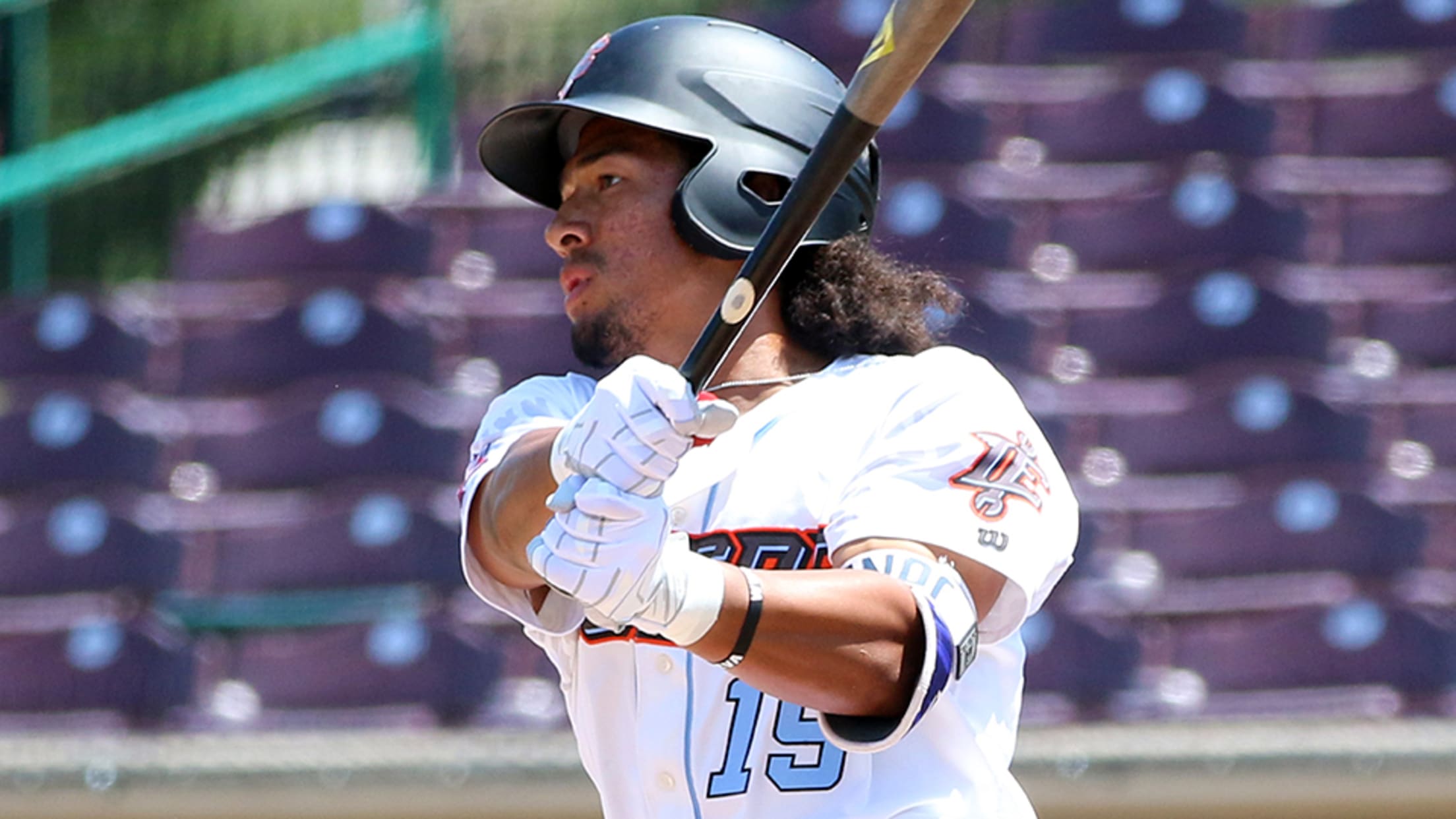 Riding a 20-game hitting streak, Jahmai Jones has scored 22 runs in his 27 contests at the Class A Advanced level. (Fernando Gutierrez Jr./MiLB.com)
Like every professional team he's played on, Jahmai Jones has been batting leadoff for the entire Angels farm system for a few years now.A center fielder, Jones was taken in the second round (70th overall) of the 2015 Draft and showed signs of being the toolsiest prospect in a rather
Like every professional team he's played on, Jahmai Jones has been batting leadoff for the entire Angels farm system for a few years now.
A center fielder, Jones was taken in the second round (70th overall) of the 2015 Draft and showed signs of being the toolsiest prospect in a rather barren system. Not since Andrew Heaney graduated in 2015 and fellow left-hander Sean Newcomb was traded to the Braves the following offseason have the Halos had a prospect ranked among the top 100 in the game by MLB.com.
But the system Jones entered two years ago isn't the same one it is now. There are no top-100 prospects, but plenty are ready to bang on the door, particularly those who play outfield. This year's 10th overall pick, Jordon Adell has already moved up to Rookie-level Orem after showing plenty of power and speed in the Arizona League. Third-rounder Jacob Pearson has above-average hit and run tools. Brandon Marsh, a 2016 second-rounder, is finally healthy and showing an impressive bat (.372 average in 20 games) to go with his plus arm and defensive capabilities.
Jones can feel the groundswell coming.
"We've definitely had some good Drafts these last couple years, especially with a lot of great outfielders," he said. "Not just the big-name guys like Adell or Marsh, but guys like [2016 26th-rounder] Derek Jenkins, who can really play the outfield and is super-athletic. I just let it push me, playing with some of these guys and competing with them. You can tell we're starting to turn things around because everyone we've drafted is contributing at every level. It's exciting.
"But as for the outfielders, that's always going to happen. There are always going to be new guys. That's why I'm always trying to be hungry and wanting to be pushed. It's good for everybody."
The 20-year-old is doing more to just keep up with the new talent, though. He's become one of the most consistent offensive performers and is banging down the top-100 door himself, ranked as the No. 2 prospect in the Angels' system behind only Adell.
Jones is riding a 20-game hitting streak for Class A Advanced Inland Empire, the third-longest hitting streak in the California League this season. This comes despite the fact that the right-handed slugger only joined the circuit July 20. Dating back to his time with Class A Burlington, Jones has hit safely in 33 of his last 34 games, a stretch in which he's batted .342/.390/.509 with 12 extra-base hits and eight steals. The California League might be a hitter's circuit, but for a player to take off as quickly as Jones has at a new level is impressive.
His 66ers sit only three games behind Rancho Cucamonga in the South Division second-half race, and from day one, Jones was thrust into the leadoff spot to spark an offense trying to secure a postseason berth.
"I'm just trying to do whatever I can to help the team in a playoff race," Jones said Thursday. "We've got 17 games left, so it's a big time of year and we all know we're not too far behind. I need to do whatever I can to help these guys knock me in, whether that's getting a hit, a hit-by-pitch, putting the ball in play and getting on with an error, whatever. It's my job to do anything I can to get on base, and that's all I can think about."
Then again, it wasn't always this way. The 2017 season was the first in which Jones played games in April with a full-season club, and it wasn't exactly an April to remember. He hit just .167/.211/.292 with three extra-base hits (all homers) over 18 games for Burlington in the game's first month. That included an eight-game stretch in which he went just 3-for-29 (.103). His batting average on balls in play (BABIP) was a low .180, which would speak some tough luck, but coming off a 2016 season in which he batted .302 with an .801 OPS over 64 games at Orem and Burlington, Jones wasn't willing to leave it to chance.
"It was a mental change I made," he said. "I hit a few balls hard and thought, 'Man, that feels good.' So I got a little too big and started trying to crush every ball I could. When I wasn't producing like I'd like to, I had to get back to knowing what I can do, and that wasn't it. Once my mental approach was improved, everything else could fall into place, and it just played itself out. I was just focusing on my strength, which is hitting the ball in the zone when it's there."
The improvements were almost immediate once the calendar flipped. Jones hit .327/.392/.495 in 27 games in May and produced a .299/.369/.460 line in his final 68 contests with the Bees. He's shown plenty of pop as well. His 12 homers are tied for the most in the Angels system this season, and his .158 isolated slugging percentage is a solid jump from the .120 from last season.
That mental work continues to be important to Jones even as he's found more sustained success and moved higher up the Angels' chain. He singled out Inland Empire hitting coach Brian Betancourth as being an influential voice and ear when it comes to the work in the cage and off the field, usually offering reminders to stay calm when things look tough. That's a different role than most envision for a hitting coach, who tends to offer instruction on stances or loads.
"It's been nothing mechanical," he said. "The first thing whenever things are off is what's my approach in my head. If I can handle that, it usually solves all my problems. Sure, there might be a few changes I need to make here and there, like not dropping my hands or something. But people forget this game is so mental. It's not always mechanical."
All of this just speaks to Jones' ability as a hitter, but it's his well-rounded profile that has always made him stand out. His plus run tool has led to 25 stolen bases this season, second-most among Angels farmhands behind only No. 13 prospect Michael Hermosillo's 29. That speed also helps him be a defensive asset up the middle in center field, though he's also gotten time in left field this summer. Because of the five-tool potential, Jones will likely be in the top-100 conversation this offseason.
For now, the Halos are hoping Jones can be a leader from the top, not only for the 66ers but for all the other outfield talent that could be coming behind him. They need him to be a leadoff man.
"I trust in the guys behind me," he said of playing for Inland Empire. "My job is to set the table for them, no matter the inning or how many outs there are. It's a great group of guys, who have put all their faith in me, and I trust all of my teammates to help push me as well."
Sam Dykstra is a reporter for MiLB.com. Follow and interact with him on Twitter, @SamDykstraMiLB.