Toolshed: MLB contenders find help on the farm
Draft picks, international signees, traded prospects boost chances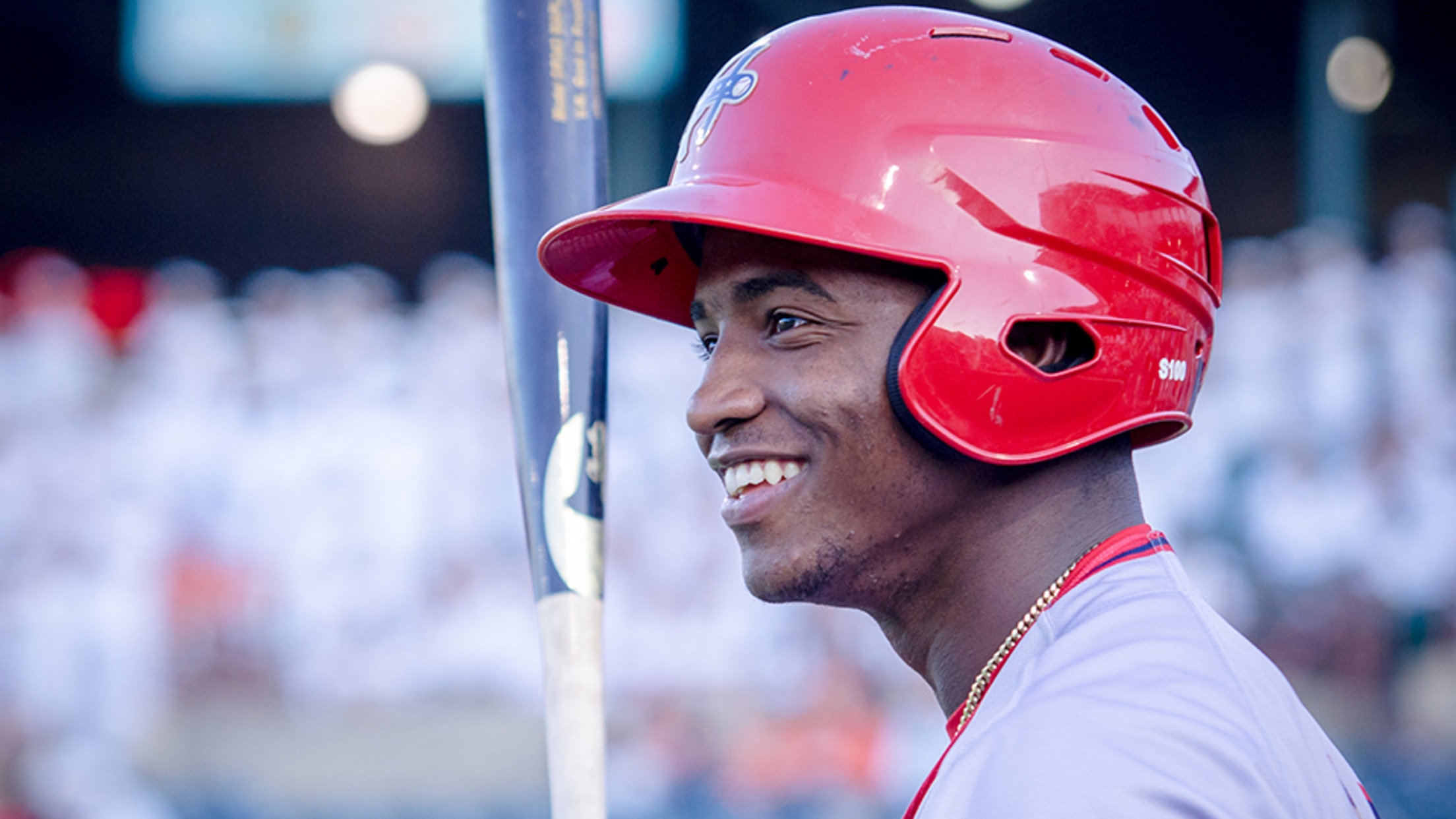 No. 2 overall prospect Victor Robles has contributed down the stretch for the Nationals. (Brian McWalters)
Talk to any Minor Leaguer about his goals and the conversation will inevitably turn to one day helping a club reach the greatest heights in baseball -- namely, hoisting the Commissioner's Trophy as World Series champion.Starting next week, some goals will be realized.
Talk to any Minor Leaguer about his goals and the conversation will inevitably turn to one day helping a club reach the greatest heights in baseball -- namely, hoisting the Commissioner's Trophy as World Series champion.
Starting next week, some goals will be realized.
This week's Toolshed determines which MLB playoff-contending clubs did the best job building their roster through the Draft, international market and prospect trades -- in other words, players who've been in the farm system at some point in their career. Only players on the current active roster were considered, and both the Brewers and Rockies are included, though only one of them will make the postseason. All categories are ranked by FanGraphs WAR, and all WAR totals are through Wednesday's games.
Total 2017 WAR of players who joined organization via Draft
Washington's stretch of high picks from 2009 to 2011 has paid off for quite some time as the Nationals secured their fourth NL East title in six years, and those stars really sparkled in 2017. Stephen Strasburg (5.3), Bryce Harper (5.0) and Anthony Rendon (6.7) -- top-six picks in 2009, 2010 and 2011, respectively -- are three of Washington's four 5+ WAR players this season. (Max Scherzer, who signed as a free agent, is the other at 5.9.) This trio alone would've pushed the club to the upper half of this table, but 2009 sixth-rounder Michael A. Taylor (3.2) and 2005 first-rounder Ryan Zimmerman (2.8) helped push the Nats over the edge.
The Rockies have cashed in on MVP-caliber seasons from 2008 second-rounder Charlie Blackmon (6.4) and 2009 second-rounder Nolan Arenado (5.4), but they were also boosted by the fact that most of their big pitching contributors were also drafted players, led by 2013 first-rounder Jon Gray (3.2). Trying to convince free-agent hurlers to pitch in high altitude can be an uphill battle, so relying on drafted arms can be a necessary strategy for Colorado.
The Astros laid down the blueprint for a rebuild when they turned first-round picks in 2011, 2012 and 2015 into George Springer (4.5), Carlos Correa (4.4), Lance McCullers Jr. (2.9) and Alex Bregman (3.5). Dallas Keuchel (2.9), a seventh-round pick from 2007, has also remained a key part of the Houston rotation.
Though a young club, the Twins relied heavily on organizational stalwarts Brian Dozier (4.3) and Joe Mauer (2.2). But as the season progressed, it became clear that 2012 first-rounders Byron Buxton (3.5) and José Berríos (2.8) weren't only the future, they were also the present, helping Minnesota go from a 59-103 in 2016 to the second AL Wild Card spot this campaign.
At the bottom of the list, the Brewers do have a promising pipeline -- it's likely they'll see a jump in this category soon -- but a lot of the Brewers' current success has revolved around trades and free agents. In fact, Brent Suter (1.5 WAR) tops the list of Brewers players in this category, though he slots in at just eighth among the team's WAR leaders.
Total 2017 WAR of players who joined org as amateur international signees
For this table, players were only included if they had prospect eligibility upon signing, so the Yankees don't get credit for Masahiro Tanaka nor do the Dodgers for Kenta Maeda or Hyun-Jin Ryu.
That said, the Yankees are powered here almost exclusively by the Dominican battery of Luis Severino and Gary Sánchez. Severino (5.7 WAR) has become the ace in the Bronx during a breakout season in which he's posted a 2.98 ERA with 230 strikeouts in 193 1/3 innings, while Sanchez (4.5) has solidified himself as an important part of New York's future with 33 homers and a .280/.346/.537 line over 120 contests. (No other catcher in baseball has posted a higher WAR than the 24-year-old slugger.) The emergence of both players -- and Aaron Judge's surge, of course -- has allowed the Yanks to compete just one year after being in sell-now mode.
The Indians and Astros separate themselves here with two MVP candidates -- Jose Ramirez (6.1) and José Altuve (7.4) -- though Cleveland gets an additional push from right-handed starter Danny Salazar (2.2) and four others.
In fact, Cleveland tied with Washington for the most internationally signed players on their active roster with six each, and the impact both clubs can expect from these guys should only grow going forward. Top prospectsFrancisco Mejía and Victor Robles reached the Majors for the first time in September and could be counted on to play big roles with their respective clubs in 2018 and beyond.
The international future isn't nearly as bright in Arizona, which posts the only negative WAR you'll find in this Toolshed. Right-handed reliever Silvino Bracho, who signed out of Venezuela in 2011, is the club's only representative in this category and has posted a 6.16 ERA in 19 innings with the big club. Don't expect a big jump in the future, either. The D-backs only have two top-10 prospects who they signed internationally -- No. 7 Jasrado Chisholm and No. 10 Sócrates Brito.
Total 2017 WAR of players who joined org as traded prospects
The Indians might not have been anyone's first guess for the top spot here, except for those with really good memories. The bulk of the value comes from the rotation in the form of Cy Young contender Corey Kluber (7.1 WAR) and starting stalwart Carlos Carrasco (5.0). (Kluber moved from the Padres in a 2010 three-team deadline deal that sent Jake Westbrook to the Cardinals and Ryan Ludwick to San Diego. Carrasco joined as part of the 2009 deadline trade that sent Cliff Lee from the Indians to the Phillies.) Mike Clevinger (2.2) has turned into a solid rotation piece as well, three years after he was dealt from the Angels, and Zach McAllister (0.4), who joined from the Yankees in a 2010 trade for Austin Kearns, continues to be a solid out of the bullpen.
The Astros and Brewers -- both with eight players who fit this bill -- have also done impressive jobs of turning acquired Minor League talent into genuine Major League producers.
For Houston, Marwin Gonzalez (3.8) was a Rule 5 pick of the Red Sox in 2011 who was flipped to the Astros for fellow Minor Leaguer Marco Duarte and has become an impressive jack-of-all-trades almost six years later, having played six positions while hitting .305 with 23 homers. There's also a case to be made that Brad Peacock (3.4) has been the ace of the staff, four years after he came over from the A's. Chris Devenski (1.3), James Hoyt (0.6) and Francis Martes (0.2) have all added varying degrees of value out of the bullpen, while Jake Marisnick (1.4) has enjoyed his best Major League season yet in the outfield.
The Brewers made the most out of their 2015 trade of Carlos Gómez to the Astros, bringing back outfielder Domingo Santana (2.9) and left-hander Josh Hader (1.0) -- who have both played big roles in keeping Milwaukee in the playoff picture -- as well as Brett Phillips (0.3), who might be playing himself into the team's Opening Day outfield plans in 2018. Elsewhere, Zach Davies (2.8) has gone from Orioles Triple-A pitcher flipped straight-up for Gerardo Parra in 2015 to one of the Brewers' most dependable starters. Manny Piña (2.0), the player to be named later in a swap that sent Francisco Rodriguez to the Tigers in November 2015, had been the club's starting catcher until Stephen Vogt was acquired through waivers from the A's. There's more to come here as well. Top prospect Lewis Brinson isn't technically on the active roster as he has yet to fully recover from a hamstring injury, but he should continue to knock down the door when he returns in 2018. Top-10 prospects Luis Ortiz, Isan Díaz and Mauricio Dubón also fit that bill.
As for the Yankees, their big deals from 2016 have yet to bear significant fruit. Gleyber Torres looked like he'd make his way to The Show before Tommy John surgery ended his season early. Clint Frazier (-0.2) hasn't quite lived up to expectations to start his Major League career, leaving Domingo Germán (0.1) and Ben Heller (0.1) preventing New York from going below replacement level in this category. The Yankees could rise quickly here, however, as Torres, Justus Sheffield, Albert Abreu and Dillon Tate all try to push their way to the game's highest level.
Sam Dykstra is a reporter for MiLB.com. Follow and interact with him on Twitter, @SamDykstraMiLB.