Toolshed: Most surprising promotions of '18
Nats' Soto, Braves' Wilson among season's unexpected callups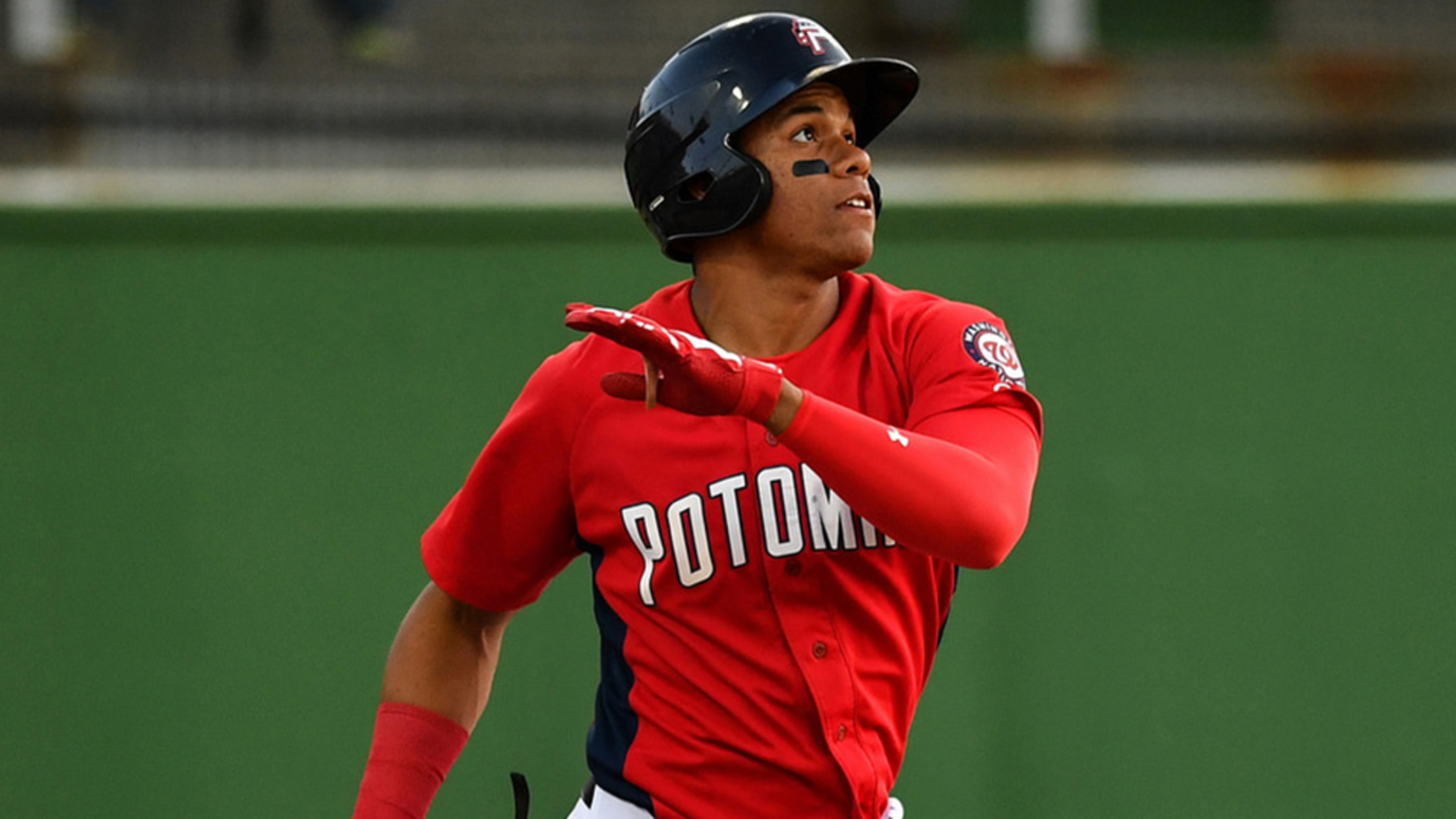 Juan Soto first joined Class A Advanced Potomac on April 23 and was in the Majors less than a month later. (Terrance Williams/MiLB.com)
It's already been a fun week for prospect callups to the Major Leagues. It hasn't, however, been a traditional one.Sure, there are periods when many of the game's top prospects head to The Show around the same time. Remember when Ronald Acuña Jr., Gleyber Torres and Tyler O'Neill all made
It's already been a fun week for prospect callups to the Major Leagues. It hasn't, however, been a traditional one.
Sure, there are periods when many of the game's top prospects head to The Show around the same time. Remember when Ronald Acuña Jr., Gleyber Torres and Tyler O'Neill all made their Major League debuts between April 19-25? Another of those periods is coming up as Major League active rosters expand to 40 spots in September.
But this week has felt a little different, most notably for two moves. The Braves, in their attempt to return to the playoffs for the first time since 2013, brought up 20-year-old Bryse Wilson for his debut Monday, making him the youngest pitcher in the Major Leagues this season. The White Sox, who have little to play for the rest of the way, called up No. 13 overall prospect Michael Kopech now rather than wait until late April 2019, when they would have started his service-time clock late enough to push his free agency back a year (a technique the Braves used with Acuña).
This edition of Toolshed counts down the top 10 most unorthodox yet pleasantly surprising prospect promotions of the 2018 season so far.
10. Connor Scott/Nolan Gorman to Class A: Scott and Gorman were each taken in the first round out of high school this June -- Scott by the Marlins at No. 13 and Gorman by the Cardinals at No. 19. Yet as things stand, both position players will end their first professional summers with a full-season affiliate. Scott moved up to Class A Greensboro on Aug. 7, and Gorman joined Class A Peoria a day later. Of the two promotions, Gorman's seemed much more likely after he hit .350/.443/.664 with 11 homers in 38 games with Rookie-level Johnson City while Scott produced a .223/.319/.311 line in 27 games in rookie ball in the Gulf Coast League. Either way, Scott and Gorman are the only two prep first-rounders to see Class A this season. In 2017, there was only one: Royce Lewis.
9. Griffin Canning to Double-A: Yes, Canning is already up with Triple-A Salt Lake, but his move to that level wasn't quite as shocking as his extremely early bump to Double-A Mobile. The Angels started their 2017 second-rounder at Class A Advanced Inland Empire in April -- the typical strategy for a highly touted college pitcher like Canning -- only to move him up after two starts, during which he struck out 12 over 8 2/3 scoreless innings. Those were two promising outings to be sure, but the promotion was significantly more aggressive than expected. That's not to say it didn't pay off. The 22-year-old right-hander posted a 1.97 ERA with 49 strikeouts in 45 2/3 innings with Mobile before being promoted to Salt Lake on June 21. Along with the Braves' Kyle Wright (who started out the season at Double-A Mississippi), he's one of two top-50 picks from the 2017 Draft to see Triple-A this season, but Canning gets the shoutout here because there was less of an indication that he'd move this quickly one year after plying his trade at UCLA.
8. Michael Kopech to Majors: Without the context of service-time issues, this promotion doesn't appear in this column whatsoever. There's no doubt that during Kopech's time with Triple-A Charlotte, he pitched like someone deserving of a Major League debut. His 170 strikeouts lead the Minor Leagues. Over his last seven starts, he posted a 1.84 ERA with 59 strikeouts and four walks over 44 innings. His 80-grade fastball is the stuff of legends, and his slider is close to being a plus-plus pitch. It's a mix of stuff and performance that deserved to see Major League opponents. Then again, that's what everyone said about Acuña last season and Kris Bryant back in 2015. Both of those sluggers would have played for non-competitive clubs down the stretch, like Kopech is doing with the fourth-place White Sox. But unlike Acuña and Bryant, Kopech has been at Triple-A all season, so he may have been able to convince Chicago a little more easily, and it's still possible that Kopech opens next year back in the Minors. Still, it's refreshing to see a rebuilding club like the White Sox give their best talents a chance. Eloy Jiménez next, please.
7. Mike Soroka/Kolby Allard/Touki Toussaint to Majors: These three are grouped together because, while they were called up incredibly young, all three opened their 2018 seasons at the upper levels of the Minors. Soroka and Allard started at Triple-A Gwinnett, and Toussaint began at Mississippi. But how about those ages when they debuted? Soroka was 20 years, 270 days old; Allard 20 years, 352 days and Toussaint 22 years, 54 days. That makes them three of the 10 youngest pitchers to debut in the Majors this season. Of the three, Soroka's callup on May 1 after only four International League starts was perhaps the most shocking, given that on Opening Day he was the third-youngest player in the IL (behind Acuña and Allard). But that move was the first indication that Atlanta wasn't going to be afraid to tap into its considerable Minor League pitching depth.
6. Jesus Luzardo to Triple-A: At this point, the baseball world knows Luzardo as arguably the game's top left-handed pitching prospect. But at the beginning of the season, the A's top prospect had his fair share of question marks. He'd undergone Tommy John surgery in 2016 and thrown only 43 1/3 innings (all with short-season affiliates) in 2017. The A's stayed aggressive with him, however, assigning him out the gate to Class A Advanced Stockton and moving him to Double-A on April 24 for 16 starts before promoting him to the Minors' highest level on Aug. 5. Salt Lake's Jose Suarez has been the only younger pitcher to play in the Pacific Coast League this season. There's even still a chance the juggernaut A's could move Luzardo to the Majors in September and use him out of the bullpen to make use of his fastball-curve-changeup mix while conserving his innings.
5. Jo Adell to Double-A: There were 13 position players taken in the first round of the 2017 Draft. Three have reached Double-A this season -- Adam Haseley, Keston Hiura and Adell. But among that group, one thing sticks out about Adell: he's more than three years younger than each of the other two. The Angels have gotten super-aggressive with last year's 10th overall pick, though he's done plenty to push the envelope. He burned through Class A Burlington in 25 games, then proceeded to hit .290/.345/.546 with 12 homers and nine steals over 57 contests at Class A Advanced Inland Empire. Those are good numbers to be sure, but moving a 19-year-old to the Southern League is still a mighty bold promotion; this time last year, Adell was advancing from the Arizona League to the Pioneer League.
4. Jonathan Loaisiga to Majors: The No. 3 Yankees prospect's professional baseball story was already pretty crazy before 2018. New York signed the Nicaraguan right-hander, who had previously played in the Giants system, in February 2016, only to see him undergo Tommy John surgery later that year. He made 11 appearances with lower-level clubs last season. Because he had shown impressive control of three above-average pitches -- and despite his having only 2 1/3 innings of experience at Class A or above -- the Yankees added him to the 40-man roster as Rule 5 Draft protection. So while it made roster sense that New York promoted Loaisiga for his Major League debut on June 15, it was still pretty crazy that he got the chance after all he'd been through earlier in his career. MLB.com's No. 75 overall prospect held his own with a 3.00 ERA and 21 strikeouts over four starts (18 innings) in the Majors, but he's currently in the Minors rehabbing from right shoulder inflammation.
3. Luis Garcia to Class A Advanced: The Nationals were openly high on Garcia entering the season, and they backed that up when they moved him up to Potomac less than a month after his 18th birthday. But this wasn't quite like Vladimir Guerrero Jr. reaching the Class A Advanced level at the same age in 2017. Garcia was a solid performer during his time at Class A Hagerstown with a .297/.335/.402 line, three homers and eight steals over 78 games, but little about that screamed that a move was coming. At the time, the Nats explained that Garcia ticked plenty of boxes outside of his offensive stats, namely in terms of consistency and emotional/mental maturity. Also, Garcia is free to play shortstop full-time again after sharing the position with Yasel Antuna in the South Atlantic League. MLB.com's No. 92 overall prospect is certainly enjoying a breakout season -- one that's continued after his jump to the Carolina League -- but what made this so surprising was that he hadn't dominated at the plate in the same way as other Nats quick movers, like Victor Robles or ... well, you'll see.
2. Bryse Wilson to Majors: Back in April, Toolshed posed the question "Will Acuña be the youngest player in the Majors this season?" and the easy answer looked to be yes. As it turns out, he's not even the youngest player on the Braves. Wilson (birthdate: Dec. 20, 1997) is two days younger. He's also the youngest pitcher in the big leagues this season. What's interesting is that the Braves allowed Wilson to complete the journey, unlike how they handled Acuña in 2017. As the outfielder did last season, Wilson began this year at Class A Advanced Florida and made stops at Mississippi and Gwinnett. But while Acuña had to wait until the end of the following April to debut in the bigs, Wilson made the jump to the Majors on Monday, holding his own with five scoreless innings. A lot of the difference in the two cases has to do with the fact that the Braves are taking an all-hands-on-deck approach in their attempt to win the NL East this year. It certainly helps, too, that Wilson showed the goods (plus fastball, improving slider and changeup) to back up the performance (13 strikeouts in his last start for Gwinnett before getting the call). In another season, this might take the cake for most unorthodox prospect promotion. But in 2018, many still can't get over the callup of ...
1. Juan Soto to Majors: Soto is still 19. He debuted in May, and he's still the youngest player the Major Leagues have seen all season. Seriously, the story is as crazy now as it was then, and the baseball world has had three months to take it in. Soto was hampered by injuries in 2017 and was limited to only 32 games, prompting Washington to have him open 2018 at Hagerstown. He produced a .373/.486/.814 line with 13 extra-base hits in 16 games with the Suns before moving up to Potomac. He hit .371/.466/.790 over 15 games in the Carolina League and moved up to Double-A Harrisburg on May 10, where he lasted for all of 10 days after going 10-for-31 (.323). The Nationals recognized that Soto wasn't being tested anywhere he went, and -- youth and previous health issues aside -- his sweet swing from the left side would play immediately in the Majors. Now, he's one of the best teenage hitters the game's top level has ever seen. Imagine telling someone that back in April.
Sam Dykstra is a reporter for MiLB.com. Follow and interact with him on Twitter, @SamDykstraMiLB.