Toolshed: Alonso powered past struggles
Mets No. 4 prospect ready to build on 2017 in Major League camp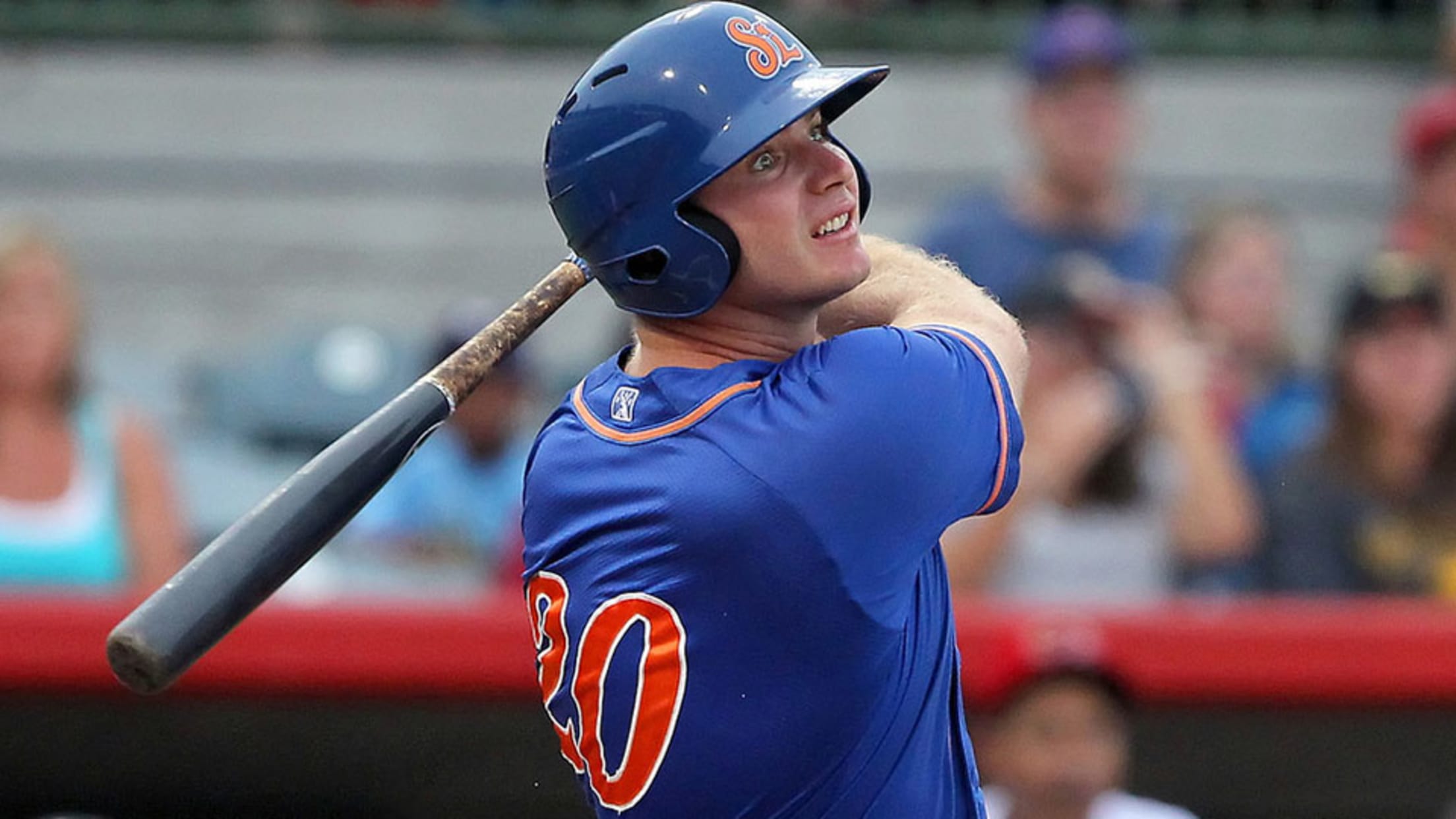 Peter Alonso wound up second among qualified FSL hitters with a .516 slugging percentage in 2017. (Cliff Welch/MiLB.com)
It was the middle of June, and Peter Alonso needed a vacation.Luckily, it was also the Florida State League All-Star break. Almost a year after he was selected in the second round of the 2016 Draft by the Mets, the first baseman was not having an enjoyable first full season
It was the middle of June, and Peter Alonso needed a vacation.
Luckily, it was also the Florida State League All-Star break. Almost a year after he was selected in the second round of the 2016 Draft by the Mets, the first baseman was not having an enjoyable first full season in Minor League Baseball. He was hit by a pitch in his sixth game at Class A Advanced St. Lucie, suffering a broken left hand that kept him out for six weeks. He struggled at the plate after he returned and entered the break with a .167/.217/.269 line with two homers in 21 games.
So he and his girlfriend headed a few hours south to Key West to visit Duval Street and the Ernest Hemingway Home, get some fishing in and just generally not think about baseball for a bit.
"I needed an opportunity to wipe the memory bank clean, refresh mentally and hit the restart button. I was happy I had the chance to do it because I really needed it."
Some day, the Mets may be happy for that stretch involving the young man and the sea. That could be as early as this spring with Alonso back in Port St. Lucie, not as a struggling slugger but as a promising first baseman working out at his first Major League Spring Training camp.
New York first took him with the 64th overall pick out of the University of Florida two years ago following an impressive junior year with the Gators. After a broken foot limited him to 39 games as a sophomore, the right-handed slugger broke out with a .374/.469/.659 line and a career-high 14 long balls in 58 games. He tied for first in the baseball-rich SEC in home runs and finished second in total bases (139) and fourth in average, topping even 2016 No. 2 overall pick Nick Senzel (.352) in that category.
After a 30-game spell at Class A Short Season Brooklyn in his Draft year, Alonso looked set to come out mashing in his first full season. But even before the injury, he admitted he couldn't get comfortable to begin 2017, not in his first Spring Training nor the first handful of games in the FSL.
"I definitely put pressure on myself being my first full year," he said. "It's a new environment, and then you add in some adversity with the injury and performance. I call it my 'Figure It Out' Year."
It wasn't until after the break and the trip to Key West that the season lived up to that moniker. Upon his return, Alonso got to work with St. Lucie manager Chad Kreuter and hitting coach Luis Natera on developing a routine for getting comfortable in the box as soon as possible. They focused on getting in the cage, dialing his swing back when necessary, working off a tee and meeting the ball at the right angle to make consistent, hard contact.
It didn't take long for the changes to take hold. Alonso hit more home runs (three) in his first six games of the second half than he had in the whole first half. Over 61 games after the All-Star break, he produced a .327/.407/.599 line with 13 homers and 21 doubles in 61 games. He showed enough power in the second half to finish tied for second in the incredibly pitcher-friendly FSL with 16 homers, despite the fact he played only 82 total games in the circuit. Even after the struggles, he finished with a 157 wRC+, second-best among all Class A Advanced hitters with at least 300 plate appearances there in 2017.
"I had to compartmentalize to get my mind off the struggles. I could stand people maybe thinking, 'Dammit, Pete's up.' When things are going that bad, people are going to get frustrated, and it can be tough to get out there. I've never been known to dip below .200, like ever. I wanted to hit the panic button, but I'm proud of myself for getting out.
"Mentally, I'm a tough son of a b----. After I hurt my hand, I was hitting .150-something at one point, and that was incredibly difficult on me, but I finished at .286. It was rough. Not only was it the injury, but I was struggling even after coming back. After the All-Star break, I had to claw my way back one step at a time. Whether I did well or poorly, I had to flush it. Make each game its own thing. Isolate it. I can't think about .300 when I have a game that day, but once I got rolling, there was a kind of desperation to show all that was past me."
By late August, the Mets had seen enough of the sustained improvements to move Alonso out of St. Lucie, which had no hopes for a playoff spot, to Double-A Binghamton, which clinched its spot in the Eastern League postseason the third game Alonso was there. The former Gator carried his results with him, hitting .311/.340/.578 with seven extra-base hits in 11 regular-season games with the Rumble Ponies. He didn't slow down either in his first trip to a Minor League playoff series, going 6-for-14 (.429) with two doubles and four RBIs in Binghamton's four-game series against Trenton.
Having entered the season with a lot of questions, Alonso proved a lot in his final 15 contests of the season, enabling him to enter his second offseason with more confidence than his first.
"I kept thinking, 'OK, I can hit Double-A,'" he said. "Everything I was doing before can work here too."
The biggest tool that has worked so far for the 6-foot-3, 245-pound slugger has been power, as it perhaps needs to be to stand out offensively as a first baseman. Alonso grabbed headlines in 2015 when he hit a 421-foot shot in the College World Series that was the longest home run in the short history of TD Ameritrade Park Omaha. He carried that raw strength with him to the Minors -- his 18 homers finished second-most among Mets prospects despite the missed time -- but before that could show up in games, he had to focus more on his hit tool, thus all the work with Kreuter and Natera.
"I just need to square the ball up," he said. "I've got as much power as anybody. I know who I am. I'm a big, strong guy. I can launch them with the best of them. If you look at some of the best power hitters -- like, look at Albert Pujols. He's been one of the best hitters around, average or power, because of his great swing. When I get my swing consistent like he can, the power will come. That's not a worry with me."
The next challenge is Alonso's defense. The first baseman committed 19 errors at the cold corner between both stops in 2017, and while errors aren't always a perfect indicator of value, most scouting reports have the Florida native's glove down as below-average. The player himself called it a "defensive slump" and added it was a main priority of his work last fall at instructional league.
"I was terrible," he said. "Not a lot of people want to say that about themselves, but I will because I was. I was terrible."
That's where things get a little interesting this spring. Alonso, who earned an invite to big league camp, looked potentially blocked at first base by former Top-100 prospect Dominic Smith, who graduated from prospectdom after 49 games in the Majors last season. But the Mets, worried by Smith's below-replacement-level play at the game's highest level, signed Adrián González as a free agent this offseason. That seemingly put another roadblock in his potential route to the Majors in 2018, but it gave Alonso a four-time Gold Glove winner to learn from.
"His biggest thing, or the biggest thing he's talked to me about, is he hates the word 'smooth,'" Alonso said. "It makes sense to me. He prefers 'under control.' Smooth can be too flashy. There can be too much extra stuff that goes into smooth. But in order to make things really work, you need to be relaxed, under control, and that's what makes you look 'smooth.' Defensively, any play I try to make -- picking up a hop, getting to the spot, making a throw -- I try to think about that now."
Even with his past issues with the glove, Alonso enters 2018 as the Mets No. 4 prospect and the seventh-ranked first-base prospect in all of baseball, according to MLB.com. Some defensive improvements and continued production with the bat beginning in his expected return to Binghamton, and he could give the Mets an even bigger logjam at his position by season's end. For now, he just wants to give his parent club something to think about before departing at the end of March, this time in the opposite direction of Key West.
"I know I'm not going to break with the team, which is fine," Alonso said. "My goal is to end up there. That's all that counts. I just want to put the best version of myself out there that I can. I want all the staff, even some of the other players, to see me and be like, 'Oh yeah, that's Pete. The kid's legit.' I want them to know my name."
Sam Dykstra is a reporter for MiLB.com. Follow and interact with him on Twitter, @SamDykstraMiLB.