Toolshed: Pitching Ohtani on the farms
Padres, Dodgers could offer systems ready to help potential star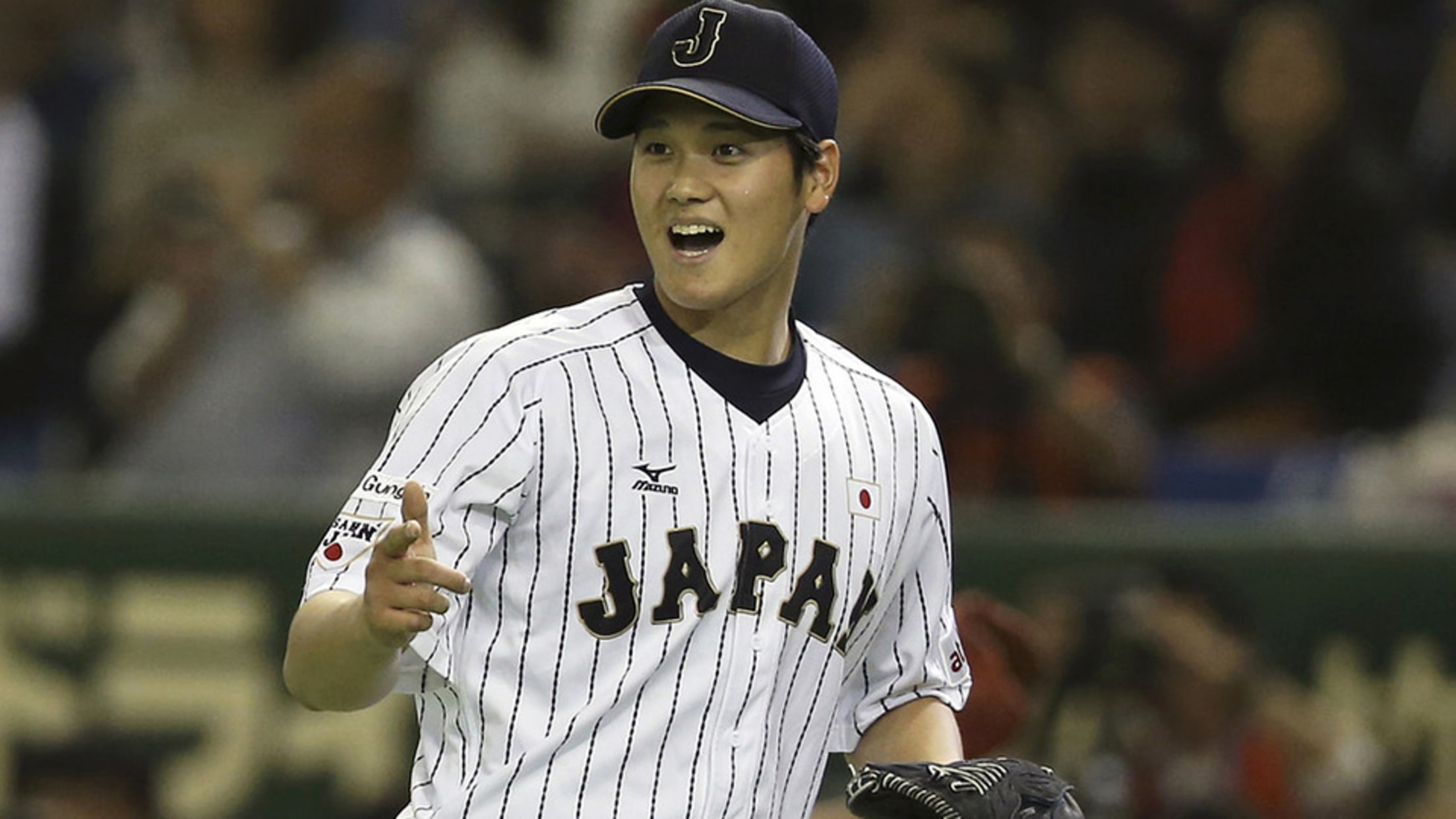 Shohei Ohtani is likely to become his club's top prospect, no matter where he signs this month. (Toru Takahashi/AP)
Shohei Ohtani will be a prospect. Technically. That's not something that can usually be said about the offseason's biggest free agent, but this is no usual situation. The 23-year-old is considered an international amateur signee despite the fact he's played five seasons in Japan's Pacific League. International amateur signees are considered
Shohei Ohtani will be a prospect. Technically.
That's not something that can usually be said about the offseason's biggest free agent, but this is no usual situation. The 23-year-old is considered an international amateur signee despite the fact he's played five seasons in Japan's Pacific League. International amateur signees are considered prospects by MLB.com, and it's no surprise that the right-handed pitcher/outfielder vaulted to the top spot in the international rankings with a 70 overall grade as a pitcher on the 20-80 scouting scale and a 60 as a hitter.
All of that means his signing will come under the international prospect signing pool limits put forth by the latest collective bargaining agreement, thus severely limiting what he could make as compared to the open market. Major League Baseball, the Major League Baseball Players Association and Japan's Nippon Professional Baseball came to an agreement on a new posting system as well.
All of those hurdles have been cleared, and on Friday, Ohtani was officially posted, giving teams three weeks to sign him using whatever they have left in the international coffers. As part of the recruitment drive, the right-hander asked teams to fill out questionnaires and provide presentations. Over the weekend, he started dwindling his list to seven reported clubs, all of which will have meetings with the Japanese talent before his signing deadline on Dec. 22. Those seven clubs include the Cubs, Angels, Dodgers, Giants, Padres, Mariners and Rangers. Ohtani is said to prefer a smaller market and a team closer to the West Coast to make travel easier back to Japan.
These organizations are vying to sign Ohtani for what could be the next six years as he'll enter Major League Baseball under the standard rookie contract. Part of their presentations are likely to include the long-term futures of their big league offerings, and what better way to show long-term planning than talk about a farm system. Below is a breakdown of what each of the seven clubs could pitch to Ohtani about their prospects, systems as a whole and ability to develop young talent.

Chicago Cubs
Money available to Ohtani:
$300,000
Pros:
The Cubs are on the short list of organizations that have best developed young talent. The Major League club's young core of
Kris Bryant
, Javier Baez, Anthony Rizzo,
Addison Russell
,
Willson Contreras
,
Ian Happ
,
Kyle Hendricks
,
Albert Almora Jr.
and
Kyle Schwarber
were all graduated Cubs prospects. A lot of that came from prominent trades or high Draft picks as a result of the club's rebuild, but the North Siders deserve credit for not letting those promising players become failed prospects. Translating that to the current system,
Adbert Alzolay
looked like the next prospect ready to pop, jumping from outside the club's top 30 prospects to No. 3 after climbing to Double-A this season. Similarly,
Victor Caratini
got Major League time after his breakout season at Triple-A Iowa -- .342/.393/.558 in 83 games. Shortstop
Aramis Ademan
is much further down but definitely becoming a name to follow after moving stateside as an 18-year-old. The Cubs' immediate and long-term futures look mighty healthy and even more so if they keep churning out talent.
Cons:
This is not the Cubs' farm system of old. As good as those mentioned have become, there is no Top-100 prospect here. Happ might be the last graduated Cub to earn that distinction for a while and mostly trades have left the cupboard barren.
Eloy Jiménez
(No. 4 overall) and
Dylan Cease
(No. 57) were moved to the White Sox for Jose Quintana in July, and lest anyone forget, top overall prospect
Gleyber Torres
was still a Cubs prospect nary 17 months ago. Nobody left comes quite close to that trio of talent.
Overview:
Chicago is definitely in win-now mode, and that's probably gotten them this far with Ohtani. They just won't tell him to look behind the curtain or in the backfields this spring.
Los Angeles Angels
Money available to Ohtani:
$1.315 million
Pros:
The Angels system's fortunes have changed. Once the laughingstock of the Minors, the Halos have particular depth in the outfield, starting with 2017 10th overall pick
Jo Adell
and No. 2 prospect
Jahmai Jones
. Both have shown five-tool potential and can make legitimate cases to be the club's first Top-100 prospects since
Andrew Heaney
. But they're not the only ones. Twelfth-ranked
Michael Hermosillo
worked his way onto the 40-man roster after two impressive seasons, and No. 5
Jacob Pearson
and No. 6
Brandon Marsh
are impressive runners. The Angels already possess the game's most prominent homegrown player in
Mike Trout
, and if they're serious about letting Ohtani get his at-bats, telling him even more outfield bats are on the way could be a boon to their chances.
(Update: The Angels system got even stronger with
the addition of Kevin Maitan on Tuesday
. At 17, Maitan is too young, raw and far away from the Majors to perhaps interest Ohtani, but it's a good sign that the Halos are continuing to work on bulk up their farm with a focus on the long term.)
Cons:
This is by no means a sparkling system. Adell and Jones have their supporters, but neither finished the 2017 season among the Top-100 prospects. There is also a lack of big arms in the system, outside perhaps
Griffin Canning
and
Jaime Barria
. That's fine if the Angels want to show Ohtani he'll have little competition as the club's ace for the short and long term. It's not fine if they were hoping to show him he won't be alone.
Overview:
When you have Trout and he's signed for three more years, it's best not to stop talking about Trout until explicitly told to do so. Then quickly mention the other young outfielders and the nice weather.
Los Angeles Dodgers
Money available to Ohtani:
$300,000
Pros:
The defending National League champions are in a similar spot to the Cubs a year ago. Well, except for the whole World Series title thing. The Major League roster is pretty set, and yet there are six prospects ranked among the Top 100 still in the system.
Walker Buehler
and
Alex Verdugo
already have big league time
Yadier Álvarez
,
Yusniel Díaz
and
Keibert Ruiz
should all be close behind in Double-A next season.
Jeren Kendall
is about to get his career started with a speed tool that might be the sharpest in the system. With
Mitchell White
,
Will Smith
,
DJ Peters
and many others on board, Ohtani would have to go pretty far down the list before finding a prospect that deserves excitement.
Cons:
There might be good depth here, but finding a guaranteed star is far from a sure thing. Buehler, who underwent Tommy John surgery, might be the closest one, but even he has thrown only 93 2/3 Minor League innings and has yet to go deeper than 5 1/3 frames in a start. Verdugo lacks game power. Alvarez has control issues. Kendall strikes out way too much. Diaz's capabilities haven't fully shown up stateside. There's a real chance that, despite the abundance, none of Los Angeles' prospects hit their considerable ceilings. That's true of any prospect, but since
Cody Bellinger
graduated (which of course is more of a pro than a con), there hasn't been a surefire prospect in the Dodgers bunch.
Overview:
The Los Angeles pitch should, of course, be around the big league club, but they should save some words for the pipeline and the potential they have to add more talent, either through their own system or trades -- as they did when acquiring Ohtani's countryman Yu Darvish at the deadline for
Willie Calhoun
and two others.
San Diego Padres
Money available to Ohtani:
$300,000
Pros:
If there's a team on this list that should try to sell Ohtani exclusively on its farm system and bright future, it's the Padres. San Diego has seven Top-100 prospects, the most of anyone on this list, and it's an impressive seven.
Fernando Tatis Jr.
became one of the Minors' top young talents with a 22-homer, 32-steal campaign as an 18-year-old.
Luis Urías
has one of the Minors' best hit tools and strike-zone disciplines, and he only turned 20 in June. There's a universe in which
Michel Baez
is vying with Ohtani for the best fastball in San Diego.
MacKenzie Gore
was arguably the top high-school arm in the June Draft.
Cal Quantrill
has one of the best changeups below the Majors and showed no issues in his recovery from Tommy John surgery.
Adrian Morejon
continued to flash potential as an 18-year-old moving stateside. There's strength outside the Top 100 too, of course, but that's as good a starter set as Ohtani will find almost anywhere else.
Cons:
First, the rebuild is still a few years away from completion. Of that group above, only Urias has played more than half a season at Double-A or above. The exciting arms -- Gore, Morejon, Baez -- are too far out to be counted upon anytime soon. Recently contract-extended GM A.J. Preller might hammer home that the talent is there, but Ohtani might not be willing to wait to see the system bear fruit.
Overview:
The Padres haven't had a winning season since 2010. However, they do play in a pitchers' park on the West Coast in a smaller market than some of the others listed. They've got a fighting chance. Telling Ohtani that they've got the pieces in place to pull an Astros-like turnaround with him as their crown jewel is their best bet.
San Francisco Giants
Money available to Ohtani:
$300,000
Pros:
The Giants already look like they've done well with 2017 19th-overall pick
Heliot Ramos
, who appeared to be a real five-tool threat upon hitting the pros in the Rookie-level Arizona League. They'll get a chance to add another real impact talent with the No. 2 overall selection in next year's Draft and also will have a big enough signing pool to bring quality depth to the system. Elsewhere,
Chris Shaw
,
Christian Arroyo
and
Tyler Beede
have all been ranked in various Top-100 lists in their careers and will all at least knock on the door of San Francisco in 2018.
Cons:
This is not a particularly deep system. It falls off pretty quickly after the four mentioned, and Arroyo (hand injuries), Shaw (defense) and Beede (effectiveness) all have serious questions that keep them from being mentioned anywhere near the most exciting prospects in the game. Even if the organization were to make its farm a talking point, the
Giancarlo Stanton
sweepstakes loom large over its immediate future. San Francisco, along with St. Louis, is reported to be one of two finalists for the Marlins outfielder, and Stanton's waiver of his no-trade clause is the only thing holding a deal with either from becoming official. If the Giants are able to nab Stanton, any depth to their system would take a critical hit.
Overview:
Right now, the Giants would be best at keeping any mention of their farm to a small bullet point in their Ohtani presentation. If they get Stanton, it's probably best they don't bring it up at all.
Seattle Mariners
Money available to Ohtani:
$1.5575 million
Pros:
Well, uh, top prospect
Kyle Lewis
was the 2015 Golden Spikes winner, and though he's been hampered by knee injuries in the Minors, he still has considerable potential with his bat. Evan White, a first-round pick in 2017, is one of the best defensive first basemen at any level.
Eric Filia
continues to be a fun story after going from the 20th round in 2016 to Arizona Fall League batting champ.
Cons:
Looking for depth here? Yeah, general manager Jerry Dipoto traded that away mostly to benefit the big club, which is fine because benefiting the big club is the goal of the farm system. He also made a deal to send
Thyago Vieira
to the White Sox for more international money that he hoped to use to sign Ohtani. The right-hander/outfielder won't have to see the Minors, so he might not be too worried about anything other than what's around him. That's fine. Dipoto will certainly work to make sure Ohtani would be surrounded with talent. It just might not be homegrown for a while.
Overview:
Seattle is largely considered a favorite for its spot on the West Coast, history with Ichiro Suzuki, Dipoto's expected full-out recruitment drive and modest money available. They should stick to those points and leave any farm system talking points back at Pike Place.
Texas Rangers
Money available to Ohtani:
$3.53 million
Pros:
Making a trade to get Willie Calhoun at the deadline for Yu Darvish was solid for a system that was trending down in 2017. Only
Leody Taveras
was ranked among the Top 100 before that, and he took his lumps as an 18-year-old in the South Atlantic League. No one in the system has Taveras' talent, though -- plus speed and a good hit tool when he figures things out. Even that said, 2017 first-rounder
Bubba Thompson
has the speed and defensive capabilities to match Taveras and could find himself in the Top 100 if he shows better capabilites at the plate. Young high-ceiling outfielders are obviously the strength here -- not to mention graduate
Nomar Mazara
in the Majors -- and that could be enticing for a team that already plays in a hitters' park.
Cons:
Again, not the deepest system, especially when it comes to pitching. Yohan Mendez shot up the ladder in 2016 but got stuck at Double-A Frisco with just OK numbers this past summer.
Ariel Jurado
will only be 22 in April, but managed a 4.59 ERA and only 95 strikeouts in 157 innings at the same level.
Hans Crouse
, a 2017 second-round pick, might have the highest ceiling with his impressive fastball and curveball, but his high-effort delivery could move him away from joining Ohtani in a potential Texas rotation someday. Only two Top-100 prospects and a handful of questionable arms doesn't make for a sellable farm.
Overview:
Note that the first letter of each sentence in the Pro category spells out MONEY. The Rangers easily have the most international money of the remaining organizations, and even if Ohtani has shown money won't be a big issue by coming to the U.S. this early, hey, it could always be a good tiebreaker. The Rangers' past with Darvish, who didn't play in the Minors after signing, and their previous history scouting Ohtani will be their legs up. The farm, thankfully in this case, shouldn't have to do any heavy lifting.
Sam Dykstra is a reporter for MiLB.com. Follow and interact with him on Twitter, @SamDykstraMiLB.