Toolshed: Jays' Pearson just getting going
No. 87 overall prospect works his way back from freak arm injury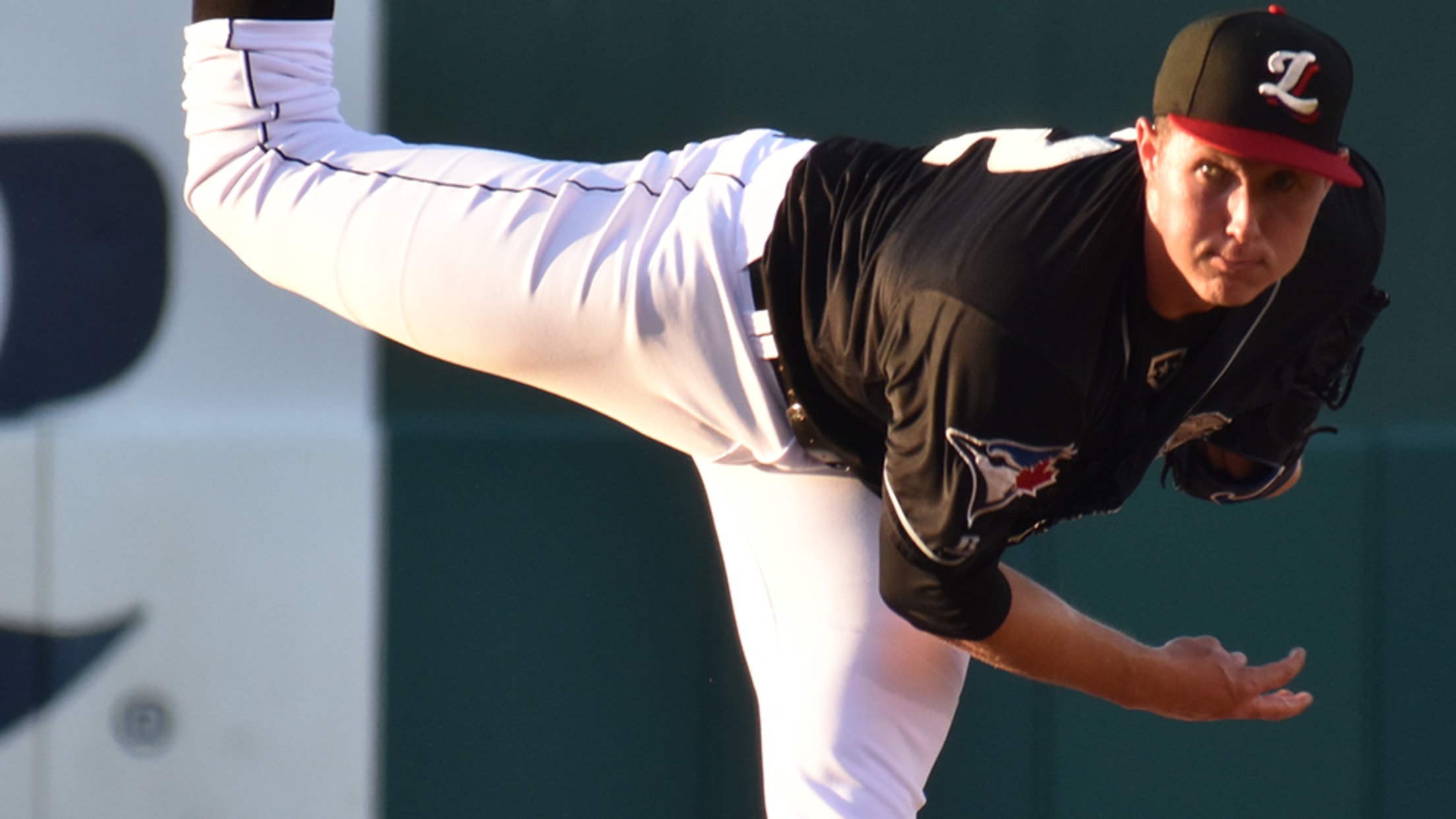 In his first start since May, Nate Pearson tossed two innings for Lansing in an exhibition against Michigan State. (Renae Weaver/Lansing Lugnuts)
On Sept. 3, the Minor League season all but came to a close. For Nate Pearson, his was really just getting started.The Blue Jays' No. 4 prospect got the ball for Lansing -- his de facto Class A debut -- the next day in an exhibition at Cooley Law Stadium
On Sept. 3, the Minor League season all but came to a close. For Nate Pearson, his was really just getting started.
The Blue Jays' No. 4 prospect got the ball for Lansing -- his de facto Class A debut -- the next day in an exhibition at Cooley Law Stadium against the Spartans of Michigan State. It was his first game on a Minor League mound since May 7, when he made his one and only official start of 2018 after his season was delayed by a back injury. In that outing with Class A Advanced Dunedin, he was struck in the forearm by a liner off the bat of Bradenton's Tyler Gaffney after only 1 2/3 innings. Pearson was diagnosed with a non-displaced fractured ulna in his pitching arm. Seventeen weeks and one day later, he was on the hill for the Lugnuts.
"When they first told me they were sending me to Lansing for a couple innings, I knew it was going to be my first time there," he said. "I skipped Lansing, so it felt like I was backtracking a little. At first, I didn't want to go that way. I only wanted to go forward. But this was the only option to get some innings.They said it was my only chance to pitch a game ... and once I figured it wasn't going to mess up anyone here in Lansing, I thought it was a great idea."
After plunking Michigan State leadoff man Danny Gleaves -- a right-handed hitter -- with a slider off the hip to open the game, the 6-foot-6 right-hander retired the next two Spartans on fielder's choices and ended his outing with four straight strikeouts. Pearson was back to throwing his plus-plus velocity, hitting 102 mph on the radar gun, according to Lansing broadcaster Jesse Goldberg-Strassler. Hit-by-pitch aside, his slider felt good. His curveball felt good. His changeup was off, he admitted, but that's always been a work in progress. It also felt good to post zeros on a scoreboard again.
"The last thing I wanted or needed was to give up a bunch of hits to college guys," said Pearson, a first-round pick in 2017 out of the College of Central Florida.
Of course, Pearson didn't just show up four months after an excruciating injury and look every part the No. 87 overall prospect by chance. The process was a long one, spent almost entirely at Toronto's Minor League complex in Dunedin, Florida -- just down the road from where Pearson was supposed to be playing all along.
As news of the injury emerged, the Jays announced that Pearson would be reevaluated after four to six weeks. Turns out, that was just the beginning.
"It was four to six weeks just in a cast," said Pearson, who posted a 0.90 ERA with 26 strikeouts in 20 Minor League innings in 2017. "That's what they initially thought. Even after what ended up to be five weeks, I'd still need to get my range of motion back. If it was my left arm, maybe I would've only been out the five weeks. But my right arm was pretty weak. The muscle had atrophied while it was in the cast, so it took a few weeks to get back. I had to add a throwing program for what ended up being another two months. It was a long process."
It was a process Pearson somewhat understood going in.
The 22-year-old hurler had undergone surgery to put screws into his elbow during his days at Bishop McLaughlin Catholic High School in Spring Hill, Florida. That hadn't done enough to scare the Jays from taking him with the 28th overall pick out of junior college. In a way, that first significant injury prepped Pearson for this summer -- the long days waiting for good health -- and it prepped those around him, too.
"I could attack it way differently than guys who hadn't been through this at all," he said. "Yeah, I had the surgery in my elbow, but that hasn't been an issue for a long time. I knew mentally what I had to go through to get back. My family was big in that, too. They basically live in Dunedin, in Oldsmar close by, so I got to live at home and have a whole support group. That made it a little easier to stay focused. But at the end of the day, it was just a bone that broke. All I needed was for that to heal and put it behind me."
The Jays did their best to put Pearson at ease as well, connecting him with current A's pitcher Mike Fiers, who suffered a broken forearm in June 2013 with Triple-A Nashville in the Brewers system. Fiers has played five Major League seasons since his injury, played a role in the Astros winning last year's World Series and was traded last month from Detroit to aid in Oakland's playoff push. If anyone could help Pearson stay upbeat and offer some advice, it was Fiers, and the 33-year-old shot straight with his younger counterpart.
"His main thing was just making sure you're getting something out of it," Pearson said. "The thing for him was family. He needed to focus on them, and that allowed him to do it. So for me, because I couldn't do anything physically as a pitcher, I was just looking for things to learn from. At least I can grow mentally and get smarter. That could be my thing."
Again, Toronto played a part toward that goal. The Jays grouped their rehabbing pitchers together to watch games in person, breaking down what worked for that day's group of hurlers and what didn't. If they couldn't play the game, they could at least study it. Part of this was done in Dunedin, watching the Florida State League affiliate. But the location of the Jays' complex in the Sunshine State also allowed the organization to take them a half-hour down the road to Tropicana Field, home of the AL East rival Rays.
Pearson, in particular, was drawn to watching newly acquired Rays right-hander Tyler Glasnow. At 6-foot-8, Glasnow is a similar size to the Jays prospect, and with his mid-to-high-90s fastball, he also had a similar affinity to throwing hard. After Glasnow had struggled with control during his Major League time with the Pirates, Pearson was getting a first-hand look at what the Tampa Bay hurler was doing to find the strike zone more consistently. It helped Pearson envision himself in the Majors, because here was a blueprint right in front of him. He just needed his broken bone to heal to get back on track.
On his 22nd birthday on Aug. 20, he took a big step toward that goal. Pearson pitched in his first bullpen session ("a pretty good birthday present," he called it), and although the Jays didn't have a radar gun on him that day, he felt like his velocity had already returned. It didn't take long to get that confirmed.
"My second bullpen, I hit 97," he said. "I don't think I'd ever thrown that hard just in a 'pen before. At that point, I knew my velocity was back, so I could focus on everything else. In both of my live [batting practices], I hit 99-100. Now, it's all about making sure I'm spinning my stuff OK. I can get back to really pitching."
After the two bullpens and two live BPs, Pearson traveled north to Lansing for Tuesday's exhibition. He's already back in Florida, preparing to pass more tests against live hitting in the instructional league. There are tentative plans to get him some action in winter ball somewhere, although the exact location depends on how his health and stuff hold up in Dunedin. It's possible he could head south to a league in Mexico, the Dominican Republic or Puerto Rico, or he could even be a late addition to the Jays' Arizona Fall League contingent, headlined by Vladimir Guerrero Jr., Bo Bichette and Cavan Biggio. Pearson doesn't want to get too ahead of himself, but he does have a preferred destination in mind.
"If the chance comes up, I'd definitely like to get to the AFL," he said. "Everyone jumps at the chance if they get it because you never know if it'll come, especially us pitchers who only get to go when we need innings. I'd take it as an opportunity to measure myself against obviously some great competition with all the great prospects who are already going down there and see what I can learn. But they have to see how I do at instructs first before they can decide where I'm going."
That might be jumping a few steps, though, and if Pearson has learned anything from the May injury or even Tuesday's outing, it's not to take his time on a Minor League mound for granted. He may have hit 102 already in September, but as far as he's concerned, he's just getting going.
"When you get to thinking about it, the actual season was my extended offseason," Pearson said. "Instructs, the AFL or another league, wherever they put me, that's going to be my season."
Sam Dykstra is a reporter for MiLB.com. Follow and interact with him on Twitter, @SamDykstraMiLB.