Rodgers sparks Yard Goats' rally with five hits
Top Rockies prospect drives in three, extends streak to six games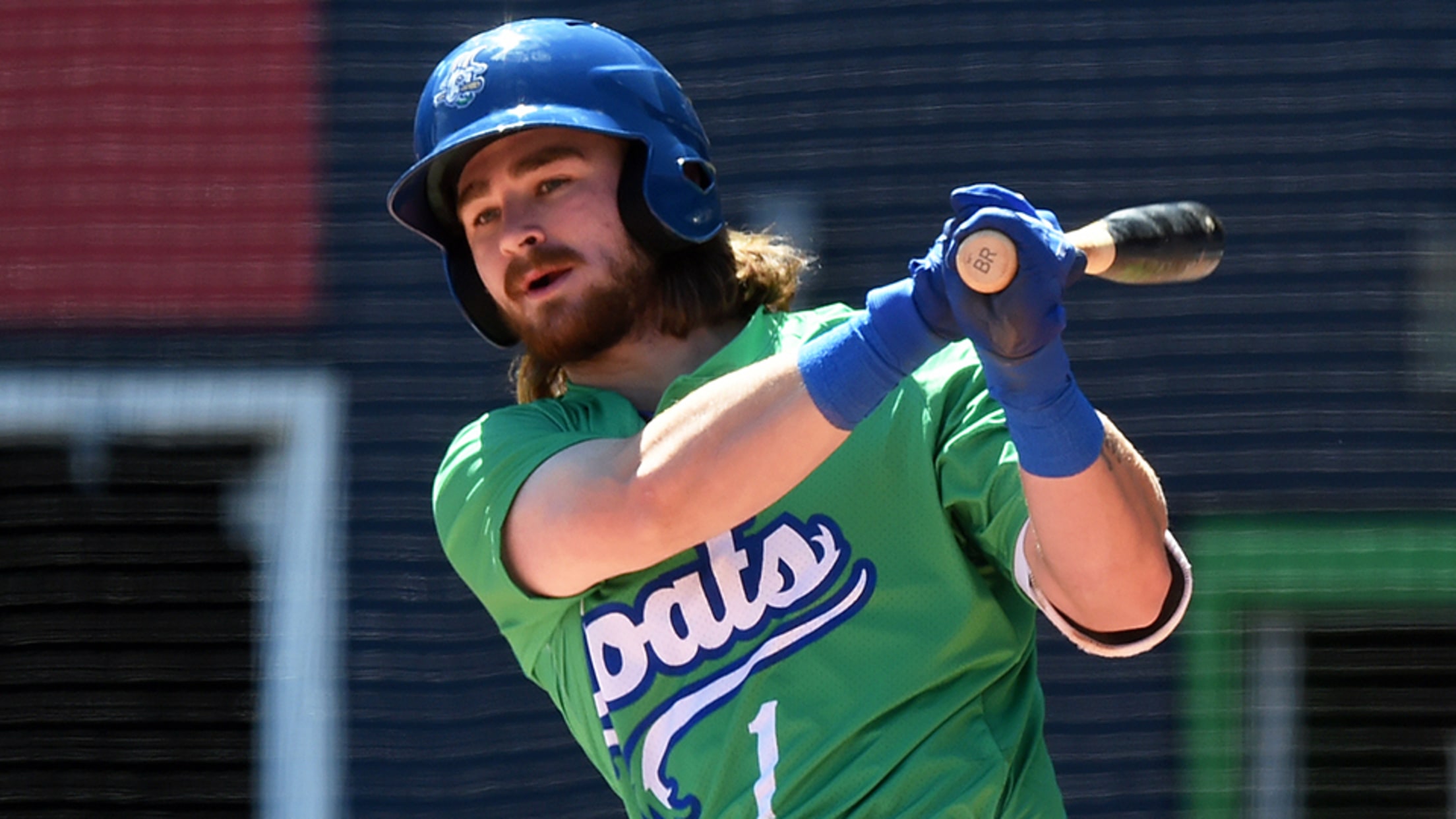 Brendan Rodgers also had five-hit games in the Cal League in 2017 and in the Pioneer League in 2015. (Kevin Pataky/MiLB.com)
The weather is getting warmer in the Eastern League and Brendan Rodgers' bat is following suit.MLB.com's No. 14 overall prospect belted a home run as part of a five-hit, three-RBI day, extending his hitting streak to six games and helping Double-A Hartford rally for an 11-9 triumph over Harrisburg in
The weather is getting warmer in the Eastern League and Brendan Rodgers' bat is following suit.
MLB.com's No. 14 overall prospect belted a home run as part of a five-hit, three-RBI day, extending his hitting streak to six games and helping Double-A Hartford rally for an 11-9 triumph over Harrisburg in Sunday's sun-splashed series finale at Dunkin' Donuts Park.
The top Rockies prospect was batting .143/.167/.343 through his first nine games this season before starting to find his stroke last week. Sunday was his most impressive effort of 2018.
"You go through your struggles," Rodgers told the Hartford Courant. "I started off the year a little slow, but I knew it was going to come around. Just got to be confident and keep going."
Rodgers reached on an infield single back to the mound in the bottom of the first inning and lined a single to center field in a three-run second. Two innings later, he highlighted another three-spot by belting a two-run homer to left, the first of back-to-back shots with Rockies No. 18 prospect Brian Mundell, who went out to left.
Gameday box score
With the Yard Goats trailing in the sixth, 9-6, Rodgers singled to center with one out and took third on Mundell's base hit to right. After Dom Nuñez walked to load the bases, Rodgers came home on Wes Rogers' fielder's choice.
The 21-year-old third baseman was in the mix again in the eighth as the Yard Goats completed their comeback. Following Yonathan Daza's leadoff infield single, Rodgers smoked an RBI double to right. Mundell and Nunez struck out, but Bobby Wernes came through with a triple to right to score Rodgers with the tying run. Omar Carrizales put Hartford in front with a single and Ryan Metzler added a run-scoring double.
"Hitting is contagious," Rodgers told the newspaper. "We're all grinding out good at-bats, putting the ball in play. It's good that the weather is warming up a little bit."
Sunday was the third multi-hit game during Rodgers' streak and boosted his slash line to .300/.323/.533. He had 13 hits heading into the matinee, while the three RBIs were a season best.
"Brendan believes in himself a lot," Yard Goats manager Warren Schaeffer told the Courant. "He just walks around like he believes in himself. Most of the guys who get paid that money in the first couple of rounds, they do believe in themselves, and you just can't take a bad week or two or a half of a season and get down on yourself. And he doesn't."
The top four hitters in Hartford's lineup -- seventh-ranked Rockies prospect Garrett Hampson, Daza, Rodgers and Mundell -- combined to go 12-for-21 with two homers, two doubles, seven runs scored and six RBIs.
Tyler Maun is a contributor to MiLB.com. Follow him on Twitter @TylerMaun.