Adell continues tear, sparks 66ers' win
Top Angels prospect homers, delivers tiebreaking single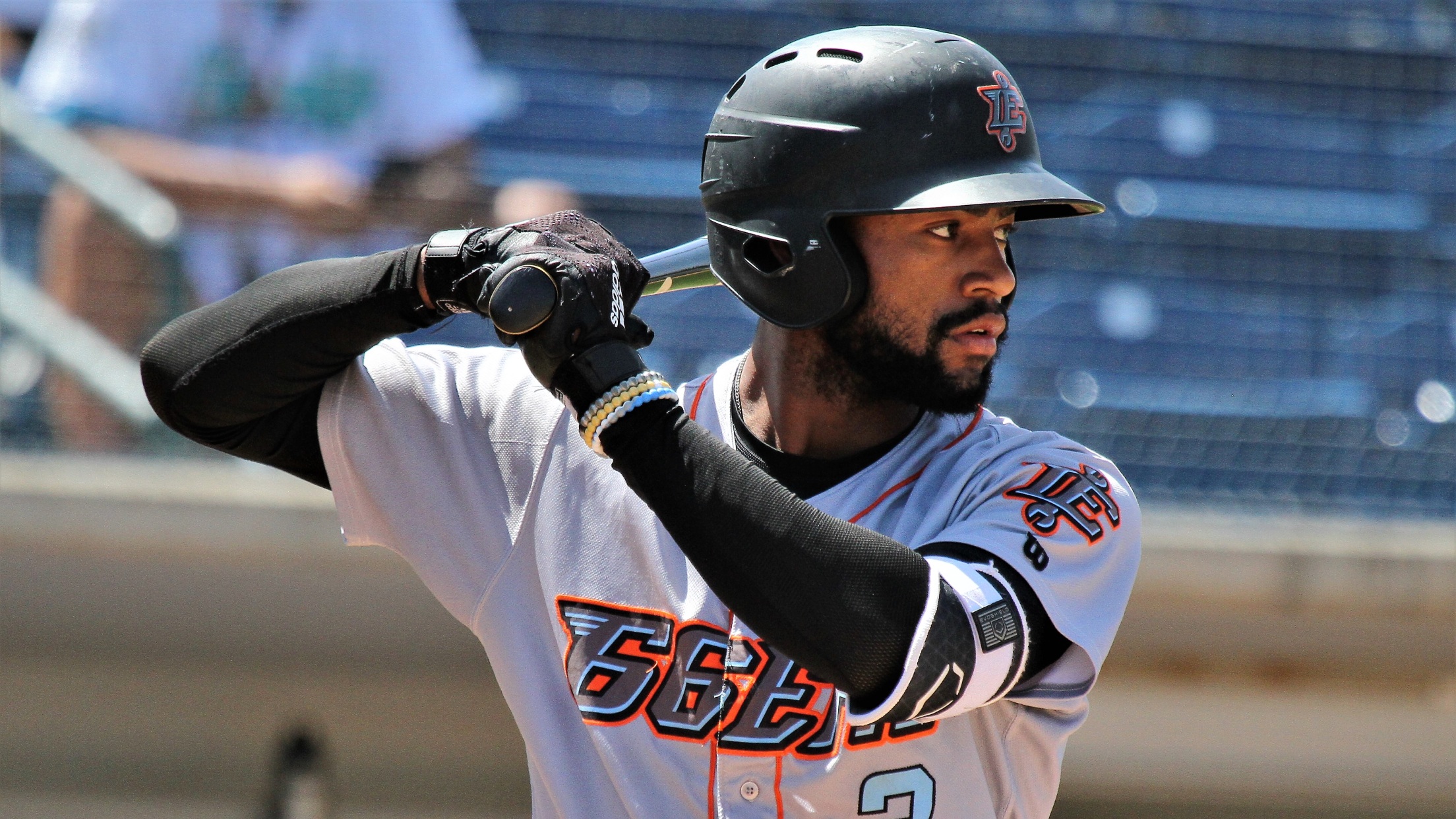 Jo Adell is hitting .500 (21-for-42) with five homers, nine RBIs and 13 runs scored in his last 10 games. (Jerry Espinoza/MiLB.com)
Jo Adell probably wishes the California League wasn't about to break for the All-Star Game.The top Angels prospect went 3-for-4 with a solo homer and a go-ahead RBI single, leading Class A Advanced Inland Empire to a 3-1 victory over Rancho Cucamonga on Sunday at San Manuel Stadium. 
Jo Adell probably wishes the California League wasn't about to break for the All-Star Game.
The top Angels prospect went 3-for-4 with a solo homer and a go-ahead RBI single, leading Class A Advanced Inland Empire to a 3-1 victory over Rancho Cucamonga on Sunday at San Manuel Stadium.
"I got pitches in my zone tonight that I knew I could drive," he said. "I got deep into the count, some were in later counts. I felt like I didn't try to do too much, put the bat on the ball and good things happened. And we came out on top."
It was Adell's fifth game with at least three hits since June 8, a stretch in which he's gone 21-for-42 (.500) to raise his average 123 points to .311.
"Playing the teams we've played, I'm pretty familiar now with a lot of the guys we're facing," he said. "I now know what they're trying to do. Every time you get in the box you have to have a plan. Knowing how the guys are going to attack me, I can develop a plan in the box and know what I'm looking for and what they're going to give me. That's been the goal ever since I started swinging it pretty good."
Gameday box score
The 19-year-old started Sunday with a bang, smashing a leadoff homer -- his 14th of the season and eighth with the 66ers -- in the bottom of the first. He singled in the sixth, shooting a line drive to center field, then singled on a ground ball to left in the eighth to score DJ Jenkins and put Inland Empire ahead for good, 2-1.
Roberto Baldoquin provided insurance with a sacrifice fly later in the inning.
Adell -- MLB.com's No. 53 overall prospect -- began the season in the Midwest League, where he hit .326/.398/.599 with six homers and 29 RBIs in 25 games.
"I just wanted to recognize what I'm looking for and look for it," said Adell, who was drafted 10th overall last year. "When I was in Low-A with Burlington, a lot of the time I would see a pitch to drive more than once in an at-bat, but here, for the most part, you might get one pitch an at-bat that you can do some damage with. I really have been making a point to not miss those pitches that I can put a charge in."
The California League All-Star break begins Monday, and with the way Adell has been swinging the bat, the timing might be unfortunate. But he's focused only on what he can control.
"It is what it is," he said. "I'm really happy for our guys who are able to be a part of it and go out there and represent our team and organization, and they deserve it. I jumped in kind of late in the running for things, and that's how it is. I'm very OK with what's going down and I'll be rooting those guys on, for sure."
David MacKinnon (1-0) earned the win in relief, allowing one hit and striking out one over 1 1/3 scoreless innings after starter Erik Manoah Jr. was struck by a line drive and left the game in the second. There was no update on his condition.
A day after falling a triple shy of the cycle, Dodgers No. 6 prospectJeren Kendall provided the Quakes' offense with his seventh homer of the season. Rancho Cucamonga starter Tony Gonsolin recorded a career-high nine strikeouts over seven innings, giving up a run on four hits without walking a batter.
Marisa Ingemi is a contributor to MiLB.com. Follow her on Twitter @Marisa_Ingemi.