Mudcats' Hiura promoted after career night
Top Brewers prospect collects five hits in first multi-homer outing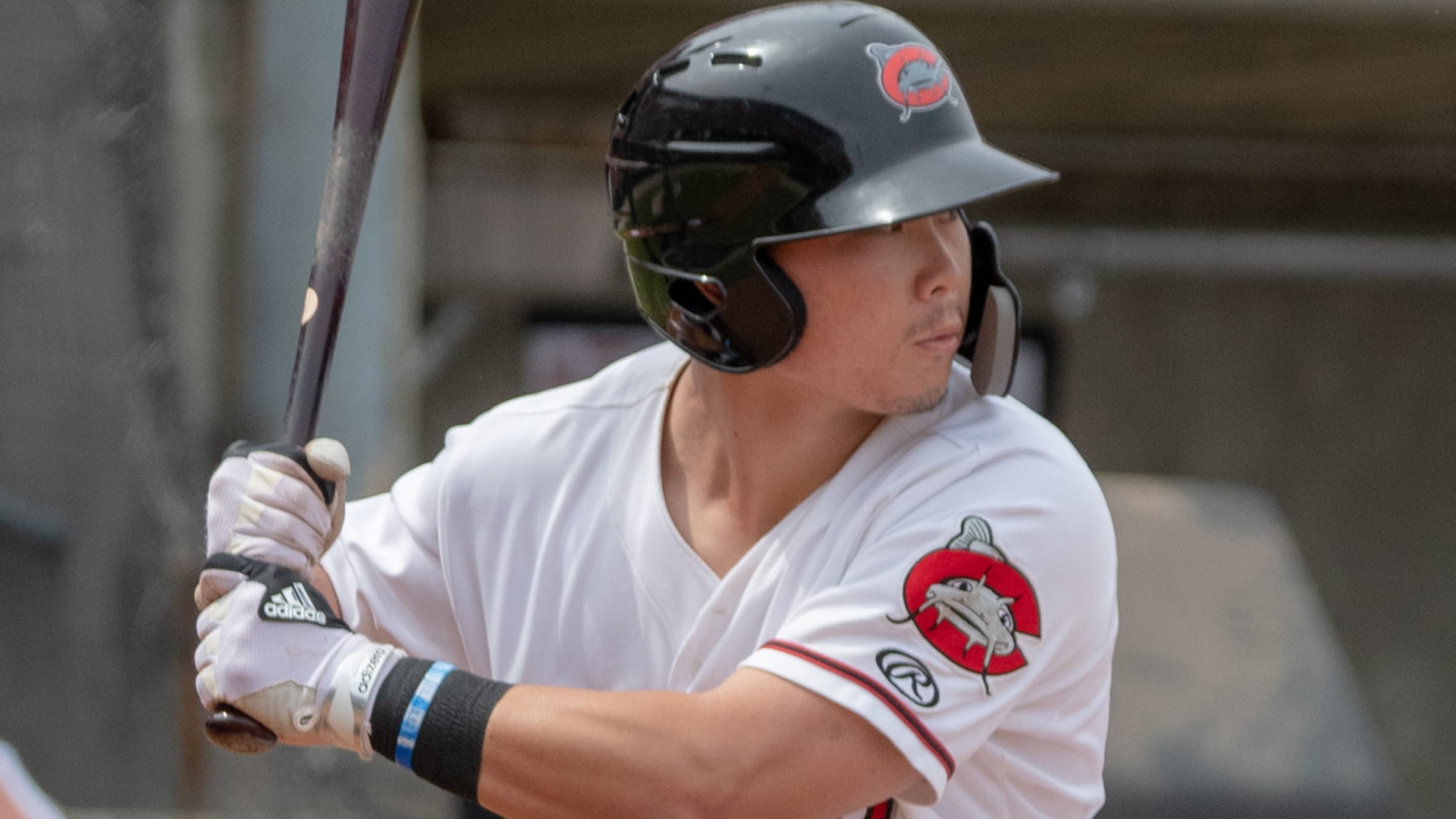 Keston Hiura posted a .433 average while recording hits in 13 of 14 games to close out May. (Joe Dwyer/MiLB.com)
Keston Hiura impressed some spectators in Lynchburg so much, they unwittingly predicted the future."It was funny because tonight, the game he was having, a couple of fans were yelling, 'Send this guy up!'" Carolina manager Joe Ayrault said Thursday night. "I was kind of laughing to myself like, 'Yeah, well
Keston Hiura impressed some spectators in Lynchburg so much, they unwittingly predicted the future.
"It was funny because tonight, the game he was having, a couple of fans were yelling, 'Send this guy up!'" Carolina manager Joe Ayrault said Thursday night. "I was kind of laughing to myself like, 'Yeah, well he is going up after tonight's game,' so it was a great finish to his Carolina stint this season."
Baseball's No. 49 overall prospect belted two homers while closing May with the first five-hit game of his career as the Mudcats ripped the Hillcats, 9-0, to close out May. Then Hiura found out he will be moving up to the Southern League on Friday.
"He actually ended up 5-for-5, we got the first one changed [to a hit]," Ayrault said of his organization's top overall prospect, who reached on what was initially a fielding error charged to Lynchburg second baseman Dillon Persinger in the first inning. "What a way to finish, 5-for-5 with two home runs."
Gameday box score
After the top Brewers prospect collected a hit for the 13th time in his last 14 games -- Hiura singled to right field to lead off the third and singled to center to open the fifth. Hiura kicked off the seventh with a home run to left and capped the night with a solo shot to right-center in the ninth for his first multi-homer game as a professional.
"Everybody knew when he came in that we drafted a great bat," Ayrault said. "Our scouts did a heck of a job getting him. From Day 1, he's hit. The guy is locked in. He's a baseball player. I've been very impressed with watching him hit and the other parts of his game. I'm really impressed with his baserunning as well. He's very instinctive on the bases. The ball sticks in his glove as a defender. He's been a fun guy to watch and fun to manage."
The five-hit showing was the UC Irvine product's ninth multi-hit affair in a blistering 14-game stretch in which last year's ninth overall pick batted .450 (27-for-60) with three homers and 10 RBIs.
"He started off the year DH-ing a lot, and then it's funny, as soon as he started playing the field a lot more, his bat really started to heat up," Ayrault explained. "He's one of those guys who's just flat-out a pure professional hitter. At this stage of the game, it's tough for me to compare the guys that I've been around, watching them hit. This guy's just a professional hitter. He uses the whole field. He's got power to all fields and good plate discipline."
Through 21 April games, Hiura hit .238/.301/.333 in his first experience at the Class A Advanced level. Entering Thursday, he had compiled a slash line of .350/.415/.598 in May.
"He was still hitting, he was just hitting balls at people when he was DH-ing," the manager noted. "He started finding the holes when he started playing the field.
"This kid, it's funny, the guys talk about how he's very engaged in the game, like doesn't miss a pitch. He's got great game awareness, and he's always locked in watching games, watches every pitch. When our guys are hitting, if he makes an out or he's on the bench or he gets a hit and comes in and scores, he's watching every pitch. He's engaged in the game, great teammate, great guy in the clubhouse, guys love him. He's a solid all-around player."
When Ayrault broke the news postgame, Hiura got to share the moment with his teammates.
"He was fired up," the skipper said. "He was excited. We announced it and all the guys went crazy."
On the mound, Marcos Diplan struck out 10 batters over 5 2/3 innings for the Mudcats
The 10th-ranked Brewers prospect was slippery early on. Coming off five scoreless innings his last time out, the right-hander stranded a pair of runners in the second and the third. After Jorma Rodriguez doubled to right leading off the fourth, Diplan (2-2) retired the side in order and the 21-year-old left the bases loaded in the fifth, his final full inning.
The Dominican Republic native fanned two in each of his final four full frames and struck out the first two batters he saw in the sixth before exiting the game. Diplan threw 95 pitches, 60 for strikes.
Mudcats relievers Chase Williams, Phil Bickford and Luke Barker combined to finish off the shutout with 3 1/3 hitless innings. Williams fanned three with one walk in 1 1/3 innings while Bickford and Barker added three strikeouts apiece in two perfect innings. Carolina pitchers induced strikeouts on 13 of the last 14 outs they recorded.
Tyler Maun is a contributor to MiLB.com. Follow him on Twitter @TylerMaun.