Luzardo delivers career night for 'Hounds
Top A's prospect ties high with 10 K's over pro-best six frames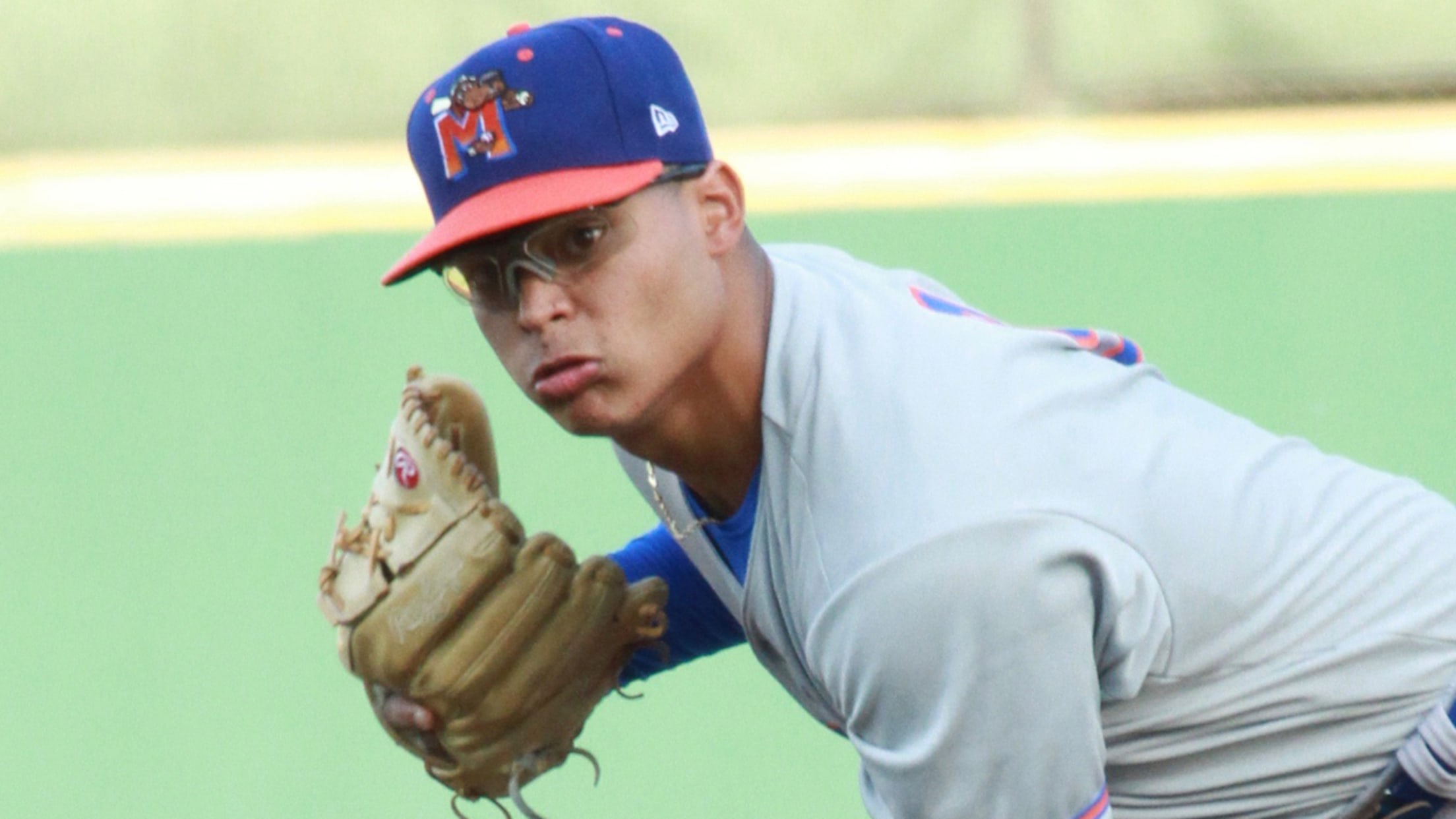 Jesus Luzardo has amassed 137 strikeouts over 115 innings in his first full season. (Dave Michael/MiLB.com)
At the beginning of the season, an Opening Day assignment to the Class A Advanced level seemed aggressive for 20-year-old Jesus Luzardo. Midway through the year, he's making Double-A look too easy.Oakland's top prospect matched a career high with 10 strikeouts over six innings -- the longest start of his career
At the beginning of the season, an Opening Day assignment to the Class A Advanced level seemed aggressive for 20-year-old Jesus Luzardo. Midway through the year, he's making Double-A look too easy.
Oakland's top prospect matched a career high with 10 strikeouts over six innings -- the longest start of his career -- and pushed his streak to 28 frames without an earned run Monday as Double-A Midland beat Springfield, 3-0. He allowed three hits and a walk en route to the win.
"He has definitely stepped up his game," RockHounds pitching coach Steve Connelly said. "When he got here, he had to make some adjustments with his sequences. He had to improve his breaking ball and he's done that. His breaking ball has shown the last month-and-a-half that it's a plus breaker. He can locate it in the zone for a strike, and he can backfoot it for a swing-and-miss. He has a feel for the zone with all of his pitches. He's tilting his fastball and getting swings-and-misses on that as well."
The No. 20 overall prospect retired the first 10 Cardinals he faced, striking out the first five, before Ramón Urías doubled to center field with one out in the fourth inning. After Luzardo balked Urias to third, he got some help from his defense. No. 5 St. Louis prospectAndrew Knizner flied out to center field and Skye Bolt threw to the plate to nab Urias for an inning-ending double play.
Luzardo (6-3) pitched around trouble again in his final two frames. After Lane Thomas walked with one out in the fifth and Chris Chinea singled two batters later, the left-hander fanned Johan Mieses to end the threat. Being held to strict workload limits, Luzardo had been capped at five innings over his last five starts, but with the Futures Game coming up, instead of a normal turn through the rotation, the RockHounds staff had some leeway. Pitching the sixth for the first time, he yielded a double to Urias but whiffed Knizner to wrap his night.
"He has the ability to put the gas down when he needs it," Connelly said. "He pitches at a comfort level that he has, and it's nice to have the ability to reach down and pull 98 [mph] out. He's learned to pitch at that 93-95 range, but whenever he needs to, he can go down there and get it. And then to have two plus off-speed pitches, it must be fun.
"I would never know," he added with a laugh.
Gameday box score
Luzardo threw 48 of 64 pitches for strikes. The native of Parkland, Florida, hasn't allowed an earned run since June 6 while dropping his ERA from 4.68 to 2.54 over his last seven starts.
"He's a hard worker, and when his delivery is clean, he has three pitches that he can repeat in the zone," the pitching coach said. "The breaking ball is the big difference-maker. That pitch has developed more than any other pitch, and to be honest, his ability to locate his fastball. Today was a little bit above-average for him even. He was able to tilt it in and out, up and down, get swings-and-misses at the bottom of the zone and the top of the zone with it.
"I don't remember his numbers through May, but they weren't great. I do know in June, he had 20 innings pitched, 22 punchouts and three walks with a 0.45 [ERA]. He's getting it done, but the thing that's not seen is the teams that he did it against. He did it against San Antonio and Corpus Christi, who are the two best offensive teams in the league, and he made really good hitters look really bad. Having that development side of pitching against good competition, he needs to be challenged, and he rises to that."
While Luzardo has been dominant, Oakland's aim is to stretch that dominance into consistency.
"This is his first full season, so this is his first time going into August and getting over 100 innings," Connelly said. "To find the ability to maintain what he's doing and continue doing it, the goal is to get him ready for the big leagues next year, really, because he will be there next year, without a doubt."
RockHounds leadoff hitter Eli White went 3-for-4 with a triple, a double and two runs scored in the victory.
Tyler Maun is a contributor to MiLB.com. Follow him on Twitter @TylerMaun.