Blue Jays' Bichette aiming for more in 2018
No. 13 overall prospect still improving after hitting .362 last season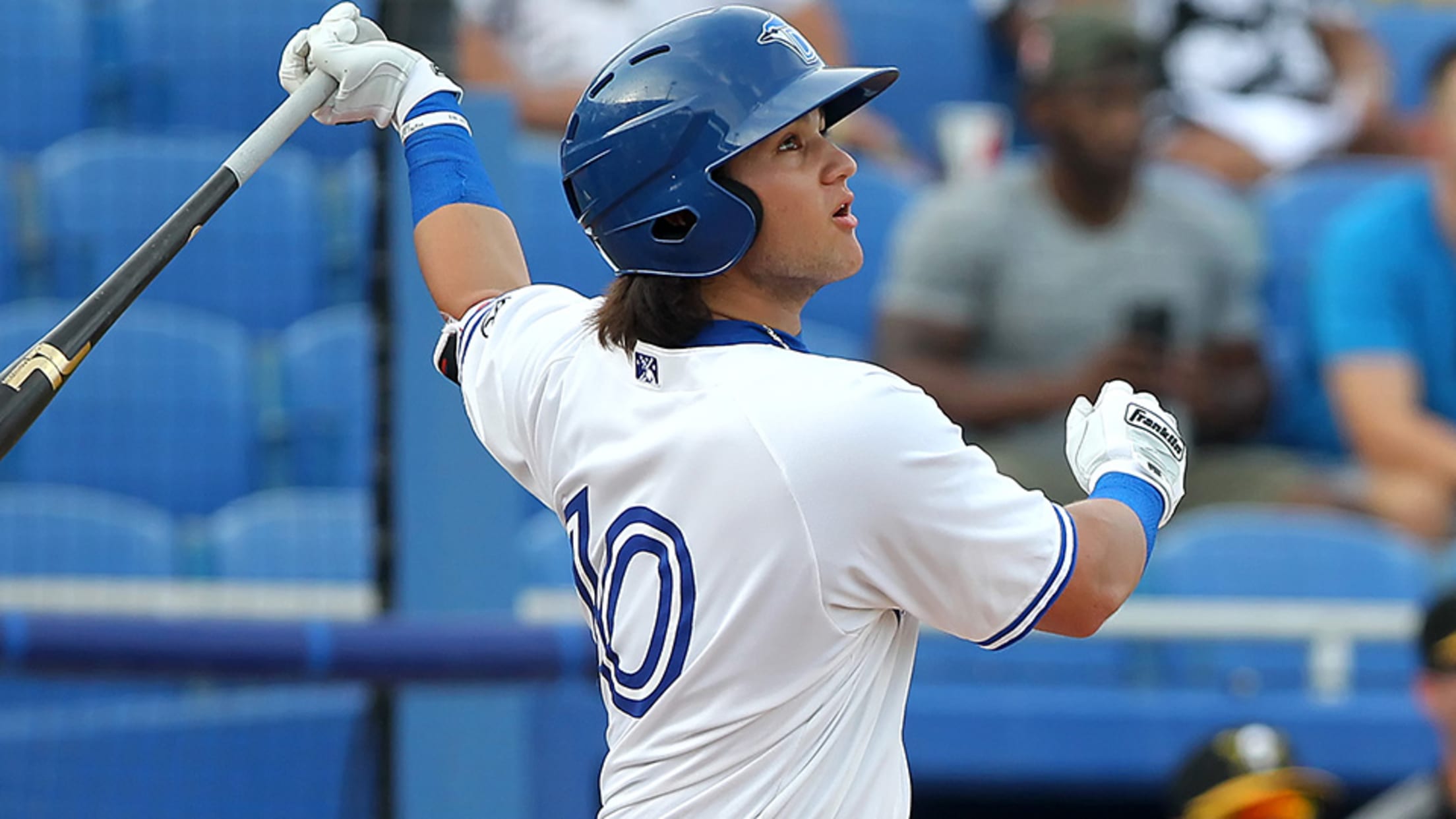 Bo Bichette ranked fourth in the Minor Leagues with 41 doubles in 110 games last season. (Cliff Welch/MiLB.com)
DUNEDIN, Florida -- Winning a full-season Minor League batting title is hard. First, a hitter must produce a high enough average to even be in the conversation. Batting average can be a fickle stat, bound by things outside the player's control, like good defensive plays or widely different hitting environments.
DUNEDIN, Florida -- Winning a full-season Minor League batting title is hard. First, a hitter must produce a high enough average to even be in the conversation. Batting average can be a fickle stat, bound by things outside the player's control, like good defensive plays or widely different hitting environments. Then there's the fact that in the Minors there are 120 different rosters of hitters from Class A to Triple-A. And there's the standard that if a player does well enough in one league, he'll be sent to a more challenging level, where his average is likely to dip.
Still, somebody has to finish atop the Minor League leaderboard in this particular category. Last year, it was Bo Bichette. The Blue Jays' No. 2 prospect wound up with a .362 average in 110 games between Class A Lansing and Class A Advanced Dunedin.
"It's probably pretty difficult," Bichette said of winning the batting title in his first full season.
Wait. Probably?
"The circumstances we have aren't ideal," he explained. "The bus trips, the food we have available, the amount of sleep we get, all of that kind of stuff. We do our best to make it good for ourselves, but there are a lot of things you have to overcome that are not always on your side. It's awesome. It's definitely cool. But I have a lot of work left."
Therein lies the exciting part about MLB.com's No. 13 overall prospect. Winning two full-season Minor League batting titles in a row should be almost impossible. Yet entering 2018, it doesn't feel crazy to think Bichette could.
Start with the swing.
Batting from the right side, Bichette starts with a pretty big leg kick. That leg stays up perhaps a little longer than expected, only to be planted right at the moment of potential contact. When he starts to move his shoulders, he looks almost like a screw being driven into the ground, only to quickly spin the other way. What follows is often a ball screaming off his bat.
It's violent, but in a good way. And Bichette knows it.
"It's just natural," he said. "I try and be as natural as I can and hit the ball as far as I can and try to figure out how to be consistent in that. To be honest, I don't think it's weird. But I know that's kind of what the industry thinks. It's cool if that's weird, I guess."
How long will Jays keep Guerrero, Bichette together?
With all the moving parts involved and the potential complications they could cause against professional pitchers, the son of four-time All-Star Dante Bichette said no one has dared tell him to tweak his mechanics.
"No one's ever tried to fix it," he said. "I don't know if they saw I was hitting good or if they didn't want to mess with my dad."
Paternal intimidation aside, the Jays see a lot more than a series of movements when it comes to Bichette's offensive approach. They see a player with natural talents -- whether it comes from genes or elsewhere -- that allow the whole swing to synchronize perfectly. They also see an adaptability that allows the shortstop to get a hit in any situation.
"Bo is very competitive and he's very intense," Blue Jays director of player development Gil Kim said. "In each at-bat, he approaches with a mindset he wants to beat you. That's one of his greatest strengths. His bat speed and hand-eye coordination are well above-average, and we think that's what allows him to have the success he does. He also has a very advanced two-strike approach. He minimizes his movements with two strikes and he's still very dangerous. He's an advanced hitter."
It didn't take long for Bichette to show that skill set after he was selected in the second round of the 2016 Draft. The Florida native hit .427 in 22 games in the Rookie-level Gulf Coast League. That gaudy number was easily explained as the result of a high Draft pick doing well in a short sample. Early in 2017, however, it looked like Bichette's GCL prowess was just an early chapter in what could be a promising career. He was hitting over .400 as late as June 28 with Lansing. When he was promoted to Dunedin a couple weeks later, the average sat at .384; no one else in the Minors was hitting above .365.
"Honestly, I was waiting for it for a while," he said of the promotion, which he received while in Miami for the All-Star Futures Game. "It was more of a relief when they told me. I wouldn't say I was grateful because I thought I deserved it. But when it came, obviously, I was happy and super-excited for the next challenge."
If the Florida State League was a challenge, Bichette didn't make it look like much of one. He ended up hitting .323 in 40 games with the D-Jays, hurt by a .250 stretch from August through the end of the season brought about by the fatigue of playing a full season for the first time. He still finished at .362, easily beating out Ryan McMahon (who spent half his season in the hitter-friendly Pacific Coast League) at .355.
It wasn't until individual and team honors -- including the MiLBY for Offensive Player of the Year, the fans' choice for Breakout Prospect of the Year and a spot among the Jays Organization All-Stars -- began to roll in that Bichette realized all he'd accomplished in 2017.
"Not really until the end of the year did it hit," he said. "Day to day is how I go, so I didn't realize what I was doing, honestly, until people started calling me and giving me awards. … Honestly, winning the [co-championship] in the Florida State League made it kick in. It made me think, 'Whoa, I've done a lot of crazy stuff this year.'"
But Bichette isn't looking to make 2018 simply a carbon copy of 2017. He saw how complacent he got by the end of last season and used that as an incentive to prepare harder in his second professional offseason. He sees .362 as a challenge to his present and future self, not a lofty goal he's incapable of reaching again.
"It was more mental than physical," he said. "I got comfortable with where I was at. I had good numbers and I got too comfortable with that. My motivation and preparation wasn't where it should have been. Definitely something I've learned from.
"Last season gave me a lot of motivation to continue to play well and gave me hope my dream might come sooner rather than later. So I got after it and worked out really hard and got in the field and hit the gym, stuff like that. So I'm still working on getting better."
Therein lies another potential road block in Bichette's quest for a second straight Minor League batting title. It's very possible that if he comes close to repeating, the Jays would continue to be aggressive with the 20-year-old and push him all the way to the Majors. Kim said the organization is about a week away from giving out starting assignments to players, so nothing is even close to official. But it's not hard to think that Bichette, along with fellow uber-prospect Vladimir Guerrero Jr., could start at Double-A New Hampshire. And it doesn't require a lot of imagination to see a player who starts at Double-A jumping two levels. It may come to pass that Bichette hits so well again that he leg-kicks his way straight to Toronto and doesn't get enough at-bats to qualify for the Minor League batting title.
It's on his radar.
"I feel close, definitely closer than I thought I would be," he said. "Obviously, that's not up to me at all. Like, at all. But I'm going to do what I can to force the issue, even if that's the possibility of getting up there this year."
Bichette's defense may be what keeps that from happening. He got some time at second base in Lansing because of initial concerns about his range at shortstop. But Kim said Bichette worked with infield coordinator Danny Solano in the offseason explicitly to iron out those issues. And this spring, the organization isn't even thinking about another position.
"We are confident he will play shortstop in the Major Leagues," Kim said. "He's confident in that as well, which is the most important thing."
"Obviously in my hitting, I did really well and I think it'll stay there. I'm pretty confident in that," Bichette added. "But something I didn't want someone to say is, 'Yeah, your bat's ready, but we want to build up your defense a little more.' I want to be completely ready with my glove when the time comes. That was something for me to really get on top of, and it's something I've never really worked at, so I'm starting to get a lot more confidence with it and I feel good with it."
An even more well rounded version of the game's 13th-ranked prospect can be difficult to imagine. A repeat full-season batting title even more so. Then again, a bet against Bichette is becoming one of the more ill-advised decisions in the Minors.
"I'll do my best," he said. "My goal is to be the best player that I can. I'm gonna keep doing everything I can to make that happen. And if that happens, then cool."
Sam Dykstra is a reporter for MiLB.com. Follow and interact with him on Twitter, @SamDykstraMiLB.