Biggio blazing his own trail with Blue Jays
Dunedin second baseman hoping to build on father's success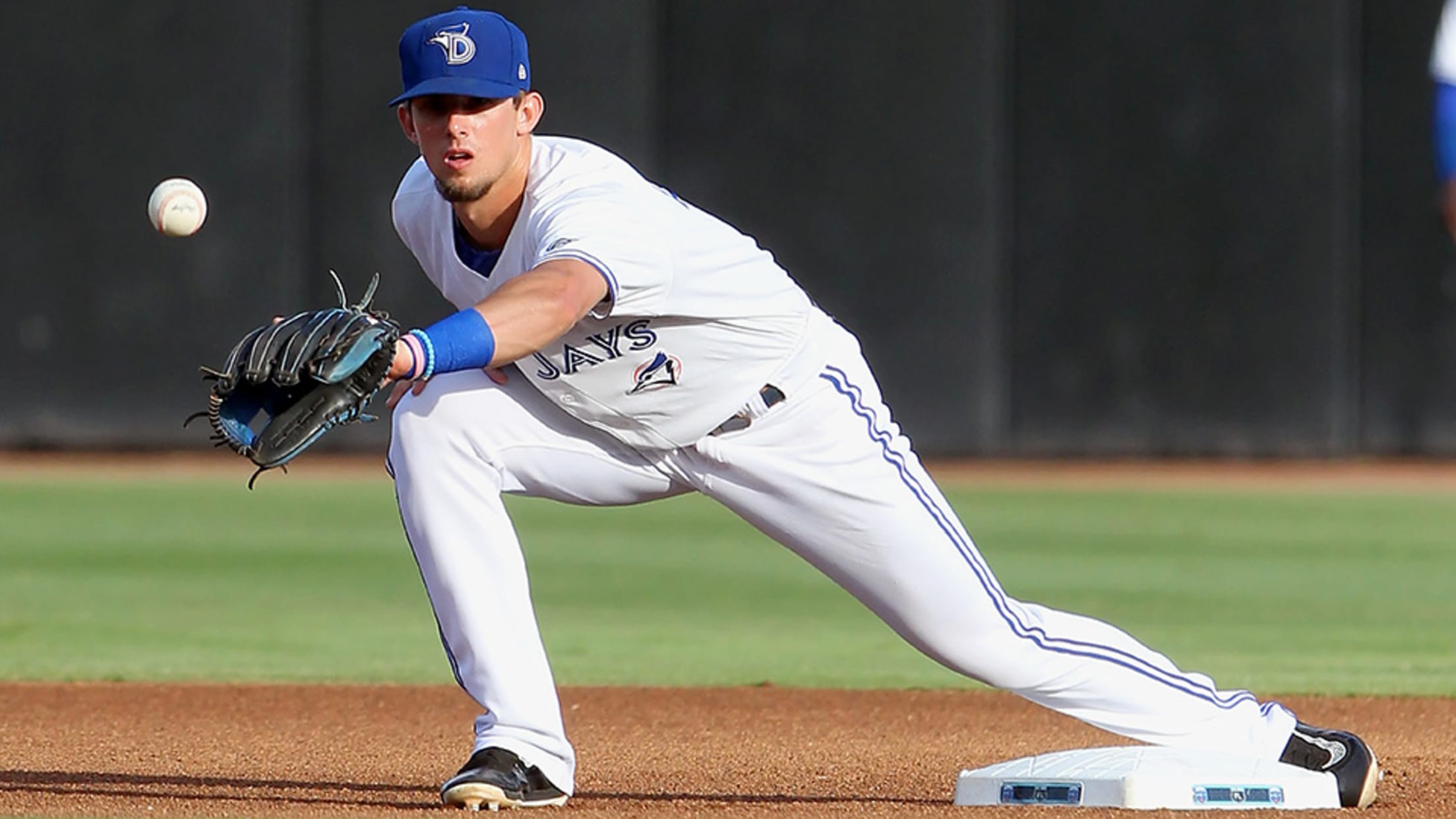 Cavan Biggio was selected by Toronto in the fifth round of the 2016 Draft out of Notre Dame. (Cliff Welch/MiLB.com)
Cavan Biggio understands the greatness his father displayed during his 20-year Major League career. He realizes shying away from Craig's legacy, cemented with a plaque in the hallowed halls of Cooperstown, is an impossibility.Despite the inevitable comparisons, the second of three Biggio children wants to make his own mark on
Cavan Biggio understands the greatness his father displayed during his 20-year Major League career. He realizes shying away from Craig's legacy, cemented with a plaque in the hallowed halls of Cooperstown, is an impossibility.
Despite the inevitable comparisons, the second of three Biggio children wants to make his own mark on the game, outside the shadow of his famous dad. To do that, he needs to be Cavan, Blue Jays second baseman. Nothing more, nothing less.
Hanging around Major League clubhouses as a youngster helped Biggio develop an early love for the game. However, baseball was not forced upon him or his older brother, Conor, who was drafted by the Astros in the 34th round in 2015 but did not sign. It's an approach the youngest Biggio son appreciates, and one he believes has helped him block out any external pressure.
"I'm my own biggest critic. Honestly, I don't feel like there's much pressure from the outside when it comes to baseball," the 22-year-old Houston native said. "I fell in love with the game at a very young age, and this is what I ultimately wanted to do with my life. My mom [Patty] and dad never put any pressure on me or told me that I should do this or do that. They've been nothing but helpful in every aspect of my life.
"I guess there could be some outside forces like living up to others' expectations, but I don't listen to any of that. I'm always going to be the one who's most upset at myself if I fail. No one will be harder on me than me."
That hands-off approach has continued with Biggio embarking on his own professional career nearly 28 years after his father began his. As proud as the elder Biggio is of watching his son follow in his footsteps, the 2015 Hall of Fame inductee rarely offers unsolicited advice.
"Growing up and being around the clubhouses, I got used to seeing Major Leaguers," said Cavan. "As I got a little older, I realized what was going on and I was in awe hanging out with some of them. So in that regard, I got a little head-start on understanding some of the day-to-day work that goes into being a pro ballplayer. But now that I am one, my dad lets me do my own thing. He knows that if I'm going to succeed and make it, I need to do it on my own.
"It's not that he's completely hands-off. He'll call me once a week or every two weeks and we'll talk about baseball, but for the most part he lets me do my own thing. Every day I'm learning a little bit more about what it takes to reach my potential through my own experiences."
Toronto's fifth-round pick in last year's Draft, he's followed his familial roots at second base, where he played exclusively during his professional 62-game debut with Class A Short Season Vancouver and Class A Lansing in 2016. But Biggio has begun to make his way around the diamond during his first Florida State League season. Although the Notre Dame product has started 84 of his 92 games at second for Class A Advanced Dunedin, he's also made appearances at third base, left field and right field.
"I think we have our similarities, the most obvious being that second base is my primary position," Biggio said of comparisons to his father. "Later in my dad's career he played in the outfield and he famously came up as a catcher, so that versatility is something I'm trying to emulate. Having just started my career, I want to be known as a player that can be relied upon to play multiple positions and do whatever I can to keep my bat in the lineup."
Biggio is not alone in the ever-growing fraternity of sons following in their more famous fathers' footsteps. The top two Toronto prospects -- Vladimir Guerrero Jr. and Bo Bichette -- were promoted to Dunedin on July 10, creating a strong bloodline within the Jays' clubhouse. The three proud papas -- Craig, Vladimir and Dante -- were selected to 20 Major League All-Star games between them.
"Having Bo and Vladdy on the same team is really cool," Biggio said. "Vladdy and I were drafted together last year and, of course, all of us being in the same boat with our dads creates a familiarity and bond. But at the same time, we're just teammates. We look at each other as ballplayers on the same team and try not to make it much more than that. We learn from each other and do what we can to make ourselves better. They're two very good players who I'm happy to have as teammates."
Labeled as one of MiLB.com's Under the Radar prospects heading into 2017, Biggio is hitting .251/.356/.376 with 23 extra-base hits, 45 RBIs and 54 runs scored in the FSL. He's also been hit by a pitch 11 times in his first 154 career games, a figure his father would be proud of. Craig was plunked 285 times during his 20 seasons, just two shy of fellow Hall of Famer Hughie Jennings' all-time record.
"Dad was a little faster than me," said Biggio, who's stolen 21 bases in 31 attempts in his brief career. "I'm not slow by any means, but I'm not nearly as fast as he was.
"Everyone who watches me says they can see similarities between us, especially in a lot of the little things that go on over the course of a game. But we're separate players and separate people. He was who he was and I want to be who I am. That's the only way that I'm going to make it ... being myself."