Jays' Pearson spins gem in Triple-A debut
No. 14 overall prospect hurls seven shutout innings for Bisons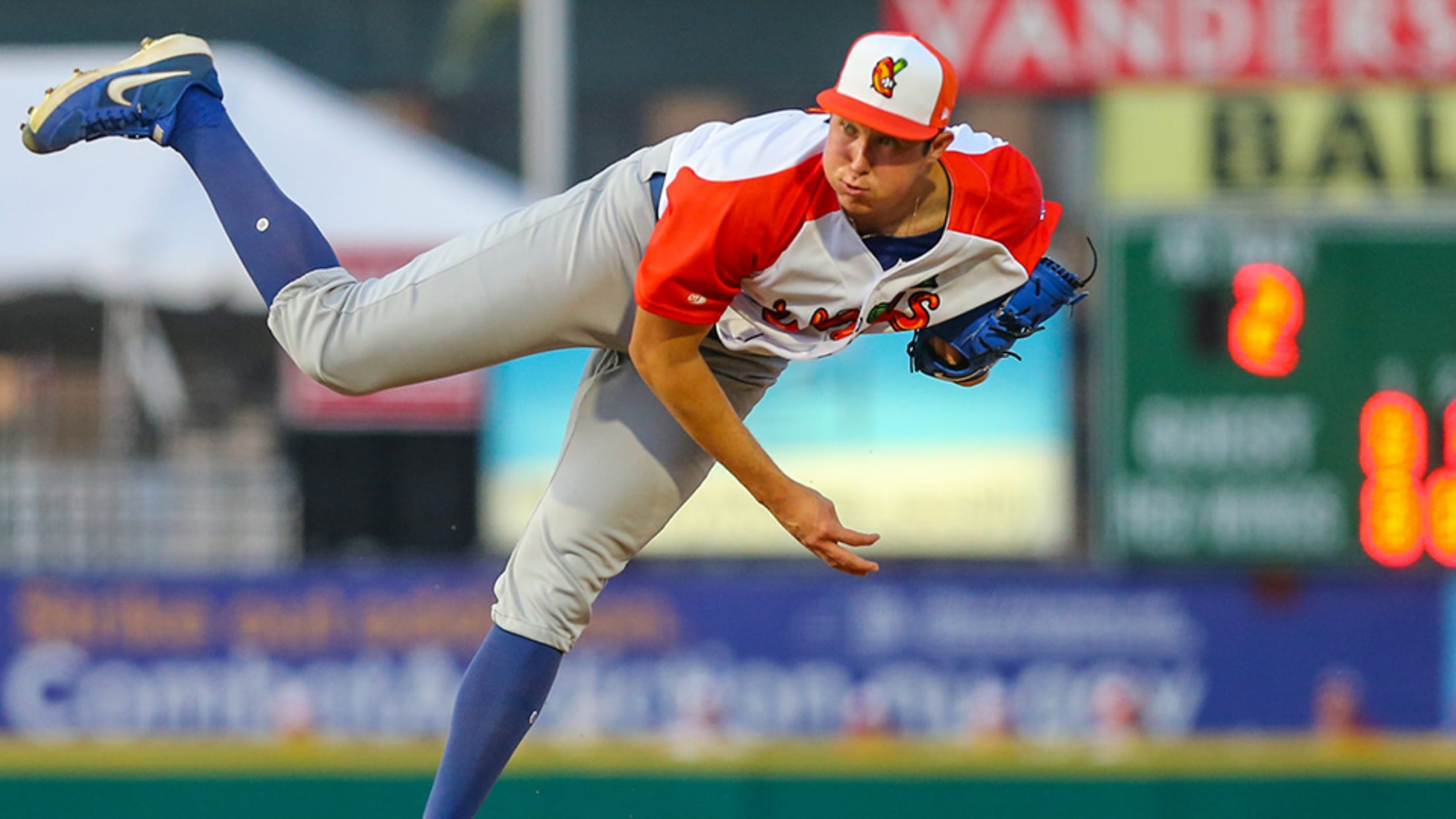 Nate Pearson has recorded 14 scoreless outings across three levels this season. (Bare Antolos/Rochester Red Wings)
On the mound at the Minors' highest level on his 23rd birthday, Nate Pearson gifted himself a personal-best start. In his International League debut, Toronto's second-ranked prospect twirled a career-best seven scoreless innings, allowing three hits and striking out three, but Triple-A Buffalo dropped a 4-1 decision to Rochester on Tuesday
On the mound at the Minors' highest level on his 23rd birthday, Nate Pearson gifted himself a personal-best start.
In his International League debut, Toronto's second-ranked prospect twirled a career-best seven scoreless innings, allowing three hits and striking out three, but Triple-A Buffalo dropped a 4-1 decision to Rochester on Tuesday at Frontier Field.
"I was very blessed to reach this level," Pearson said. "My goal out there was to have fun and give us a chance to win. Unfortunately, we didn't come out with the win, but I had a blast at this new level.
"It was all fun, I'm turning 23 today and it's always a blessing to throw up some zeros on the board. I know I made my parents proud."
The right-hander's 75-grade fastball came into play against the Red Wings, reaching 99 mph while sitting in the high-90s during the start. The command of Pearson's best tool and a good changeup helped him settle into the new environment. In adding seven zeros on the heels of No. 17 Blue Jays prospect T.J. Zeuch's nine-inning no-hitter Monday, the Bisons combined for 16 straight scoreless innings from their starting pitchers in the past two games.
Gameday box score
"That was the first no-hitter I've ever witnessed," Pearson said. "It was awesome to witness greatness. I know Zeuch works really hard and it was awesome to see him do that. I knew that I wasn't going to compete with that outing, but I just tried to do my best out there and it was fun."
Two days after he was promoted from Double-A New Hampshire, the newly minted Buffalo starter was efficient, throwing 55 of 88 pitches for strikes. Although it was only the second time this season that MLB.com's No. 14 overall prospect fanned three or fewer in a start of at least five innings, he recorded seven groundouts and six in the air.
Pearson's defense backed him up with some strong plays, which included a diving grab by left fielder Forrest Wall in the sixth. Sparkling catches like that went a long way in helping ease the No. 28 overall pick in the 2017 Draft into his first Triple-A outing.
"When you know your defense has got your back, it gives you so much confidence on the mound," he said. "I just tried to execute pitches and didn't really think much of it. I let them do their thing behind me."
Drew Maggi greeted Pearson with a one-out single in the first inning, but Pearson quickly avoided any trouble by getting Ramón Flores to ground into a double play.
The 23-year-old allowed a single to Mike Miller in the third and Flores in the fourth, but kept Rochester off the bases otherwise. Pearson set down the final 11 batters he faced.
After throwing a career-high 101 pitches in his last start for the Fisher Cats, he got through the sixth on 76 to earn a chance to pitch the seventh. The 6-foot-6 hurler did not disappoint, capping off a 1-2-3 inning by striking out Brandon Barnes.
Pearson pitched only 1 2/3 innings before suffering a broken arm last year, but rebounded this season as one of the game's top young arms. He made the jump to the Eastern League after compiling an 0.86 ERA and 35 strikeouts over 21 innings with Class A Advanced Dunedin. With a 2.59 ERA and a 0.99 WHIP in 16 Double-A starts, the Florida native showed no signs of slowing down.
Early on, the No. 2 right-handed prospect alternated between two- and five-inning outings, a cap he did not break until twirling 5 2/3 frames on July 24. He completed six innings twice and finished the seventh for the first time in his career Tuesday. Overall, Pearson sports a 1.99 ERA and 107 strikeouts over 90 2/3 innings across three levels.
To get untethered a bit over the final weeks has a little extra meaning for Pearson as Buffalo competes for a berth in the Governors' Cup Playoffs. He said it harkens back to his first professional season, when he joined Class A Short Season Vancouver in time for the 2017 playoffs. He logged eight innings that postseason, allowing one run while fanning 14.
"It's awesome, I think I've got like two more starts left on the year," Pearson said. "We're making a playoff push, I think that's one of the main reasons why the Jays promoted me to help the Herd, the Bisons, clinch a playoff spot. It's also a good opportunity for me to get more innings. It's been a fun year and I'm looking forward to finishing strong."
Rochester rallied for four runs in the eighth to pull out the win, highlighted by a two-RBI single from Wilin Rosario.
Andrew Battifarano is a contributor to MiLB.com. Follow him on Twitter, @AndrewAtBatt.