Jays' Guerrero leads Players of the Week
No. 6 overall prospect hits .462 with three homers in seven games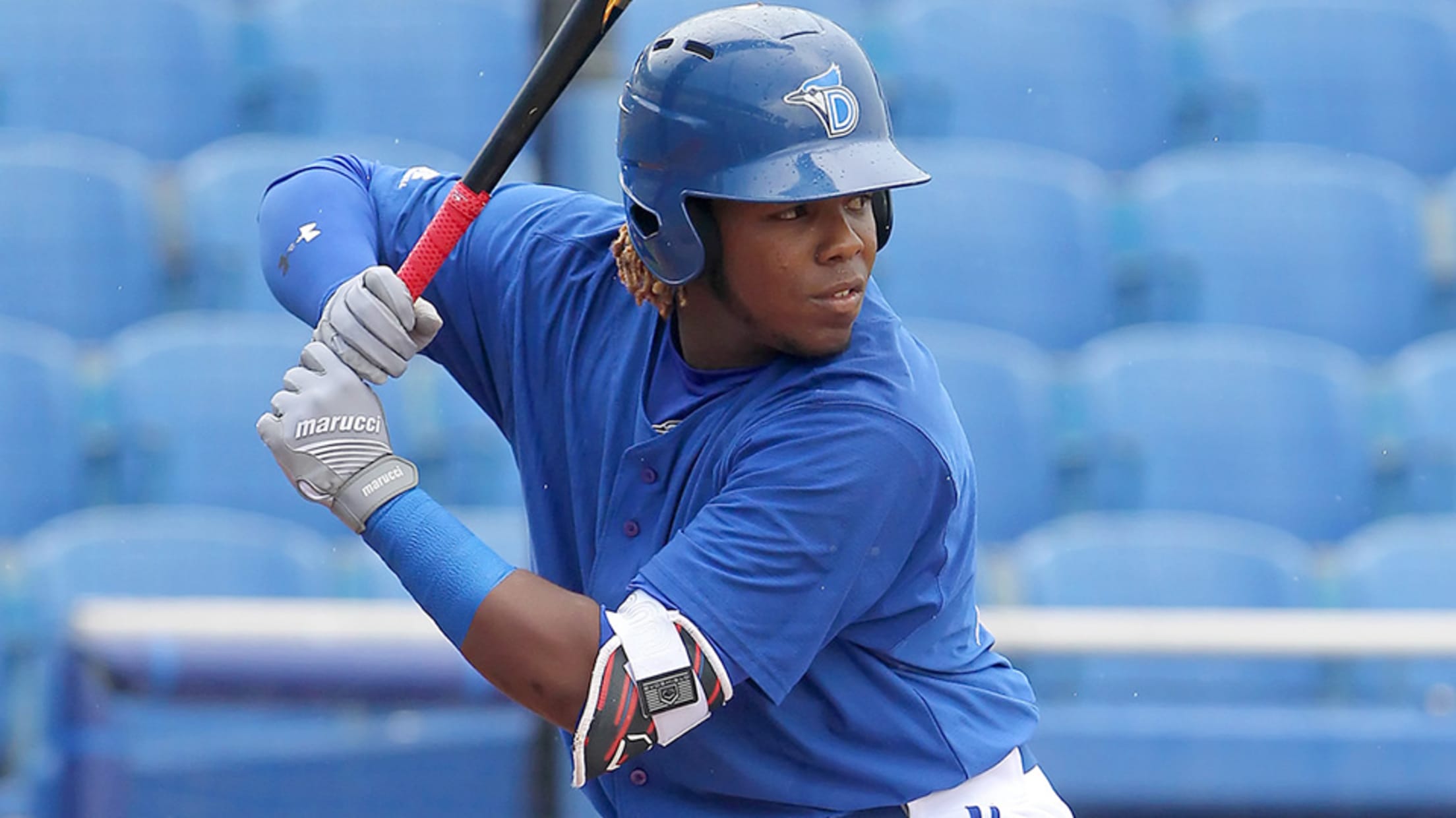 Vladimir Guerrero Jr.'s .322 average over 107 games in 2017 ranks third among Blue Jays full-season Minor Leaguers. (Cliff Welch/MiLB.com)
Vladimir Guerrero Jr.'s 2017 season has been full of acclaim. At just 18 years old, the third baseman has climbed from Class A Lansing to Class A Advanced Dunedin and seen his name appear on the Midwest League mid-season and post-season All-Star teams -- thanks to a .316/.409/.480 line with
Vladimir Guerrero Jr.'s 2017 season has been full of acclaim.
At just 18 years old, the third baseman has climbed from Class A Lansing to Class A Advanced Dunedin and seen his name appear on the Midwest League mid-season and post-season All-Star teams -- thanks to a .316/.409/.480 line with seven homers, one triple and 21 doubles in 71 games. He appeared in the All-Star Futures Game in Miami, where he was the only player on the World Team roster with multiple hits. He's moved from No. 34 on MLB.com's preseason prospect list to his current spot at No. 6.
Now he has yet another accolade to add to his growing Minor League resume.
The Blue Jays' top prospect has been named a Minor League Offensive Player of the Week for the first time in his career, taking the Florida State League award after going 12-for-26 (.462) with three homers, one triple, one double and 11 RBIs over seven games for Dunedin.
After entering the week with a .302/.442/.382 line and six extra-base hits over his first 29 games in the FSL, the right-handed slugger now sits at .336/.456/.492 with 11 extra-base hits after 36 contests.
• View the Pitcher of the Week winners »
"He's really continuing to show great strike-zone command," said Dunedin manager John Schneider. "He's starting to really stay behind the ball well and hitting it all over the field. I think last week we saw him starting to drive the ball a little bit more, so it's a combination of the discipline he already had with a little bit more power, and this is what he can do."
Guerrero really started to show more pop Thursday at home against Palm Beach. After going deep just once in his first 32 games with the D-Jays, he homered in three straight contests through Saturday. (No one else in the pitcher-friendly FSL hit more than two blasts all week.) But it wasn't just the fact that Guerrero went deep that caught his skipper's eye. It was the manner in which he did so.
"The one at our place was just a laser to left-center on a fastball that got out in a real hurry," Schneider said. "But the most impressive one I thought was the second one of that run [on Friday against St. Lucie]. He got a first-pitch breaking ball -- and it was a real hammer of a curveball -- and he hammered it out. I think it got out in three seconds. To be 0-0, see a breaking ball and hit it as hard as he did, it was really impressive."
It's that manner in which the youngster is starting to adjust to his surroundings that has helped his legend grow. Of course, his reputation proceeded him, not only as an 18-year-old who destroyed Class A but also as the son of a future Hall of Famer and one of the most famous free swingers in the modern game. Schneider admitted opposing clubs think they have a scouting report against the 6-foot-1, 200-pound slugger, but that he's proving plenty capable of adjusting back in recent weeks.
"He's an 18-year-old, but he's still a physical presence in the box," he said. "Everyone is throwing 93, 94, 96 [mph}, but with Vlad, they're serving him breaking balls. He might be the only one in the lineup who they're not challenging with velocity. Not that he doesn't see plenty of fastballs, but people hear the name Vladimir Guerrero and assume he'll be swinging a lot and trying to expand the zone. That's not who he is. He has more walks than strikeouts [28 vs. 23 with Dunedin], and that's incredible at his age."
The only thing holding back Guerrero back from the top overall prospect discussion is his defensive work at third base. He was an outfielder when he signed with Toronto for $3.9 million in July 2015 but was moved to the hot corner, where his above-average arm could still be of use. However, Guerrero may lack the quickness and footwork to stick at third, with a move to first base a possibility. Either way, Schneider is pleased with the teenager's defensive improvements.
"I've seen this guy make some Major League plays over there that no one else in this league could," Schneider said. "From his feet to his glove to his arm, he's got the right tools to work over there. Now, it's still a work in progress. It's a new position for him after he just started it last year, and we're working with him on his preparations pre-pitch, his setup, his quickness. He' does a great job of working on that during batting practice before games, trying to get some live reads off the bat each day. But when everyone says the glove is behind the bat and the bat is as good as his is, that's not a huge worry."
Whether the defense comes around or not, Guerrero's bat is what has the Dominican Republic native's stock surging in his second pro season. He could do wonders for a Dunedin club that is still very much in the circuit's playoff picture with two weeks left in the season. His manager has a good idea.
"He's the same guy," Schneider said. "This is a kid who loves coming to the field every day. It's cool to see. But I'd say he's shown a little bit more confidence in the box over the last 10 days or so. You can tell by some of the swings or the pitches he's taking. Still, you know what you're getting every day from him."
Below is the complete list of Minor League Offensive Players of the Week for Aug. 14-20:
| League | Player | Team | MLB | Stats |
| --- | --- | --- | --- | --- |
| International | Ronald Acuna | Gwinnett | ATL | .481/.500/.889, 6 G, 13-for-27, 2 2B, 3 HR, 8 RBI, 5 R, 0 BB, 4 K, 1 CS |
| Pacific Coast | Taylor Motter | Tacoma | SEA | .700/.696/1.200, 5 G, 14-for-20, 2 2B, 1 3B, 2 HR, 6 RBI, 9 R, 2 BB, 1 K, 1 SB |
| Eastern | Reese McGuire | New Hampshire | TOR | .533/.588/1.200, 4 G, 8-for-15, 1 2B, 3 HR, 4 RBI, 5 R, 2 BB, 3 K |
| Southern | Charcer Burks | Tennessee | CHC | .433/.455/.633, 7 G, 13-for-30, 1 2B, 1 3B, 1 HR, 8 RBI, 7 R, 2 BB, 5 K, 1 SB |
| Texas | Scott Heineman | Frisco | TEX | .550/.654/.900, 6 G, 11-for-20, 2 2B, 1 3B, 1 HR, 5 RBI, 7 R, 6 BB, 2 K, 1 CS |
| California | Quincy Latimore | Rancho Cucamonga | LAD | .667/.789/1.500, 5 G, 8-for-12, 4 2B, 2 HR, 5 RBI, 8 R, 6 BB, 3 K |
| Carolina | Tyler Alamo | Myrtle Beach | CHC | .393/.469/.786, 8 G, 11-for-28, 2 2B, 3 HR, 8 RBI, 8 R, 3 BB, 8 K |
| Florida State | Vladimir Guerrero Jr. | Dunedin | TOR | .462/.516/.923, 7 G, 12-for-26, 1 2B, 1 3B, 3 HR, 11 RBI, 4 R, 4 BB, 1 IBB, 3 K |
| Midwest | Hudson Potts | Fort Wayne | SD | .500/.548/.750, 7 G, 14-for-28, 1 2B, 2 HR, 6 RBI, 7 R, 2 BB, 4 K |
| South Atlantic | Khalil Lee | Lexington | KC | .409/.480/.909, 5 G, 9-for-22, 5 2B, 2 HR, 7 RBI, 5 R, 2 BB, 6 K, 1 CS |
| New York-Penn | Scott Hurst | State College | STL | .500/.524/.650, 4 G, 10-for-20, 0 2B, 1 HR, 3 RBI, 2 R, 1 BB, 5 K |
| Northwest | Danny Edgeworth | Boise | COL | .469/.541/.563, 7 G, 15-for-32, 3 2B, 0 HR, 8 RBI, 4 R, 2 BB, 4 K, 2 SB |
| Appalachian | Kevin Smith | Bluefield | TOR | .444/.464/.926, 6 G, 12-for-27, 7 2B, 2 HR, 6 RBI, 6 R, 1 BB, 4 K, 2 SB |
| Pioneer | Darrell Miller | Idaho Falls | KC | .526/.615/1.000, 5 G, 10-for-19, 3 2B, 2 HR, 10 RBI, 9 R, 6 BB, 1 IBB, 0 K |
Sam Dykstra is a reporter for MiLB.com. Follow and interact with him on Twitter, @SamDykstraMiLB.