Robles, Acuna, Keller headline AFL rosters
Eleven of MLB.com's top 100 prospects bound for Arizona this fall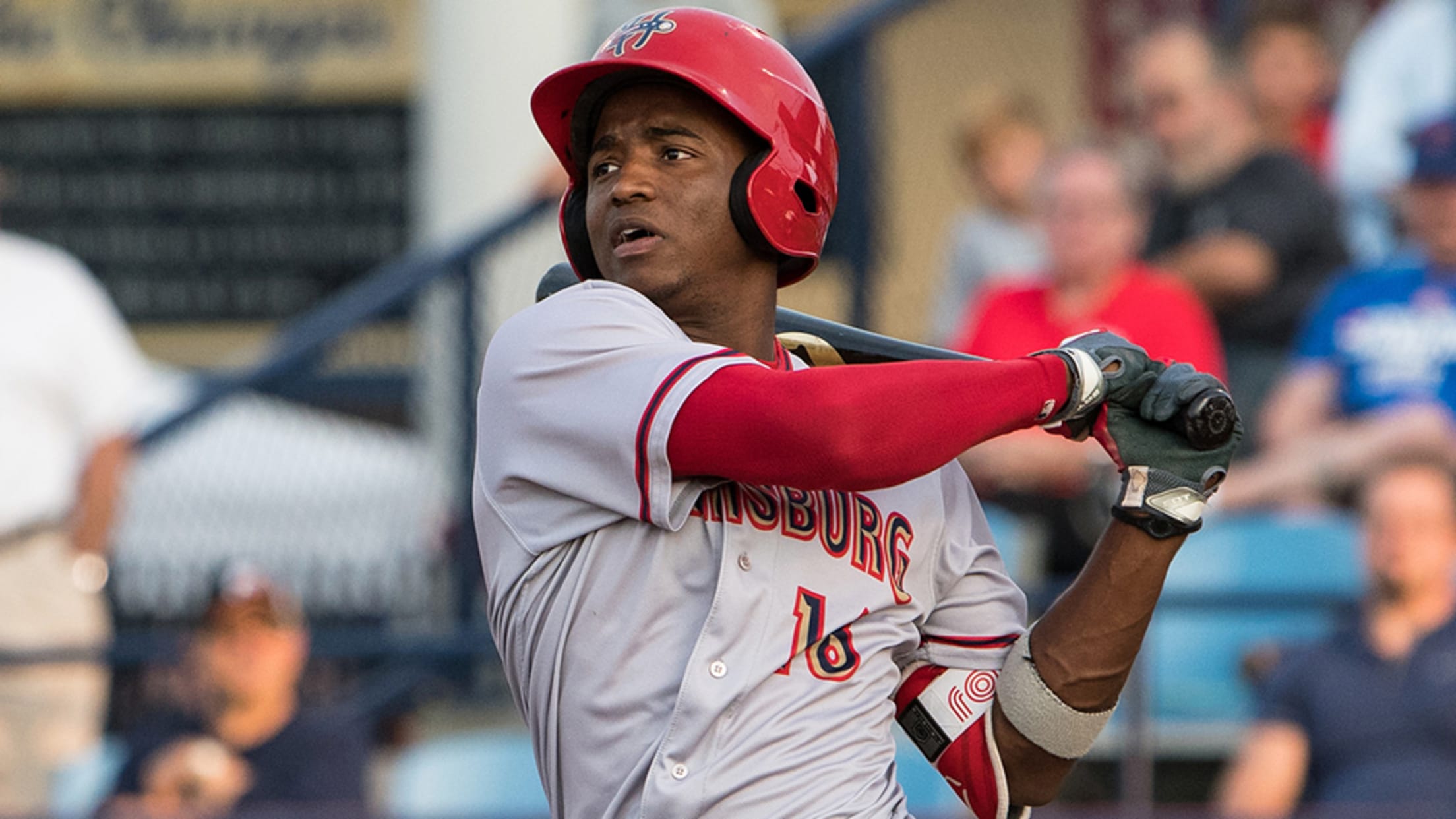 Victor Robles has clubbed a career-high 10 home runs between Class A Advanced and Double-A this season. (Terrance Williams/MiLB.com)
There are still a few weeks left before the end of summer, but it's already time to think about fall.The initial Arizona Fall League rosters were announced Tuesday afternoon with 11 of MLB.com's top 100 prospects -- including No. 5 Victor Robles, No. 8 Ronald Acuña Jr. and No. 22
There are still a few weeks left before the end of summer, but it's already time to think about fall.
The initial Arizona Fall League rosters were announced Tuesday afternoon with 11 of MLB.com's top 100 prospects -- including No. 5 Victor Robles, No. 8 Ronald Acuña Jr. and No. 22 Mitch Keller -- finding spots with one of the six clubs on the elite circuit, which opens action Oct. 10.
Robles, the Nationals' top prospect, has been showing off his five-tool talent once again in 2017, hitting .299/.383/.494 with 10 homers and 24 steals in 109 games between Class A Advanced Potomac and Double-A Harrisburg. The 20-year-old center fielder will join the Mesa Solar Sox and have the chance to play alongside Astros top prospect Kyle Tucker. Ranked No. 10 overall, Tucker owns a .271 average, 23 homers, 21 steals and an .864 OPS between Class A Advanced Buies Creek and Double-A Corpus Christi.
However, the most prospect-laden roster might belong to Peoria this autumn.
The Javelinas boast the potential breakout prospect of the year in Braves outfielder Ronald Acuña Jr.. The 19-year-old did not start the season in MLB.com's top 100 but has surged into the top 10 with a .325/.374/.527 slash line, 20 homers, eight triples, 30 homers and 42 steals in 131 games across three levels. Peoria will have another highly touted outfielder in Mariners top prospect Kyle Lewis (No. 47 overall). The 11th overall pick in 2016 has played only 31 games at Class A Advanced Modesto this season due to right knee injuries, but the Fall League should be an opportunity for the slugger to make up for lost time.
In the infield, Peoria claims No. 55 overall prospect Luis Urías (Padres), who's hit .299 with a .786 OPS as a 20-year-old at Double-A San Antonio. Also playing on the dirt for the Javs will be No. 3 Red Sox prospect Michael Chavis (29 homers in 2017), 2015 top Draft picks Josh Naylor (Padres) and Austin Riley (Braves) and $22 million signee Lourdes Gurriel Jr. (Blue Jays).
The top pitcher heading to the Grand Canyon State is No. 22 overall prospect Mitch Keller (Pirates). Currently with Double-A Altoona, the 21-year-old right-hander owns a 3.19 ERA with 105 strikeouts and 31 walks in 110 innings across three levels this season but has been limited due to back tightness. The Fall League will represent an opportunity for the 2014 second-rounder, who has been lauded for his fastball-curve combo and impressive control, to make up some innings. Keller could make an impressive Glendale battery with No. 1 Indians prospect Francisco Mejía. MLB.com's top catching prospect, ranked No. 16 overall, is hitting .300/.349/.499 with 14 homers in 90 games at Double-A Akron.
Other members of MLB.com's top 100 named to the initial AFL rosters are No. 66 Corey Ray (Brewers/Salt River), No. 85 Yusniel Díaz (Dodgers/Glendale), No. 87 Estevan Florial (Yankees/Scottsdale) and No. 89 Justus Sheffield (Yankees/Scottsdale). Florida State League MVP Brandon Lowe (Tampa Bay/Surprise) and California League MVP DJ Peters (Dodgers/Glendale) will also take their talents to the southwest.
The list below shows which Major League organizations form each Arizona Fall League squad. Click each AFL team name to view its full roster:

Sam Dykstra is a reporter for MiLB.com. Follow and interact with him on Twitter, @SamDykstraMiLB.