Vlad Jr. caps four-hit effort with walk-off blast
No. 2 overall prospect belts game-winning shot in twinbill opener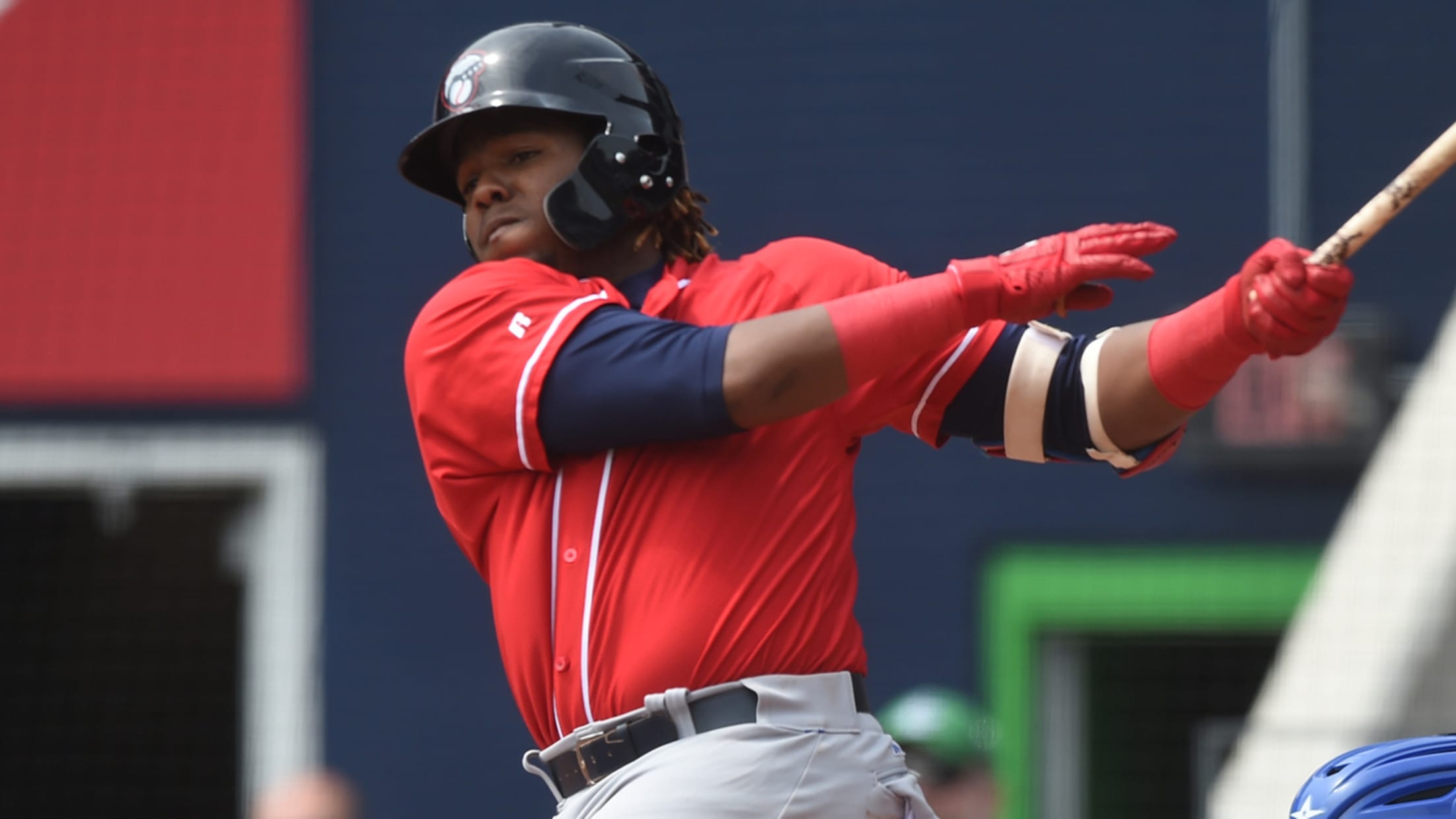 Vladimir Guerrero Jr. has been held hitless five times in 38 games this season. (Kevin Pataky/MiLB.com)
While still in Double-A continuing his statistical dominance of the level, Vladimir Guerrero Jr. keeps finding ways to make his legend grow.MLB.com's No. 2 overall prospect belted a three-run walk-off homer to cap a 4-for-4 effort and give Double-A New Hampshire a 6-5 win over Binghamton in the opener of Sunday's
While still in Double-A continuing his statistical dominance of the level, Vladimir Guerrero Jr. keeps finding ways to make his legend grow.
MLB.com's No. 2 overall prospect belted a three-run walk-off homer to cap a 4-for-4 effort and give Double-A New Hampshire a 6-5 win over Binghamton in the opener of Sunday's doubleheader at Northeast Delta Dental Stadium.
Already working on a three-hit day, Guerrero came to the plate with the potential tying run in scoring position after back-to-back doubles by No. 28 Blue Jays prospectJonathan Davis and second-ranked Bo Bichette. On an 0-1 pitch from reliever Tyler Bashlor, Guerrero clobbered his eighth homer of the season to center field to set off a celebration.
Although it marked his first walk-off hit for the Fisher Cats, Guerrero was characteristically more focused on the outcome, Fisher Cats hitting coach Hunter Mense said.
Gameday box score
"He's so locked in, he just wants to win," Mense said. "The best part for him of hitting the walk-off was that we won. He's so committed to wanting his teammates to do well, it's a cool thing to watch. He doesn't care who gets the credit. He's the first guy on the top step and wants to celebrate with everybody."
Prior to the game-winner, Guerrero laced singles to right-center in the first inning, up the middle in the third and to left in the fifth. The four-hit effort put the 19-year-old's slash line at .423/468/.705 through 38 Eastern League games.
Guerrero's homer also went to right-center, and his ability to hit the opposite way is no accident, Mense said.
"Every day in BP, his first two rounds are always middle and the other way," added the 17th-round pick of the Marlins in 2006. "Growing up in a baseball family, having a dad who was a big leaguer and an uncle who worked in baseball, it was just kind of the way he was raised. He learned to hit that way. It's something he does every day to get him going. If you stay away, you're going to get hurt, and if you come in, he'll capitalize on that as well."
Guerrero has been held hitless only twice in the 18 games he's played this month and has multiple hits in 10. Sunday's performance was the third baseman's second four-hit day this week, matching Wednesday's feat -- his only other four-hit showing of the season.
In two months with New Hampshire, Guerrero has gone without a hit five times. After a blistering April in which he batted .380/.442/.582, the son of the former outfielder who will be enshrined in the Baseball Hall of Fame this summer has been even better in May. The younger Guerrero is hitting .471/.500/.843 with six of his eight homers this month.
Mense said for a teenager, Guerrero does a great job of not giving away at-bats.
"Mechanically, the way his swing works, it's in the zone early but he can keep it there a long time, and that makes up for any deficiencies," the coach said. "He's always in a strong position to hit and his control of the strike zone is unbelievable. He'll swing at a bad pitch once in a while, but then every time he does, he'll zone it back in and be right in the strike zone again.
"His ability to stay locked in from at-bat to at-bat is unbelievable."
While scouts have projected Vlad Jr. as a player whose profile fits Edwin Encarnacion, Mense had another high-profile example in mind.
"Miguel Cabrera is probably the best comparison because he has juice and also uses the whole field," the hitting coach said. "He has excellent barrel-to-ball skills and command of the strike zone. I realize that's a pretty lofty comparison.
Mets No. 17 prospectJhoan Urena homered for the Rumble Ponies.
Binghamton came back to win the nightcap, 10-8 in 10 innings. Jeff McNeil clubbed his 12th homer of the year, his fifth in seven games, and plated four runs. Matt Oberste added a three-run homer.
Guerrero singled in a run while Bichette was hitless in four at-bats in Game 2.
Vince Lara-Cinisomo is a contributor to MiLB.com. Follow him on Twitter @vincelara.
Tyler Maun is a contributor to MiLB.com. Follow him on Twitter @TylerMaun.