Vlad Jr. to join Triple-A Buffalo on Tuesday
Top Jays prospect takes .401 average to International League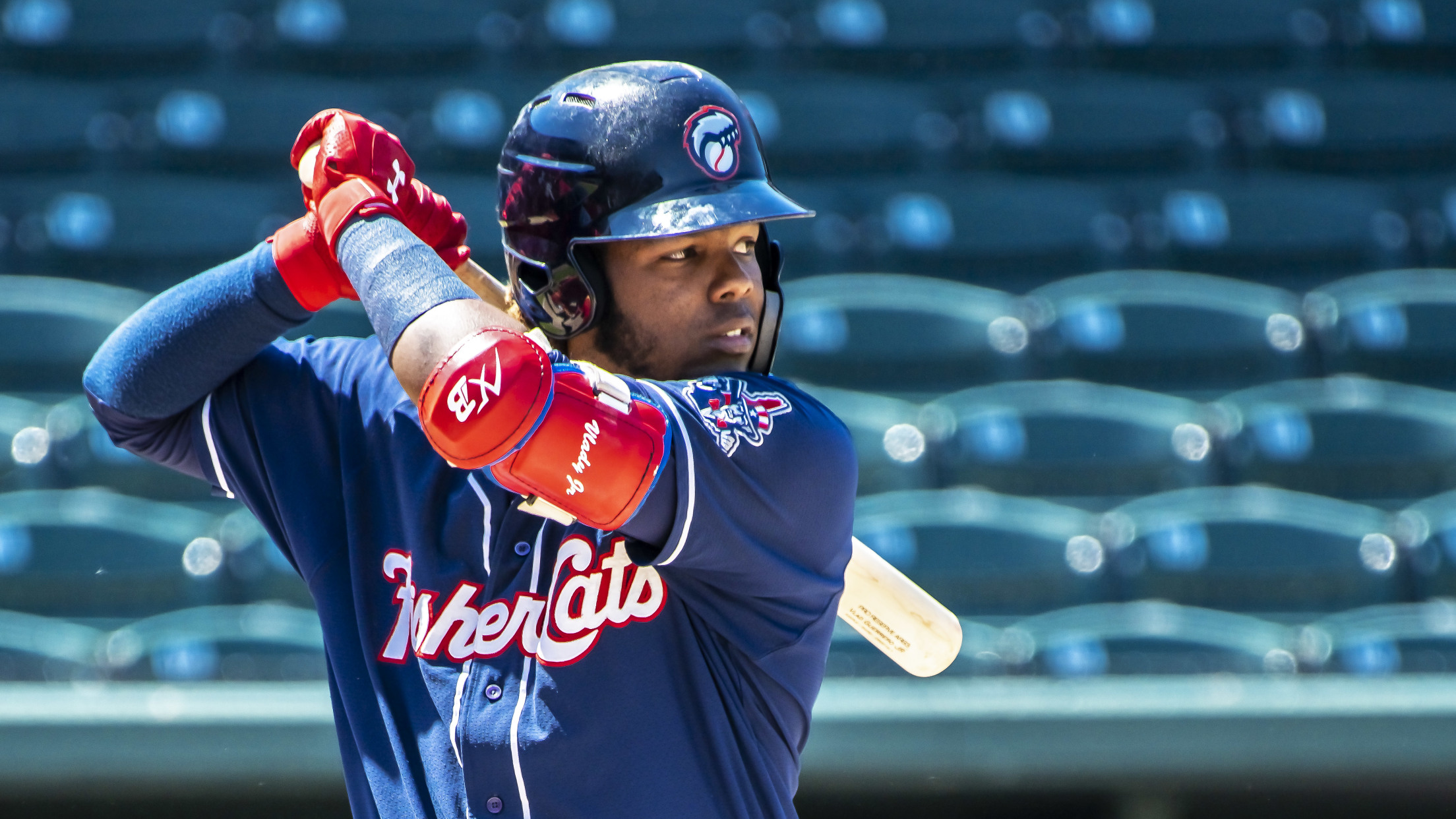 Vladimir Guerrero Jr. finishes his stint with Double-A New Hampshire with 14 homers, 60 RBIs and a .402/.449/.671 slash line. (Ed Wolfstein/MiLB.com)
The time is here.The Blue Jays announced Saturday that third baseman Vladimir Guerrero Jr., MLB.com's top overall prospect, will join Triple-A Buffalo on Tuesday.Guerrero missed more than a month due to a strained patellar tendon in his left knee but hit safely in all seven games since returning to Double-A New
The time is here.
The Blue Jays announced Saturday that third baseman Vladimir Guerrero Jr., MLB.com's top overall prospect, will join Triple-A Buffalo on Tuesday.
Guerrero missed more than a month due to a strained patellar tendon in his left knee but hit safely in all seven games since returning to Double-A New Hampshire on July 19, going 10-for-29 with two homers and five RBIs. The 19-year-old leads all Minor Leagers with a .401 batting average in 65 games, including brief rehab stints in the Rookie-level Gulf Coast League and with Class A Advanced Dunedin.
"I think it's good for him, he's earned that," Blue Jays manager John Gibbons told MLB.com. "I guess if you could say anybody has earned it, he has."
Guerrero led the Eastern League with 83 hits, 60 RBIs, a .667 slugging percentage, 136 total bases, 30 extra-base hits and 18 doubles before going on the disabled list. He had a .457 on-base percentage and 11 homers and still ranks fifth in the league in RBIs, despite playing 35 fewer games than the current leader, Will Craig.
The only teenager on an Eastern League Opening Day roster, Guerrero rose to the top of MLB.com's prospect list this season when Shohei Ohtani and Ronald Acuña Jr. exhausted their prospect eligibility.
"Miguel Cabrera is probably the best comparison because he has juice and also uses the whole field," New Hampshire hitting coach Hunter Mense told MiLB.com in May. "He has excellent barrel-to-ball skills and command of the strike zone. I realize that's a pretty lofty comparison."
Guerrero had a 37-game on-base streak earlier this season and established himself as one of the most exciting draws in the Minors. He will attend the Hall of Fame induction ceremony for his father -- Vladimir Guerrero -- on Sunday in Cooperstown, then join the Bisons after they open a five-game homestand against Lehigh Valley on Monday.
Asked about Guerrero's challenge at Triple-A, Gibbons told MLB.com, "You start to see more breaking balls, that's for sure, better breaking balls. A lot of times in the lower Minor Leagues, you get the guys with good arms, but they haven't figured it out yet, either. I would guess that's probably it, but I don't think that will faze him."
Rob Terranova is a contributor to MiLB.com. Follow him on Twitter @RobTnova24.